In 2020, a little-known corner of the market experienced explosive growth. Take a look…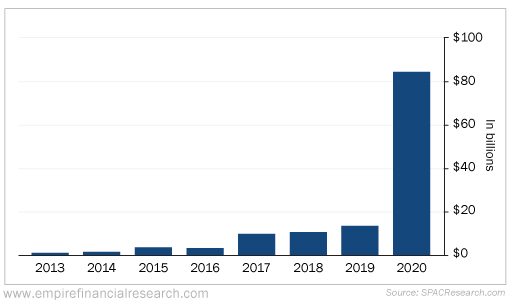 The widespread emergence of special purpose acquisition companies ("SPACs") prompted senior editor Enrique Abeyta to launch one of the first-of-its-kind newsletters, Empire Breakthrough Investor, to take advantage of this massive trend.
A 20-year Wall Street veteran who grew his first hedge fund from $585,000 to $1.3 billion in just four years, Abeyta has an unparalleled rolodex of industry contacts. His relationships have landed him exclusive interviews with industry legends like Harry Sloan, Jeff Sagansky, and Bill Ackman.
Every month, Abeyta taps into his invaluable network of Wall Street contacts to identify and vet the highest-upside SPAC, IPO, and pre-SPAC opportunities for his readers.
Within three months of the launch of Empire SPAC Investor, Abeyta's readers were up 115% on his first recommendation of Skillz (SKLZ), a mobile gaming company that went public via a SPAC.
| Publication Overview | |
| --- | --- |
| How often is Empire Breakthrough Investor published? | The second Wednesday of every month |
| How much capital do I need to get started? | We recommend readers have a portfolio of at least $10,000 available to invest |
| What will you be recommending? | SPACs, IPOs, and pre-IPOs of all shapes and sizes, as well as warrants and the shares of recently completed SPAC mergers |
| Do you make short recommendations? | Empire Breakthrough Investor is a long-only service |
| What is the typical holding period? | We expect our average holding period to be a few years to a decade |