Before joining Empire Financial Research in 2019, I spent more than 20 years on Wall Street.
Along the way, I grew my first fund from $585,000 to more than $800 million in just four years… made money through the bursting of the dot-com bubble, the global financial crisis, 9/11, you name it.
I don't say this to brag, but to show you that I've witnessed many of the market's biggest booms and busts up close.
When investment bank Lehman Brothers went bankrupt, it led to the start of the global financial crisis. And I noticed something interesting happening…
SPACs suddenly traded at huge discounts to the cash on their balance sheets.
Given their mixed track record at the time, the market was skeptical that SPAC sponsors might face some regulatory issues. (As it turned out, not a single SPAC did.)
And I'm not the only one at Empire Financial Research with an extensive background with SPACs…
In fact, my colleague Whitney Tilson even launched a SPAC fund called the T2 SPAC Fund in October 2008. At the time, he was running a $100 million hedge fund. He saw the opportunity in SPACs, so he and his business partner created a side fund, raised about $5 million, invested in a carefully selected basket of SPACs, and more than doubled his investors' money in less than a year.
My other colleague, Berna Barshay, also has a good deal of experience investing in SPACs from 2003 to 2010 and is close friends with one sponsor.
Given my historical interest in private equity, my familiarity with the space, and the emerging opportunity, one of the first things I did when I joined Empire Financial Research in 2019 was dive in head-first to do more research.
In addition to attending the premier annual SPAC conference in New York last year – where I was the only newsletter writer among the crowd of 200-plus attendees – we also have incredible contacts in the world of SPACs… ones that make us uniquely qualified to write a newsletter dedicated to these opportunities.
One of my best friends from college is the head of investment banking for SPACs at an active brokerage. A fraternity brother of mine also trades one of the largest SPAC portfolios on Wall Street. I also have a longstanding relationship with one of the best-known and most successful SPAC sponsorship teams.
We've leveraged these relationships to get a better understanding of this emerging sector.
We've also worked to develop relationships with the investment banks and sponsor teams, so that we're able to get unique access to management. We have the ability to schedule exclusive calls for Empire SPAC Investor subscribers to learn more about specific SPAC opportunities. (Subscribers can access those videos in the SPAC Deal Room.)
The combination of our decades of private-equity experience, public stock and SPAC investing experience, and deep network of industry insiders gives us a massive resource base to identify these opportunities that no other newsletter writer has.
In fact, months before the launch of Empire SPAC Investor, Whitney and I got Empire Investment Report readers into one of these trades, which quickly became the best-performing recommendation in Empire Financial Research's young history…
Back in late October, one of my most intrepid friends on Wall Street asked me if I had ever heard of a company called Social Capital Hedosophia (IPOA).
At first, I thought he was joking… But he wasn't. He explained that the company was building rocket ships to send tourists into space. (Then I really thought he was kidding!)
But my many years on Wall Street have taught me to keep an open mind. As I listened to the story, I was amazed at the potential opportunity.
Social Capital Hedosophia went public in September 2017, raising $600 million to be invested within five years. Shares mostly traded sideways until this past July, when the company announced it would be merging with Richard Branson's Virgin Galactic (SPCE) space-tourism venture. The stock, which had traded close to its $10 IPO price, quickly popped to almost $11 per share.
Virgin Galactic builds affordable rocket ships, partners with governments to build affordable spaceports, and then sells trips into space for $250,000 to individuals with ultra-high net worths. (And what's a bigger status symbol than being one of a handful of people who has been to outer space?)
While it may seem like $250,000 is a crazy amount of money to pay for 90 minutes in space, the company has already pre-sold more than $150 million worth of these trips.
In the future, Virgin Galactic plans to increase its scale and make its prices more affordable – around $50,000 to $100,000 per trip – thereby expanding its addressable market.
The overall opportunity in commercial space travel could be one of the biggest of the next century… and some of the most forward-thinking billionaire entrepreneurs on the planet are on board, including Amazon (AMZN) CEO Jeff Bezos, Tesla (TSLA) CEO Elon Musk, and Virgin Galactic's Branson.
The business plan is remarkably simple. It takes advantage of a complete rethinking of space travel. Not only will the company be able to quickly achieve attractive economics, but it will also build a real business with profits.
Plus, Social Capital Hedosophia had just announced it secured a $20 million investment from aircraft maker Boeing (BA) and partnered with clothing retailer Under Armour (UAA) to develop spacesuits for its passengers.
As the SPAC prepared to go live, the terms were straightforward: IPOA shareholders would own 49% of the company, with the remaining 51% staying with Virgin Galactic shareholders. Virgin Galactic was be debt-free and had a clear path to profitability: It was projecting $500 million of revenue and $250 million of earnings before interest, taxes, depreciation, and amortization ("EBITDA") in 2023.
That may seem like a lot of revenue, but it's only 2,000 customers at $250,000 a pop.
Plus, its margins were excellent because it's a high-fixed-cost business with great operating leverage.
The stock was trading at 6.4 times enterprise value ("EV") to EBITDA. Granted, we were using 2023's numbers, so it was a few years away, but it was an incredible bargain for a business with rapid growth potential and great incremental margins.
Given how difficult we knew it would be for competition to emerge, how scarce its asset was, and the expected growth rate, we expected Virgin Galactic shares to trade for a much higher multiple – maybe even 20 times EV/EBITDA. (To put that in perspective, electric-car maker Tesla, which has much less attractive economics, was trading at 30 times EV/EBITDA.)
Best of all, almost no one knew about this opportunity… The stock had zero analyst coverage and had drifted sideways since the transaction was announced a few months earlier.
In mid-December 2019, we added shares to Whitney's Empire Investment Report portfolio with a reference price of $10.20. By February 10, 2020 – less than two months later, the stock had doubled. Nine days after that, shares closed up 269% from our initial recommendation…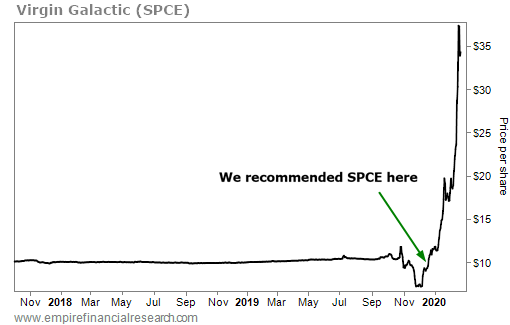 But Virgin Galactic isn't the only recent home run in the SPAC market…
The story was similar with electric-truck maker Hyliion (HYLN), which announced it was merging with Tortoise Acquisition, another SPAC, in June. In September, shareholders voted to approve the deal and shares quickly spiked above $53 – a 420% gain in less than three months.
DraftKings (DKNG) is another SPAC success story. The fantasy sports-betting provider went public via a SPAC earlier last year. It shares went from around $10 in January 2020 to around $64 by early October 2020. Investors who bought the stock made 500% in nine months.
These are the kinds of returns that are typically only available to private-equity and institutional investors, who have access to invest in early stage private companies.
SPACs are one of the few ways in which investors are able to get in on deals before a company "goes public." It's a chance to get in at the same time as the professional investors… and get rewarded the same as them, too.
As the red-hot SPAC market continues to gain more attention, I expect to see an explosion in investor interest and stories like Hyliion and DraftKings happening with regularity. But you haven't missed it yet…
Regards,
Enrique Abeyta
January 16, 2021
Editor's note: On Wednesday, we published a brand-new issue of Empire SPAC Investor. This latest recommendation involves a legend in the industry who has close ties to Empire Financial Research founder Whitney Tilson. We've put together a brief presentation where you'll learn everything you need to get started. Get the details here.