1) Another day, another blowup of one of the stocks I've warned my readers about...
On Monday, it was software supplier Ebix (EBIX). Yesterday, it was electric-vehicle developer Workhorse (WKHS), which tumbled 47% and was down another 14% this morning after losing a contract to supply trucks to the U.S. Postal Service ("USPS"). (Workhorse is in my "Short Squeeze Bubble Basket," which is now down a stunning 35% in the past four weeks.)
Here's what I wrote in my October 8 e-mail:
A smart short-seller I know, who wishes to remain anonymous, just released an in-depth report on electric-vehicle ("EV") developer Workhorse (WKHS), whose stock is up by 10 times in the past six months – giving it a $2.5 billion market cap. Here's a summary:

In early September Hindenburg Research exposed another high-flying EV company, Nikola, as being an alleged "intricate fraud." Nikola has since admitted to rolling a truck down a hill on purpose for a promotional video…

Workhorse on the other hand rolled one down a hill by accident due to a parking brake failure, and with that crashed their chances of ever landing the U.S. Postal Service contract.

Bulls continue to stand by the hopes that Workhorse will win the USPS contract and that win opening a door to new business and lucrative contracts. We will lay out irrevocable evidence to end any speculation that Workhorse will receive a meaningful share of the USPS Next Generation Delivery Vehicle contract. We will also show that major customers shut the door on Workhorse long ago, actually erasing any mentions of Workhorse partnerships from filings & media.

I haven't done my own analysis of the company, but my gut tells me that this is an even bigger fraud/promotion than Nikola (NKLA)...
I asked my friend for his current thoughts, and he still thinks it's a good short:
It's probably a much easier and less dangerous short here now that the hope of winning the USPS contract is gone.
My take: Even after getting cut in half, the stock is still up more than 10 times where it was less than a year ago. Avoid it at all costs!
2) Last week, Berkshire Hathaway (BRK-B) filed its quarterly Form 13F with the U.S. Securities and Exchange Commission ("SEC"), in which it disclosed CEO Warren Buffett's stock moves during the quarter. My friend Doug Kass of Seabreeze Partners posted his take:
Buffett and Berkshire Get Busy

* Verizon and Chevron purchased, banks and gold sold

* None of these portfolio moves surprised me – but some might surprise the markets

Warren Buffett pulled down his cash position a bit and got more busy in the latest reporting period.

Notably:

* Verizon and Chevron Added – In a market that is arguably characterized by little value, Berkshire Hathaway (BRK-B) initiated a near 150 million share position in Verizon (VZ), worth about $8.6 billion. Berkshire also initiated a $4.5 billion holding in Chevron (CVX). I own a large holding in Verizon and here is my update on the company written about two weeks ago:

* VZ is a conservative holding with a secure dividend.

Though Verizon's shares have recently declined, I thought the company's 4Q was solid, slightly beating expectations while providing an above consensus forecast for the next 12 months, even in the face of COVID-19's impact on roaming revenues and other factors.

VZ reported $1.21 compared to consensus of $1.17.

The likely variable that took down the stock was weaker than expected wireless postpaid phone net adds (-20%). I expect this trend to continue but churn should continue to hold together.

The company's [average revenue per user] ARPU strategy seems to be working.

Wireless service revenue growth is seen accelerating modestly (+2.2% to greater than +3%) as comps are easy throughout the year. Equipment revenue was -5% (year over year). Consumer revenue was several hundred million dollars ahead of consensus and EBITDA ($9.95 billion) was $50 million better than street forecasts.

Shareholders await C-Band auction results later this month, as well as potential tax hikes.

Capital spending guidance ($18 billion) was slightly below consensus expectations.

VZ ended the year with $22 billion of cash – acceptable given the projected auction spend.

With strengthening of wireless revenue growth and some upside to street estimates, I expect the company to be able to balance subs and profits in a very aggressive promotional environment.

Investors won't get rich with Verizon but my 12-month target is $60-$62 – with the safe dividend providing a reasonable return for this conservative holding.

* Banks Sold – Buffett continued to clean house of bank stocks, eliminating holdings in JPMorgan Chase (JPM), PNC Financial Services (PNC), M&T Bank (MTB), and substantially reducing Berkshire's stake in Wells Fargo (WFC), while maintaining a large and recently growing Bank of America (BAC) position. Here were my previous comments on financials in 2020 which followed his surprising initial bank stock reductions and sales (Goldman Sachs (GS)):

As to financials, he has sold Goldman Sachs and has lowered his positions in Wells Fargo and JPMorgan. Moreover, and importantly, net-net he has been relatively inactive since Covid-19 spread reflecting the sort of conservatism expressed above. This in practice and sentiment should no longer be surprising – as he grew to be a manager of conservation and preservation versus a growthier manager.

For a decade plus, the construct of Berkshire's investment portfolio, save the enormous and large success of Apple over the last three years, has been unimpressive – a portfolio littered with companies whose moats were shallower than he perceived, particularly as it relates to packaged goods companies (Kraft Heinz (KHC)) and in the increasingly commoditized banking industry suffering from a tilt towards generational low interest rates.

To me, Berkshire is signaling a move towards a 20% holding in Bank of America, so I would say he is not exactly exiting the financial space.

I am a bit surprised about his large sale of Wells Fargo but I can understand, given the Sisyphus-like and continuing company specific problems (further exacerbated by COVID)... Remember Warren's disdain for bad corporate behavior (Salomon?) – well, he might simply have had enough with WFC management – that bridge too far might transcend the issue of being a bank.

Finally, selling WFC off and adding to BAC might be in keeping with his relative confidence in BAC over WFC and a willingness to be increasingly concentrated.

* Taking a Bite Out of the Apple Position – Berkshire reduced its holdings in Apple (AAPL), which was one of my expected Surprises in my Annual List recently:

* Warren Buffett famously invested about $35 billion in Apple and has hit a grand slam home run. He said he wanted to buy more in early 2019 when the stock was $140/share. Despite the tax liability, it is not inconceivable that Berkshire might shed some stock at these elevated prices. The market's reaction to this could be severe.

* Gold Gone – The conglomerate eliminated its sub $1 billion position in Barrick Gold (GOLD). When Berkshire purchased the Barrick position mid-2020, I argued with several subscribers and disagreed with the consensus that the Barrick buy represented a profound change in Warren's view on precious metals. Here are my comments from last August on Berkshire's Barrick purchase:

Berkshire also purchased nearly $600 million in Barrick Gold Corp. Gold bugs will regale in this move but I see it as hardly noteworthy. The small size of the investment, thus far, is meaningless to Berkshire, and the $600 million holding suggests that either Ted or Todd, and not Warren, initiated the buy.
Thank you, Doug! Here are my quick thoughts:
I don't have strong feelings about Chevron or Verizon. They'll both likely do fine – certainly much better than cash!
I think Buffett is smart to bank profits on Apple, which has been one of the greatest investments of all time. Berkshire owns 887 million shares at an average cost basis of around $37, meaning he's turned $33 billion into $118 billion (not counting the gains on the shares he's sold). But Apple is so large and the valuation multiples have risen so much that it's hard for me to see how the stock outperforms going forward (though I've thought this for a couple of years – and been completely wrong so far!).
I wish Buffett hadn't given up on Wells Fargo, which we recommended in our Empire Stock Investor newsletter on September 2 at $24.71, right as Buffett was dumping the stock. Since then, it's up 51% versus 11% for the S&P 500 Index – and I'm still bullish.
3) Speaking of Buffett, my observation over the past two decades is that anytime a "new economy" guru compares himself to – while also trash talking – the Oracle of Omaha, the market soon punishes his hubris! The King of SPACs Wants You to Know He's the Next Warren Buffett. Excerpt:
Chamath Palihapitiya has already drafted the next chapter in his charmed-life story.

The immigrant kid who bootstrapped his way into riches at Facebook, made billions as a risk-hungry investor, and became the pied piper of the current blank-check craze now envisions himself as nothing less than the Warren Buffett of the Reddit era.

"Nobody's going to listen to Buffett," Palihapitiya, the founder of Social Capital, said in a Bloomberg Front Row interview. "But there has to be other folks that take that mantle, take the baton and do it as well to this younger generation in the language they understand."

The language, of course, is social media. That's where the 44-year-old billionaire talks up his deals, trolls the establishment, and hypes "all things Chamath." Recently, he stoked speculation he might run for governor of California. Occasionally, he tweets out shirtless selfies to his 1.3 million followers. His feed is a digital stream of consciousness.

With Twitter as his bullhorn, Palihapitiya has become the undisputed king of special-purpose acquisition companies, the hottest thing on Wall Street. Together with Ian Osborne, a public-relations soothsayer turned financier, he has sponsored six SPACs, raised a total of $4.34 billion, and acquired businesses in space travel, health insurance, financial services, and real estate.
4) After 40 years, I finally ditched my wallet and replaced it with this case for my cell phone: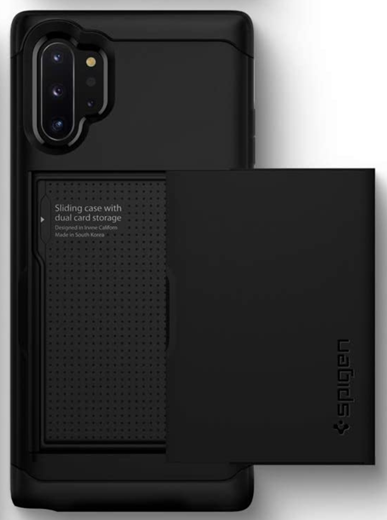 As you can see, it has a small compartment in the back, with just enough room for three things: my driver's license, a credit card, and a carefully folded $20 bill.
I found I can do without everything else in my wallet: I almost never use cash, I've entered my other credit cards onto my Samsung Pay account on my phone (which I can use when I take the subway or bus), my Costco and health insurance cards are built into their respective apps, and while I could squeeze my business card in, I've chosen not to because I can't remember the last time I handed it to anyone.
I love not having to carry a wallet around anymore!
Best regards,
Whitney