1) The implosion of German payments processor Wirecard (WDI.DE) offers so many lessons… One is how conflicted and/or incompetent auditors can be, as this Wall Street Journal story highlights: Wirecard Scandal Puts Spotlight on Auditor Ernst & Young. Excerpt:
Ernst & Young GmbH, auditor to insolvent German fintech company Wirecard (WDI.DE), had questions related to unorthodox arrangements under which the company's cash was held in bank accounts it didn't control as far back as 2016, according to emails seen by the Wall Street Journal.

The auditor subsequently signed off on three years of Wirecard's financial results with those arrangements in place.

Now $2 billion that was held in those accounts has disappeared. Wirecard says the money probably doesn't exist. On Friday, a German shareholder association filed a criminal complaint to the prosecutors' office in Munich, where Wirecard is based, accusing EY auditors of missing the alleged fraud.

"We feel Ernst & Young's auditing work was a disaster," said Marc Liebscher, whose Berlin-based law firm is representing the private Wirecard investors who filed the complaint. "Our clients are convinced, Ernst & Young should stand trial"…

Investors who bet Wirecard's share price would fall have been sending detailed complaints to EY for years, flagging their concerns and media reports that raised questions about the company's accounting and business practices, based on letters reviewed by the Journal.

"They've basically turned a blind eye toward the critics that raised very serious allegations," said Fraser Perring, who with his former partner, Matthew Earl, published an early report critical of Wirecard in 2016.
2) Another lesson is how hard it is to be a short seller. Even if you're ultimately proven 100% correct in your analysis, you can suffer years of pain… Wirecard Shows Life at Hedge Funds Can be Agony. Excerpt:
With an army of credulous equity analysts and fund managers cheering the stock higher, and an auditor happy to sign off the accounts, Wirecard was a mightily difficult beast for the shorts to slay. Despite all kinds of warning signs, investors "gave the company the benefit of the doubt over and over and over again," Jim Chanos, the founder of hedge fund Kynikos Associates – who helped expose Enron's accounting crimes – told Bloomberg Television…

Sadly, Wirecard isn't the first example of regulators, directors and auditors failing to listen. Instead of showing any appreciation for these Woodwards and Bernsteins of the financial world, short sellers are maligned. German prosecutors looking at Wirecard focused their efforts on investigating alleged market manipulation by short sellers, rather than the fraud its employees were busy perpetuating. The company described a letter from TCI Management's Chris Hohn, calling for Chief Executive Officer Markus Braun's ouster, as "the purely tactical maneuver of a short seller." In other words: Please investors, ignore anything Hohn says, because he just wants the share price to go down.

A decade-long bull market, characterized by large passive investment flows, fervent retail shareholders and a political environment where facts no longer matter, has made shorting a pretty unrewarding activity. Elon Musk regularly heaps social media scorn on those who doubt Tesla Inc., but that's nothing compared to the emotional and financial trauma of shorting Wirecard.
3) This is very clever – especially the obvious parallels to Tesla (TSLA): Who's going to be the next Wirecard?
Now that Wirecard has been proven once and for all to be a massive fraud and is rapidly dying away into oblivion, many of us – and you, we're sure – have been thinking about where the next big corporate scandal might come from.

Mirabaud Securities, the equity research house whose analyst Neil Campling stood out for being the only person to put a price target of zero on the German payments processor, have been thinking about this too.

They've come up with 20 warning signs that they are looking out for in trying to determine the next "Big Disaster." They are as follows:

Massively promotional CEO who actively looks for publicity and spends a lot of time courting Wall Street/investors etc and is very media savvy
Huge CEO/Senior Management compensation package NOT tied to cash flow or Earnings but just to Sales and/or the stock price, creating the possibility of egregious wealth creation if the stock goes up a lot. Huge pledging of collateral by the CEO in return for margin loans to fund a billionaire lifestyle
Management compensation generally way out of line with peers despite notably less profitability
Glossy future projections that have a habit over a long period of being proven to be too optimistic
Questionable product quality, ie defects (boon??) or debatable technological leads over similar products
Some evidence of self certifying, whether it be through strange international subsidiaries or not having an Auditor or experiencing unusual and slightly sudden end of quarter surges in revenues, up to and including the last day
Unusual or unverified and large Receivables in a business where the product is exchanged for cash up front
Evidence that the company is existing on a shoestring, not paying Suppliers, Employees, Landlords etc
Unusual margin progression, with SG +A going down over time despite a rising global footprint, or GM's staying flat despite much lower ASP's over time, for instance.
High levels of Gross Debt. Cash balances not matched by notable Interest Income thereby suggesting they are fraudulent
High employee turnover, especially in the LEGAL and FINANCE areas. Co-founders or Board members leaving.
Aggressive pursuit via paid third parties and/or "heavies" of any critics or people who have too many questions, which in any case are "boring"
Dislike of Hedge Funds
Possible Narcissistic Personality Disorder on the part of the CEO. Additional points if he/she uses Twitter a lot
Large cabal of outcasts/weirdos/bloggers/Twitter groups who have been saying for years that everything is amiss but just get a lot of criticism because the stock keeps going up ergo they must be idiots
Slowing top line growth rate despite all the hoopla and supposed "growth stock" status. Evidence of competitors rapidly eroding unsustainably high market share.
Loss making. Ideally never made a profit but likes to pretend it did or failing that, that it will for sure in 2-3 years due to highly questionable new products. But the 2-3 years gets pushed out constantly
Extensive use/exclusive use of NON-GAAP Accounting and occasional bridging to get from a Net Loss to a (small) Net Profit via poorly explained one-offs/Other Items/unusually large Credits of some kind in a desperate attempt to get into an Index by illicit means
Weak Board, preferably also small and ideally in hock in some way to the CEO, who therefore do his/her bidding. Helps if some of them are related physically to the CEO.
Gullible media, gullible analysts and dozens of paid bloggers who produce Price Targets out of nowhere based on "Option Value" or put another way products that are at least 5 years away from having any material impact.

We're having some trouble here. We kind of have the feeling that Mirabaud has someone in mind, but we can't for the life of us think of a large listed company that ticks these boxes. We are stumped.
4) With Wirecard's recent meltdown, maybe investors will start paying more attention to smart short sellers…
Speaking of which, Nate Anderson of Hindenburg Research has gone public with his work on two obvious Chinese frauds that trade on the Nasdaq Capital Market:
a) Losing With WINS: NASDAQ's Latest Disgrace Has No Financials, An Insolvent Parent Entity and Is Embroiled in What Appears to Be an Obvious Pump and Dump. Excerpt:
On June 10th, Wins Finance, a China-based small business lender, mysteriously spiked 758% on 151x its previous day's volume on absolutely no news whatsoever. The company disavowed involvement in the mystery surge in a press release. 
The timing looks suspicious. The day before, on June 9th, Chinese courts rendered an RMB 350 million asset freeze on assets of Wins' operating subsidiary. The same operating entity in China has two enforcement orders against it since November 2019. We think Wins is likely functionally insolvent.
Wins' parent, which owns 67.7% of Wins' equity, has already been formally declared insolvent. A provisional liquidator was appointed to the parent company in February, and its equity (which was listed in Hong Kong) has been suspended from trading. 
Wins has a July 2nd hearing with NASDAQ to determine its listing status over its failure to file an annual report for the fiscal year ending June 30th, 2019. The last available financials for the company were as of 18 months ago (December 2018).
We visited the company's headquarters and found it mostly empty. We also visited the corporate address for Wins' operating subsidiary and found it empty. Neighbors told us the office has been abandoned for a "year or two." 
b) Here's Anderson's Twitter thread on Ideanomics (IDEX). Excerpt:
We are short $IDEX and believe it is heading near its March lows of $0.30 if it somehow avoids a regulatory halt that could see its shares go lower.

$IDEX has a history of changing biz models and pumping – then dumping – each new endeavor. Its move into EVs will be no different.

Since 2015, $IDEX has had 6 CEOs, 6 CFOs, four different company names, and has had 10 board members leave.

We think $IDEX is an egregious & obvious fraud and investors need to look no further than the company's June 9 press release.
And here's his follow-up report: Ideanomics Walks Back 1m Sq Ft Claims Today; Our Visit To IDEX's 'MEG' Facility Shows Zero Company Presence.
5) Because there have been so few humans in Yosemite in recent months, wildlife sightings are common. I've seen four bears, including this mother with two cubs: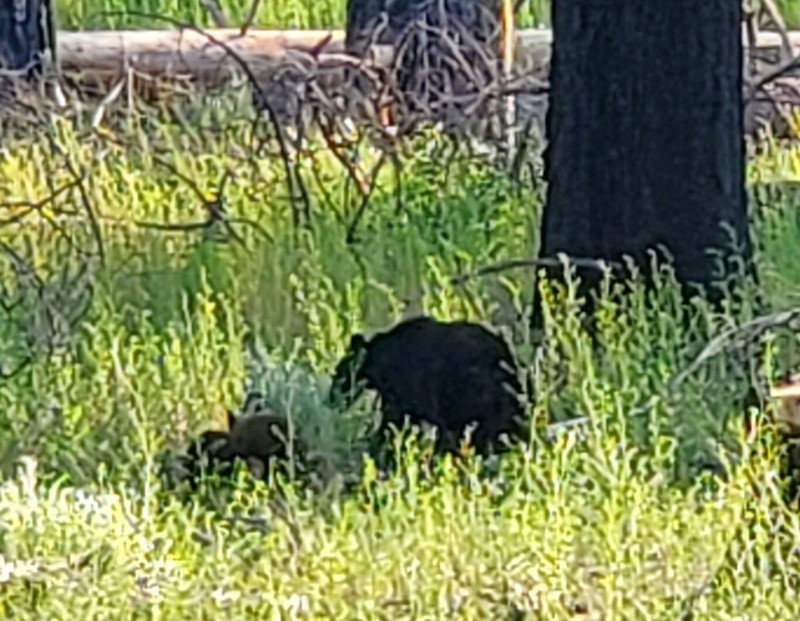 I've also seen deer and a coyote: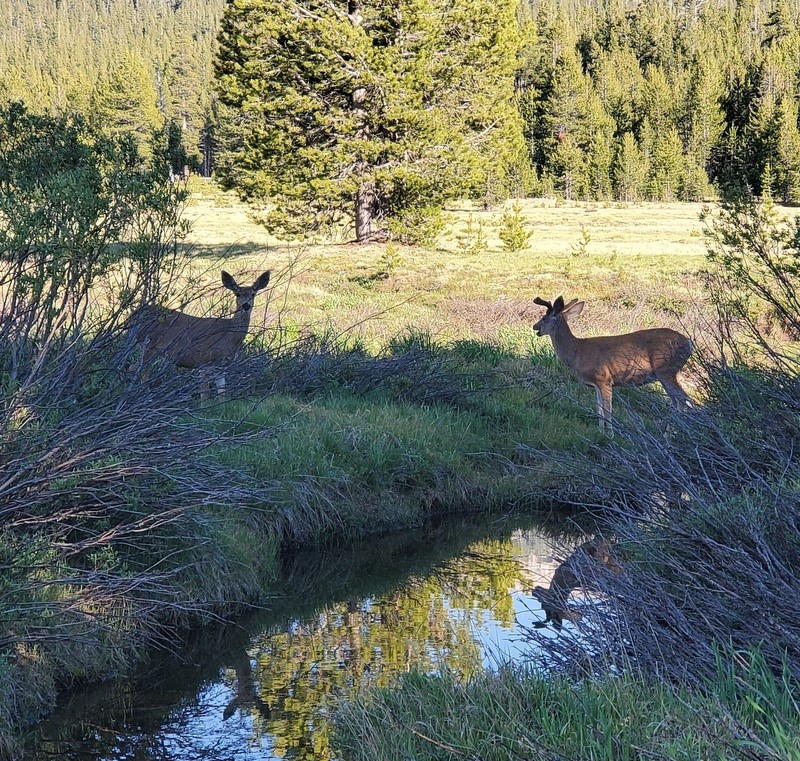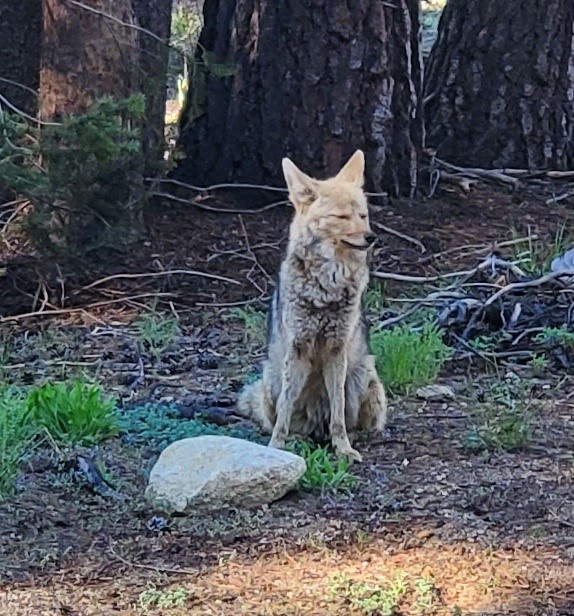 Best regards,
Whitney