1) I've been very critical of some of Facebook's (FB) business practices in recent e-mails, which led two readers to ask:
"Hi Whitney. You've written several e-mails outlining the awful business practices of Facebook, but you continue to rate it as a buy in one of your portfolios. Why?" – Jim S.
"Hi Whitney, Thanks for today's post regarding Facebook. Just curious, have your thoughts changed on FB as an investment? We are Empire Elite Partners and have been invested in Facebook since it was part of your perfect portfolio." – Lisa T.
The short answer is that I'm able to hold two seemingly contradictory thoughts in my head at the same time: a company may be behaving badly, yet its stock might be undervalued.
In fact, this is often the case, especially if you're a value-oriented investor like me. We look for beaten down, out-of-favor stocks – which sometimes is the result of some taint. But as legendary investor Bill Miller once noted: "If it's in the headlines, it's in the stock price." And if the problems prove to be fixable, the stock can soar.
One of my best investments ever was buying McDonald's (MCD) in late 2002 and early 2003 from $16 per share down to $12.50 per share as the company weathered criticism that its food was unhealthy and was contributing to the obesity epidemic.
I also made a quick profit in mid-2010 when I bought oil giant BP's (BP) stock in the wake of the Deepwater Horizon oil spill in the Gulf of Mexico.
Here at Empire Financial Research, our most important job is to give our subscribers money-making stock ideas. Thus, we haven't hesitated to recommend controversial companies such as gunmaker Smith & Wesson Brands (SWBI), cigarette company Altria (MO), defense contractor General Dynamics (GD), spirits maker Diageo (DEO), pot stock Green Thumb Industries (GTBIF), and gambling companies Penn National Gaming (PENN), Las Vegas Sands (LVS), DraftKings (DKNG), and Flutter Entertainment (FLTR.L).
2) Speaking of companies behaving badly, in Tuesday's e-mail I shared an article – Revolt of the Delivery Workers – about the horrific work conditions these men suffer, so I was glad to see this: New York Passes Sweeping Bills to Improve Conditions for Delivery Workers. Excerpt:
Since the beginning of the pandemic, food delivery workers on bikes have become even more ubiquitous features of the New York City streetscape, earning low wages and often braving horrendous weather, hazardous streets and the threat of robbery to bring people their takeout orders at all hours of the day.

On Thursday, the city became the first in the nation to take aggressive steps to improve those employees' working conditions, approving a groundbreaking package of legislation that will set minimum pay and address the plight of couriers employed by app-based food delivery services like Grubhub, DoorDash (DASH), and Uber Eats (UBER).

The legislation, which has the support of Mayor Bill de Blasio, is the latest and most broad example of the city's efforts to regulate the multibillion dollar industry. While other cities have taken steps to restrict the food delivery apps, no city has gone as far as New York, which is home to the largest and most competitive food delivery market in the country.
The working conditions are no doubt similar across the country (and world), so the solution isn't to wait for each city to enact these basic reforms, but rather for the companies themselves to embrace them.
If one of them were to do so, perhaps customers would reward it by shifting their business, which would compel the others to follow.
3) I continue to closely follow the pandemic and send periodic updates to my coronavirus e-mail list (which you can sign up for by sending a blank e-mail to: [email protected]). Here's an excerpt from Monday's e-mail (you can read the entire e-mail here)...
---
a) We reached a tragic milestone last week – more than 1 in 500 Americans have now died of COVID. Here's my friend Robert Hubbell on it:
More than 1-in-500 Americans have died of COVID. Indeed, using the most conservative numbers from the CDC (based on death certificates), a more precise ratio is 1‑in-468. But using the CDC's estimate of "excess deaths" in the U.S. during the pandemic, the ratio is 1-in-415. Overall, life expectancy in the U.S. in 2020 declined by 1.03 years, while life expectancy for the Black population decreased by 1.90 years and life expectancy for Latinos decreased by 3.03 years.

Those numbers are shocking. If they do not shock you, I urge you to reflect on them until they do. We cannot allow ourselves to become numb to the reality of the coronavirus pandemic. Too much is at stake.

COVID is now the third leading cause of death among all Americans. It is the leading cause of death among law enforcement officers.
b) A smart article on why telling people to "do your own research" is idiotic. Do we tell people who've been diagnosed with cancer to do their own research and decide what treatment they want??? These four words are helping spread vaccine misinformation. Excerpt:
The concept has lately become associated with COVID-19 and QAnon, but the phrase "do your own research" dates back to the 1890s when it was associated with skepticism surrounding the smallpox vaccine, Renee DiResta, research manager at the Stanford Internet Observatory, said on "Reliable Sources."

The notion of doing your own research is not a bad idea in itself, DiResta said, as it's important to maintain a healthy level of skepticism about information being fed to you. But in today's media environment fueled by clicks and engagement, it's all too easy to come across misleading data that confirms biases.
c) Thanks to the disgraceful mis/disinformation campaigns, we are quickly becoming one of the LEAST vaccinated wealthy countries. This chart shows how well we did in the first months of the vaccination campaign, trailing only Israel and the U.K. in administering first doses – but we leveled off and now most other peer countries have passed us (source):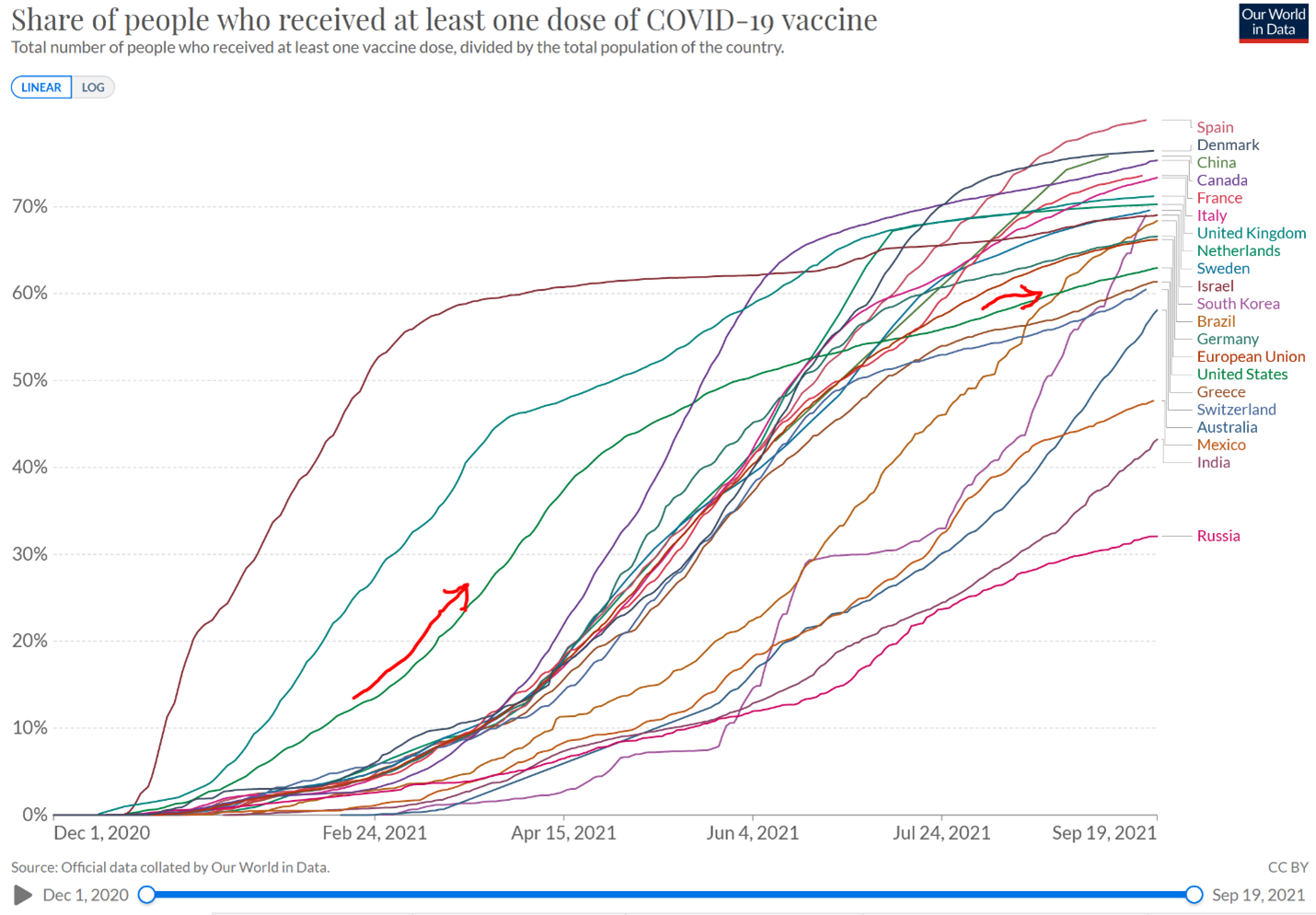 ---
In the rest of my e-mail, I cover:
Dr. Kevin Maki on the Pfizer (PFE) vaccine for 5-11 year olds, natural immunity, and ivermectin
Fox News on vaccines
Again, you can read it here.
4) I've been mostly beating my head against a wall trying to get the handful of people I know who aren't vaccinated to get the vaccine. All are men, which isn't surprising given that a lower percentage of men have been vaccinated, according to this recent poll (67% versus 71%).
Well, I think I've discovered an argument that might finally get them over the hump! How COVID Affects Men's Sexual Health. Excerpt:
... [S]everal studies show that the SARS-CoV-2 virus can invade tissues in the penis and testicles. As it happens, the testicles are a perfect hideout for a variety of viruses because they are immunologically privileged body parts, meaning they are shielded from the immune system. Once COVID-19 invades this region, it can hang out there indefinitely. "This may explain why 11% of men hospitalized with COVID-19 suffered testicular pain," [Sharon] Guynup writes.

Other studies have found that men seem to be six times more likely to develop brief or long-term erectile dysfunction after contracting the virus. That's likely because the coronavirus is known to attack blood vessels all over the body, and the penis relies on blood vessels to maintain an erection...

Research is still in progress, and plenty of unknowns remain. But it's clear enough by now that if you care about your reproductive health, you should be more worried about getting the virus than the vaccine. "The plausible relationship between COVID-19 and erectile dysfunction is one more reason for the unvaccinated to get their shots," Jannini says. "If they want to have sex, better to get the vaccine."
Best regards,
Whitney
P.S. I welcome your feedback at [email protected].