---
Recommended Link:
GM's next big release has no engine and no wheels

In a shocking move, auto giant General Motors is venturing into a whole new space (hint: NOT electric vehicles). While industry analysts see this as a way of catching up with Tesla, the bigger reason could be because this new space is getting the full backing of the current administration and could mean huge tax credits in the future. Or it could just be that this fledgling industry has more scope than the declining auto industry. Whatever it may be, this move could put GM into the same bracket as Apple, Google, Microsoft, and Amazon. Get the details of this massive trend here.
---

We know companies game the system, especially when it comes to earnings...
But intentionally understating them?
That appears to be the case, or at least it was in the first half of the year, according to a recent report from my friends at New Constructs – run by David Trainer.
As summarized in this recent story in Institutional Investor, it suggests that "many companies may have done so to avoid reporting significant losses in the second half of the year, where fears of recession are mounting due to deteriorating economic conditions."
The story goes on to say...
New Constructs came to that conclusion after comparing reported earnings with core earnings, which account for income and expenses that are buried in footnotes and in the "management discussion and analysis" section of many financial statements.

In 2019, scholars from Harvard Business School and MIT's Sloan School of Management found that public companies were able to manipulate earnings by putting key information in footnotes and other areas that tend to be overlooked by analysts.

Many investors, the note explained, are unaware that companies can decide when to record certain income statement items and miss investment opportunities.
► The obvious question, of course, is why would they do this?
The story quotes David as saying it "implies that corporate executives are worried about the earnings outlook in the coming months. Companies tend to overstate earnings in a good market cycle and understate otherwise."
Or as he put it in his report...
The abrupt quarter-over-quarter drop in Operating and GAAP Earnings could be the beginning of another "kitchen-sink" period, or corporate managers sandbagging first-half performance to make it easier to achieve relative growth over the rest of the year.

We most recently saw the kitchen-sink effect in 2020, when companies used COVID-19 as a justification to write down more assets than in any year since 2008. Now, with high inflation, rising interest rates, and global turmoil, companies could be using a similar playbook in anticipation of another market meltdown.
Kitchen-sinking is when companies use the period to throw in everything and anything that can be bad as a way to lower expectations and make future earnings reports easier to beat on a quarter-over-quarter or year-over-year basis... As if nobody will notice.
Here's what I'd like to know: Which companies aren't playing those games? And over time, whose stocks historically have performed better: those who play the games, or those who don't?
(If you've seen a study, please share it with me by clicking here!)

Moving on, when I used to focus on companies with looming issues, I always wondered how the short sellers saw them but the company didn't...
The answer may very well lie in the narcissism of CEOs, who are often the last to see their own shortcomings.
The issue of narcissism among CEOs was the focus of a recent story in the Financial Times, which found that one in six CEOs is a narcissist.
As it turns out, there was a correlation between the size of their signatures and the amount of time they used the word "I," as well as the size of their photos in their annual reports and the placement of their quotes in press releases.

The story noted a few other telltale signs...
As the author continued...
Another approach is to ask fellow directors to assess a CEO. When Stanford University researchers took that tack last year, they concluded that one in six chief executives displayed moderate-to-high narcissism.

That makes narcissism about three times more prevalent among CEOs than in the general population. This should occasion CEOs an uncharacteristic moment of introspection.

They will bounce back with the news that the Stanford researchers found chief executives have a fairly healthy personality profile, on average. Even the narcissists were found to have some saving graces including – surprisingly – a greater likelihood of running companies with good governance features.

Narcissists can make inspirational leaders. Self-confidence and risk tolerance help take executives to the top. But there is growing recognition they can damage a business's performance and culture. Bosses with toxic personalities should watch their step.
It's that last point on toxicity that likely helps explain why the short sellers saw what the companies themselves didn't. Or could it be that the companies didn't want to see it?
I'm sure these are the same companies whose CEOs surround themselves mostly with "yes people" who don't invite contrary discourse – even among their closest lieutenants – and simply can't accept the fact that they may have screwed up (or worse, gotten caught).

Finally, from the world of charts, these two caught my attention...
First, came this tweet from writer and investor Lance Roberts showing that CEO confidence is near a 40-year low...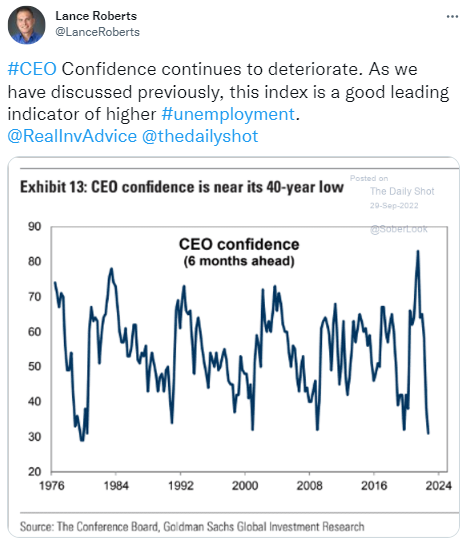 Source: Twitter/@LanceRoberts
That was followed by this tweet from author Jay Kaeppel...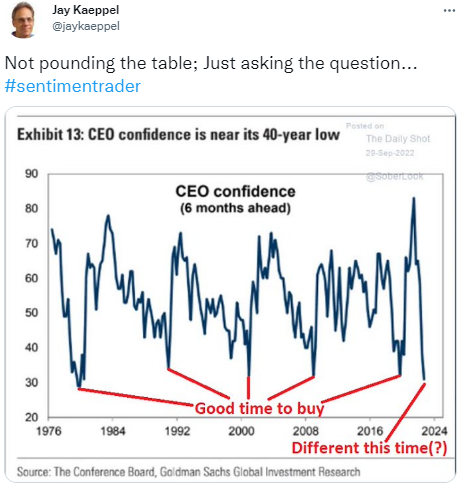 Source: Twitter/@jaykaeppel
Interpret at will.
As always, feel free to reach out via e-mail by clicking here. I look forward to hearing from you... And have a great weekend, everybody.
Regards,
Herb Greenberg
September 30, 2022