► The market is full of 'rules'…
And despite what you may think, many of them don't actually work.
When it comes to most things, I'm not a contrarian for the sake of being a contrarian.
However, I'd estimate that 90% of what you hear from the financial media and investment managers can not only prevent you from making money… it can even cost you money.
In my 20-plus-year career, I've found several of the most popular rules totally worthless. Today, I'm going to share four investing principles that have treated investors right over the long term…

The first is the importance of being selective…
Between the New York Stock Exchange and the Nasdaq Composite Index, individual investors can choose between more than 6,000 U.S.-listed stocks. If you widen the scope to liquid stocks in international markets, that number is several times larger.
In addition, investors can also choose to put their money into bonds, exchange-traded funds, commodities, options, and more.
But in reality, a "diversified" portfolio only needs 10 stocks.
Having 10 stocks is perfect. It's enough to make sure a single loser doesn't sink your whole portfolio, and you'll also be able to keep track of each company you own.
Say it with me: Out of the thousands of options you face as an investor, you only need to hold 10 stocks in your portfolio. Be selective and only buy the absolute best.
Ideally, you'd make your highest-conviction ideas larger positions than the rest. But with a 10-stock portfolio, simply allocating 10% into each position is good enough for most investors.
You must also remember that 10-baggers don't happen overnight. For these kinds of returns, you want stocks that you can own for at least two or three years (and preferably a decade).

The second principle has to do with extremes…
In professional sports, teams need to either be great (with a chance to win the title) or terrible (with a chance to get the best available players in the draft and ultimately grow into a title contender). For the best chance at long-term success, they can't live in the "middle."
It's the same thing with investing…
The "middle" only produces average returns. To beat the market, you need to focus on the extremes… and in particular, look for companies that are experiencing extreme earnings growth.
Another example of an extreme is buying assets for 10 cents on the dollar. This can be dangerous… and an easy way to light your money on fire. But when you're right, it can produce huge returns.
Extremes often show up in cyclical industries such as heavy equipment, which includes Caterpillar (CAT) and Deere (DE)… or in "protein stocks" like Tyson Foods (TSN) and Pilgrim's Pride (PPC). When companies in these industries reach record-high margins, they're often good candidates to sell short. When they reach record-low margins, they can generate fantastic returns on the long side.

The third rule that works is the concept of technical analysis…
Put simply, technical analysis means using price to analyze a stock.
While many investors value technical analysis, most professional investors reject it because it's not scientific enough – they believe it's essentially investing "voodoo."
And yet, we've seen time and time again that technical analysis really works. Investors buy stocks, not companies. A stock's value is whatever price buyers and sellers can agree upon.
While we can't see every single buyer's and seller's activity, we can see the aggregate activity by looking at price and volume.
Properly analyzed, these data can tell us exactly what is happening to a stock. The problem is, most technical indicators are weak or even useless.
"Support" and "resistance" are two popular indicators that many traders use to get in or out of a position based on past prices. But they're not particularly powerful or useful pieces for technical analysis.

Two technical indicators that we have seen work are long-term moving averages and the relative strength index ('RSI')…
Like support and resistance, these indicators measure buying and selling.
While many investors focus on the 50-, 100- or 200-day moving averages ("DMA"), I prefer the 375-DMA. With roughly 250 trading days in a year, the 375-DMA is essentially the 18-month moving average. It shows long-term trends.
A positive trend in the 375-DMA indicates more buyers than sellers in the market. A stock trading above this level is likely to stay there. (Of course, the opposite is also true.)
Remember, the market is a voting mechanism. In the same way music fans decide on what makes a great band, it's sometimes hard to know exactly why investors are buying a stock… But by looking at the 375-DMA, we can see all we need to know – they are buying.
The other powerful technical analysis tool we use is the RSI. This is a 14-day measure of the "momentum" of price. In other words, the RSI shows the excitement of buyers versus sellers.

Take Altria (MO), for instance…
From April 2019 to late September 2019, shares of the tobacco giant got crushed. The Centers for Disease Control and Prevention and the Food and Drug Administration had recently launched a widespread investigation following a spate of "cases of lung injury associated with the use of e-cigarette or vaping products."
The news spooked investors, who flooded out of the stock… pushing its RSI to its lowest level in five years. As I told my Empire Elite Trader readers in late September that year, the last seven times Altria had gotten that oversold, shares were up 13% just three months later.
I recommended buying the stock at the time and closed the trade for a 15% gain less than a month later – or 199% on an annualized basis. Take a look at the move in 2019…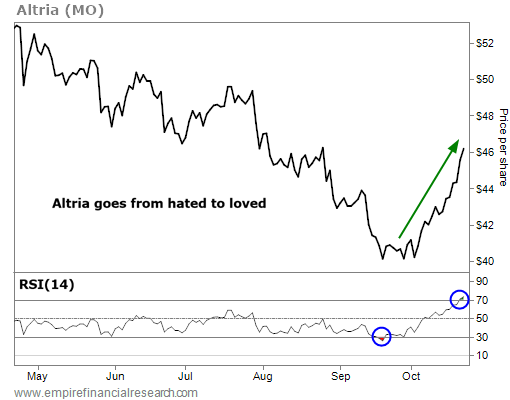 Unlike the long-term moving average, the RSI is a contrarian indicator… When investors get super excited (and the RSI goes above 70), the stock gets overheated and is likely to move sideways or drift lower.
Conversely, if they get too pessimistic (and the RSI falls below 30), it indicates that investors are in "panic" mode. And more often than not, they'll soon exhaust themselves. This sets the stock for a short-term rally.
These two technical indicators are proven, powerful moneymaking tools.

Next up is the concept of 'buying low and selling high'…
This is probably the most common – and least followed – saying in the markets.
Mathematically, we know it's the only way to make money in the markets. But when push comes to shove, our emotions take over and make it almost impossible to execute.
To overcome this, we used a simple methodology at my hedge funds: We analyzed a situation for both the risk and reward to determine our position-sizing.
Let's say a stock is trading at $30 per share, and you think it's worth a 5% position in your portfolio. If the stock trades up to $40, you have a position worth about 6.5%. If nothing else changes, you should trim your position, as it isn't as attractive at $40 as it was at $30.
Conversely, if nothing else changes and it trades down to $20, you have a position worth around 3.4%. Here, not only should you buy enough to make it a 5% position again, but it's now even more attractive. So, in theory, you should buy even more.
The idea is basic. But when the time comes, investors – professionals and amateurs alike – can't bring themselves to do it.

When a position goes against you, it triggers a powerful chemical reaction inside of you…
Human beings are shaped by our biology. Our bodies produce chemicals that determine many of our actions (like dopamine, which allows us to experience pleasure).
As much as we have evolved, we are biologically and chemically the same as cavemen were millions of years ago. When we encounter the prospect of pleasure or pain, our caveman brains take over.
We as humans are naturally risk-averse. Faced with a 1% chance of a fatal event, our body produces a huge chemical reaction. The problem for investors is that the potential of losing money triggers the same type of chemical response, it overwhelms any rational plan we might have had.
It doesn't matter that you've worked hard to maintain your investment discipline around a well-researched idea and have spent hundreds of hours to come up with a plan – 200,000 years of human biology and survival instincts inevitably get in the way.
No wonder traders are overwhelmingly bad when it comes to actually buying low and selling high.

But what if I told you there's a way to generate hundreds – or even thousands – of dollars each month… without ever buying a single stock upfront?
It sounds too good to be true. But it's all thanks to a special "twist" in one trading strategy that most investors have never even heard of. It's a way to "juice" the returns of your portfolio… and once you know how to do it, the whole transaction takes 60 seconds to open.
In fact, we've prepared a video presentation that explains the whole thing and walks you through the process. It's the core idea behind my new research service… and for a limited time, you can gain six full months of free access.
Learn more about this special offer that expires tomorrow at midnight – and watch for yourself how the strategy works – by clicking here.
► In today's mailbag, reactions to last week's piece on the VG Acquisition (VGAC) deal for 23andMe and special acquisition companies ('SPACs') in general…
If you use technical indicators for your trading, which ones do you look at? Do you ever have trouble sticking to an investment plan? Let me know by sending an e-mail to [email protected].

"I signed up for 23andMe (along with Ancestry.com) to look for my birth family. Not for health reasons. Although my mental health did improve. At 65 years old, I found a half-brother… which led to my birth mother, my father, and eight more siblings, along with aunts, cousins, etc. If they want to use my info for science and not marketing, I have no problem with it." – Geoffrey F.
Berna comment: Geoffrey, I'm glad you had such a great experience with 23andMe and Ancestry… It sounds like you had the best possible outcome from these services.

"Thanks for the heads up on VGAC. I have a small position, as Branson has had SPAC success. First, I knew of the acquisition target. I am up about 15% now, will watch carefully.
"I might consider 23andMe services. I am 64 and adopted with no knowledge of my birth parents. Knowing could be a life saver." – Tim L.

"My kids gave me the $99 package for 23andMe for Christmas two years ago. I was underwhelmed with what I learned.
"Turns out 99.9% of my ancestors are European. I already knew my ancestors on my father's side originated from Ireland. What struck me as odd is that I know I have Cherokee in me because my grandmother was half Cherokee. So, I expected at least a tip of the hat to Native American. But what do I know? No surprises. No long-lost cousins.
"All of the things they 'can' do don't come with the $99 package, so my relationship has mostly been that of deleting promotional emails wanting me to find out more about my genes. I've completed a couple of online questionnaires as they try to beef up their database, but no results are shared with me as I do.
"It wasn't what I expected." – Finley K.

"I did 23andMe. The main reason is that my paternal grandfather was left as a baby at an orphanage, so I was curious about my genetic history.
"The process was straight forward, and the results were interesting. They are able to provide a level of detail that actually pinpoints origins right down to cities. It also does a nice rundown on the history of your ancestors within that region.
"The closest relative that has been identified via 23andMe is only a second cousin that I never heard of but that was not my intention when I joined.
"I did the health surveys as a contribution to science. Like someone who would donate their organs to research after they pass away. No judgement on anyone else, but if I can help some researchers find a cure for a genetic disease, I would feel good about it." – Mark C.

"Hi Berna, We were involved with Enrique and SPACs before we bought into the Empire Lifetime Partnership. We've made smaller investments in each of his SPAC recommendations since we trusted his expertise to select the sponsor and opportunities more than our own. So, we've always made a bet on the sponsor team behind it and buy pre-deal. So far, so good – a couple are flat, but others are in the green!
"The proliferation of SPAC deals will make it even more difficult to separate the future opportunities, which only makes it more important to take advantage of Enrique's research and experience.
"There's usually a bit of work to do involving corporate actions and the availability of warrants, but hopefully that will prove to be well worth the effort! Keep up the good work!" – Bill M.
Berna comment: I agree, Bill. There will be great opportunities in long SPACs… and some bombs as well. I trust Enrique to pick good ones to buy in his Empire SPAC Investor newsletter… and I'll continue to call out any sponsors or deals that I come across and think are dodgy, right here in Empire Financial Daily.
Regards,
Enrique Abeyta
with Berna Barshay
February 18, 2021