1) Here's an interesting table I saw showing that many bear markets have had big rallies before heading much lower:

2) I don't share this bearishness. As I've written in previous e-mails, I think we're going to see choppiness in the markets in the next few months before they head higher by the end of the year. I think a 10% pullback from here is likely, and wouldn't be at all surprised by a 20% pullback – which would put the S&P 500 Index at 2,363.
But I would be surprised if the S&P 500 declines 25.8% from yesterday's close, at which point it would be below its intraday low of 2,191.86 on Monday, March 23 (a day, incidentally, in which the headline of my daily e-mail was: Why this is the best time to be an investor in more than a decade).
We are indeed in uncharted waters in so many ways – with the economy in another Great Depression, as much as a quarter of our workforce unemployed, and budget-busting spending to try to offset the massive hardships that millions of businesses and people are facing.
But I don't expect such a severe pullback, given that we're winning the war against the coronavirus. As you can see in this chart, both new cases and deaths per day have plateaued and started declining: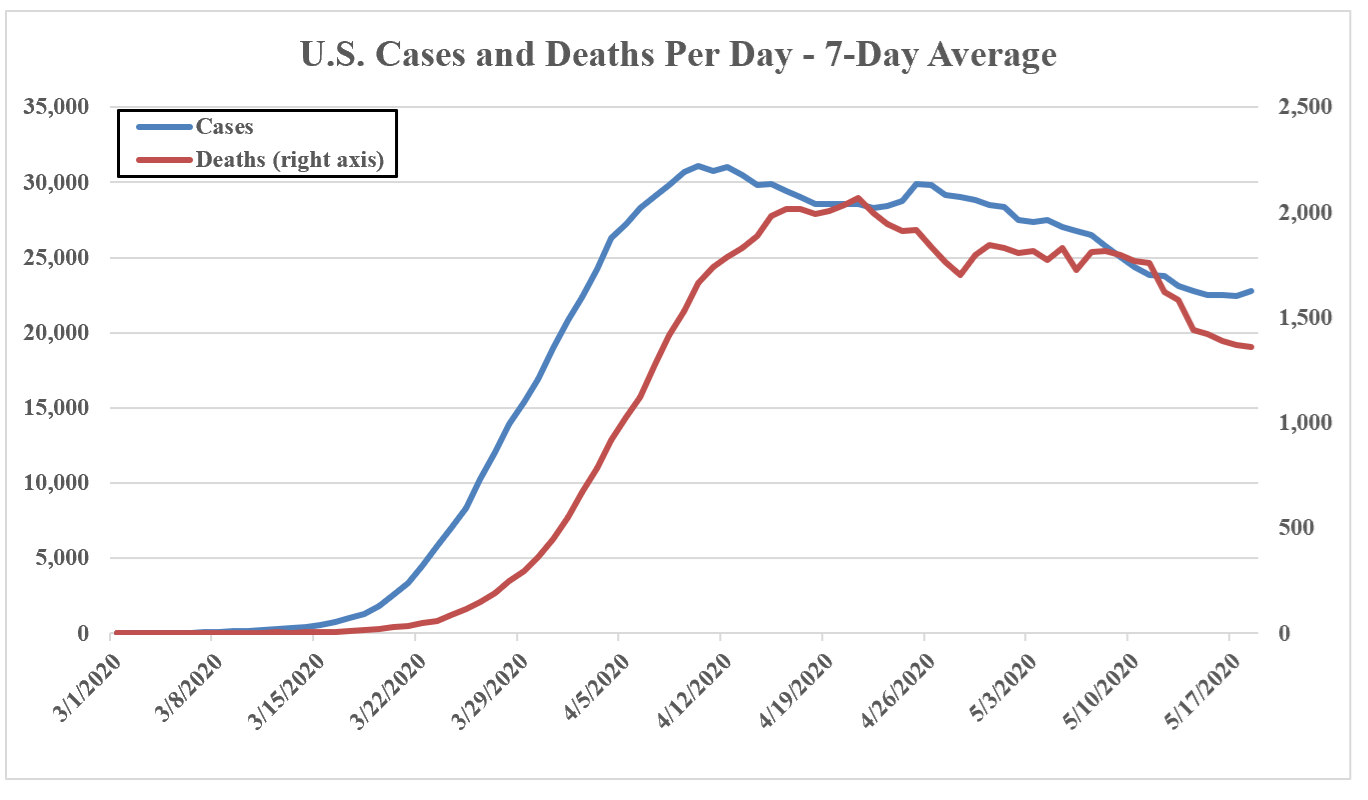 While this isn't the sharp decline that many other countries are seeing, it's clear that we are winning the war against the coronavirus.
3) Ah, but what about the much-feared "second wave" of infections, hospitalizations, and deaths as we reopen our economy?
I can't rule out this grim scenario altogether, but I don't think it's likely based on the early data my team and I have compiled from three states that are in the vanguard of reopening: Texas, Florida, and Georgia. As you can see in this chart, both the number of new cases and deaths are flat to down over the past month (with the exception of rising cases in Texas, but this is due to a big increase in testing):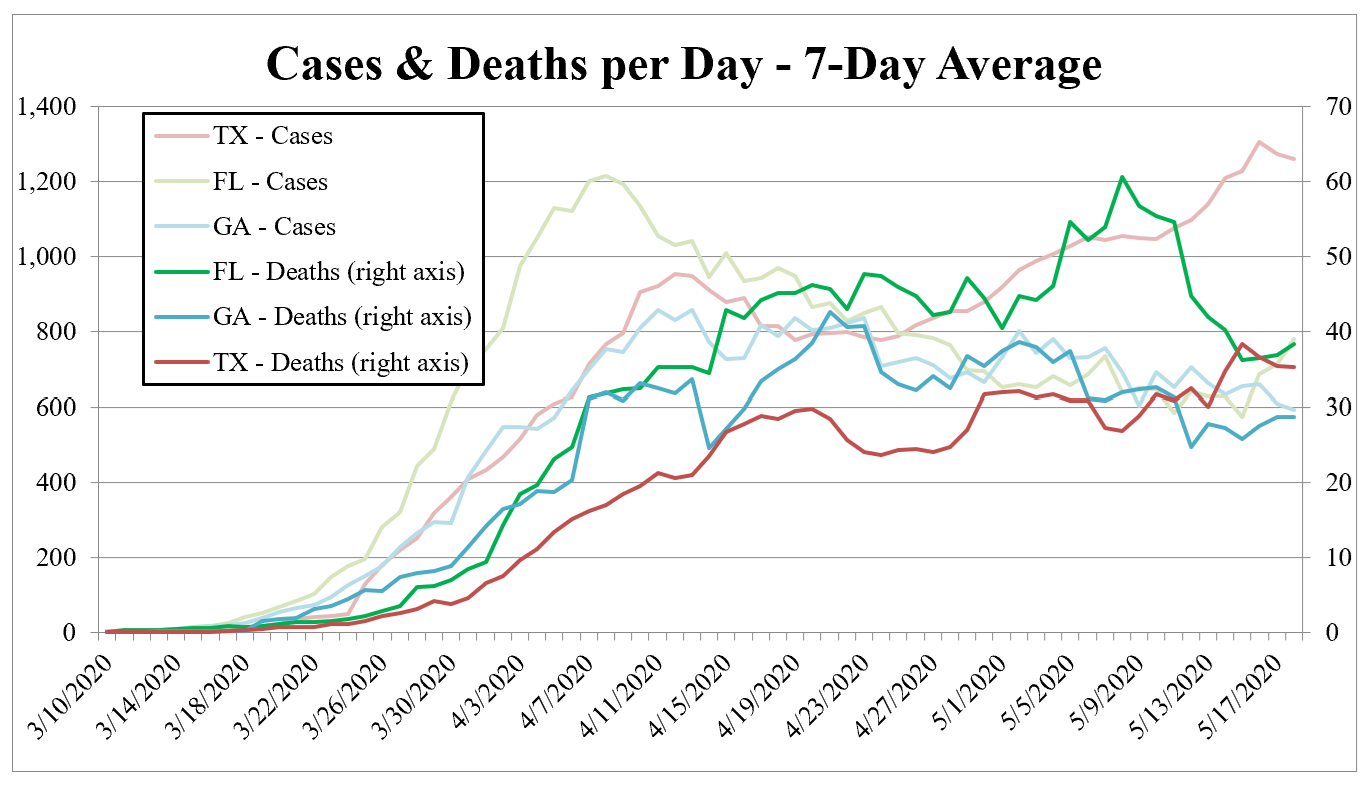 This bodes well as the rest of America reopens – and it's good news for the stock market…
4) China acted much more decisively and hence got the virus under control more quickly than we have… but nevertheless, I think it's a model for what I hope will happen here: Coronavirus Seemingly Tamed, Chinese Economy Starts to Recover. Excerpt:
The world is watching China's economic performance closely. It is a couple of months ahead of the rest of the world in coping with the virus and then trying to reopen businesses. Its successes or stumbles could offer lessons to others…

The difficulties are prompting more and more warnings that China – and possibly other countries after it – may face a "W-shaped" pattern of economic activity.

In such a pattern, the economy nose-dives when most businesses close during lockdowns and then seems to recover when factories and stores reopen. But with many consumers still scared of infection and leery of spending money, the economy then dips a second time before embarking on a more sustainable recovery.
5) I recently published an essay about my observations from working at the Samaritan's Purse field hospital in Central Park: We Must Build Bridges, Not Throw Stones. I hope you enjoy it. Excerpt:
Some of my friends openly wondered about my volunteer efforts. Why would I – a secular, Ivy-League-educated, Volvo-driving, New York Times-reading, liberal one-percenter – devote my time, energy, and money to work with people they considered a bunch of bible-thumping, gun-toting, abortion-fighting, Trump-worshipping rednecks – especially when they worked for an organization led by someone who's said that my LGBTQ+ friends and family are sinners, as well as many other things about them that are very troubling to me?

There are two answers. The first is that I was willing to set aside my ideological differences because lives were at stake. We are truly at war against a ferocious and deadly enemy. If the other volunteers and I hadn't pitched in, and the hospital hadn't opened for an extra two days, what would I say to a grieving family who lost a loved one who might have been saved? This is not a theoretical question – things were really that bad here only a month ago.

The second is that I hope that Franklin Graham and his millions of followers might moderate their views about the LGBTQ+ community if more people like me engaged with them and built bridges, rather than throwing stones – which, let's be honest, has never been an effective technique for persuading anyone of anything.

I think it's sad and counterproductive that we're in such a hyper-polarized environment that the default reaction for so many people is to make assumptions about others' intentions and fight and shout at one another rather than engaging in good-faith dialogue.

My story is one of very different Americans coming together under extraordinary circumstances and working to fight a common enemy – and learning more about one another in the process.
Best regards,
Whitney