► Live entertainment – and Broadway in particular – presents unique challenges within a pandemic...
As I discussed in yesterday's Empire Financial Daily, Broadway and the performing arts have been decimated by the COVID-19 pandemic, with the entire industry shut down overnight. While so many businesses had to temporarily shutter in March, unique challenges for both worker and audience safety have made it nearly impossible for the hundreds of thousands of people who earn a living in the industry to get back to work.
Early in the pandemic, we learned that singing itself is a potential super-spreader activity... and playing woodwind and brass instruments can pose similar dangers. Adding to the complexity of keeping workers healthy, the physical infrastructure of many performance spaces makes safety protocols used in other industries nearly impossible, as the Washington Post recently explained...
The problems for theaters and concert halls – ventilation systems in need of updating, cramped quarters for artists and other workers in backstage areas, a lack of specific federal guidance about what safety measures are required, and a host of other issues – are bedeviling the path back for the purveyors of some of the world's premier venues and attractions.

Some of Broadway's theaters, such as the Belasco and Lyceum, date back to just after the turn of the 20th century, with narrow passageways and dressing rooms, sometimes shared, that are more like closets. An actor's quick costume change in a tiny nook backstage can require two or even three assistants, all breathing in the same few cubic feet of oxygen.
The intimacy of certain scene and character relationships also makes social distancing impossible on the stage. It's no surprise that early in pandemic, COVID-19 ripped through the casts of several Broadway productions, including Moulin Rouge and Tina: The Tina Turner Musical.
Social distancing the audience theoretically is a bit easier... Venues can sell just 25% or 50% of the seats. But most Broadway-style productions need at least 65% of the house filled to break even, so limited capacity productions are a money-losing solution.

If social distancing the audience is by definition unprofitable, how does theater come back during a pandemic?
While the issues with cast and crew safety could theoretically be addressed the same way they are in TV and film set environments – through some combination of quarantining and rapid testing – the U.S. hasn't built the kind of testing infrastructure required to rapidly test hundreds, if not thousands, of people in a window of less than an hour so they can attend a performance in a packed indoor venue.
Much like restaurants that have turned to the outdoors in a quest for survival, a handful of theater companies have taken their work outside with a "show must go on" ethic.
Over the summer in the Berkshires, 10 actors took the stage – along with partitions and masks – to perform Godspell outside to an audience capped at 75.
In August, a theater troupe performed Quince – a play with music about a quinceañera – in a Bushwick, Brooklyn, community garden for a socially distanced audience of around 40. The production's crew was trained in safety procedures by a COVID-19 infection control expert.
This month in a park in Florham Park, a nine-member cast from the Shakespeare Theatre of New Jersey will perform a series of one-act plays by George Bernard Shaw. The cast has been living together in a pod for seven months in order to put on the production. As the theater's artistic director explained to NJ.com...
The cast of Shaw! Shaw! Shaw! has been living together, in isolation, since mid-March, when schools were shut down and their Shakespeare LIVE! touring gig was canceled... By virtue of the particulars of their situation, the cast is, in essence, like any family practicing at-home isolation during the pandemic. They live, eat and work together, wearing masks and maintaining social distance when grocery shopping and when interacting with the three people (two directors and a production staffer) with whom they work at the theater.
While responsible and safe, the extreme commitment required to put on this 90-minute show for 11 days and charge $30 per ticket clearly makes this particular effort about dedication to the craft rather than a for-profit enterprise.
While outdoor performances can be done safely, it's hard to scale them up. Noise pollution combined with the need to socially distance the audience will limit size and ultimately revenue. Bad weather is obviously a factor as well.

Could streaming come to Broadway's rescue?
With media giant Disney's (DIS) Disney+ service having successfully recruited so many new users when it debuted the film version of the original Broadway cast performing the hit musical Hamilton, one has to wonder if the streaming industry could be Broadway's pandemic savior.
With so many new services duking it out for subscribers and mind share – and new content scarce because of the Hollywood shutdown over the spring and summer – bringing back casts and filming popular shows for streaming seems like one way to get people back to work. This chart from TechCrunch illustrates how effective a subscriber recruitment mechanism Hamilton was for Disney+...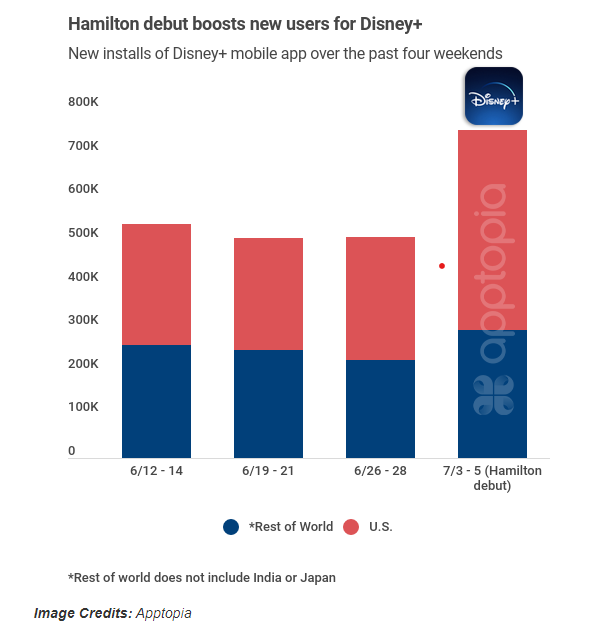 Source: TechCrunch
Unfortunately, there's only one Hamilton. One Broadway producer I spoke with noted that Hamilton was the perfect show for streaming. It's one of the best and most popular musicals in decades and was filmed with its original cast, before the pandemic, with a full and enthusiastic audience. But even with all those elements in its favor, anyone who saw Hamilton live can attest that the film, while wonderful, can't live up to the real thing.
Disney famously paid a whopping $75 million for the rights to the recording, which was originally intended to be a theatrical release in 2021.
That price is exciting for people working at other Broadway shows, but pre-pandemic commentary from entertainment business site Indiewire explains how Disney was probably buying much more than a show here...
While the reported $75 million winning bid may have been the largest-ever price paid for a single film acquisition, Disney is not in the one-offs business; it signals a deal that could mean much more...

And like Star Wars, there's theme park opportunities. Disneyland could extend the Hamilton franchise to its own Hall of Presidents, the animatronic exhibit at Liberty Square at the Magic Kingdom inside Walt Disney World Resort, in Orlando, Fla.

Finally, there's the full-fledged film adaptation of Hamilton, which is still up for grabs. That could be years down the line – long enough to build up a sense of nostalgia for the original musical.
Indiewire also noted Disney's interest in deepening its relationship with Hamilton star and creator Lin-Manuel Miranda, who had previously composed for the animated feature Moana and two Star Wars films and co-starred in the sequel Mary Poppins Returns for Disney, but had taken the film adaptation of his musical In The Heights to rival Warner Brothers.
At least one other Broadway production is on its way to the small screen. In August, Netflix (NFLX) acquired the rights to broadcast a filmed version of the Diana: A New Musical, which was in previews at the time of the Broadway shutdown. The show, about Britain's Princess Diana, will film in an empty theater this year and stream in early 2021, before the show ever officially opens on Broadway.
In addition to the financial and health challenges to filming current productions to sell to streaming services, bickering between the unions remains a major complication to successfully negotiating more Broadway streaming deals. Actors' Equity Association, which represents stage actors and stage managers, and SAG-AFTRA, which reps film and television actors, can't agree on jurisdiction over contracts for filming live theater for streaming distribution.

Thousands of miles away, one Broadway-style show has figured out how to make it work...
Even as Broadway remains entirely shut and London's West End remains mostly shuttered, the Phantom of the Opera has powered through the pandemic in Seoul, South Korea, playing eight shows per week in a 1,600-seat theater. The show had to shut down for three weeks due to a handful of COVID-19 cases among the cast, but has otherwise soldiered on by using protocols mandated by South Korea's Disease Control and Prevention Agency, which the New York Times described back in June...
Thermal sensors take each person's temperature, and everyone fills out a questionnaire about symptoms and recent places they've visited, so they can be notified of any exposures they may have had through the country's contract-tracing app.

There are hand-sanitizing stations throughout, and ubiquitous signs and announcements reminding everyone that masks must be worn at all times. And in contrast to movie theaters, where alternating rows or seats are left empty, no seats are blocked off (though the first row was removed).

Backstage, there's a similar drill: no embracing, no handshakes, no inessential physical contact. Reusable water bottles are forbidden, along with sharing food. Wigs, props and costumes are regularly sprayed or wiped with antibacterial cloths. Everyone must wear a mask, except for actors when they are being made up or go onstage, and some members of the orchestra.
Broadway has therefore figured out in Seoul how to make it work during a pandemic, although that city in fairness has a lower overall incidence of COVID-19, and South Korea is generally at the global forefront of both testing and tracing capabilities.

In the U.S., things remain more decentralized, with regulation pushed down to the state level...
Several insiders mentioned to me that regional theaters are starting to book shows in "open states," with North Carolina an often-cited example. A quick search online turned up a dinner theater in Florida offering masked performances of Hello, Dolly!
Meanwhile in New York – which remains notoriously locked down relative to other states – a few alternate venues are pushing to open for performances. The 40,000 square foot Park Avenue Armory is currently rehearsing Afterwardness, a new piece by the choreographer Bill T. Jones, with dancers spread across the space that will house 96 audience members...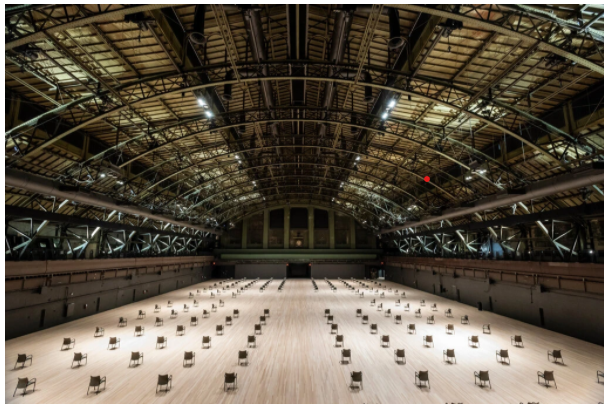 Source: New York Times
The Shed theater in Hudson Yards has proposed performances for 300 in its space built to seat 2,300, and Harlem Stage wants to perform with 41 of its 160 seats filled.
These small-audience, limited-capacity events could work at nonprofits, which all of these venues are. But audiences of 41, 96, or even 300 aren't going to pay the bills on Broadway.

Efforts to make theater work around the world reflect the 'show must go on' attitude that has always been a defining characteristic of Broadway...
With the exception of the Seoul Phantom of the Opera production, most efforts to keep theater going have been on a small scale... and frankly, a rounding error financially in the context of a live performing arts business that typically sells more than $17 billion in tickets just in the U.S.
Artists will always find ways to pursue their art. Coaches and managers I spoke with told stories of artists who are continuing to hone their craft through diligent practice and lessons. Many are using this time to pursue dream projects – writing new work or recording albums.
But the business of making for-profit theater – specifically the business of Broadway – and all the other work it generates – both in New York, and around the country with touring productions, regional productions, and regional runs of shows – all remain an unknown going forward.
I'm reminded of a verse from one the most enduring anthems of survival and perseverance written for the stage, "I'm Still Here" from Stephen Sondheim's Follies...
I've stood on bread lines with the best
Watched while the headlines did the rest
In the depression, was I depressed?
Nowhere near
I met a big financier and I'm here
The spirit to create is there... but the barriers to getting back to work are financial as well as medical.
Tomorrow, I'll wrap up the Broadway series with a look at how the misaligned incentives among the various stakeholders on Broadway – producers, theater owners, unions, and workers – are further complicating what's already a difficult pre-vaccine return.

In today's mailbag, reader reactions to Part One of the Broadway series...
Would filmed Broadway or other theater content make you more likely to subscribe to a streaming service? Would you pay to see a filmed show as a one-time rental, and if so, how much? Let me know by sending an e-mail to [email protected].

"Berna, it was quite unexpected to see an article on Broadway in your newsletter. We have a touring show and appreciate that you would write about the industry and its challenges.
"Thank you for your good work." – John D.
Berna comment: John, I try to cover interesting business topics in Empire Financial Daily – some of which will naturally involve public companies, but others won't. As I told my husband the other day, my goal is to always be either educational or entertaining, while occasionally providing you with investable, specific ideas.
Broadway is a topic close to my heart... which is probably why it has turned into a three-part series. I was a theater minor in college, I performed in my youth, and I'm now a Broadway superfan... with many friends I love dearly employed in the arts.

"Hi Berna, Well done on a seriously excellent analysis on the Arts world... as you allude to people like Sarah Jessica Parker (who can survive happily on residuals alone) are the 1% to 3% of the actual number of actors who spend their lives either chasing the brass ring or just surviving for the art. The 97%+ of these people all have 'other' jobs and as you say most are in the service industry, and very few have any savings or equity. So Covid wiped out both sides of the ledger...
"If 'Art' is the measure of a healthy civilization, I worry what a sad watered-down version we are facing in the near future...
"I made a living as a working actor for 30 years, and at the beginning, the 'other' job was as a bartender (wrote to you re: fancy gins, etc.), taxi driver, and salesman for various enterprises before I started my own business that ran successfully for 20 years until this March..." – Shaun C.

"Why isn't Broadway being taped and tickets sold online?" – Diane F.
Berna comment: Diane, as I said in today's piece, I think bickering between the unions is a big part of it. Additionally, filming a show with the production values they used for Hamilton requires a camera crew of 10 or more. The costs to film this way and then go through postproduction editing could add up to $10 million, and there's some skepticism on the money side of the house that streamers would pay enough to make such an effort profitable, layering in the filming and editing cost on top of the salaries to bring back casts and crew for rehearsals and filming.
I'll talk a little bit more about this topic in tomorrow's Empire Financial Daily.
Regards,
Berna Barshay
October 14, 2020