I call it the 'meet-or-beat game'...
This is when companies do whatever it takes to meet or beat analyst estimates.
The trouble is, like any drug, there's a danger of getting addicted to doing whatever it takes to avoid losing that high.
And pretty soon, rather than running a business for the sake of running the business, the business is being run for Wall Street.
A great example – as I outlined in the May 13 Empire Financial Daily – was the levers pulled by the CFO of pest control company Rollins (ROL) to avoid missing expectations. As it turns out, these levers were very illegal... The CFO was nailed by the U.S. Securities and Exchange Commission ("SEC").
But there's another side to this I hadn't considered until I read a recent study by Guilhem Bascle of the Université Catholique de Louvain in Belgium and Jiwook Jung of the University of Illinois at Urbana-Champaign.

And there's great irony...
It turns out, as management teams manage earnings for the short term, they wind up creating even more pressure to perform.
That's the opposite of what Bascle and Jung expected to find when they started their research. With 73% of firms having met expectations since 2000, they originally thought "the benefits would outweigh the costs."
After culling data from more than 700 of the largest listed U.S. firms between 1986 and 2015, the researchers found instead that the more companies beat, the more Wall Street wanted... and the more penalized their stocks were for missing.
Among the findings, based on a summary provided by the authors...
When firms meet estimates, their earnings expectations for the next quarter are predicted to increase by 17%, "and when firms repeatedly meet expectations, partly thanks to earnings management, analysts further ratchet up their expectations for those firms."
When they can't keep up and miss escalating expectations, stock prices decline on average by about 1%, "and the penalty is harsher for firms that repeatedly met analyst expectations in the past."
Here's the part that surprised me most...
These management teams are so influenced by Wall Street that after disappointing "and reigniting interest in their stock," they are "12% more likely to divest a non-core business, 15% more likely to downsize workforce, or about 20% more likely to replace the CEO with a new CEO who did not work for the company in the past."
All for missing estimates... It's kind of ridiculous.
---
Recommended Link:
MAJOR BUY ALERT: EVs/Wall Street/Gains

Enrique Abeyta spent 25 years on Wall Street, where he managed several billion-dollar hedge funds. The Wall Street Journal, CNBC, Barron's, Institutional Investor, Forbes, Business Insider, and Bloomberg all have his number on speed-dial. But once they get a load of what he's discovered, his phone will be ringing off the hook! If you buy just one stock in 2022… it should be this one.
---

Next up, touring the Salinas Valley, also known as the 'Salad Bowl of the World'...
My wife and I spend a lot of time driving between our home in San Diego and the Bay area, where we play grandparents.
Whether we're driving through the Central Valley – with its cherry and nut trees and grape vines – or we do a side trip through Paso Robles and Monterey – which takes us through the Salinas Valley – one thing is front and center: agriculture.
It's one thing to whiz by at 80 miles an hour... But it's another to stop and find out what's really going on, especially when there's a harvest.
This is especially true in Salinas, where there is always a harvest... and where the lettuce, broccoli, celery, and pretty much anything you can think of – even the artichokes – are picked and packed in the field and taken to coolers, where they stay for no more than a day before they're trucked across the country or flown around the world.

The journalist in me wanted to get as close as possible to the process...
My wife the travel blogger, meanwhile, was interested in "giant people figures" of field workers at some of the farms.
I thought there must be a tour of the fields. I was surprised to find that there is – one – called Ag Venture Tours. It's run by ag scientist Evan Oakes, who has been giving these tours for more than 20 years.
Here we are ready for the tour to start (my wife, Mary, gives her take on the experience here)...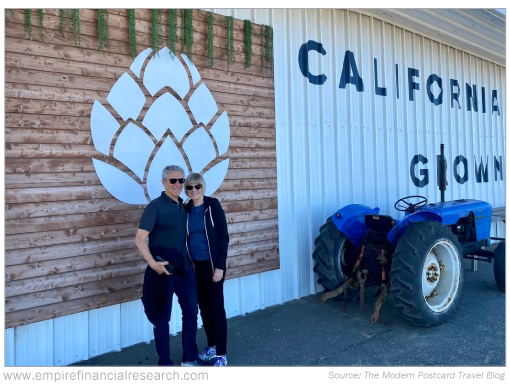 Among the tidbits we picked up is just how much cannabis has come from nowhere to become one of the top crops in the valley (albeit, in greenhouses). In 2021, the value of the crop was $618 million, ranking it the third most valuable crop, just behind leaf lettuce and ahead of iceberg lettuce. While cannabis values spiked, they plunged in the fourth quarter as supply outstripped demand.
Also, raspberries are the least durable of all berries – they have a shelf life of about eight days, tops. That's something to keep in mind if your East Coast raspberries were grown in California!

Mary and I have traveled around the world and taken tours on all seven continents...
For some reason, this one ranked among the top tours – perhaps because it was so off the beaten path, but yet so obvious... maybe too obvious.
And yet, we noticed that most fields are run by private companies, like Andy Boy or Tanimura & Antle. We stopped at both to watch the production process, which amounts to trucks loaded with boxes packed in the fields, then barcoded, quickly forklifted off, and driven into coolers.
It's fast for the most obvious reason of all... It's all perishable.
As the tour wound down, we passed the major cooler/distribution center for big producer Dole (DOLE), which has a major presence in the valley via partnerships with growers.

In fact, when we got back, one of the first things I did was search Dole's regulatory filings for 'Salinas' to get better insight into its operations there...
There was surprisingly little, but my search did flag an SEC filing from a few weeks ago – one I hadn't paid attention to.
What a find...
It turns out the filing was by Taylor Fresh Foods, based in Salinas. It's a major private producer and is cited by Dole in its filings as a competitor.
Taylor is now also an investor in Dole, with the filing disclosing a 6.5% stake.
That stake was totally ignored by Wall Street, because Taylor is private. I wouldn't have paid as much attention, either, if I hadn't taken that tour.
Taylor also owned a stake in Total Produce, the Irish company that bought Dole in conjunction with its initial public offering ("IPO") last year. Most U.S. investors haven't kept up on Dole... and fewer know anything about Total Produce. Taylor obviously knows both and is coming back for seconds.
The disinterest in Dole by U.S. investors is partially what attracted me to the stock – I found it compelling enough to add to the initial portfolio when I launched my Investment Opportunities newsletter back in March. You can find out how to gain access to my writeup on Dole – along with access to the full portfolio of open recommendations – right here.

Finally, let's move on to the mailbag...
My essay on whether consumer technology has hit the point where it's "good enough" continues to spark comment...

"We may be near the end [of] screen-centric technology upgrades but I can't help to think that 100 some years ago there must have [been] similar complaints among well-to-do New Yorkers about horse drawn carriage upgrades, lol." – Ning
Herb comment: Ning, I thought the iPhone was a flawed concept. I mean, one device for everything, including music and your camera? On a single battery? Without a physical keyboard? In retrospect, it will go down as one of the greatest inventions – period. Goes to show what I don't know!

"Herb, I have to somewhat disagree with some of your readers. Many PCs and a lot of software will run just fine for many years. I am a CPA and still use Quicken 2009 for my personal records and it still works fine. As an accountant the new version does not do record keeping right. Some things need to be upgraded from time to time, but many things do not." – Chuck M.
Herb comment: Quicken 2009? Yikes! That was bought as a disk, right? Maybe as a CD? And if so, that means you still use a CD player? And if that's the case, it must be running on 2009 (or earlier, I'm guessing) hardware, as well? If it is – or isn't – is it clunky? I confess to be an upgrade addict.
As always, feel free to reach out via e-mail by clicking here. And if you're on Twitter, feel free to follow me there at @herbgreenberg. I look forward to hearing from you.
Regards,
Herb Greenberg
July 19, 2022