► Every bull market has its rising star money manager... and the manager who has recently emerged as finance's newest celebrity is Cathie Wood.
She runs ARK Invest, an asset-management firm that specializes in actively managed exchange-traded funds ("ETFs"). The ETF space has traditionally been dominated by index-driven, passive investing vehicles, like the widely traded SPDR S&P 500 ETF Trust (SPY), which is an alternative to owning an S&P 500 Index fund.
But ETFs can also substitute for actively managed mutual funds, and such vehicles are what ARK Invest offers. ARK currently offers seven different ETFs with an eighth focusing on space in the works. The largest of these vehicles by far is the ARK Innovation Fund (ARKK), which has just under $24 bill in assets under management ("AUM").
ETFs trade like stocks, generally cater to retail investors, and can gain or lose assets quickly – since money can flow into them at the speed investors can trade a stock... which these days is quite fast.
Unlike money put into a hedge fund, investors in ETFs have complete liquidity. Hedge fund investors may only have the opportunity to pull out funds with weeks of advance notice once per quarter, once per year, or even – rarely – once every few years. Investors in an ETF can pull their money out intraday... They don't even have to wait for the end of day price, like at a traditional mutual fund.
ARK is focused on investing in disruptive technologies. Among the sectors identified as areas of interest in its recent "Big Ideas 2021" presentation are electric vehicles ("EVs"), digital wallets, delivery drones, space exploration, cell and gene therapy, and artificial intelligence ("AI")... which the fund refers to as "Deep Learning."
The flagship ARK Innovation Fund has done well. According to the Wall Street Journal...
Since its launch in October 2014, ARK Innovation, the firm's largest fund, has delivered an average return of 39% annually. Had you invested $10,000 at the fund's inception, it would have been worth more than $78,000 this week; the same stake in the S&P 500 would have amounted to less than $22,000.
A big part of that return was the performance of its top holding, EV company Tesla (TSLA), which was up an astounding 743% last year. ARK Invest also owns Tesla in other ETFs. TSLA shares are the top holding in the $4 billion AUM ARK Autonomous Technology & Robotics Fund (ARKQ) and the $8 billion AUM ARK Next Generation Internet Fund (ARKW).
Wood is also a bitcoin bull. She has held shares of the Grayscale Bitcoin Trust (GBTC) in the ARK Innovation Fund, and GBTC shares are the second-biggest holding of the ARK Next Generation Internet Fund, after Tesla. GBTC returned 291% in 2020, reflecting the 305% rise in bitcoin last year.
The performance of Tesla and bitcoin fueled returns for the ARK Invest ETFs last year... the ARK Innovation Fund was up just under 150% and the ARK Next Generation Internet Fund was just over that mark.
Unsurprisingly, money has chased that tremendous performance. AUM at ARK Invest rose from $11 billion at the end of March 2020 to $58 billion at year-end 2020.
Wood's success caught the eye of the retail traders on Reddit's WallStreetBets chat boards. According to the Journal, they refer to her as "Cathie Bae" on there, although I more frequently see Wood referenced as "Aunt Cathie."
As the money poured in, continued strong performance was almost a self-fulfilling prophecy. While Wood doesn't have enough funds to manage the direction of Tesla or bitcoin, she invests in many small-cap companies in which her incremental investments are extremely material. As ARK Invest takes in fresh money and deploys it, that has led to upward pressure on the shares of smaller-cap companies in its portfolios.

So... who is Cathie Wood and what do we know about ARK?
Wood launched ARK Invest in 2014 after a career of working at big institutional money managers like Capital Group, Jennison Associates, and AllianceBernstein (AB). The firm's name is an acronym for "Active Research Knowledge," as well as a reference to the Ark of the Covenant, reflecting Wood's Christian faith.
Wood has truly taken on cult status within the retail investing world. Not only does ARK Invest sell T-shirts, onesies, and other swag on its website... There's an entire section of Etsy (ETSY) devoted to Cathie Wood – a true reflection of what a phenomenon she has become. Products sport her image and phrases like "In Cathie We Trust"...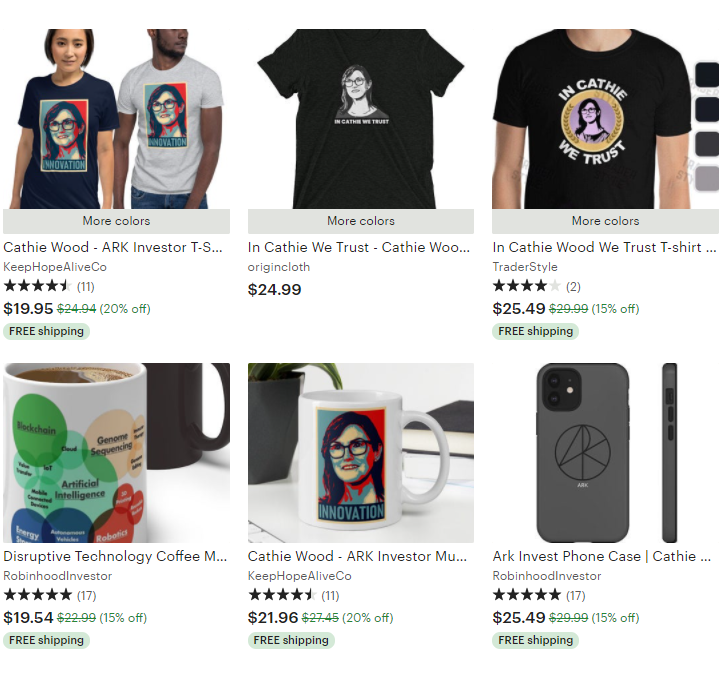 Source: Etsy.com
There are over 60 products devoted to Cathie Wood and ARK Invest... multiples of the amount of items devoted to other current heroes of retail trading, such as Chamath Palihapitiya and Dave Portnoy.
But the firm has recently come under scrutiny for the personnel infrastructure that sits underneath Wood. A whole thread on Twitter was recently devoted to reviewing the fairly thin resumes of the analysts who work at ARK.
Wood favors analysts with industry experience over those with MBAs and traditional finance backgrounds. This type of analyst hiring strategy isn't uncommon... Many firms – especially ones focusing on health care, as Wood does – prioritize industry or technical expertise over financial or investing experience.
But many of the Ark analysts are very recent college graduates – lacking the advanced degrees you often see in dedicated health care investors or any industry experience beyond very junior, entry level roles in technology companies or consulting firms.
Upper management also apparently has some big holes, which were highlighted on Twitter...

It's not just the analysts at ARK Invest that are coming under fire...
As the firm has grown exponentially, it has come under criticism for having too much money spread over too few stocks, many of which aren't very liquid. According to a recent analysis in the Journal, 43% of ARKK assets are invested in companies the fund owns at least 10% of. For perspective, the second-largest fund manager in the world – Vanguard Investments, with $6.2 trillion in AUM – only has 10% of its AUM in companies where it controls 10%... and it has more than 100 times as much money to put to work.
Most institutional funds have strict rules about liquidity, especially when investing in small caps. The more risk-tolerant places I've worked at have allowed fund positions to represent perhaps 50% of average daily volume – and most funds have risk controls much tighter than that. ARK Invest takes way more liquidity risk... it would take eight days of being 100% of average daily trading volume for ARK to liquidate its position in top holding gene-therapy company CRISPR Therapeutics (CRSP).
Wood says she manages liquidity by putting some of incoming funds into large-cap, liquid stocks like Apple (AAPL) and Alphabet (GOOGL), which can be a first source of liquidity if the ETFs see outflows, without having an effect on their price.
Last week, Morningstar did a factor analysis of ARKK's portfolio, which at the time consisted of 48 holdings, with about 10 of them making up 50% of assets. This is a fairly common risk assessment tool that institutional managers apply to their portfolios to see what conscious – and often unconscious – bets they may have made within a portfolio that was primarily built on a "bottoms up," stock-by-stock basis.
The result of the analysis is that the ARKK ETF is extremely overweight in factors such as Volatility and Momentum. Morningstar summarized the findings...
ARK Innovation's stellar total returns attest to its ability to be in the right place at the right time and take advantage of emerging trends. But a closer look at the portfolio reveals plenty of potential risks.

In fact, the portfolio's risk level ranks well above average on 10 of the 11 factors in Morningstar's Global Risk Model. And risk for liquidity (the 11th) may not be as low as it appears. Trading volumes can quickly dry up when valuations collapse or market darlings fall out of favor. If the fund experiences large redemptions, it could be difficult to liquidate some of the holdings where it has concentrated ownership.

Concentration when paired with thin liquidity is always risky...
One risk with the ARK ETFs is that they sourced tons of performance from a couple of truly unique investments – Tesla and bitcoin – which could make 2020's success hard to repeat.
To the extent that a company's performance has been built on the backs of small caps, it also gets harder to repeat performance as funds flow in. Once managing more money, the fund group's universe becomes increasingly limited to larger-cap names, and the contribution of small caps to overall performance diminishes... even when taking on a lot of liquidity risk. It's just hard for small caps to move the needle... and ARK Invest needs to find a lot more rocket ships to drive headline return – just a few won't suffice.
Perhaps the biggest hurdle right now to ARK Invest is its notoriety. Sometimes this works in a manager's favor. If there are a lot of traders tracking and following you into investments, it will propel your names higher.
But it's a hurdle when your followers front-run your trades. In January, ARK announced that its eighth ETF would focus on space, and though the fund hadn't even launched yet, most space-related stocks ran 8% to 10%.
But notoriety is worst when things start to go against you, and traders start to bet against you and exacerbate liquidity problems – much like the WallStreetBets crowd did to hedge fund Melvin Capital with GameStop (GME).
This is what has happened to the ARKK ETF and other ARK Invest vehicles this week. As TSLA shares fell more than 10% on Monday and Tuesday this week, ARK Invest saw big outflows. Compounding matters, bitcoin weakened as well... and the GBTC ETF that ARK ETFs hold dropped more than 20% on Monday and Tuesday. Adding insult to injury, ARK's investment in a small-cap EV company dropped more than 50% this week on news it didn't secure a contract from the U.S. Postal Service.
Now people smell blood in the water and are taking the other side on Wood's trades.
Being an ETF cuts both ways... It's easy to build assets when you are doing well, but it's also really easy for them to run out the door. ARK Invest saw $800 million in outflows on Monday and more over the course of the week.
As promised, Wood has used her position in larger, more stable companies like Apple and Alphabet as a source of funds to meet ETF redemptions... and buy more TSLA shares.
This trading action has left the ARK Invest ETFs even more concentrated and with even higher liquidity risk than before, which hasn't gone unnoticed by Twitter...
I'm sure the traders who have been betting against Cathie Wood saw this as well.
We saw a similar situation play out in 2019 with Neil Woodford, one of Britain's most famous and widely emulated fund managers. It didn't end well... The funds ended up losing billions and had to be wound down by a third party appointed by regulators.
Market leadership appears to be rotating from technology and other 2020 superstars into more traditional cyclical sectors. If this keeps up, this may be only the beginning of Wood's woes.

In the mailbag, reactions to this week's essays on consumer packaged goods ('CPG') stocks...
Is anyone out there invested in any of the ARK Invest ETFs... and are you worried about them? Do you think this is the beginning of the end for the tremendous, sustained rallies in Tesla and bitcoin, or merely a bump in the road before both move higher? Let me know what you think in an e-mail to [email protected].

"Great article on CPG, I look forward to the next one. As for me and my family, over the past year we've used more Greek yogurt, oatmeal, pantry staples like tomato paste and diced tomatoes, and almond and other nut milks. All of this is because we're all working and studying from home and so now eat lunch at home every day. We also use more dishwasher detergent.
"Like lots of others, we use less soap and shampoo and fewer razors, but more toilet paper and paper towels.
"Brands? Because I shop at a variety of stores, including Trader Joes, Whole Foods, Amazon Fresh, and Shoppers Food Warehouse, I take whatever is available. But I do prefer Bob's Red Mill grains whenever I can find them, and we like the Trader Joes soaps and shampoos.
"One belated suggestion on how to help the poor: create and fund an IRA for every newborn baby in the U.S. Set an AGI limit so that kids born into wealthy families don't get the money but give $1000 or $2000 to each child. The money would do nothing to help them as kids, would over 50 years would build substantial wealth and retirement savings for these people--wealth that would help them and get passed down to heirs.
"A second suggestion is to give a guaranteed monthly payment to every child, especially those in poor families. Study after study have shown that the best way to alleviate poverty is to simply give money to poor people and let them figure out what to spend it on. The same studies have shown that poor families are far more likely to spend the money on food, shelter, and clothing than wasting it on things like cigarettes and booze." – Paul P.
Berna comment: Paul, I agree with you on the grants to newborns. Senator Cory Booker (D-NJ) and Representative Ayanna Pressley (D-MA) reportedly have some momentum on legislation proposing this, nicknamed the "Baby Bond" bill. This could really help people born to lower-income families in this country get a leg up.

"Berna, I loved this email. Digitization for the CPGs will most definitely progress from digital targeted advertising into other areas in the CPG's product cycle. Think about the implications with packaging, especially plastics and the problems they are having with recycling and the impact on the environment. Europe is moving forward faster than the U.S. with some recycling initiatives that most of the world's largest CPGs are supporting with plastics recycling (Google 'Holy Grail 2.0').
"A small company based in Beaverton, Oregon named Digimarc (DMRC) has developed a technology that allows the barcode to be invisibly printed over an entire package, but beyond it functioning as just a barcode, it has the capability to allow recycling sorting equipment to easily sort plastics by type to more accurately and efficiently recycle. It can also provide information for supply chain management with simple scanning equipment and provide information to the end consumer with their cell phone. Digimarc is currently a member of AIM and HG2.0 and is working with several of the largest CPGs worldwide.
"In my opinion, some big changes in the CPG world were coming eventually as technologies continue to make huge strides. COVID certainly has put a major emphasis on the importance of reduced touches and that has been some much-needed fuel to the fire.
"Keep up the great work!" – Scott S.
Berna comment: Interesting thoughts, Scott. I'll take a look into Digimarc. Thanks for the tip.
Regards,
Berna Barshay
February 25, 2021