► In yesterday's Empire Financial Daily, I wrote about the marketing success of celebrity-backed liquor brands…
Clever marketing has propelled the growth of brands like Aviation gin and Casamigos tequila, both of which were acquired by global beverage giant Diageo (DEO).
But there was one thing these brands had in common other than famous owners… They both operated in the super-premium segment of the alcohol category.
Super-premium has less to do with quality than it does with price. A super-premium liquor markets itself as higher-quality – better taste, superior ingredients, more craftmanship, etc. It may or may not actually have those attributes, but what it always has is a higher price. As Fortune explains it…
Legally, there is no difference between premium and super-premium spirits. But according to statistics from an IWSR report for 2018, "super premium" is defined as a bottle priced between $30 and $44.99, versus $22.50 to $29.99 for a "premium" bottle.
In addition to starting or acquiring new super-premium brands, liquor conglomerates like Diageo are busy introducing progressively higher-end (and higher-priced) versions of their classic brands. As I said yesterday, this is what Campari (DVDCF) did when it launched Wild Turkey Longbranch with actor Matthew McConaughey.
This isn't an entirely new strategy… Diageo has had varying levels of its Johnnie Walker scotch for decades: the brand opens with its Red Label priced around $20 and runs all the way up to its Blue Label priced between $150 and $200. In fact, the scotch has a rainbow of options: red, black, double black, green, gold, and blue.
► But Diageo and many of its peers in the alcohol industry have become increasingly focused on super-premium…
While a small part of the overall market, super-premium liquors and beers have been outgrowing their more modestly priced counterparts for years.
According to Diageo, the super-premium gin segment doubled its share of total gin sales from 2014 to 2019, growing at a compounded annual growth rate of 18.5% over that period. That is much higher than the mid-single digits that Diageo targets for its overall portfolio, and surely much higher than some of its older, stodgier brands.
Super-premium has also been a driver of tequila growth. At the time of the Casamigos deal in 2017, the New York Times wrote…
Sales of tequila increased 7.4% last year, according to data from the research firm IWSR, outpacing virtually every other hard liquor category. Upscale brands have shown the most growth, according to the Distilled Spirits Council, with sales of "high-end" brands rising 292 percent from 2002 to 2016 and "super-premium" brands climbing 706 percent during that period.
Before buying Casamigos, Diageo already had a tequila presence through its Don Julio brand, which is also super-premium. Through its billion-dollar acquisition of Casamigos, it decided to double down on its already high positioning in the tequila category, which has transformed over the years from a cheap fraternity staple to an elevated choice for young professionals.
► Part of the move to super-premium is explained by larger trends…
Many people (especially younger folks) are drinking less for health reasons… but when they drink, they want to drink better. Lower alcohol consumption overall in developed markets has led to sales contraction at mid-priced multibillion-dollar brands in Diageo's portfolio such as Smirnoff and Captain Morgan, which are both also facing the headwind of vodka and rum being out of favor relative to gin and tequila.
This move to quality – or premiumization – is visible throughout the beverage category as well as in food. If you're going to indulge in alcohol or dessert, make it a good one and worth the calories or sugar. Many dieters are told to eat what they want, as long as it's high-quality and consumed in moderation. And supermarkets are allocating more and more space to organic, artisanal, and local food products and produce.
► There's another big marketing trend behind the acquisition of these boutique brands…
In alcohol – as well as a long list of other consumer categories – smaller is in, especially with younger consumers. Many millennials and Gen Z-ers don't want to drink, eat, wear, or otherwise consume the same thing as everyone else. Branded products have always been an extension of identity… but these days, projecting an image of being unique is often more highly valued than blending in.
Millennials don't want their dad's gin, so Tanqueray is out for many of them. And they don't want Godiva… They instead want a local or artisanal brand of chocolate that seems less corporate and has a better backstory.
Somewhere along the way, "basic" – in the modern sense, as defined by the Urban Dictionary: "only interested in things mainstream, popular" – became an insult.
There are no doubt global megabrands like Apple (AAPL), Nike (NKE), and LVMH Moët Hennessy's (LVMUY) Louis Vuitton that buck this trend… but for many consumer categories, being giant, omnipresent, and incumbent is a hindrance instead of an advantage these days.
Many of Diageo's megabrands – such as Guinness beer and Ketel One vodka – have managed to shrug off the potential lack of cool threatened by their size and omnipresence.
But it's a smart move and a good hedge by Diageo to add the boutique growing brands. With their shorter operating histories and smaller size, they appeal to the consumer actively avoiding anything perceived by peers as "basic."
► Diageo is paying a huge price for these celebrity deals, but that doesn't sour me on its stock…
While Aviation and Casamigos were clearly no bargain, building new super-premium brands from scratch would be incredibly expensive as well, and far riskier than buying a brand in a growing category that already has great momentum.
With Aviation, Diageo picks up a brand that has simply crushed it on social media, with 277,000 Instagram followers – this is more than brands that have been around for decades and enjoy giant marketing budgets, like Diageo's Smirnoff, Captain Morgan, and Crown Royal whiskey.
The outsized social media presence of up and coming brands like Aviation relative to their revenue is reflective of the fact they skew younger, and play to the young crowd that wants smaller, seemingly more authentic, and less corporate brands.
Ryan Reynolds may be a better 21st-century marketer than he is an actor… and for this reason, Diageo has locked him up to work on the brand for the next 10 years.
► Diageo, however, has been hit hard by the COVID-19 pandemic…
When it released preliminary results for the year ending June 30 last month, Diageo reported net sales down 9% and operating profit excluding special items down 14%. With bars and restaurants around the world closed for many months in the spring, Diageo saw its on-premises business collapse. As CEO Ivan Menezes explained…
Fiscal 20 was a year of two halves: after good, consistent performance in the first half of fiscal 20, the outbreak of COVID-19 presented significant challenges for our business, impacting the full year performance.
After consistently delivering its top-line target of 4% to 6% organic revenue growth in 2017, 2018, 2019, and the first half of its fiscal 2020 (which was the second half of calendar year 2019), Diageo saw organic growth plunge to negative 22% in the second half of fiscal year 2020.
On-premises sales represent between 20% and 50% of revenue for Diageo, depending on the country of operations. When up to half your business goes to zero in commercial channels, or even declines by a high double-digit amount, it's impossible to make up the sales in the retail channel that caters to drinking at home.
For Diageo to return to its targeted growth, it needs social gatherings to fully return in Europe, China, India, and particularly, the U.S. – which is lagging the rest of the world.
In response to the temporary revenue pressure, Diageo is reducing expenses and deferring investments.
► Diageo's problems will end when the pandemic does…
Until then, the company will be challenged. And yet, it remains a market leader with an exceptional portfolio of brands – diversified across category and price range, with a strong presence in the coveted super-premium category. Diageo has a solid balance sheet and boasts a healthy dividend yield of more than 3%.
With DEO shares down 20% year to date, the company is at an attractive level for investors who can look through another few quarters of pandemic-related noise.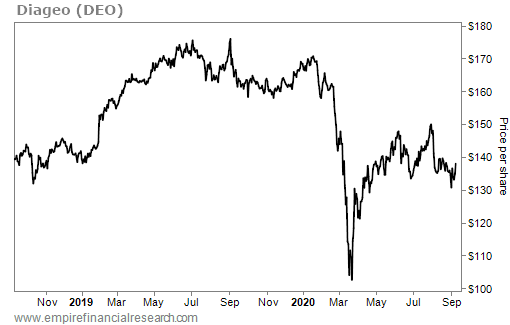 Investors usually seek out beverage companies specifically because they aren't volatile and add a ballast to the portfolio. But these unique times have led to Diageo shares going "on sale"… It's something that doesn't happen often.
► In today's mailbag, readers weigh in on the relative value of the various streaming services…
Has the food and beverage industry been successful in getting you to migrate to higher-priced, super-premium brands? Does the size of a brand ever influence how appealing it is to you? Do you prefer larger or smaller brands? Let me know at [email protected].
► "Berna- For me, the 'essentials' are Netflix and Amazon Prime. I get Hulu free as a Sprint (now T-Mobile) subscriber, but don't use it now, as I still have cable. If I were to cut cable, I'd consider it essential, as well. This might be true for other services, were I to go streaming-only.
"I signed up for the reduced-rate offer for Disney+ before it became active but have used it little. I will not renew it when it expires. I also signed up for CBS All Access, primarily for the Star Trek offerings, but found 'Star Trek: Picard' too slow-paced in the first two episodes to continue on, and I am sad to see that 'Star Trek: Discovery' is planning to go the 'woke' route with its new season. I'm also going to cancel this service and save $9.99 a month.
"As someone interested in science, nature, and detective-type shows, I spend most of my time on the Discovery Network channels. Give me these, give my wife Fox News, and give us access to the British detective series, 'The Crown', etc., and we could well do without the rest of TV, even the network prime time shows, with new episodes largely absent thanks to COVID-19, and with many of those most likely to sacrifice quality for woke-ness once they start resuming." – Otto K.
► "Here's some of the feedback you ask for: I'm not crazy about any of the streaming services because so much of the content is such poor quality. Yes, there are a few theater quality movies that I watch, but that's pretty much it. I sign up for Netflix for a month, watch the few things of interest, then discontinue. Next, I go to Hulu, Prime, etc. and do the same thing. In a few months and for little money, I've watched everything worth watching – in my opinion.
"I realize I'm something of an outlier by this method, but why spend more than necessary if there's so little of interest. I'm sure I'm just the type of customer that streaming services don't want and I don't blame them. Unfortunately for them, several of my friends have begun doing the same." – Ronda C.
Berna comment: Perfect timing on your comment, Ronda, since a friend messaged me last night telling me how incredibly terrible the original movie they were watching on Netflix (NFLX) was (but they watched it anyway!).
We're certainly in the golden age of episodic television (although perhaps you might disagree). But when it comes to original movies, the streaming services have been largely uninspiring (except for releases that were originally meant for theaters and got redirected to streaming, like Mulan or Broadway's Hamilton on Disney+).
Your comment made me think of a blog post I read in July called "The Great OK: Netflix's ability to get us watching mediocrity." I have an excerpt below, but you can find the whole five-minute read here on the 500ish blog…
The cynic in me leans towards believing Netflix is just very good at pushing their content at people and obfuscating the quality of said content. And again, this certainly won't matter now, but when we're not in a time of COVID and there are a half dozen fully robust streaming services to choose from, quality may matter more. If, for nothing else, to help differentiate a service. You know, like old school HBO.
Regards,
Berna Barshay
September 10, 2020