1) When analyzing a company and estimating its intrinsic value to determine whether its stock is undervalued, most investors focus on the free cash flows it will generate in the future. This is, indeed, critical information to determining what it's worth.
But often overlooked is the other half of this equation: what a company does with its cash flows – in other words, capital allocation. It turns out that this can create (or destroy) as much value as how much cash it generates.
How many times, for example, have you seen a company run into trouble by taking on too much debt or buying back its shares when they're richly valued?
The first step to evaluating capital-allocation decisions is to understand what the possibilities are, which I discuss in a new article: What to Do With All That Cash… The Dilemma Profitable Companies Face.
In the article, I discuss auto-parts retailer AutoZone (AZO):
In the two decades since hedge-fund manager Eddie Lampert invested in the company in 1999 and pushed for big share repurchases, it's been buying back an average of 8.5% of its shares every year. This has caused the share count to decline by a stunning 83%. Thus, in a period when earnings rose a healthy six times, earnings per share skyrocketed 34 times – and, not surprisingly, so did the stock…
Here's a chart I put together showing AutoZone's diluted shares outstanding over time…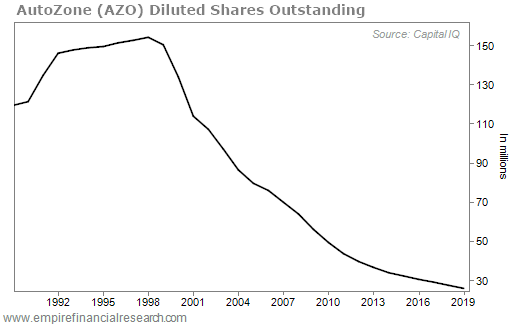 And the stock…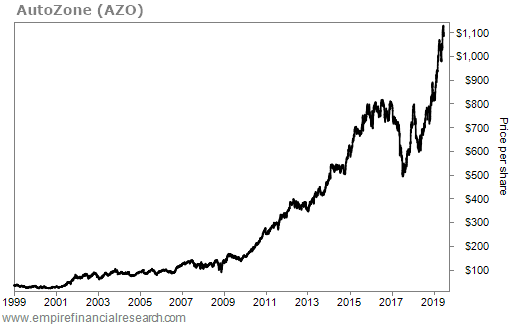 2) In Friday's e-mail, I talked about the difficulty of starting a hedge fund and raising money these days. This Bloomberg article is about someone with the opposite problem – too much money! The Charmed Life of a Young Tiger Cub With a $4.6 Billion Fortune. Excerpt:
Today, at 44, [Chase] Coleman sits astride a $30 billion behemoth, Tiger Global Management. Bets on public and private technology companies have helped him amass a $4.6 billion fortune and made him the youngest financier among the world's 500 richest people, according to the Bloomberg Billionaires Index.

It's hard to criticize a hedge fund up 25.5% in the first five months of this year, or a private equity unit that made $5 billion on a single investment. Not everything's perfect, though, of course. For one thing, the firm may actually have too much money—something Coleman himself addressed recently.

"It's not easy to manage a big pool of capital, and I'm challenged every day," Coleman said last week at a Morgan Stanley conference, according to people who attended the event. You have to be deliberate in how you do it, he added, which is why he spreads his investments across public and private markets.
3) In commenting on this article, Bloomberg columnist Matt Levine had an interesting aside on why asset managers who grow up poor tend to outperform those who grow up rich, and the difference between correlation and causation:
A good statistical fact about asset management is that asset managers who grow up poor tend to outperform those who grow up rich. This is just a statistical fact, though; it is not universally true, nor is it causal. Growing up poor probably does not give you better insight into security selection than growing up rich. It's just that growing up rich makes it relatively easy for you to get into asset management: You play the right sport at the right college, you get the right internship at the right bank after interviewing with the right frat brother, you move to the right hedge-fund job after exchanging the right sailing anecdotes with your interviewer, you raise the right amount of startup capital for your own hedge fund from the right father-in-law, etc. etc. etc., at every step of the way things are easier for you. You can end up running a hedge fund without ever proving your investing acumen to a skeptical audience.

Meanwhile there are hundreds of poor kids who don't get those breaks and who face nothing but skeptical audiences, and so virtually none of them end up running hedge funds. But if one does, she got through a lot of filters that were supposed to screen her out, and the only way for her to do that was by being really good at investing.

So if you randomly choose one successful hedge fund manager from a rich family, and one successful hedge fund manager from a poor family, the odds are that the poor one will be a better investor, just because being good is absolutely necessary for a poor hedge fund manager and less necessary for a rich one. Conditional on being a hedge fund manager, growing up poor predicts being better at it.

But that is a big conditional, and if you randomly choose one rich teenager and one poor teenager and wait 30 years, the rich teenager is much more likely to become a successful hedge fund manager than the poor one. Or if you just look at a list of top-performing hedge fund managers, more of them will have grown up rich than poor, just because if you look at a list of any hedge fund managers they'll mostly have grown up fairly well-off. Growing up rich probably does give you better insight into security selection than growing up poor! Like, there you are, investing your bar mitzvah millions in the leveraged-loan market, sitting in on family-office investment committee meetings as a teen, getting your first ISDA as a graduation present, I don't know, surely being exposed early and often to financial assets gives you valuable familiarity and comfort with them?
(I enjoy Levine's daily e-mail, which you can sign up for here. I also recommend the free daily e-mail from another Bloomberg columnist, Barry Ritholtz, which you can sign up for here.)
4) Mark Spiegel of Stanphyl Capital has long been one of the most vocal bears on Tesla (TSLA). Here's his monthly letter, in which he updates his case against the stock. Excerpt:
Tesla's Q2 guidance is to sell 90-100,000 cars and while my own current guess is lower, at around 86,000 to perhaps as high as 88,000, due to 2019's massive price-slashing (approximately six "official" cuts so far this year plus huge discounting on top of that), whatever the delivery number is, it will occur at by far Tesla's lowest ASP ever… Even if it comes up with $340 million of non-repeating Q2 cost reduction/revenue recognition vs. Q1, Tesla will still lose around $500 million GAAP in the quarter…

The party's over, folks. With no profitable growth, massive ongoing losses and tens of billions of dollars in debt and purchase obligations, the equity in Tesla will prove worthless, either quickly or – following a series of increasingly ugly capital raises – slowly. And yet as the stock is currently still over $200/share…
Best regards,
Whitney