► The ongoing saga at electric-truck maker Nikola (NKLA) has been all over the financial news recently…
Things kicked off last month when famed activist short-seller Nate Anderson of Hindenburg Research released an in-depth report calling Nikola "an intricate fraud built on dozens of lies." Nikola attempted to fend off the accusations, but the company is also under scrutiny from the U.S. Securities and Exchange Commission ("SEC").
Several days later, Nikola founder and CEO Trevor Milton abruptly resigned.
It's been a wild ride, and my colleague Whitney Tilson has covered the events in several of his daily e-mails.
I (Enrique) first learned about Nikola earlier this year after a big announcement that a special purpose acquisition company ("SPAC") called VectoIQ was going to be acquiring Nikola. As I've explained this week, SPACs are essentially pools of money raised by professional investors and entrepreneurs in order to acquire companies to take public.
At the time, a couple things intrigued me…
First, Whitney and I had already been researching electric vehicles ("EVs") and the potential opportunity for investors. I've said it numerous times: EVs could likely have as big an impact on the global economy as the Internet itself.

As a result, I've spent a lot of time trying to find companies that will benefit…
Everyone knows about EV poster child Tesla (TSLA)… But with the size of the opportunity, many other companies and ways to play the theme will certainly emerge.
In the case of Nikola, the SPAC taking Nikola public was also run by an old contact of mine – Steve Girsky.
Steve and I used to speak frequently back in the late 1990s when he was covering the auto industry as an equity research analyst for Morgan Stanley (MS). He was an outstanding analyst, and he was the absolute "go to" guy for anything in the auto industry.
He eventually went on to senior positions in the private-equity business at General Motors (GM). They don't come smarter than Steve regarding all this stuff…
Additionally, Nikola is based in my hometown of Phoenix. The city has grown a lot over the years but hasn't been home to that many public companies… especially well-known ones.
This all got me excited, so I began to dig in.

That's where some of the proverbial 'yellow flags' started to pop up…
The first yellow flag was the technology Nikola was using. While Tesla's vehicles can be powered by a lithium-ion battery, Nikola had to explore other technologies to power its much larger commercial trucks. The route it decided to go with was power based on hydrogen fuel cells.
I was already familiar with this technology, as we saw a wave of "energy technology" firms back in the Internet bubble in 2000 – and several of these were fuel-cell companies.
The most fascinating one is still public today: Plug Power (PLUG). Today, PLUG shares are worth less than $20… down 99% from their peak in early 2000…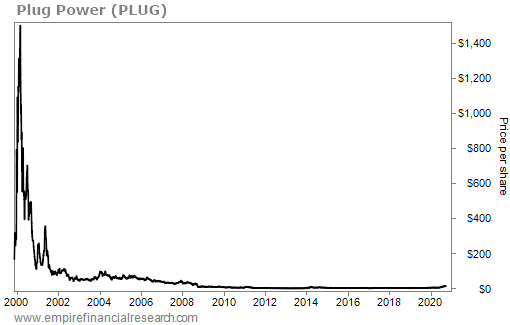 Folks clearly had a lot of "hope" in the promise of the technology. But today, 20 years later, we haven't seen a lot of that play out.

The other yellow flag to me was Nikola's level of revenue and profitability, or lack thereof…
In the big picture for a startup or a venture-capital situation, that isn't necessarily an issue. With proper funding, many developmental companies start with no revenues and grow to a massive size. Both Tesla and e-commerce giant Amazon (AMZN) once had no revenues… and look at them today!
The difference, though, was that we weren't buying these as public companies with multibillion-dollar valuations.
However, company profitability and stock price performance can be drastically different. In fact, Nikola went from $10 per share at the beginning of this year to an intraday high of more than $90 in early June – all with no revenue. (Shares initially crashed below $18 on the news but have since rebounded to around $25.)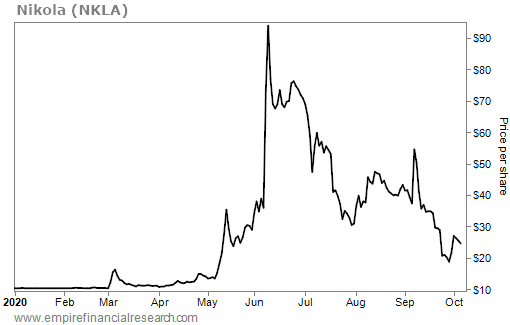 One of the most important rules to success in the markets is that you want to be highly selective. One of my main rules is generally to avoid investing in companies that aren't profitable. And no revenues? That's not even an option.
It doesn't mean these kinds of stocks can't work… Again, look at what NKLA shares did.
But what it does mean is that there are thousands of public companies to choose from for trading and investing. Why speculate in something that has no revenue when you can find so many other companies that do?
It's critical to be selective in investing.
Without a doubt, the stock market environment has entered into a new phase – one we've seen before. Simply put, it's a period of extreme volatility.
Volatility is a funny thing. It doesn't technically mean stocks will go down. Rather, it means they'll move a lot.
That's what we're seeing right now. Stocks in certain areas of the market – like electric vehicles, SPACs, gaming companies, bankruptcies, etc. – are experiencing huge moves in their share prices.

In my 25-year career on Wall Street, the period this most resembles – and it resembles it closely – is 1999…
The funny thing about that period is that people mostly talk about the ridiculous frauds like Pets.com and theglobe.com and the market's historic crash (especially the Nasdaq) that followed.
What they don't talk about is how, for disciplined traders and investors, these were some of the most profitable years of their careers.
The traders took advantage of the opportunity, and the investors scooped up the value stocks that were left for dead amidst the wreckage.
This new phase of the market is bringing on much greater risk for investors!
And yet, this new phase will create incredible, once-in-a-generation investment opportunities. Additionally, the most important rules for both trading and investing always work, regardless of the environment:
Buy low and sell high
If a stock you own quickly takes off, book some profits
Get rid of any stocks you own that are in an extended downtrend
Buy long-term winners when they take a "breather" (i.e., buy the dip)
Most important, buy stocks of good (hopefully great) companies

Nikola is a great example of what not to do…
But the fact that Nikola went public via a SPAC is somewhat irrelevant. Anyone who did even a modicum of analysis should have had serious reservations about the company.
Again, it didn't take a rocket scientist to see that the company was going to generate zero revenues for the next few years.
My point is that regardless of whether it was a SPAC, Nikola was a pure speculation.
Find good (or great) companies with real revenues, profits, and a strong position in their markets and you can lower your risk in even the most volatile areas of the stock market.
The problem with Nikola wasn't that it was a SPAC, but rather that it was a bad company.
Right now, many investors are looking at the surge in SPAC issuance, the sector's checkered history, the "blank check" proposition of it all, and several high-profile blowups and are declaring it a "bubble."
I agree with them! To me, a bubble is defined by a surge in enthusiasm for an asset class that leads it to unsustainable levels.

By that definition, the new issuance surrounding SPACs definitively puts it in bubble territory…
It's highly unlikely that the current pace of issuance – especially as a percentage of total new stock issuance – persists.
As far as their share prices go, it ultimately comes down to the companies that these SPACs take public. If a SPAC takes a lousy company public, it will be a bad stock.
With so many SPACs out there and "sponsors" (the SPAC management) getting antsy to make a deal, many of them will inevitably make bad investments. Our job as investors is to avoid those stocks.
However, SPACs have a unique advantage for investors…
After a sponsor announces the deal, the SPAC shareholder gets a free look at the investment. And if you don't like it, you don't have to participate… You simply get your initial capital back.

Nothing else like this exists in the stock market…
You certainly don't get that choice with a traditional initial public offering ("IPO").
In fact, with an IPO, both the company and the analysts are severely limited in the type of information they can share with the public. In fact, it's even called the "blackout" period. During this time, they're specifically not allowed to make "forward-looking statements."
On the other hand, after the sponsor has announced a deal, it can share all kinds of information about the company, including forward guidance.
Shouldn't it be easier for investors to separate the good companies from the bad companies (like Nikola) when you have more information to go off?
Participation from the sponsor is also important. When a big bank like Goldman Sachs (GS) takes a terrible company public, it doesn't worry much about reputation. Goldman will always be Goldman.
But the best SPAC sponsors have serious reputations to consider. This doesn't mean that they can't be wrong from time to time. Nikola's sponsors are experienced and successful – in fact, I know them and can personally vouch for their intelligence, work ethic, and investing acumen.

I believe we're in the early stages of a historic moment in market history…
And for the next few years, SPACs will present some of the best short- and long-term investment opportunities I've ever seen in my 25 years as a professional investor – including running billion-dollar hedge funds on Wall Street and my time here at Empire Financial Research.
Of course, the bubble will have its losers. And folks who are reckless will come out with scars to prove it.
But how often do you get to partner with world-class investors and get a free look at a deal before deciding whether you like it?
As long as you do your due diligence to make sure the company is great, you should be rewarded handsomely for it in the years to come.
And that due diligence is critical… You need to know which SPACs to buy and which ones to avoid (like Nikola). That's why tomorrow, at 8 p.m. Eastern time, I'm hosting a special event: the SPAC Investment Summit.
During this one-of-a-kind webinar, I'll explain everything you need to know to successfully make money in this misunderstood corner of the market. Whitney – who has his own extensive experience as a SPAC investor – will be joining me… as well as investing legend Bill Ackman, who launched his own SPAC earlier this year.
This event is completely free to attend, but you must reserve a spot in advance. Save your seat right here.

In today's mailbag, I answer two good questions about SPACs…
I was thrilled to see so many good questions and comments come in last night. Please, keep them coming – particularly if you have any questions about how SPACs work. Send your e-mails to [email protected].

"Hi Enrique, for the YES/NO vote, if I don't vote YES, will I still hold shares, or will the SPAC return my money?" – David C.
Enrique comment: If you vote against the deal, you'll get your $10 back, regardless of whether the deal goes through. It's important to note that you're not getting what you paid for the shares. So whether you pay $9.75 or $15, you're still getting $10 back.

"Hello Enrique, Earlier this year, I subscribed to Empire Financial Research as I am a rookie stock investor and want to learn more. I am very intrigued by SPACs. I hope to attend the seminar later this week. I have read your SPAC report and have watched the first two available training videos. Very helpful!
"Based on your recommendation in the July Elite Growth report, I bought shares of [your recommendation] that have now converted to [the current ticker]. While I understand much more after watching your videos, I am still confused. In the July report, you talked about units, stock, and warrants. I understand that a unit is a bundle of a common share and a warrant…
"Since your recommendation was to buy [redacted], I thought perhaps the units part came into play later and that by buying [redacted] was the same thing and that it would allow for getting the units at a later point or that it would automatically came with the warrants as part of the SPAC. After further reading and researching, I'm thinking I was incorrect and that I indeed bought only the common stock… in my portfolio. Is that indeed what I did?
"I do not expect answers to each question. I think what I need is a more thorough understanding of warrants. I suspect that the seminar will offer more insight on this, but if not, I'd appreciate being pointed in the right direction to make heads or tails of it. I realize these questions may reveal my greenness in stock investing. I hope I haven't made too much of a fool of myself, but hey, we all have to start somewhere, right?
"Whether or not you personally read or respond to this, please know your work is appreciated. Looking forward to learning more about SPACs." – Liesl S.
Enrique comment: Hi, Liesl, thanks for writing in. I've condensed your question a bit and redacted the tickers out of fairness to other Empire Elite Growth subscribers. I have a whole section of the Empire SPAC Investor Primer about warrants, but the short answer is that yes, you purchased shares of the SPAC, not the units (which typically come with warrants).
The simplest answer to your question about how warrants work is that they're options-like instruments that are a leveraged bet on the SPAC.
Warrants usually have a "strike price" of $11.50. This is the price at which you could buy a common share of stock in the future. If the company's stock never trades above $11.50 per share, then the warrant would be worthless. But if shares trade for, say, $20, then the warrant would be worth $8.50 ($20 minus the $11.50 strike price) and you could make many times your initial investment. Because of their boom-or-bust nature, it's important to size warrants smaller than your normal investment purchase.
Regards,
Enrique Abeyta
October 7, 2020