► The 'sharing economy' was supposed to be the new paradigm...
The idea is that owning things for 365 days a year when you only use them a few times is unnecessary, inefficient, and wasteful.
As early as 2011, Time magazine called it one of the "10 ideas that will change the world," writing, "Someday we'll look back on the 20th century and wonder why we owned so much stuff."
The first sharing economy stars were hourly car-rental company Zipcar – which Avis Budget (CAR) has since bought – and streaming giant Netflix (NFLX), back when it was an efficient way to rent DVDs for one low monthly price.
But the trend accelerated in the aftermath of the 2008/2009 financial crisis as the housing bubble burst, suddenly making the idea of home ownership much less appealing. As Time reported...
George W. Bush won re-election as President in 2004 in part by proclaiming an "ownership society": "The more ownership there is in America, the more vitality there is in America."

Even as Bush was announcing its birth though, the ownership society was rotting from the inside out. Its demise began with Napster. The digitalization of music and the ability to share it made owning CDs superfluous. Then Napsterization spread to nearly all other media, and by 2008 the financial architecture that had been built to support all that ownership – the subprime mortgages and the credit-default swaps – had collapsed on top of us. Ownership hadn't made the U.S. vital; it had just about ruined the country.
► The bursting of the housing bubble sent a ton of people scrambling into the freelance market seeking part-time employment...
This was a huge tailwind for the development of the ride-sharing market and the ascension of Uber (UBER) and Lyft (LYFT). Suddenly, the sharing economy was also about the "hustle."
Around the same time Uber was launching its app in the San Francisco market, home-rental site Airbnb raised a then staggering $120 million in venture capital money.
In its early days, Airbnb helped homeowners monetize their spare guest room. Years later, scores of mini real estate tycoons who owned multiple Airbnbs began to pop up all over the place, which posed a formidable threat to hotel chains like Marriott (MAR) and Hilton (HLT).
As the sharing economy grew, it attracted its fair share of critics, many of whom argued that it exploited labor and deprived workers (categorized as contractors) of the job security and health care coverage that came with working as W-2 employees.
With the backing of an enthusiastic and cash-rich Silicon Valley, the sharing economy was stronger than ever. Companies popped up left and right that would help consumers avoid ever buying anything again. You could rent an outfit from Rent the Runway, and hop in an Uber to your desk at WeWork, where you could have lunch delivered using Postmates. Meanwhile, someone you found on TaskRabbit could paint your house while someone from Rover would take your dog for a walk.
Some of these concepts were hardly revolutionary. Taxis, handymen, and dog walkers have existed for ages... but simplifying the search and reservation process made it much easier for users to quickly get what they needed.
Who needs a car when you have Uber and Zipcar? Why sign a long-term lease on office space when you can get a flexible monthly space (and free beer!) in a WeWork office? Why tie up cash in a vacation condo when you can rent an Airbnb anywhere in the world?
The sharing economy is convenient and nearly frictionless. It signaled the end of ownership and improved the user experience. The one thing it didn't improve was contact. Sharing means multiple people are physically touching the same thing – something that's suddenly problematic in the middle of a global pandemic.
► So how are the poster children of the sharing economy faring during the coronavirus?
Airbnb is reportedly laying off 25% of its workforce. As reported by online news site Vox...
Calling the virus the "most harrowing crisis of our lifetime," [founder and CEO Brian] Chesky said in an e-mail to employees that Airbnb's revenue in 2020 was projected to be just half of what it collected in 2019, which was reportedly $4.8 billion...

The announcement is a wild reversal of fortune for a company that was expected to be 2020's leading candidate for an initial public offering. Over the last few weeks, the company secured $2 billion in debt to try to survive the coronavirus pandemic, which has drastically cut back on people's ability and willingness to travel.
WeWork was in trouble long before the coronavirus ever reared its ugly head. The company attempted to go public last year, and the IPO disclosure process revealed a sea of red ink, a corporate governance disaster, and a giant folly of investments in seemingly unrelated companies, such as the notorious cash injection into a wave pool company.
The IPO fell through, CEO and cofounder Adam Neumann was fired, and the company became an embarrassing black eye for Japanese investing giant Softbank (9984.T), which had sunk $10 billion into the failing startup.
Things went from bad to worse as the coronavirus spread in mid-March and one of the company's New York City locations was identified as an early outbreak site. The pandemic killed the appeal of having multiple people share a single workstation. Virtually everything WeWork offers is a social distancing no-no.
No surprise, WeWork's 7.875% May 2025 bonds are now trading for $0.40 on the dollar, equivalent to a 33% yield – implying bankruptcy is likely...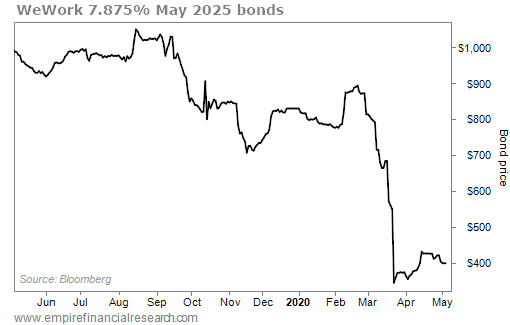 ► The ride-share companies have had a tough year, too...
Uber shares are down 32% from their February peak, while Lyft shares have fallen 43%. Both have dramatically underperformed the S&P 500, which is down "just" 15%...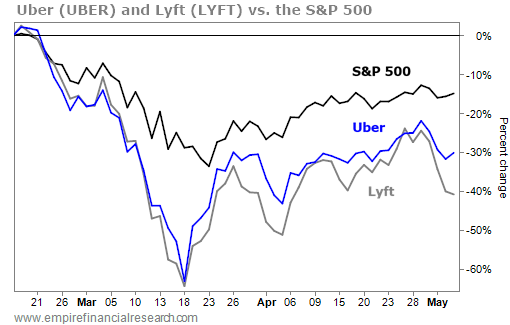 Despite both stocks' substantial rallies, neither is out of the woods.
Uber said in March that rides were down as much as 70% in cities hard hit by the coronavirus, and this morning announced it was laying off 3,700 employees, or about 14% of its global workforce. The company noted that it's looking for other ways to slash costs as well. Late last month, Lyft laid off 17% of its workforce, confirming it's struggling as well.
My colleague Enrique Abeyta has been an outspoken bear on both companies for months, so I checked in with him to gain his perspective.
► Last fall, Enrique predicted that both Uber and Lyft could turn out to be zeroes...
Does he still feel the same way today? Here's what he told me in a private e-mail this week...
One of the more fascinating company pairs to watch during the COVID crisis has been Uber and Lyft. Despite the craziness in the market, Uber trades right where it did at the end of 2019.

Prior to the current situation, I had been skeptical about their outcomes. Ride-sharing is a great service, but I questioned whether the economics would ever really make sense to create viable, sustainable, and profitable businesses.
But that wasn't even Enrique's biggest concern. He continued...
Uber's core business (domestic ride-sharing) is "theoretically" profitable, but only before properly taking into account all of its other expenses. If Uber was only a ride-sharing company, I would tell investors to avoid it. (In fact, that business does exist. It's Lyft, and it's another lousy bet.)

Uber is pursuing ride-sharing in 50-plus markets around the world. It's also expanding into food delivery in a large number of global markets and experimenting in many other businesses, including self-driving cars, bike-sharing, freight, and aircraft services.

This is insane for a company without a (truly) profitable core business that continues to burn through a ton of cash.
I asked Enrique how COVID-19 and the post-COVID-19 world will affect Uber and Lyft's future prospects. His answer was grim...
They're much worse off going forward for many reasons.

For one, shared transportation (public and private) is taking a beating during the shutdown. People will hesitate to use them again once things reopen. How many people are going to be excited to get into a car that may have just had an infected person in it?

Plus, Uber does best in dense, urban environments like New York City, San Francisco, etc. Those are its most "profitable" markets... and they're the ones that the virus has shut down. Uber's top five cities made up 24% of sales at the IPO, and all of them are at 90% below their previous levels.

Worse yet, Uber is highly exposed to travel and events. Airport trips are 15% of Uber's gross bookings and some of its most profitable business. No one is traveling right now, and nobody needs an Uber to work from home. And on Tuesday, the regulatory pressure continued, as California's Attorney General slapped both companies with a new lawsuit.

Even without all of this, Uber and Lyft's business models are flawed. They present themselves as "variable-cost businesses" based on driver pay, but that is a variable cost on top of a giant fixed-cost platform. There are reasons why these two companies are losing billions of dollars.
Despite all of this, Enrique did share one "positive" for Uber...
Uber is being more aggressive around paring some of its developmental businesses and just announced major layoffs. At 4 times pre-COVID sales on a business that is hemorrhaging money, though, losing your growth potential hurts.

UBER shares moved higher earlier this year on the hope of achieving full "profitability" in 2020. Now what's the chance that happens?

Lastly, the company talks about $10 billion of available liquidity... But after factoring in cash burn, changes in the environment, and other commitments, I suspect this might only be $2 billion of cash by year-end with $2 billion in a credit facility.

Folks may disagree with my view that Uber could be a $0. But it's hard to argue against the fact that Uber's future prospects don't look even worse than they did pre-COVID...
► The simple truth is that to be a successful investor, you don't have to own lousy companies like Uber and Lyft...
Instead, you'll do far better if you focus on the unique approach Enrique uses to identify stocks with multi-bagger upside potential in his Empire Elite Growth newsletter.
He pulled back the curtains on his unconventional investment strategy in a brand-new documentary-style video, out earlier today.
In it, you'll hear Enrique's incredible "rags to riches" story of going from homeless youth in Arizona to Wall Street millionaire. He'll even share the name of one of his favorite investment ideas today.
Best of all, Empire Financial Daily readers can sign up for a tiny fraction of the normal price. Get the details here.
► In today's mailbag, I take some (well-deserved) ribbing for Monday's warning on Wayfair...
I'm curious to hear a bull's argument on either Uber or Lyft. If you own shares of either, send me a note to [email protected] and make your case for it!
► "LOL Wayfair was up 42% today. I suppose that makes your thesis even better." – Tom M.
Berna comment: Actually it was up 24%. I admit this was not my finest hour, but as I explained in yesterday's Empire Financial Daily, I'm still skeptical about the company's long-term ability to generate a profit.
► "It sure would have been nice if you'd told us about Wayfair before it went up 400%." – Stephen G.
Berna comment: I wish I had known it was going up 400%. Alas, my crystal ball is still in the shop.
Regards,
Berna Barshay
May 6, 2020