► The U.S. dollar ('USD') is sitting near a two-year low…
Looking at the euro-U.S dollar exchange rate (which measures how many dollars you need to buy one euro), the USD has lost a lot of ground since March 20…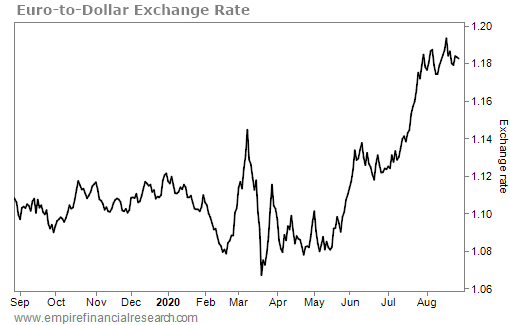 In the six months running up to January 15 (around when the coronavirus started to hit the currency markets), the average rate for euro-USD was less than 1.11. Somewhat counterintuitively, on this chart, a lower price means a stronger dollar (since it means it takes less dollars to buy one euro).
In times of crisis, when hedge funds go into "risk off" mode, the knee-jerk reaction for many traders is to buy dollars (or Japanese yen) and sell risk currencies. "Risk currencies" are the ones used in countries with large economic exposure to commodities, such as Canada and Australia. The idea is that if economic activity contracts, so will the demand for commodities like oil and iron ore, so those economies will take a greater hit along with their currencies.

When the pandemic hit the U.S., we initially saw a knee-jerk reaction into dollars…
And the dollar strengthened versus the euro for much of March, and most of April and May.
Peak dollar strength occurred almost in tandem with the trough for the equity market. The USD peaked versus the euro on Friday, March 20 at just under 1.07. This was also the day that New York Governor Andrew Cuomo told residents that they needed to stay home, which clearly had a strong psychological effect on Wall Street traders, many of whom are in New York.
The S&P 500 Index put in its low the following Monday, March 23. Peak fear was clearly centered around that third weekend in March.
At peak, the USD had appreciated about 4% versus the euro, 10% versus the Canadian dollar, and 17% versus the Australian dollar. These may seem like small moves to stock traders, but daily changes in currency rates are typically measured in hundredths of a percent. Moving just a few percentage points is considered a major move in the currency market.
Since then, global equity markets have recovered. Some have gone up more than others, but they have all made big comebacks. The reduction of fear the rise in greed has led to a "risk on" environment. Not surprisingly, the risk currencies are back where they were before the panic (Canadian dollar) or even stronger (the Aussie dollar is up about 7% versus the USD year to date).
But the big surprise has been the 6% depreciation of the dollar versus the euro, which is a cross-rate not typically affected by these risk-on/risk-off market swings.

We've heard a few theories for why the euro appreciated versus the dollar…
Generally, one of the biggest drivers of currency cross rate moves is the difference in interest rates. If one country is paying higher interest rates on its sovereign debt, it makes sense that investors would want to buy that debt and will need to buy local currency to do so.
Rates have been close to zero – or even at times negative – in Europe for some time, dating back to well before the pandemic. When the U.S. slashed rates in response to the crisis, in order to flood the market with liquidity and support the economy, the differential between European and U.S. rates collapsed. Dollar-denominated debt became a lot less attractive. This would be one reason for relative strength in the euro versus the dollar.
Perhaps even more important than the absolute differential is the shift in expectations regarding the future path of rates. The U.S. Federal Reserve has forced rates low through interventionist policies and has signaled that they will stay low for a very long time.
Just this morning, the Fed basically doubled down on that messaging when it announced that employment levels will be just as an important a driver of rate policy as inflation trends and expectations.

Currency cross rates are also influenced by general economic health and perceptions of future economic growth trends…
The countries of the European Union recently came together in an unprecedented display of economic unity when they approved a €750 billion coordinated fiscal stimulus package. This stimulus is laser-focused on maintaining employment levels, supporting workers, and in turn, propping up consumer spending.
More important, this is the first time that European nations have created a unified financing scheme backed by the mutual credit of the Union, rather than individual nation states. This has investors excited that additional stimulus projects could be a future possibility.
Here in the U.S., Congress has mostly stalled out in passing a second big wave of fiscal stimulus directed at supporting workers and employment. Eurozone unemployment is around 7%, and the bloc is working hard to keep it from creeping up. The most recent U.S. unemployment rate is around 10%.
Some macro analysts think that Europe's greater coordinated focus on maintaining employment levels will bode well for a faster economic recovery.
While the currency market may be projecting that, equity indexes are not… The S&P 500 is up more than 8% year to date, while the Euro Stoxx 50 Index is still down 11%.
With the Nasdaq Composite Index up 30%, I suspect that if you stripped out Big Tech, the stock performance differential between the U.S. and Europe would narrow considerably. But it's likely safe to say the currency market may be more bullish about the eurozone's economic prospects relative to the U.S. than the equity markets are.
I've been wrong so far on my call to move some money to Europe, as the S&P 500 has outperformed the Euro Stoxx 50 by about 10 percentage points since early July… but the currency action increases my confidence that buying European stocks now will prove a wise move with a multiyear time horizon.
Also undermining the USD, China and Russia have recently increased their use of euros to conduct trade, and some central banks have been buying gold, which has propelled the metal to all-time highs and further stoked USD jitters.

Yield curve control may be one other factor in USD weakness relative to the euro…
The slashing of rates to zero isn't the only thing unprecedented about the Fed's response to the pandemic-driven economic crisis.
For the first time, the central bank has taken an extremely interventionist approach to exert influence over all parts of the yield curve. The Fed isn't just using the federal funds rate to drive short rates and targeted 10-year Treasury purchases to control longer rates… The central bank is being activist and making bond purchases at many different bond durations to generate a yield curve that looks exactly like it desires.
Bond market investors I know are continually complaining that "there is no market" anymore… And not just in U.S. Treasurys, but in investment-grade corporates and "junk" bonds as well. While the Fed's purchases may be limited outside of Treasurys, the mere signaling of their intention to intervene has been a driver of not only rates going down on an absolute level, but the spreads between Treasurys and riskier corporate debt collapsing.
The compression of spreads at a time when economic risk is heightened doesn't make much theoretical sense. In the face of a 33% headline contraction in second-quarter GDP and an acceleration of corporate bankruptcy filings, you would expect the spread – or amount that junk bonds pay over risk-free Treasurys to increase… but risk spreads instead are almost unchanged since before the pandemic.
The chart below shows the difference in yield between the Bloomberg Barclays U.S. Corporate High Yield Bond Index and the 10-year U.S. Treasury. As you can see, it paints a picture that we're back to normal…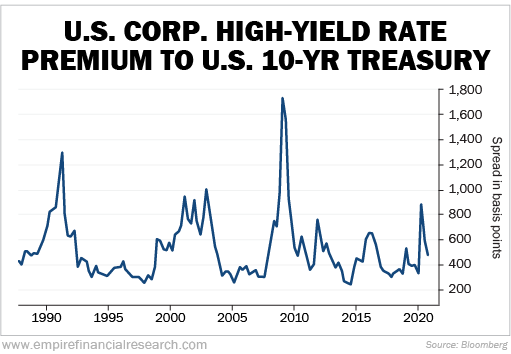 And if you look at the drop off in spreads since peak March panic, the extent of the Fed's intervention becomes obvious…
High-yield spreads have more than halved from peak fear levels. They were 1,088 basis points on March 23 (when the stock market bottomed) and currently stand at 473 basis points.
This contraction in the risk spread happened at the same time bankruptcy filings by large corporations accelerated. Late May saw the two biggest bankruptcies of the year: auto rental company Hertz (HTZ) and airline Latam Airlines (LTMAQ). Junk spreads actually reacted by narrowing 165 basis points over the next 10 trading sessions.
Bank creditors and bond holders in the top 10 corporations to file bankruptcy since mid-March could lose up to $110 billion, but the market is acting like everything is rosy in junk bond land.
The Fed's grip on rates is great for public and large private companies. Corporations with great balance sheets can raise money for basically free. Earlier this month, Google's parent company Alphabet (GOOGL) raised $1 billion in five-year notes issued at just 0.45%, the lowest coupon on a U.S. corporate bond in history. The benefit is even greater for struggling companies with lots of debt and lower credit ratings.

Many are speculating if dollar weakness could foreshadow the USD losing its status as the world's reserve currency…
Being the world's reserve currency means that central banks and private financial institutions around the world hold U.S. dollars. According to the International Monetary Fund, more than 60% of foreign bank reserves are held in dollar-denominated assets – typically either cash or U.S. Treasurys. Being the world's reserve currency has greatly benefited the U.S., as it ensures steady demand for our sovereign debt issuance.
Being the world's reserve currency also makes the USD the default settlement currency for major commodities like oil and for many manufactured goods sourced abroad. It also makes the USD the currency some other countries peg their own currency to.
So, does recent dollar weakness mean the USD could lose its coveted position?
Simply put, probably not. The euro offers its own risks because of the fragility of the European Union's pact – as evidenced by the U.K.'s exit from the group last year.
The Chinese yuan would theoretically be a candidate to replace the USD, given China's stature as the second largest economy in the world and its importance to global trade. But the yuan won't make the cut either as the Chinese economy is largely centrally controlled. Even with extraordinary intervention by the Fed recently, our markets are still much more freely determined. Chinese legal protections for foreign corporations also pale in comparison to the transparency of the law in the U.S. and Europe.
Speculating about the U.S. losing reserve currency status is great for filling up newspaper columns but is a purely theoretical discussion at this point.

Dollar weakness does however matter, as it creates its own set of winners and losers…
For large U.S. multinational corporations with substantial global operations or exported production, a weak dollar is a good thing. Dollar weakness makes American-made goods relatively cheaper for foreigners to buy, thus more globally competitive. Additionally, profits made in foreign currencies while doing business locally in other countries will translate to more U.S. dollars of profit.
In 2018, foreign sales accounted for 43% of revenue at companies in the S&P 500. The sector with the highest foreign exposure was Information Technology, so a weak dollar could be yet another tailwind for the Big Tech companies like Amazon (AMZN), Apple (AAPL), Facebook (FB), Google, and Microsoft (MSFT), which have been leading the market.
A weak dollar will also benefit other big exporters: Big Pharma firms like Pfizer (PFE)… consumer-products companies like Procter & Gamble (PG), and industrial exporters like Caterpillar (CAT). All these companies source more than 50% of their revenue abroad.
The big loser in a weaker dollar scenario is the U.S. consumer, especially one who doesn't own stocks. A weaker dollar reduces purchasing power for foreign goods, and that trickles down to higher prices for imported items relative to salaries. Dollar weakness affects everything from produce at the supermarket to clothing and tech gadgets at the mall to major purchases like cars and furniture.
The weak dollar hurts consumers but props up most corporate earnings, so an individual who owns stocks might see any increases in their credit card bill more than offset by gains in their 401(k) or trading account.
Where the dollar trades versus other currencies affects you in ways you might not notice except when you go on vacation abroad. But investors who own stocks have a good hedge against a weaker dollar through their investment accounts.

Today in the mailbag, some questions on video games, and a reader correctly identifies me as a natural-born skeptic…
Do you think the U.S. government should be doing more direct fiscal stimulus to support employment, like helping large and small companies pay their workers? (We have done a little of this, but not as much as Europe). Or do you think the aggressive monetary policy being enacted by the Fed will prop up large companies enough that it will eventually trickle down and help small businesses and increase employment? Send your thoughts in an e-mail to [email protected].

"Berna, If Apple is taking 30% of revenue from Epic, does that mean it is taking 30% of revenue from Uber?" – M.P.
Berna comment: The 30% fee only applies to content and features that are delivered as an in-app purchase… so subscription fees for games or other media or in-app purchases of premium digital content or features get charged the 30%. Uber (UBER) delivers physical services off the app, so the company is exempt.
Per Apple's website, "Apple receives no commission from supporting, hosting, and distributing these apps, or from transactions for physical goods and services in the app." They offer Airbnb, Amazon, Lyft (LYFT), and Target (TGT) as the examples of apps which generate the sales of physical goods and services.

"Will you let us know when Unity comes available?" – John F.
Berna comment: Yes! I know my colleague Alex Griese, who guest wrote the piece yesterday, is actively watching for this.

"Hi Berna, Really like your writings. What did you do before you joined empire? I like the satire and the generally less optimistic tone compared to Whitney. It would be interesting to see what you like though on the long side since a lot of your writing is bearish tinted." – Jacco R.
Berna comment: Thanks, Jacco… And yes, I agree I've been more skeptical of this big move than Whitney and some of my other colleagues. Before joining Empire Financial Research, I worked at several hedge funds (you can see my bio here). At hedge funds, I had a knack for short-selling, so some of my natural skepticism is clearly leaking into my writing.
It's much easier to be a natural optimist, by the way, because both stocks and markets go up over time.
My recent relative bearishness has been driven by my fundamental analysis. I have always been much better than average at predicting fundamentals (e.g., what companies will earn), but I am not particularly astute at gauging how long market euphoria can go on. And I am a valuation-sensitive investor, which makes it hard for me to buy or recommend expensive stocks… although I've done that a few times lately – including my recent recommendations of Peloton (PTON), Beyond Meat (BYND), and PayPal (PYPL).
L Brands (LB) was more of a traditional value pick for me. Revolve (RVLV) was also contrarian.
I still like all these stocks… and some others I also have recommended in past issues that haven't moved as much since my recommendation include Target (TGT), McDonald's (MCD), Mondelez (MDLZ), New York Times Co. (NYT), Hasbro (HAS), Comcast (CMCSA), and Warner Music Group (WMG).
Regards,
Berna Barshay
August 27, 2020