---
Recommended Link:
GM's next big release has no engine and no wheels

In a shocking move, auto giant General Motors is venturing into a whole new space (hint: NOT electric vehicles). While industry analysts see this as a way of catching up with Tesla, the bigger reason could be because this new space is getting the full backing of the current administration and could mean huge tax credits in the future. Or it could just be that this fledgling industry has more scope than the declining auto industry. Whatever it may be, this move could put GM into the same bracket as Apple, Google, Microsoft, and Amazon. Get the details of this massive trend here.
---

One of my favorite investment podcasts is On the Tape, featuring Dan Nathan, Guy Adami, and Danny Moses...
It's the perfect complement to Hard Money's Million Dollar Podcast, featuring my colleagues Enrique Abeyta and Gabe Marshank. And I don't just say that because I work with Enrique and Gabe...
It's because if you merge the two podcasts, you wind up with exceptional insight, information, and strategies from very different perspectives.
But I digress...
I'm mentioning On the Tape because a week ago Danny – who we're always reminded was a key character in The Big Short book and movie – started lampooning an investor quiz he happened to stumble on one night while scanning the U.S. Securities and Exchange Commission ("SEC") website. As he explained...
There are 10 questions about, oh – an index fund is better than a mutual fund because passively managed funds are better than active, and I'm like, hold on a second...
The actual question he is referring to is:
What is the main advantage that index funds have compared to actively managed funds?
The question offers three answers to choose from...
Index funds are generally less risky in the short term
Index funds generally have lower fees and expenses
Index funds often guarantee a specific rate of return

Danny thought the nature of the questions was so absurd, he devised his own list – with answers...
These include:
Should you rely on Wall Street sell-side research for your investment decision? These are pretty much, you know, rhetorical questions, but the answer is obviously "no." 
Does a stock split actually increase the fundamental value of a company? The answer is "no."
Is it wise to ignore fundamentals when choosing an investment? The answer should be "no."
When the bonds of a company trade below 60 cents on the dollar, should you be concerned that the equity of that company might be worthless? Footnote. Bond Price. Bed Bath and Beyond. 30 cents. Question: Should you be concerned? I would think so.
Is it better to make investment decisions based upon tweets from CEOs, large shareholders, or should you do your own work? We know the answer to that question.
Do you have any idea what a 10-Q or 10-K or an 8-K is? The answer is, obviously, to the majority of people, "no."
Do you know how to track insider buying and selling? And do you have any idea what A 10b5-1 plan is?
In order to get away with insider trading, is it necessary to be rich enough to line the pockets of politicians and hire the best lawyers? Yes, obviously it is.

Do you think the markets are structured in a way that over a long period of time, institutional money managers will outperform the retail investor? And the answer to me is "yes" – because we know how this game is set up.
That got me to thinking...
I have a pretty solid readership of seriously significant people, who have been investing for more than a few weeks.
If you were putting together a serious list of questions, what should they be?
Send them along in an e-mail by clicking here and I'll compile a list... If they're good enough, I'll post 'em in a future essay.

Speaking of lists, if you're serious enough about investing to do some of your own research, there are plenty of free and paid resources – some better than others...
After soliciting ideas from its friends, Bedrock AI – itself a fantastic resource that uses artificial intelligence ("AI") to spot red flags in SEC filings – recently blogged a rather inclusive list of tools. These include forensic, full-service, market and financial analysis, insider trading, expert call aggregators, and SEC search and analysis and quant.
The list features a few picks by yours truly... and you will note, I use only a few. From the commentary of my picks...

I've picked up a few since then from the broader list published by Bedrock AI...
And after re-reviewing my list, I realize perhaps the most important tool I use is missing... and that's because it's probably the most obvious: a Google search.
Truth is, much of what I want and need is in the public domain – if it's there to be found, I can generally find it.
The various AI tools supercharge the process with speed and help to quickly spot items I might otherwise miss.
I also should have included corporate investor relations websites. Like Google, they're so obvious they're easy to miss, yet I use them daily.
They can help provide a good feel and flavor of a company's approach to investors... whether they're over-the-top promotional or bare bones.

I'm generally looking for 'events and presentations,' assuming the investors relations sites hold them...
Presentations, especially if the company holds investor days, can be can great way to get a quick overview of the company.
And better yet if you can compare what management has said in prior years. That's where a service like Sentieo comes in, and where putting together these puzzles can get fun... searching for words, phrases, and numbers they might have used one year – or quarter – but not the next.
It's all part of the mosaic.

Of course, while they're few and far between, there are always companies like Expeditors International of Washington (EXPD)...
Its IR website doesn't include events and presentations because the company doesn't do quarterly analyst calls or appear at investor meetings or hold analyst days. It does answer quarterly questions, but only in writing and via an 8-K SEC filing.
For what it's worth, as you can see in the chart below, not kowtowing to Wall Street hasn't hurt the company...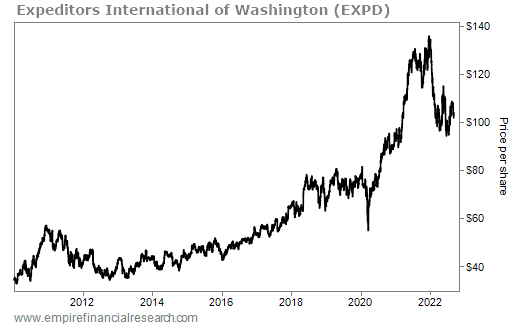 Expeditors International of Washington has a great balance sheet, rising dividends, and sliding shares outstanding. It really is a company, via its asset-light model as a freight forwarder, that has nothing better to do with its cash.
This is a case where slow and steady just keeps winning the race.
As always, feel free to reach out via e-mail by clicking here. I look forward to hearing from you.
Regards,
Herb Greenberg
September 6, 2022