1) The WeWork debacle continues… On Friday, Bloomberg reported that WeWork's largest investor, SoftBank Group, is realizing that its "big bet may already be turning sour… fueling tensions among SoftBank employees."
Then, the Wall Street Journal published an article raising even more questions about the company's laughable corporate governance (even by the low standards of today's unicorns): WeWork's Long List of Potential Conflicts Adds to Questions Ahead of IPO.
All of this is leading to even more investor skepticism and talk of an even larger valuation cut to get the IPO done: WeWork Parent Weighs Further Valuation Cut.
It's not going to work. You can stick a fork in this IPO.
And I'll make an even bolder prediction: I think the company goes bankrupt within a year. That's what happens when companies run out of cash – and who, exactly, is going to provide this money-losing pig with the billions of dollars necessary to keep its fatally flawed business model alive?
2) I always find it interesting when friends of mine who I greatly respect end up on opposite sides of a stock. Today's example is Burford Capital (AIM: BUR), the world's largest provider of arbitration and litigation finance.
My friend and former student Artem Fokin of Caro-Kann Capital won the SumZero Top Stocks contest three years running. His last win, in January, was his long thesis on Burford Capital, which you can read here and watch here.
But then, famed short-seller Carson Block of Muddy Waters Research, who spoke at both of my shorting conferences last year, published his short thesis last month, and the share price got slashed in half.
Artem just published a 68-page rebuttal titled Burford Capital: Muddy Waters Dreams of a Black Cat That Just Is Not There. His article about it on SumZero is posted here, and his full report is on his website here.
I don't have an opinion on the stock, but I think it's an interesting case study, and there are many important lessons to learn here regardless of the outcome…
3) What a fascinating story… America's Orthodox Jews Are Selling A Ton Of The Products You Buy On Amazon. Excerpt:
Yisroel has missed a lot – blogging, Napster, Wikipedia, Facebook, Twitter. Like many other Orthodox Jewish men, most of his education was spent studying the Torah and Talmudic law.

"I never went to business school or college – I barely finished high school," the 46-year-old told BuzzFeed News. "I didn't know how to turn on a computer until I was 35."

Which makes him an unlikely founder of a multimillion dollar Amazon business.

Yisroel – who asked to be identified by his Hebrew name for reasons of privacy – is a deeply observant Orthodox Jew, one of the many who have turned to third-party sales on Amazon. The company's third-party sellers make up 58% of all sales on the site. But there's an estimate passed around third-party Amazon consultants that claims 7% of all Amazon third-party sales originate from a single zip code in Brooklyn, and that Orthodox Jewish–owned businesses make up 15% of marketplace sellers. Amazon declined to comment on both numbers. But sources told BuzzFeed News the company is well aware of this particular community, and Amazon seemed to nod to that in a statement to BuzzFeed News. "Brooklyn is home to many impressive independent retailers selling on Amazon," it said.
4) Speaking of Amazon (AMZN), I saw my first Amazon Prime plane while taxiing at the Seattle-Tacoma International Airport on Saturday. Look out FedEx (FDX), United Parcel Service (UPS), and U.S. Postal Service!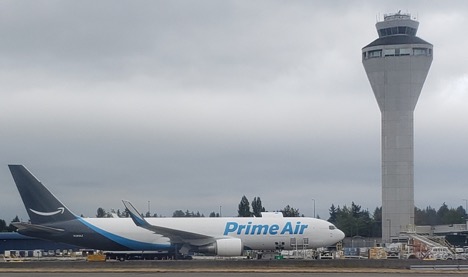 5) It's good to see the New York Times editorial page finally coming out against legacy preferences, which I've long believed (and said publicly) should be ended for so many reasons. It's the ultimate in white privilege and perpetuates inequality. Why on earth should a child born into the greatest of good fortune – having one or both parents who attended an elite school – then have a huge thumb pressed on the scale when it comes to getting admitted to that school?
It's contrary to everything this nation claims to stand for. One of the primary reasons we declared our independence from Britain was that we rejected its class-based system. Yet guess which country's elite institutions long ago ended legacy preferences? It reminds me of yet another example of one of Charlie Munger's favorite phrases: "Whose bread I eat, his song I sing…" End Legacy College Admissions. Excerpt:
Whatever the mechanism, it makes sense for a group of competitor schools to take the leap together, a mutual stand-down. Doing so would be in the best traditions of American higher education, which for decades has worked to extend opportunity to generations of poor and minority students. Inaction by the academy, on the other hand, risks fueling a growing public sense that higher education is part of the crisis of the American establishment.
Best regards,
Whitney