1) On Friday, Hulu released a documentary about WeWork: or The Making and Breaking of a $47 Billion Unicorn (you can watch the trailer here).
As my wife and I watched it over the weekend, every few minutes we looked at each other and shook our heads in amazement that anyone could have fallen for such an obvious con man as co-founder and former CEO Adam Neumann (and his even more narcissistic, delusional wife, Rebekah).
If you liked the Theranos and Fyre Festival documentaries, you'll love this one!
I heaped plenty of scorn on the Neumanns and WeWork around the time of its aborted initial public offering ("IPO") and all of my predictions came true (that the bankers would pull the IPO, the Newmanns would be ousted, etc.), but I was wrong that the company would go bankrupt.
In fact, its primary backer, SoftBank, bailed it out and brought in professional management, and the company announced just 10 days ago that it plans to go public shortly by merging with a special purpose acquisition company ("SPAC") called BowX Acquisition (BOWX), whose stock has risen 33% to $12.93 since the deal was announced.
Given that there's a $10 floor on the stock until the deal closes (reflecting the cash every SPAC holds in escrow), the current price isn't completely bonkers. I might even be tempted to buy some if it falls under $11 per share...
2) Regardless of your views on what the Biden administration did in passing the stimulus package and what it's proposing to do with the infrastructure package, it's important for every investor to understand the potentially profound implications for the economy and stock market.
Here are two articles from the New York Times and the Wall Street Journal with insightful looks...
NYT: Biden Tax Plan Challenges G.O.P. Formula for Economic Growth. Excerpt:
President Biden's ambitious plan to increase corporate taxes does more than just reverse much of the overhaul pushed through by his predecessor. It also offers a profoundly different vision of how to make the United States more competitive and how to foot the bill.

When President Donald J. Trump and a Republican Congress rewrote the tax code in 2017, most of the benefits went to the wealthiest Americans, with lower rates on businesses and on profits from investments. The guiding principle, proponents argued, was that cutting taxes on corporations and investors would encourage businesses to expand, creating more jobs and generating more wealth for everyone.

By contrast, the animating idea behind the tax plan put forward by the Biden administration on Wednesday is that the best way to increase America's competitiveness and foster economic growth is to raise corporate taxes to finance huge investments in transportation, broadband, utilities, and more.
WSJ: Behind Biden's Big Plans: Belief That Government Can Drive Growth. Excerpt:
President Biden envisions long-term federal spending claiming its biggest share of the American economy in decades. He wants to pay for that program in part by charging the highest-earning Americans the biggest tax rates they've faced in years.

The Biden economic team's ambitions go beyond size to scope. The centerpiece of their program – a multitrillion-dollar proposal to be rolled out starting Wednesday, less than a month after a $1.9 trillion stimulus – seeks to give Washington a new commercial role in matters ranging from charging stations for electric vehicles to child care, and more responsibility for underwriting education, incomes, and higher-paying jobs.

The administration has also laid the groundwork for regulations aimed at empowering labor unions, restricting big businesses from dominating their markets and prodding banks to lend more to minorities and less for fossil-fuel projects. All while federal debt is currently at a level not seen since World War II.

It all marks a major turning point for economic policy. The gamble underlying the agenda is a belief that government can be a primary driver for growth. It's an attempt to recalibrate assumptions that have shaped economic policy of both parties since the 1980s: that the public sector is inherently less efficient than the private, and bureaucrats should generally defer to markets.

The administration's sweeping plans reflect a calculation that "the risk of doing too little outweighs the risk of doing too much," said White House National Economic Council Director Brian Deese. "We're going to be unapologetic about that," he said. "Government must be a powerful force for good in the lives of Americans."
3) Susan and I flew home on Saturday after a week of skiing at Jackson Hole. The plane was 95% full – more anecdotal evidence of a rapidly recovering economy (as well as this: $300 a day for a Kia Rio. Why rental cars prices have gone insane).
On Friday we took the tram to the summit and took lots of pictures with our #IGotVaxxed and #GetVaxxed hats, shirts, and sweatshirts: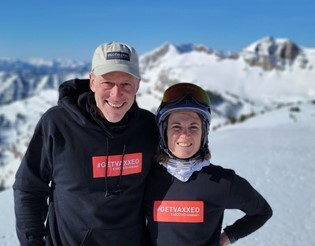 These are part of a friend of a friend's new clothing line. Here's an article about it: Power Broker: Orít Hodarkovsky, I Got Vaxxed Apparel.
We then skied down to the top of Corbet's Couloir, one of the most famous ski runs in the world. It looked hairy enough from the tram, but it was really scary looking down the huge drop from the lip. NO WAY was I going to try that, but we saw one crazy guy hike up and drop in – I posted pictures and a video on Facebook here. Spoiler alert: He pulled it off!
The last seven pictures in my Facebook post are of wild costumes people were wearing for "Gaper Day," which I'd never heard of. Here's the description I found on Wikipedia:
Gaper Day is a mountain tradition that takes place in ski resorts across North America. It is the day when locals can dress in the most ridiculous outfits and pretend to be like their gaper counterparts. Their getup can range from no or very limited clothing (only shorts) to the most retro ski attire there is. It is like the April Fools' Day of the mountain. It normally occurs around April, when the snow starts melting and the temperatures are warmer.

According to a local reporter at Jackson Hole Ski Resort, Gaper Day "is a Spring rite of passage for those who live in mountain towns. It is a day that can provide large amounts of entertainment as locals do their best to poke a little fun at the tourists with which they have dealt throughout the season."
And the definition of "gaper": "Derogatory term for an inexperienced skier. A stereotypical 'gaper gap' is one between the skier's goggles and helmet or hat."
Best regards,
Whitney