1) I continue to track the coronavirus crisis closely, both here and around the world…
This is because (among other reasons) it continues to be one of the most important factors driving stock prices. (If you wish to subscribe to my coronavirus e-mail list, simply send a blank e-mail to: [email protected])
We've made real progress: testing is up… and cases, hospitalizations, and deaths are down. We have definitely flattened the curve. Unfortunately, we're not crushing the virus the way so many other countries have.
For more on this, let's start with daily new cases here in the U.S. As you can see in the chart below, the trend is downward since the peak two months ago… but it's pretty much flatlined over the past month (though no doubt this is in part due to increased testing):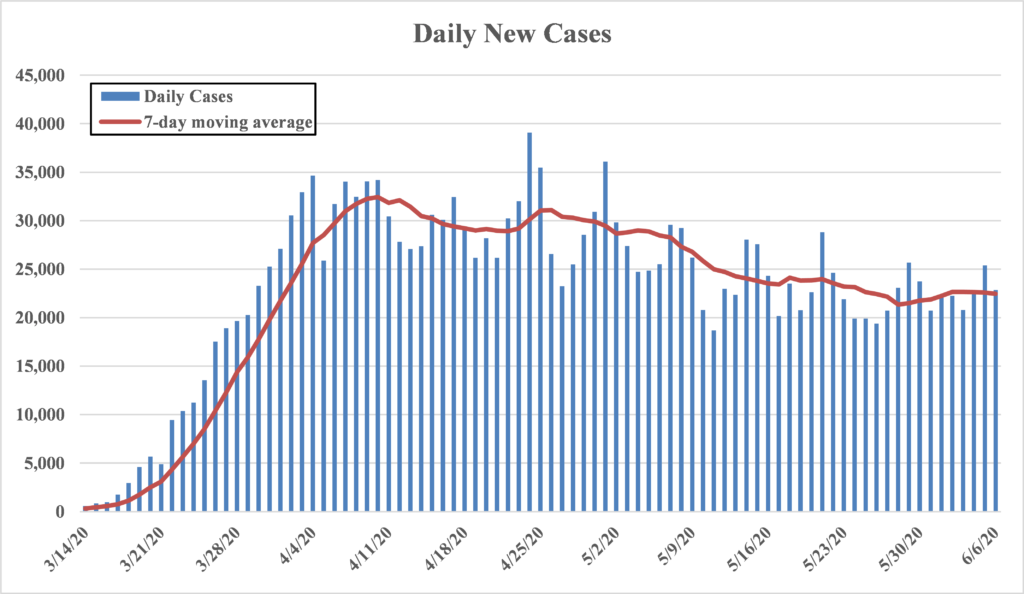 There's better news regarding coronavirus deaths, which have fallen by more than half since the peak:
2) More good news: we're gaining greater understanding about what types of shutdown measures are necessary and where – and, critically, what's not necessary and where – as this New York Times article notes: Coronavirus Shutdowns: Economists Look for Better Answers. Excerpt:
As COVID-19 cases took off in New York in March, Gov. Andrew M. Cuomo imposed a lockdown of nonessential businesses to slow the spread of the coronavirus, calling it "the most drastic action we can take."

Now researchers say more targeted approaches – in New York and elsewhere – might have protected public health with less economic pain.

Businesses in New York City, where an initial phase of reopening is to begin on Monday, have been mostly shut down for 11 weeks. But a study has found that the economic cost could have been reduced by a third or more by strategically choosing neighborhoods to close, calibrating the risk of infection for local residents and workers with the impact on local jobs.

The ZIP codes most affected by the outbreak are not necessarily the places with the highest concentration of jobs. It would be possible to keep businesses in certain areas open if the chances of spreading the virus there were low, especially if the economic cost of closing them was disproportionately high, the researchers found.
3) Here's a related article: A Striking Disconnect on the Virus: Economic Pain With Little Illness. Excerpt:
In Corpus Christi, Texas, many people strain to name anyone infected with the coronavirus. In east central Wisconsin, members of the Y.M.C.A. express frustration with a distant health crisis that shut down the group's community services. In western Colorado, the summer recreational season was canceled before it even started – again with little sign of the virus.

The coronavirus has killed more than 100,000 Americans and brought much of the economy to a grinding halt. Though all 50 states have begun to reopen against a bitter partisan backdrop, in many parts of the country the dual health and economic calamities are not playing out in parallel.

A New York Times analysis of coronavirus infections, official layoff notices and federal unemployment data highlights the sharp disconnect between extreme economic pain and limited health impact from the pandemic in many parts of the country. It is a split that presents local officials and businesses with difficult choices even after Friday's encouraging jobs report suggested more of the country was returning to work.
Statewide shutdowns (much less a national one) never made sense to me. Why did we shut down rural areas with no risk spots like meatpacking plants?
4) Some good news from Europe that bodes well for us as we try to return to something resembling normal: Coronavirus infections haven't spiked since Europe loosened lockdowns. There are many theories about why. Excerpt:
Virologists from Milan to Berlin have become much more optimistic about Europe's ability to manage the pandemic and say that, at least through the summer, the continent might have nothing more than localized and hopefully-containable hot spots.

Europe's experience, at least so far, suggests that sending children back to school, reopening restaurants and even making way for large outdoor protests does not lead to an inevitable resurgence of the virus.

But scientists also readily admit there's much they don't know about the idiosyncrasies of this virus. They are still trying to make sense of why it is behaving as it has in Europe and whether those trends will hold – and what the answers might mean for the rest of the world.

Many disease experts say enduring behavioral changes, from hand-washing to mask-wearing, could by themselves be substantially limiting the spread in Europe. They say the continued ban of large-scale events is probably capping the damage wrought by highly contagious people – the "super-spreaders" who account for much of the transmission.

They also say there's growing evidence that the virus could be proving seasonal – ebbing based on the temperature or other climactic conditions. Though warmer weather doesn't stop the virus, it can aid in the fight.

Rome's restaurants reopen. Will diners return? Or just delivery riders?

Europeans, heeding warnings that the virus is more transmissible indoors, have adapted their lives accordingly – something easier to do in warmer months. In Rome, the parks and alfresco restaurant tables are full; the tables indoors are empty.

In Germany, confined indoor gatherings have led to small outbreaks, while outdoor mass demonstrations against the lockdown in several cities – some drawing thousands of people – have not led to obvious consequences.
5) Here's an in-depth look at how Japan has beaten the virus: Is the Secret to Japan's Virus Success Right in Front of Its Face? New York Times. Excerpt:
When the coronavirus arrived in Japan, people did what they normally do: They put on masks.

Face coverings are nothing new here. During flu and hay fever seasons, trains are crowded with commuters half-hidden behind white surgical masks. Employees with colds, worried about the stigma of missing work, throw one on and soldier into the office. Masks are even used, my hairdresser once told me, by women who don't want to bother putting on makeup.

In the United States, where masks only recently arrived on the scene, they have been a less comfortable fit — becoming an emblem in the culture wars. A vocal minority asserts that nobody can force anyone to put a mask on. Protesters have harassed mask-wearing reporters. The president himself has tried to avoid being seen in one.

As Japan has confounded the world by avoiding the sort of mass death from coronavirus seen in the United States, I began to wonder whether the cultural affinity for masks helped explain some of this success…

In the early months of the pandemic, Japan seemed not to follow much of the conventional epidemiological wisdom, deliberately restricting testing and not ordering a lockdown.

Yet a feared spike in cases and deaths has not materialized. Japan has reported more than 17,000 infections and just over 900 deaths, while the United States, with a population roughly two and a half times as large, is approaching 1.9 million cases and 110,000 deaths.

"Japan, I think a lot of people agree, kind of did everything wrong, with poor social distancing, karaoke bars still open and public transit packed near the zone where the worst outbreaks were happening," Jeremy Howard, a researcher at the University of San Francisco who has studied the use of masks, said of the country's early response. "But the one thing that Japan did right was masks."

Japanese leaders eventually urged karaoke bars and other businesses to close and cajoled employees into teleworking. Schools were closed at the beginning of March – far earlier than most countries – and large cultural and sports events were canceled. None of these restrictions were mandatory.

But one of Japan's most visible responses has been near-universal mask wearing, seen here as a responsible thing to do to protect oneself and others, and as a small price to pay to be able to resume some semblance of normalcy.
6) And from Bloomberg, here's a look at what the Netherlands did: Dutch Cooperation Made an 'Intelligent Lockdown' a Success. Excerpt:
The Netherlands has both flattened the curve and kept life tolerable…

The Netherlands was opting for what [Prime Minister Mark Rutte] termed an "intelligent lockdown." In a nationally televised address, the first by a Dutch prime minister in more than four decades, he noted that restrictions have a price, even if they're not immediately visible. "We will continue to search for the balance between needed measures and allowing ordinary life to continue as much as possible," he said.

Rutte's guiding principles – allowing people to go out but trusting them to practice safe distancing – asked a lot of his constituents. "The whole plan relied upon public support," says Daan Roovers, a medical doctor, professor of philosophy at the University of Amsterdam, and the "thinker of the fatherland" (an unofficial title bestowed by Philosopher magazine and the newspaper De Trouw). "When you impose a rule in the Netherlands, there will be a lot of resistance—we're not that obedient," she says. "So if you leave people a little room to maneuver for themselves, to think for themselves, you'll gain more support and it will be more successful"…

Nine out of 10 Dutch people said in March they were "willing to give up some of their individual freedoms to keep the coronavirus from spreading," according to polling by Motivaction and the WIN/Gallup network.

The Outbreak Management Team advising Rutte consists of epidemiologists, physicians, and public-health experts, but no economists or business interests. Although the group's public statements don't indicate that economic or long-term health effects were taken into consideration when deciding how to fight coronavirus, the Netherlands' gross domestic product fell 1.7% in the first quarter, vs. a decline of 3.5% in the European Union.

A growing body of evidence in the emerging field of life-course research suggests that the intelligent lockdown will benefit both the Dutch economy in the short term and the nation's health in the long term. Poverty, in short, is bad for your health, and avoiding it lifts the economy through reduced medical costs. Strict lockdowns may produce social, economic, and health consequences that won't be felt for years or even decades.
Best regards,
Whitney