1) I'm absolutely thrilled to welcome my long-time friend Herb Greenberg to the Empire Financial Research team.
Herb is a legend in the investing community for his 40-plus year career as an investigative business journalist. You can read his bio here.
I remember discovering Herb when I was first learning about investing in the late 1990s, a few years before I launched my first fund in 1999. He was the daily business columnist for the San Francisco Chronicle, and in the run-up to one of the biggest bubbles of all time, the Internet bubble, Herb was uncovering and exposing fraud after fraud.
We became friends after I got into the business and subscribed to his first research service. We've crossed paths many times over the years, most notably when we were both columnists at TheStreet.com and contributors at CNBC.
Not surprisingly, given his unparalleled Rolodex in the investment community, he also independently has relationships with my colleagues Enrique Abeyta and Berna Barshay, who are as delighted as I am that he's joining our team.
He's a gem of a person, has exceptional personal and professional integrity, is a dogged researcher, a brilliant writer, and has an especially good nose for hype and fraud – which is particularly valuable in today's frothy markets.
Eventually he'll have his own newsletter, but for now he's going to contribute to our current ones and write twice a week for Empire Financial Daily (Berna will continue to write the other three days). He published his first daily yesterday, which you can read here.
Welcome to the team, Herb!
2) Finishing up my weeklong series on Facebook (FB), Berna thinks the stock is a buy for reasons she outlined in her Empire Financial Daily on Wednesday, which you can read here. Excerpt:
With superior growth and phenomenal margins versus other stocks in the market, it's hard for me to imagine Facebook not trading at a premium multiple to the S&P 500 Index, which is currently priced at about 20 times 2022 earnings. I think Facebook deserves a price-to-earnings (P/E) ratio of at least 25, maybe even 30.

I don't think the "E" is at risk based on yesterday's testimony... so at 25 times $16, you have FB shares at $400 – up roughly 20% from the current quote. And at 30 times, you get FB shares at $480... That's up nearly 45% from here.

That upside justifies holding your nose and buying FB shares. They are a great risk-reward here.
Enrique thinks it's a good trading opportunity and recommended it in his Empire Elite Trader service, which you can subscribe to here – it's only $69 per month, and you can try it risk-free for 30 days.
My take: I'm happy to continue having Facebook's stock as a core holding in our flagship newsletters, Empire Stock Investor and Empire Investment Report.
But if I were allocating new long-term capital to one of the tech giants, I'd add to Amazon (AMZN) and Alphabet (GOOGL) before Facebook. I just can't rule out the bear case, which a friend outlined as follows:
Unfortunately for Facebook shareholders, the hurricane has just started. The unhappiness with the company is deep, bipartisan, and makes for great PR for all politicians. This may be worse than the storm Boeing (BA) has tried to escape for years.

In the meantime, there are alternatives to Facebook emerging.

Imagine IBM (IBM) or Microsoft (MSFT) after their heydays.

Facebook is simply next in line.
This New York Times op-ed expresses a similar view: Facebook Is Weaker Than We Knew. Excerpt:
But if these leaked documents proved anything, it is how un-Godzilla-like Facebook feels. The documents, shared with [the Wall Street Journal] by Frances Haugen, a former Facebook product manager, reveal a company worried that it is losing power and influence, not gaining it, with its own research showing that many of its products aren't thriving organically...

The truth is that Facebook's thirst for young users is less about dominating a new market and more about staving off irrelevance. Facebook use among teenagers in the United States has been declining for years, and is expected to plummet even further soon...

But Facebook's research tells a clear story, and it's not a happy one. Its younger users are flocking to Snapchat and TikTok, and its older users are posting anti-vaccine memes and arguing about politics. Some Facebook products are actively shrinking, while others are merely making their users angry or self-conscious...

None of this is to say that Facebook isn't powerful, that it shouldn't be regulated or that its actions don't deserve scrutiny. It can simultaneously be true that Facebook is in decline and that it is still one of the most influential companies in history, with the ability to shape politics and culture all over the globe.

But we shouldn't mistake defensiveness for healthy paranoia, or confuse a platform's desperate flailing for a show of strength. Godzilla eventually died, and as the Facebook Files make clear, so will Facebook.
There's also greater regulatory risk, as this Washington Post article summarizes: Democrats and Republicans are uniting around Biden's tech picks. Excerpt:
A prominent Big Tech critic nominated by President Biden to lead the Justice Department's antitrust division was met by bipartisan praise at a hearing Wednesday, the latest ominous sign for industry giants that Washington is rallying behind more aggressive policing of the sector.
All of this said, Enrique and Berna are a lot smarter than I am... so listen to them!
3) It's clear to me that stablecoin Tether is a massive fraud, as I warned my readers in my e-mails on January 19, June 22, July 23, and August 5. The latest warning flag is the cover story in the latest Bloomberg Businessweek, Anyone Seen Tether's Billions? Excerpt:
As far as the regulators are concerned, the size of Tether's supposed dollar holdings is so big that it would be dangerous even assuming the dollars are real. If enough traders asked for their dollars back at once, the company could have to liquidate its assets at a loss, setting off a run on the not-bank. The losses could cascade into the regulated financial system by crashing credit markets. If the trolls are right, and Tether is a Ponzi scheme, it would be larger than Bernie Madoff's.

So earlier this year I set out to solve the mystery. The money trail led from Taiwan to Puerto Rico, the French Riviera, mainland China, and the Bahamas. One of Tether's former bankers told me that its top executive had been putting its reserves at risk by investing them to earn potentially hundreds of millions of dollars of profit for himself. "It's not a stablecoin, it's a high-risk offshore hedge fund," said John Betts, who ran a bank in Puerto Rico Tether used.
Bloomberg columnist Matt Levine had some witty, insightful commentary on the article in his column yesterday: Looking for Tether's Money. Excerpt:
I think if you told that story five years ago people would think you were nuts. "No no no," they would say, "you can't manufacture safe dollar assets out of Bitcoin, Bitcoin is too volatile, there is no floor, it could go to zero, this is nonsense." I think there is a good chance that if you tell that story five years from now it will be unremarkable. "Yes right of course the Bank of Tether issues deposits worth one Tether and uses those deposits to fund margin loans to levered Bitcoin investors, that's just how banking works," people will say. It is just a function of how confident people are in Bitcoin's permanence and its function as a store of value. Right now we are in between; the story is plausible but still weird. It's not the story that Tether wants to tell, and it's not the main story of Tether. But it's the interesting part.

This has gone on long enough but I do want to end on a couple of discussion questions:

Traditional financial regulators seem very worried about the implications of stablecoins for financial stability. (Faux: "If enough traders asked for their dollars back at once, the company could have to liquidate its assets at a loss, setting off a run on the not-bank. The losses could cascade into the regulated financial system by crashing credit markets.") If you found out that, instead of being backed by U.S. Treasury bills and highly-rated commercial paper of large multinational companies, Tether is mostly backed by loans collateralized by Bitcoins, how would that make you feel about the threat that Tether does or does not pose to the traditional financial system?
Same question except not about the stability of the traditional financial system, but about the stability of the crypto financial system. If Tether's always-worth-a-dollar value came from the value of senior claims on levered Bitcoin positions, rather than from Treasury bills etc. – if the value of Tether comes in essence from people's confidence in the value of Bitcoin – could a strong wind blow the whole thing over?
My take: While I was early in predicting Tether's imminent demise, I feel even more strongly today that the risks of a cataclysmic outcome have recently risen sharply.
4) With our Backroads guide, Susan and I drove from the coast into the Pyrenees yesterday morning, right along the border between Spain and France.
We did a hike before lunch, relaxed in hot springs, and did another hike in the afternoon – all in France (Susan was happy to use her rusty French – you see, being a French major in college wasn't a complete waste!). Then we drove back into Spain to the lovely hotel (lower-right picture) where we're spending three nights. Here are pictures: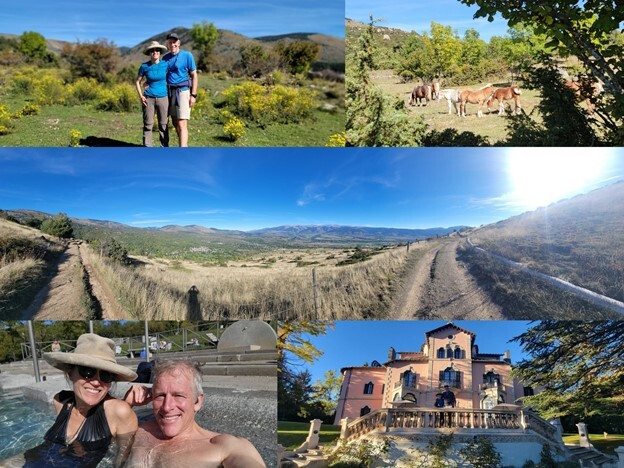 Best regards,
Whitney
P.S. I welcome your feedback at [email protected].
P.P.S. Enrique is looking to hire a junior analyst to help him launch his upcoming newsletter, Empire Elite Crypto, later this fall. If you geek out on cryptos and enjoy writing, we'd like to hear from you. Send us your résumé and a one-page write-up of your favorite crypto investment idea right here.