1) A final reminder…
Tonight at 8 p.m. Eastern time, Enrique Abeyta, Berna Barshay, and I are hosting a free webinar in which we'll discuss the election (which is only 41 days away!) and its likely effect on the stock market. We will be making some bold predictions and sharing one of our favorite stocks with everyone who joins us.
You won't want to miss tonight's event… And you need to make sure your portfolio is prepared for the election.
This special event is completely free to attend, but you must register in advance – click here to secure your spot.
2) All sorts of breaking news on electric-vehicle maker Nikola (NKLA)…
From a friend:
It's never a good sign when someone who is under criminal investigation by the Department of Justice ("DOJ") and under investigation by the U.S. Securities and Exchange Commission deletes his Twitter account – see: https://twitter.com/nikolatrevor.

Does he think that nobody would notice or that the DOJ can't subpoena the account history from Twitter?

Betting pool on when Trevor Milton flies his jet out of the U.S. to a non-extradition treaty country:

Less than 24 hours from now
24 to 48 hours from now
A bit longer
And here are three articles in today's Wall Street Journal:
A Nikola executive defended the electric-truck firm's technology and business plan, telling an investor conference that its partners are staying the course following the departure of its high-profile founder and executive chairman.

"Nothing has changed," Kim Brady, Nikola's chief financial officer, said during a virtual conference Tuesday. "We recommend that investors really focus on the future and what we have delivered and what we're going to deliver."
(I'm shocked – SHOCKED! – that the company wants investors to "really focus on the future." Move along, nothing to see here…)
The response has been different for Mr. [Nate] Anderson's most recent work, a 67-page report published Sept. 10. That report, alleging a series of improprieties at Nikola centering on founder Trevor Milton, sent shares of the electric-truck startup down 33% in two weeks. U.S. securities regulators and the Justice Department launched an investigation into whether Nikola misled investors, and on Monday Mr. Milton said he resigned as executive chairman. The stock's fall has helped Mr. Anderson and his five-person firm, which bet against Nikola shares, score sizable profits…

Mr. Anderson, the 36-year-old founder of Hindenburg Research, says more bad news will emerge about Nikola, accusations that could raise fresh questions about the due diligence of big-name companies, executives and investors who backed the company.

"The story is definitely not over," Mr. Anderson says.

Nikola has drawn attention as investors have chased technology and other hot stocks amid the market's recovery from its March lows. The enthusiasm reminds some of the late 1990s, when companies with great stories but few sales soared. Eventually, many of these companies' shares collapsed in the spring of 2000.

The market's rise has forced some short sellers and bearish investors to the sidelines, but Mr. Anderson's experience is a reminder that money can still be made with bearish calls.

In June, Nikola merged with a public company in a so-called reverse merger. Riding growing excitement for electric vehicles, the stock soared. A strategic partnership with General Motors Co. briefly pushed Nikola's market value above that of Ford Motor Co., even though Nikola had yet to produce a single truck.

It took research from Mr. Anderson, an unknown in the investing world, to cut Nikola's market value. The company's value has fallen to under $11 billion from as high as $30 billion earlier this month.
Talks between electric-truck maker Nikola and several potential partners, including BP, to build hydrogen-refueling stations stalled following allegations the company had misled investors, according to people familiar with the matter.

The setback is the first outward indication that the controversy around the report is impacting the startup's ability to execute its business plan.

Nikola executives felt they were making progress toward finalizing an agreement with at least one major energy firm, when short seller Hindenburg Research released a critical report casting doubt on the company and its statements about the readiness of its technology, the people said.

The conclusion of this deal was put on hold, the people said, as Nikola responded to the accusations outlined in the short seller's report, which the Phoenix-based startup has called false and misleading.

Potential partners have been reluctant to move forward amid the heightened scrutiny, but a deal could still come together, the people said.
4) While I think Nikola's stock is headed to zero, I'm actually super bullish on electric vehicles.
Speaking of which, I enjoyed this 81-slide presentation, "Big Ideas 2020." It was first published in February by ARK Investment Management – best known for championing Tesla (TSLA). In it, ARK shares its views on 11 sectors:
Deep Learning – From Vision to Language
Streaming Media – The Primary Technology Behind Content Distribution
Electric Vehicles – Faster Adoption Than Most Think
Automation – Increased Productivity and More Jobs
3D Printing – An Underestimated Technology
Autonomous Ridehailing – The Future of Transportation
Aerial Drones – A Cost Saver and Potential Life Saver
Next Generation DNA Sequencing – The Transformation of Oncology
Biotech R&D Efficiency – The Convergence of Technologies in Healthcare
Digital Wallets – The Transformation of Banking
Bitcoin – An Evolution of Monetary Systems
I think ARK is totally right that the adoption of electric and autonomous vehicles will happen sooner and at greater scale than anyone thinks, as this chart from the presentation shows: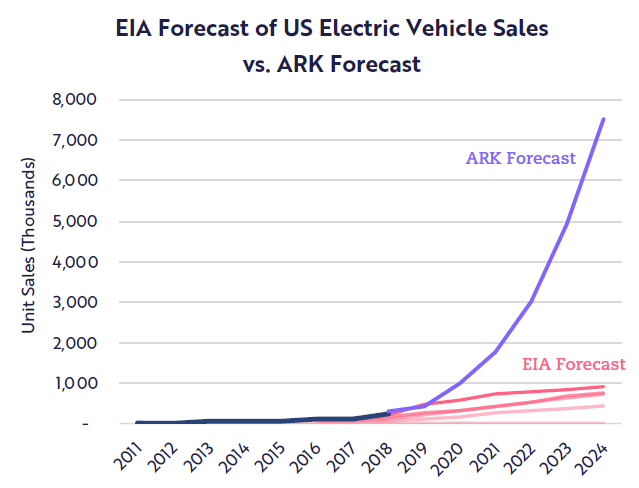 But I think ARK is totally wrong on bitcoin – as I've written many times before, I think cryptocurrencies are a techno-libertarian pump-and-dump scheme.
It's OK that we disagree – that's what makes markets!
5) This New York Times article makes me bearish on commercial property owners: Unable to Pay Rent, Small Businesses Hope for a Deal With Their Landlord. Excerpt:
"We're probably going to lose money for another year to a year and a half," Mr. Harker said. "It doesn't work financially to reopen without a new lease."

Similar sagas are playing out nationwide, as Main Street businesses – especially music clubs, gyms, restaurants, bars and others that were forced to close by the coronavirus pandemic – try to figure out how, or if, they can dig out of debt.

Nearly 98,000 businesses have closed permanently since the pandemic took hold, according to an analysis by Yelp. And the fate of many that remain open increasingly hinges on their ability to renegotiate their leases. A recent survey by Alignable, a social network for small-business owners, found that a quarter of those polled had fallen behind on their rent since the shutdowns began. For those in the fitness and beauty industries, the number rose to nearly 40 percent.

The problem may worsen now that an initial flood of federal aid has dried up and a sharply divided Congress has been unable to agree on further relief measures. The government's $525 billion Paycheck Protection Program gave more than 5 million businesses a one-time cash injection to pay workers and other expenses, including rent, but most recipients have now spent the money.
The article briefly mentions the business owned by my good friend Jim Giddon and his brother Ken:
Ken Giddon, a co-owner of the men's wear store Rothmans, held off on reopening his flagship store in Manhattan until he nailed down a new lease. The shop hadn't paid its landlord, ABS Partners Real Estate, since April, and Mr. Giddon didn't want to bring back his staff and restock inventory if he couldn't reduce his rent.

Last week, he finalized a new arrangement that involved lowering his base rent and giving ABS a variable payment based on his sales. Such arrangements are common in some industries, especially restaurants, but it was new for Rothmans.

"This is a very handcrafted deal," said Mr. Giddon, who now plans to reopen next month. "We'll probably be operating at a third of our previous volume for the next six to 12 months. This arrangement gives us flexibility."

Gregg Schenker, the president of ABS, said both sides had an incentive to figure out a deal that would keep the business alive. Rothmans, which Mr. Giddon's grandfather started in 1926, has been an ABS tenant for decades, and Mr. Schenker, who shops there, described it as the kind of unique, multigenerational retailer that he hopes will continue to thrive in New York City.
6) Speaking of Rothmans, I mention it in my forthcoming book, The Art of Playing Defense, when I discuss the importance of dressing well to make a good impression:
Always Make a Great Impression

The most important factors that will determine your business and personal success are internal: are you smart, creative, hard-working, pleasant to be around, confident without being arrogant, completely reliable and trustworthy, etc.

That said, it's a highly competitive world and many people have these characteristics, so first impressions and appearances matter.

Forgive me if some of this appears shallow – I'm not saying that this is how the world should be, but rather how it is. Why would someone trust you to take care of them – as a consultant, doctor, lawyer, money manager, etc. – if you don't take care of yourself?

Fitness

In many professions – money management is a prime example – a lot of people are obsessed with fitness or are former college athletes, so being fit helps make a great impression.

Personal Hygiene and Clothing

Pay up for a good haircut. If your teeth are crooked, pay a good dentist or orthodontist to fix them. As for clothing, I'm a cheapskate value guy and grew up wearing mostly second-hand clothes, so it kills me to spend, say, $150 on a button-down shirt or pair of pants when I can buy similar items for $20 at Costco. I've come to realize, however, that having sharp-looking clothes for professional settings is a smart investment. It really does make a difference, both externally (making a great impression) and internally (I feel more confident).

If you don't know anything about clothing and style (I don't), then find a store you trust. As Buffett says, "If you don't know jewelry, know your jeweler." Ditto for clothes. I buy most of my clothes from two places, Costco (for casual, cheap clothes I wear at home, to the gym, etc.) and Rothmans, the largest independent men's clothing store in NYC (for nice clothes). My friend Jim Giddon is the third-generation owner of Rothmans, so if you ever shop there, tell him you're a friend of mine and he'll give you a nice discount.
Best regards,
Whitney