1) Eight months ago, in my e-mails on May 13 and May 14, I told my readers, "It has become increasingly clear to me that we're going to see a liberal landslide on November 3." (Little did I know that it would take until January 6 for it to actually take place!)
In mid-September, my colleagues Enrique Abeyta, Berna Barshay, and I recommended eight stocks in our Empire Investment Report newsletter that we felt would be among the biggest beneficiaries of a Biden presidency and Democrat-controlled Congress. (To be clear: we were not expressing an opinion about what we wanted to happen… Rather, we removed emotions from the equation, looked at the polls and other data points, and reached a conclusion about what was likely to happen.)
Since then, these stocks are up an average of 75%! We have closed out five positions for gains, and we remain bullish on the three remaining ones.
If you're interested in learning more about Empire Investment Report and gaining immediate access to the entire portfolio, you can learn more by clicking here.
2) I'm a huge fan of NYU marketing professor, bestselling author, blogger, and entrepreneur Scott Galloway.
I really enjoyed his new book, Post Corona: From Crisis to Opportunity, and this recent 73-minute video he posted in which he reviewed the 14 predictions he made last year (11 of which proved correct), and made new comments and predictions for 2021. Here are the ones that caught my eye (most of which I agree with):
Apple (AAPL) acquires Peloton (PTON) and reaches a $3 trillion market cap, driven by continuing to shift more of its revenues to a "rundle" (recurring revenue bundle). 
Disney (DIS) does the same and sees its stock rise 30%.
Facebook (FB) will be forced to spin off WhatsApp and Instagram, which will unlock great value for shareholders – though CEO Mark Zuckerberg, "a sociopath," will fight it to the end.
Amazon (AMZN) CEO Jeff Bezos will be more clever and preempt regulators by spinning off Amazon Web Services. Both Amazon and Walmart (WMT) will make big inroads into the bloated and dysfunctional U.S. healthcare system.
Commercial real estate, movie theaters, and gyms are in big trouble.
Only young people will return to offices in large numbers – but cities will continue to attract talented people and drive two-thirds of our economic growth (though it might be Miami and St. Louis, not New York and San Francisco). Young people should still "get credentialed and move to a city."
Airbnb (ABNB), "the strongest brand in the history of hospitality," will hit $200 per share and be worth more than the top five hotel chains combined.
Shares of RH (RH) and Sonos (SONO) will both roughly double to $1,000 and $40, respectively.
Realizing its market cap is inflated, Zoom (ZM) will "pull an AOL" and merge with a bigger company, which will turn into one of the worst deals in history.
There will be an explosion in ed-tech and online learning, while traditional higher education struggles, as "cash cow" international students continue to stay away (for more on this, see Galloway's July blog post, USS University).
Stock trading app Robinhood is a "menace" and should be reined in.
Bitcoin hits $50,000. "I don't fully understand it," but "as a company and a brand," it's going higher.
AT&T (T) hits $40 per share, driven by the success of HBO Max and divesting HBO and/or CNN (or putting it behind a paywall).
When people are starving in the wealthiest country in the world, capitalism is collapsing on itself. But "I am hopeful!"
If you don't have time to watch the video, here's a related blog post: 2021 Predictions & Person of the Year.
3) There's some very good advice in this Wall Street Journal article: Tiny Changes Can Help You Achieve Savings Goals for Retirement. Excerpt:
Here's a suggestion for those planning to make big changes in the new year: Consider making them small instead.

This approach is likely to be especially helpful in 2021, after a year when many have been under financial strain. People who are stressed or overwhelmed, "cannot make big changes and aren't likely to even try," said BJ Fogg, a behavior scientist at Stanford University.

To boost the odds of success, he recommends focusing on small, even tiny, changes – such as doing two push-ups a day or saving 1% of pay.

The easier the task, the higher the odds that you will keep it going when motivation inevitably flags, said Dr. Fogg, author of Tiny Habits: The Small Changes that Change Everything. When a small habit becomes ingrained, it creates a foundation for bigger habits – for example, doing six push-ups a day or saving 2% of pay.
4) Yesterday my family and I returned from safe and stable Kenya to pandemic-ravaged, democracy-under-pressure America. What an upside-down world!
Here's a picture of us plus my sister and nephew on Friday: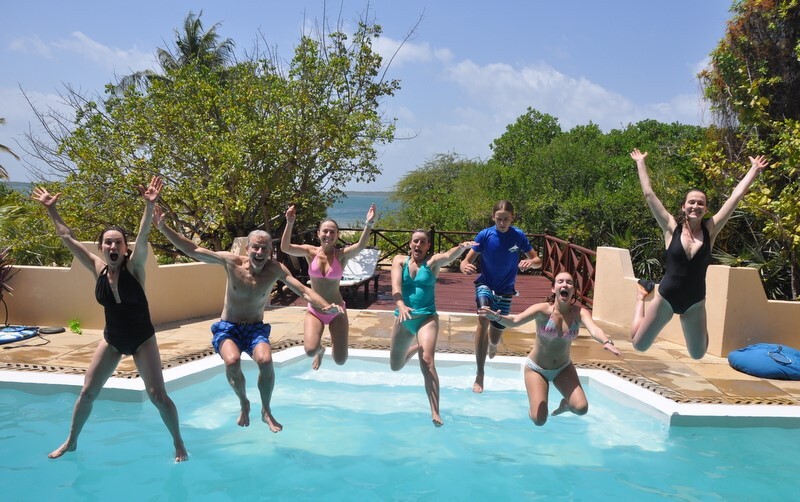 (I've posted more pictures from our trip on Facebook here, here, here, here and here.)
It was a long but comfortable 15-hour flight home because we were able to once again inexpensively upgrade to business class. If you ever go to Kenya (which I highly recommend!), definitely take the nonstop between JFK and Nairobi, book coach, and then bid to upgrade. We paid $2,700 round-trip – only one-third of the usual business class fare.
I ended up kiting all nine full days we were in Lamu except the days we arrived and departed. Every day, I nailed one more step: launching smoothly, edging in one direction, edging the other direction, turning one way, then the other, etc.
On Friday, my last day, it all came together and I finally felt like a real kiter! I was able to launch from the beach, go back and forth from the same spot, nail roughly 80% of my turns (called "transitions"), and spend more than 90% of my time on the water. It felt AWESOME!!!
I only made one mistake – but it was a serious one: I nearly decapitated my instructor Denis' girlfriend, Eka. I was going one way, intensely focused on my kite, and failed to see her coming the other way, so, as part of a "power stroke," I dove my kite right into her. Fortunately, she's an experienced kiter and was paying attention, saw my kite coming right at her, and – as you can see in the first 14 seconds of the video below – dove off her board into the water in the nick of time!
I was so apologetic – what a rookie move! – but she was gracious and told me she's had to take similar dives many times because she usually kites in Crimea (she and Denis are Russian), where 50 to 100 people are kiting in the same size area we kite in on Lamu.
Denis followed me with a GoPro on Friday (see pictures of us below) and got some epic footage. I've compiled 12 of the best clips into one four-minute video, which I've posted here.
The video starts with the crazy/funny stuff: Eka diving for her life, Denis' and my kites getting tangled and crashing into the water, both of us going for a swim, me doing a faceplant, and me falling backwards on my butt (I showed my girls these first five clips and they were horrified, saying, "You suck!" – LOL!)… But the rest of the clips are the good stuff: me cruising along at high speed, giving a thumbs-up, and making perfect transitions. (The girls were too impatient to watch this, however!)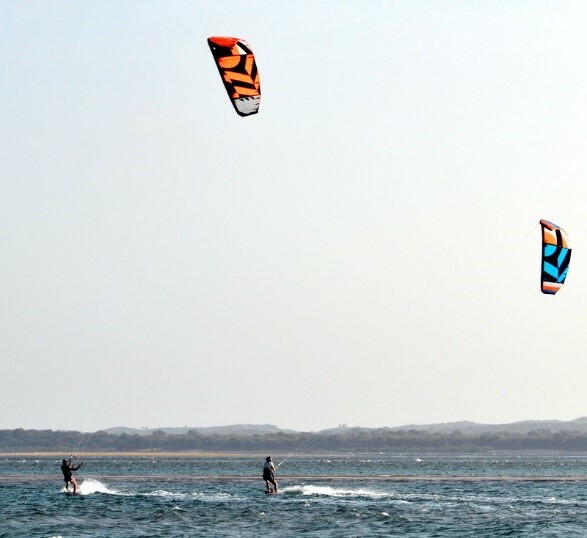 Best regards,
Whitney