1) Institutional investors with $100 million or more under management are required to publicly file a Form 13F with the SEC every quarter, disclosing stock holdings – including number of shares – as of the end of the most recent quarter.
I've always skimmed these filings, both to see what institutional investors as a group are doing, as well as to get stock ideas from some of the investors I respect most.
At the top of that list is the greatest investor of all time, Berkshire Hathaway (BRK-B) CEO Warren Buffett. He was busy in the second quarter (filing here and analysis here), scooping up $6.2 billion in various stocks, though this was down from an unprecedented $51 billion in the first quarter: Warren Buffett's Berkshire Hathaway Keeps Spending Through Volatile Markets. Excerpt:
Warren Buffett's Berkshire Hathaway scooped up millions more shares of Apple (AAPL) and doubled down on its energy investments, while the stock market swooned in the second quarter.

The moves were made public in Berkshire's 13F filing, which was released after the stock market closed Monday. Regulations require institutional investors managing more than $100 million to file the form, which lays out firms' equity holdings as of the end of the most recent quarter, as well as the size and market value of their positions.

The filing showed Berkshire bought 3.9 million shares of Apple, with its stake worth $125 billion as of the end of June. Apple makes up roughly 40% of Berkshire's stock portfolio.

Berkshire also purchased 22 million shares of Occidental Petroleum (OXY) and 2.3 million shares of Chevron (CVX) in the second quarter, adding to its big bet this year on U.S. oil. It added to its stakes in Ally Financial (ALLY) and Paramount Global (PARA) among other companies.

Meanwhile, Berkshire closed out its stakes in Verizon Communications (VZ) and Royalty Pharma (RPRX) and trimmed its holdings of General Motors (GM), U.S. Bancorp (USB), and Kroger (KR). It didn't open any new positions.
I share Buffett's bullishness on long-term oil prices in general (see: Warren Buffett's Berkshire Hathaway Adds to Big Oil Bet) and one oil company in particular, which is an open recommendation in our flagship Empire Stock Investor newsletter – subscribers can read our full writeup on this company in the June 1 issue.
If you aren't already a subscriber, you can find out how to gain instant access to this recommendation – along with all of our back issues and ideas – and get a full year of new ideas every month for only $49 by clicking here.
I think every investor can also learn important lessons by observing how Buffett manages his $370 billion stock portfolio:
It is almost entirely comprised of the stocks of highly profitable, well-established, blue-chip companies. Buffett never speculates.
It is highly concentrated, with 40% in his best idea (Apple) and 69% in his top five ideas: Apple, Bank of America (BAC), Coca-Cola (KO), Chevron, and American Express (AXP).
There is very low portfolio turnover. Buffett didn't buy a single new stock in the second quarter. Almost all of his trading is generally among his existing positions.
Buffett doesn't hesitate to add to his favorite stocks, even when they're already huge positions, as he did with Apple, Occidental Petroleum, and Chevron last quarter.
2) There's quite a contrast between Berkshire Hathaway and one of the world's largest hedge funds, Tiger Global, which speculated madly among profitless tech stocks and got destroyed (see: Highflying Tiger Global Humbled by Unraveling of Giant Tech Bet), as I covered in my June 23 e-mail. This Wall Street Journal article highlights one example: Tiger Global Calls It Quits on Carvana After Wild Rise and Fall. Excerpt:
Tiger Global Management's wild ride with Carvana (CVNA) is near its end.

The hedge fund sold nearly all its 8% stake in the online used car company during the second quarter, Tiger disclosed late Monday in regulatory filings, bringing a bitter ending to a more than three-year run in the company.

Much like Tiger, Carvana has been an extreme example of the Icarus-like arc of many high-growth tech stocks in the past few years. Its fast growth already made Carvana an investor favorite before the pandemic, but then the company got a huge tailwind from the pandemic as used car sales boomed.

After Tiger first disclosed a 5% stake in early 2019, Carvana's stock price rose over 700% to more than $360 a share. Tiger bought more shares, amassing a stake worth over $2 billion at its peak in summer 2021, according to FactSet.

Then came the plunge. Carvana was stung by falling used car sales, rising interest rates and an array of other concerns, hitting its stock hard. Still, Tiger bought more, increasing its stake to more than 8 million shares.

The fall continued: By late June, Carvana was down over 93% from its peak. Tiger sold all but $2.5 million of its stake sometime in the quarter as the hedge fund broadly retreated from the high-growth stocks that had been its bread and butter for the past few years.

The timing could have been better: Carvana's shares have more than doubled since the end of June.
The lessons here:
It's OK to occasionally invest in a richly valued, high-growth company – Berkshire, for example, owns shares in cloud-based software company Snowflake (SNOW), which has never made a profit and whose stock trades at 35 times revenues – but such high-risk bets should be sized small (Berkshire's position in SNOW is currently worth a mere $1 billion).
If, through some combination of smarts and luck, you get lucky and a risky position you own soars, you must be more aggressive than you otherwise would be in banking profits. This is what we did, for example, after we recommended space-tourism company Virgin Galactic (SPCE) in our Empire Investment Report newsletter in December 2019. When Virgin Galactic doubled two months later, we sold half, sold another quarter a week later up 269%, and sold the final quarter 13 months later for a 390% gain. (At $7 per share today, the stock is down 86% from our final sale.)
Similarly, as I detailed in my May 12 e-mail:
In the April 2021 issue of our flagship newsletter, Empire Stock Investor, we recommended buying ethereum (ETH) with an entry price of $2,025.16. It quickly doubled over the next month... and in a special update on May 12, we recommended selling 55% of the position at $3,733.95 – banking a quick 84% gain. This morning we sent our subscribers another special update recommending to sell the rest.
3) As I've written numerous times (here, here, here, and here), Chinese-owned short-form video app TikTok represents a great danger to our country and should be banned immediately (yet another reason here: On TikTok, Election Misinformation Thrives Ahead of Midterms), so it's good to see Congress finally waking up to this threat: How Frustration Over TikTok Has Mounted in Washington. Excerpt:
Early last year, Senator Marco Rubio, a Florida Republican, and Jake Sullivan, President Biden's national security adviser, met to discuss China and industrial policy. During their conversation, Mr. Rubio raised his worries about Beijing's influence over TikTok, the Chinese-owned viral video app.

Under former President Donald J. Trump, TikTok had been embroiled in questions over whether it could compromise U.S. national security by sharing information about Americans with China. The issue, which was never resolved, was inherited by the Biden administration. Mr. Sullivan "shared our concerns," Mr. Rubio said in an interview.

Their discussion was one of many that lawmakers have quietly had with government officials about TikTok since President Biden took office. Senator Mark Warner of Virginia, the Democratic chairman of the Intelligence Committee, said he had also been in "active conversations" with the administration about the app, which is owned by the Chinese company ByteDance. And regulators and other government officials have been weighing what to do about it after scrutinizing other Chinese firms.

These behind-the-scenes conversations signal how tensions over TikTok have simmered in Washington. While the app appeared to fade as a political flashpoint after Mr. Trump left office last year, lawmakers and government officials have privately grown frustrated over the Biden administration's lack of progress in policing TikTok and other Chinese apps that could leak data to Beijing.
4) On Saturday I took my youngest daughter Katharine and two of my cousin's children to do the 10-kilometer, 25-obstacle Spartan Super at the New Hampshire Motor Speedway.
As you can see from the pictures below (and more posted on Facebook here), we had a great time – and even met and got a picture with Spartan founder Joe de Sena!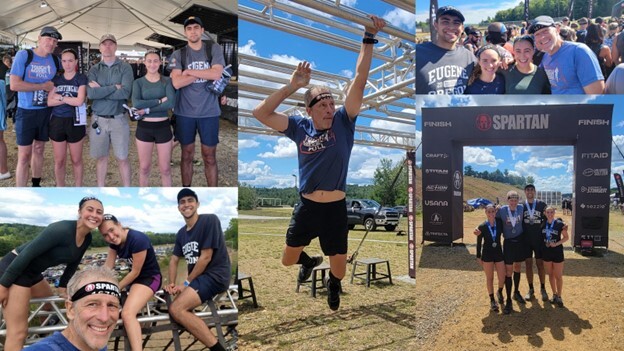 Best regards,
Whitney
P.S. I welcome your feedback at [email protected].