It's one of the questions I get asked the most often...
"Which investor should I be following?"
Whoever asked the question then usually expects me to cough up the names of individual investors – the latest "guru" on a hot streak.
Maybe they want to hear about an exciting new hedge fund manager or a quant pushing experimental, bleeding-edge technical analysis.
Instead of dropping a specific name, I tell them, "Listen to the insiders... They know more about their businesses than anybody else."
By insiders, I mean company executives – like board members, directors, and beneficial holders (i.e., investors who own 10% or more of the stock). When these types of folks are buying or selling their own stock with their personal money at market prices, it can be an important sign.
Insiders know more about the company than anyone. They're in a position of oversight. They're intimately aware of the company's operations and outlook.

Insider buying is especially important...
As legendary hedge fund manager Peter Lynch once said...
Insiders might sell their shares for any number of reasons, but they buy them for only one: they think the price will rise.
In other words, insiders only buy their stock if they think it's going higher.
It also creates strong alignment with shareholders, a reassuring sign. Think about it... When an insider owns a meaningful amount of stock, it shows that he or she has "skin in the game" and is highly incentivized for the share price to go higher.

But before I continue further, let me be clear about something...
Insider buying is NOT the same as insider trading.
Insider trading is illegal. It refers to the act of using material non-public information to trade shares of a stock for personal gain.
Insider buying, on the other hand, is 100% legal as long as it's done within certain trading windows when insiders aren't in possession of non-public information.
If insiders are buying, this can be a great sign that the stock is cheap and poised to rebound.
Watching what these insiders are buying is what I call listening to "inside whispers."

Consider Align Technology (ALGN)...
The company makes Invisalign, the clear plastic aligners that have become popular as adults look to subtly correct their teeth without putting on metallic braces.
ALGN shares have been quite volatile over time, trading in a wide range between $145 and $730 over the past five years.
Keeping a close eye on what the insiders are doing – in other words, listening to their "whispers" – could have helped tip investors off to attractive entry points.
For example, last November, with the stock down 75% from its 2021 highs, the CEO and two directors loaded up, buying $2.5 million worth of shares.
As you can see in the following chart, they almost bottom-ticked the stock, which went on to rise as much as 90% in just five months...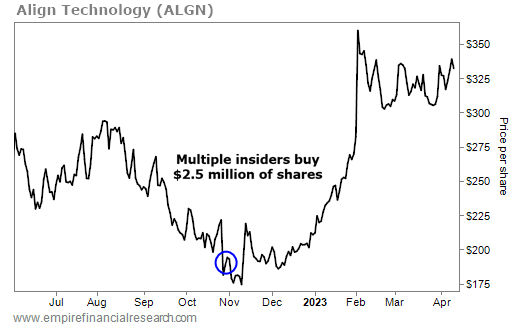 In other words, by putting their money on the line, Align insiders were sending a strong signal to investors that the stock was oversold and the company was likely to turn around...
But had average investors waited to see this in the company's most recent earnings release, they would have missed the big move.

Another example...
Another example occurred during the March 2020 COVID-19 market crash when shares of pharmaceutical giant AbbVie (ABBV) – like many other stocks – got clobbered.
Investors were panicked and selling shares indiscriminately. But two prominent AbbVie insiders stepped in and bought more than $500,000 worth of stock. They knew the market pullback had nothing to do with AbbVie's long-term business prospects.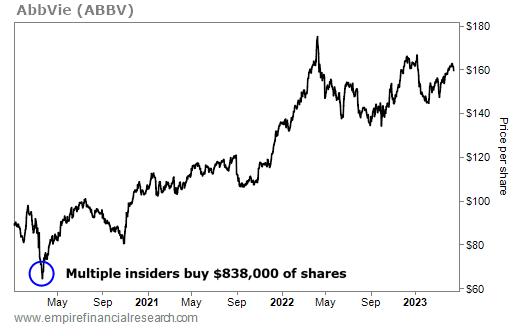 Roughly two years later, ABBV shares had more than doubled, from around $75 to around $160.

Want to position your wealth alongside the insiders?
Great news... On Thursday at 1 p.m. Eastern time, I'm launching a special project unlike anything we've done in the history of Empire Financial Research.
In short, for the first time ever, I'm going to show you how you can legally listen to the "whispers" of not only my most trusted contacts, but of the smartest investors and CEOs on the planet.
I'll share more about this project in the coming days. For now, I want you to save the date and time for the big reveal: Thursday, April 27 at 1 p.m. Eastern time.
Best regards,
Whitney Tilson
April 22, 2023