► Despite a global pandemic, investors are surprisingly optimistic about restaurants…
In yesterday's Empire Financial Daily, I discussed how independent restaurants are fighting for their lives.
But looking at publicly traded restaurant companies, investors seem to think things will be just fine in due time. While many of these stocks are still down significantly from their February highs, a few have already completely recovered, and others are steadily climbing, moving up substantially ahead of anticipated reopenings.
A handful of publicly traded restaurants are at risk of not surviving the crisis. But in most instances, the publicly traded restaurant chains are well-capitalized for an extended recovery, so investors are looking past their currently abysmal earnings results and making a bet that they'll come out the other side of this crisis just fine… perhaps even stronger.
Publicly traded restaurants break down into two segments: casual diners and quick-service restaurants ("QSRs"). QSRs are counter-service establishments like McDonald's (MCD). Casual diners – like Cheesecake Factory (CAKE) – are sit-down restaurants with servers and printed menus, where you pay at the end of the meal.
► The QSR business model can easily accommodate social distancing with minor operational tweaks…
The QSRs are built to withstand a pandemic. No one goes to McDonald's or Taco Bell for the atmosphere. You eat there for the speed, convenience, bang for the buck, and consistency of product.
Many QSRs already operate drive-thrus, which are perfect for a contactless world. Several of the largest QSRs – including McDonald's, Domino's Pizza (DPZ), Starbucks (SBUX), and Dunkin' Brands (DNKN) – have been investing heavily in their apps for several years, long before the current pandemic.
A well-tested app with a large user base makes for a near-seamless transition from ordering at the counter to ordering ahead for low-touch pick up.
When you think about it, McDonald's and Starbucks have already implemented this… When you order ahead, you never need to speak with or come in close contact with an employee.
Because they have a smooth transition to low-touch transactions and they're affordable, even for cash-crunched consumers, the transaction levels of many QSRs have already begun to rebound.
Pizza has been a particular bright spot. Not only is it affordable, but it's also cooked at virus-blasting high heats and gets minimal human touch along the way. If you've turned on a TV anytime in the last two months, you've probably heard the Papa John's (PZZA) advertisement that reminds you…
We want you to know that from our 450-degree oven, to box, to you, it's our policy that your pizza is never touched once it comes out of the oven.
When Domino's reported earnings last month, it boasted a 7.1% jump in U.S. same-store sales from March 23 to April 19, which coincided with peak lockdown.
The company also said it planned to hire 10,000 additional workers to meet demand. While business has been down late at night on weekends (no bars means no post-bar snacking), weekday dinner demand growth has more than offset this. Domino's has clearly been a pandemic winner, which makes sense considering pizza is synonymous with delivery.
► The outlook is hazier on the casual dining front…
Companies like Cheesecake Factory and Darden Restaurants (DRI) – owner of the Olive Garden and LongHorn Steakhouse chains – face many of the same challenges I laid out yesterday for the independent restaurants…
They need to pivot to takeout and delivery while dining rooms are closed or limited in capacity. This comes at a high cost as their delivery partners charge big fees. They also have to worry about their staff and customers' safety, and may need to modify their layout and invest in cleaning equipment and PPE. Plus, they need to figure out a way to make money with fewer customers seated in the dining room.
The large public chains have an advantage over independent restaurants in the case of dining room capacity reductions because of their massive scale in food purchasing and centralized food preparation, which lowers their food costs and boosts operating margins.
Family owned restaurants don't have this scale in food acquisition and production, nor do they have access to cash in the capital markets. Higher operating costs and more restricted access to capital means that independents are far more likely to fail than casual diners.
Sadly, the likely failure of so many mom-and-pop restaurants is a major reason that investors are bullish on casual diners, as they stand to pick up market share as competition decreases.
► While many of the casual diners have the balance sheets to wait out a slow return to the way it used to be, they're hardly out of the woods…
In the intermediate term, they're still facing higher unemployment, capacity restrictions weighing on margins, and a large portion of consumers who admit reluctance to dine out when restaurants reopen.
Reservation website OpenTable reports that its bookings for the week ending May 19 are still down 93% year over year. Even in some of the states that were among the first to reopen, like Georgia and Utah, recent bookings were still down 90%-plus.
One casual diner that's catching a lot of Wall Street enthusiasm of late is Darden. The company has cost advantages because of its large scale… the Italian food offered by its largest chain, Olive Garden, is well-suited for takeout and has low input costs… and Darden's recent equity raise reinforced its balance sheet, leaving it with the resources to survive a prolonged recovery.
My colleague Enrique Abeyta believes that stocks go up on good news. By definition, as more dining rooms reopen, the next data point almost has to be "less bad."
Looking at recent sales reports from Olive Garden, same-store sales were down 34% with just 179 units open in the week ending May 3. Two weeks later, that number had more than doubled and same-store sales had improved to down 26%. This is better, but still nowhere near good.
There's no doubt that sales results will get sequentially better from here, but I'm not confident that will be enough to move DRI shares higher. I believe that news can get priced into a stock, and when improving results are widely expected – like they are here – you can get a "sell the news" moment at the next data point. The almost-guaranteed improving trajectory of results is widely known, and with the stock up more than 100% from its March lows, much of the good news may prove to be already priced in…
► Chipotle Mexican Grill's (CMG) shares complete a 'V-shaped' recovery…
Yesterday, the stock hit yet another all-time high after crossing the $1,000-per-share threshold for the first time on Tuesday. While Chipotle makes tasty burritos and has a user-friendly app, it seems a little counterintuitive that its stock is at an all-time high when same-store sales were down 16% in March and down high teens as of mid-April.
Relative to its QSR peers, Chipotle has few drive-thru locations, as it only began adding its "Chipotlanes" in 2018. These don't function like a traditional drive-thru where you order from the car. To use the Chipotlane, you have to order ahead online or using the app… so using these drive-thrus requires some planning ahead. The company plans on opening more Chipotlanes… but for now, it trails most of its QSR peers.
Investors have rewarded Chipotle for seizing the moment, capitalizing on its digital app investment, and increasing active users during a challenging time. Chipotle bulls maintain that the company's success building its app and delivery business during the crisis only enhances its already strong long-term prospects for improving total sales per restaurant.
► But if things are going so great as to push shares to an all-time high, why is the company asking for rent relief?
On the first-quarter earnings call, Chipotle's CFO noted…
We are a strong tenant with significant growth ahead of us, and we expect our landlords will partner with us during this difficult time period.
Days later, reports surfaced that Chipotle – along with other national chains like Starbucks and Shake Shack – were asking landlords for rent reductions.
Perhaps Chipotle recognizes that it has power as a popular, high-traffic tenant that landlords want to hold onto in tough times. Or maybe the company's outlook is less certain than it was four months ago, which isn't reflected in the stock price. Either way, the Wall Street Journal reports that landlords are "fuming" over these requests.
Chipotle's stock is trading at a lofty price-to-earnings (P/E) ratio of 122, its same-store sales are substantially negative, and its operating margins are under pressure.
If you own shares, I'd take a long, hard look at taking profits here.
► These two casual diners are hustling for your business…
With small children's birthday parties currently canceled, Chuck E. Cheese is sneakily trying to drum up some business while its entertainment centers are shuttered. The chain, which my household affectionately calls "Vegas for seven-year-olds," is known for noisy arcade games and bad pizza.
I can't imagine that anyone would ever willingly order one of its pizzas unless he had no choice. To outrun its own reputation, the chain listed itself in various markets on Grubhub as Pasqually's Pizza and Wings. Well-played, Chuck E.
While Pasqually's sounds legitimate enough to perhaps be worth a try, astute readers might recognize the name as the animatronic drummer for Munch's Make Believe Band, which is in permanent residency at all Chuck E. Cheese locations.
Also fighting for your business is the Olive Garden in Times Square, which is famous for its New Year's Eve $400-per-person dinners. I'm not sure if the sign below is sad or scrappy. Regardless, sitting in the middle of what presently looks like a post-apocalyptic Times Square, Olive Garden isn't going down without a fight…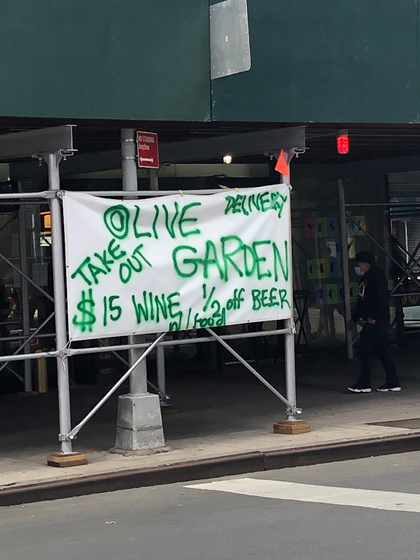 ► Readers covered a variety of topics in today's mailbag, from frugality to Spotify Technology (SPOT)…
What restaurants or meals have you missed? Are you ready to dine in, or are you sticking to delivery or takeout for now? Are there restaurant apps that you find particularly useful or restaurants implementing procedures that make you feel safe? (I've always been a big fan of the Starbucks app.) Send your thoughts to [email protected].
► "Berna, we're generally frugal, spending less than we earned while working and now retired, not spending the benchmark 4% of our assets per year. However, this year, most of it is forced upon us. Our cut backs include no long distance driving travel to visit our grandsons who are 300 km and 1,000 km away which normally would be once a month and twice per year respectively. We do miss this contact with grand children who are 7, 5 & 4.
"Also we're not booking our 3 or 4 week long foreign trips which we typically take each fall. Last year was southern Italy starting in Naples. Also my wife has put off buying her new Subaru Forester for a year because she isn't planning some long distance trips to visit friends. Our trip to a backcountry lodge at the end of July has been cancelled as they can't maintain social distancing and clients who would fly from distant cities aren't travelling, so the summer season has been cancelled.
"Smaller expenses have been trimmed as we don't meet friends for coffee after our separate exercise classes. We don't pay for recreation / exercise as we walk around the subdivision and city parks instead of going to pools, gyms and other classes." – Hugh P.
Berna comment: I'm sorry to hear about your canceled vacations, and especially your separation from your grandchildren. My dad had a milestone birthday in April, and although he is a mere half-mile away from me in New York City, my seven year old and I only visited with him on Facetime – for his own safety – as it was peak pandemic. I hope all the grandchildren and grandparents can be reunited soon!
► "Hello Berna, after reading your message on frugality, and being a thrifty person myself, I felt compelled to respond. My wife and I are children of Depression-era parents. In their way, they must have taught us that waste is to be avoided. In my case, in a Catholic household, waste was actually understood to be sinful, especially waste of food. I believe our frugalness derives from this viewpoint on waste. We exchange our labor for money. Why waste money, and thus our labor, on things we don't need? Why buy food only to throw it away? If something is still serviceable, reuse it instead of throwing it away.
"I am regularly flabbergasted at the perfectly good things that people give away on Craigslist (at least they are giving them away instead of landfilling them). I have picked up perfectly functional bicycles, box fans, exercise equipment, furniture, rugs, kitchenware, firewood for FREE on Craigslist. It convinces me that people buy more stuff than they need. Why not save that money for retirement or for experiences instead of material goods?
"You asked how the coronavirus situation has affected our frugalness. It has had little effect, but it has caused us to emphasize one aspect of our thriftiness. With few entertainment options available to us, we have been working a lot of jigsaw puzzles in our spare time. We have learned that by being attentive, we can buy a 1000 piece jigsaw puzzle on Ebay and then after working it, resell it on Ebay for more than we paid. This is one example of how we practice frugalness. FYI, our net worth exceeds $10 million. This is not to brag or be smug, rather to show what thriftiness can lead to." – Jeff N.
Berna comment: It sounds like you've been operating in the circular economy longer than the circular economy has been a term! This is fantastic. I love a good second-hand item as well… furniture, sporting equipment, vintage fashion, etc. I hate throwing perfectly functional things out when I no longer have use for them, and always try to rehome them.
► "Hi Berna, reading your comments about Spotify with interest. You need to do some homework on a company called TuneGo. They are not a listed entity, so no money to be made yet but they are in talks with Warner Music to digitally hold their entire catalogue of Music in a digital vault in what is being described as a music revolution. TuneGo allows collaboration on music by artists and then safe storage of those rights by all artists. They have already secured distribution deals for new artists with Spotify, Apple Music, Beatz and various Chinese music distributors.
"Listening hours have never been higher, music is booming and the entry point for artists has never been more accessible. Golden Age. Spotify owning its own rights to artists is not far away and then their revenues will really soar." – Stephen W.
► "Berna, I think another reason it's difficult for Spotify to produce content like Netflix is that video content is more like football. Netflix can own Bill [Belichick] and then search for the pieces to put it all together, whereas music is more like basketball, where you are looking for Michael Jordan.
"In other words, video content takes money and a team. A great script-writer or actor/actress still needs a lot more pieces that he or she may or may not have an ability to put together. That's where Netflix can come in. Music content is mainly about great individuals. It's very hard to make a star, as The Voice has proven.
"I think creating a formula for a winning team is very difficult, but once you have it, you can duplicate it more easily than having to live or die scouting for the best individuals." – Greg S.
Berna comment: Great analogy, Greg… and I think you're right.
Regards,
Berna Barshay
May 21, 2020