1) I think shares of social media giant Facebook (FB) are very attractive at today's levels, but the company's proposed new cryptocurrency, libra, is total foolishness. As I wrote in my July 17 e-mail:
It's already dead on arrival…

I always thought it was a poorly conceived idea anyway. Facebook could indeed create a huge and useful business by giving its 2.4 billion users an easy, inexpensive way to transfer money to one another, but the insane complexity of libra represents classic Silicon Valley hubris.

For a good example of what the right answer looks like, check out M-PESA, a mobile payment service run by Kenya's largest cell phone company, Safaricom… My parents and sister live in Kenya and use M-PESA for everything. Even when they're in the U.S., they can simply open the app on their phones and pay their employees, bills, etc.
According to the Wall Street Journal, I'm not the only one who thinks so: Visa, Mastercard, Others Reconsider Involvement in Facebook's Libra Network. Excerpt:
Cracks are forming in the coalition Facebook assembled to build a global cryptocurrency-based payments network.

Visa, Mastercard and other financial partners that signed on to help build and maintain the Libra payments network are reconsidering their involvement following a backlash from U.S. and European government officials, according to people familiar with the matter. Wary of attracting regulatory scrutiny, executives of some of Libra's backers have declined Facebook's requests to publicly support the project, the people said.

Their reluctance has Facebook scrambling to keep Libra on track. Policy executives from Libra's more than two dozen backers – a group called the Libra Association – have been summoned to a meeting in Washington, D.C., on Thursday, according to people familiar with the matter.
2) Yet another piece of great journalism on "The Whee Company" – this time from New York Magazine, which dug into the details of the aborted IPO, co-founder Adam Neumann's delusions, and his kooky wife, Rebekah: The Sun Sets on We. Excerpt:
An S-1 is meant to be a bland financial document, but WeWork's took a different direction. With Adam's encouragement, Rebekah became unusually involved in the artistic presentation of the document.

"The traditional approach to producing an S-1 is bankers and lawyers hashing this out, but the process was continually usurped by Rebekah's involvement," one executive said, echoing a sentiment expressed by multiple people who worked on the project. "She treated it like it was the September issue of Vogue."

WeWork had hired a former director of photography at Vanity Fair, and Rebekah insisted on selecting the photographers chosen to take photos of WeWork offices and members, and approved every photo that appeared in the S-1, of which WeWork included many more than most companies that go public.

(She wasn't the only picky one: Adam Kimmel, the company's chief creative officer, became unhappy with how the company's offices looked in its official pictures, so new photographers were sent around the world to reshoot them.)

As the summer wore on, WeWork employees found themselves making so many trips to meet with Rebekah at the Neumanns' home in Amagansett that "He's 'out east' tomorrow" became a euphemism for describing a colleague spending their day driving to and from the Hamptons. "The thing that's so damning about all that is that it's just not the point of the document," a person who worked on the project said. "That's the thing about WeWork: You're spending all this time working on the surface of it instead of the actual truth of the thing"…

The filing was a troubling sign for many who hoped that the strictures of an official IPO process would constrain some of WeWork's eccentricities. "When I read it, my jaw dropped," a WeWork executive who had worked on S-1s at other companies said. The executive took less issue with the New Age rhetoric, which everyone at the company had grown accustomed to, than with how poorly the document made the business case for the company. Within a few days, two WeWork competitors told me that landlords with WeWork locations in their buildings began reaching out to see if the competitors would be able to move into the spaces, just in case.

Neumann and other executives tried to boost the spirits of WeWork's employees, many of whom were taken aback by the sudden mockery of a thing to which they had devoted many long hours over several years. During a call with senior employees two days after the S-1 release, Neumann told them not to worry: the haters were hating, but he insisted that money managers were still clamoring to get in on the deal…

Apropos of very little, he announced that the company would no longer use furniture with leather as a material. Referring to concerns about his control of the company, Neumann said, "I rarely give away my power, and when I do, it's to my wife," who he said was "99% right," according to multiple people who watched the speech. Neumann concluded with yet another moment of life coaching: "Change your inner self. Change the world."
And here's an interesting tidbit about Softbank and its founder, Masayoshi Son, pushing Neumann into such reckless growth that it will likely bankrupt the company:
Neumann had always been obstinate, and his company was aggressive and a bit undisciplined, but its business had been on a more sustainable path until Son and SoftBank showed up in 2017 and told Neumann to make WeWork "ten times bigger than your original plan," that being crazy is better than being smart, and that WeWork wasn't being "crazy enough."

"They're trying to make this all about, 'Adam is a lunatic,'" one rival real-estate executive told me. "But these people invested, they knew the terms, they knew about the governance issues, and they told this guy, 'Be you, but be ten times you.' What did they expect?"
3) I got back late last night from Jackson, Wyoming, where my buddy Tom and I spent four days hiking and touring Yellowstone and Grand Teton National Parks. We went to climb the Grand, but an early season blizzard high in the mountains put the kibosh on that, which was a bummer.
But when life gives you lemons, make lemonade, right?! So we drove up to Yellowstone and spent two days seeing all sorts of wildlife (bison, elk, moose, and deer), walking amidst dozens of geysers and hot springs, and hiking the spectacular Grand Canyon of the Yellowstone. Then we did two days of hiking in the Tetons and around Jackson.
In total, we did a lot more distance and vertical than if we had climbed the Grand! And, as you can see in the pics below (I posted more on Facebook), the scenery was spectacular. It was a great time to visit the area (other than the mixed weather) – there were no crowds and the foliage was gorgeous. And we met a young couple who had just gotten engaged!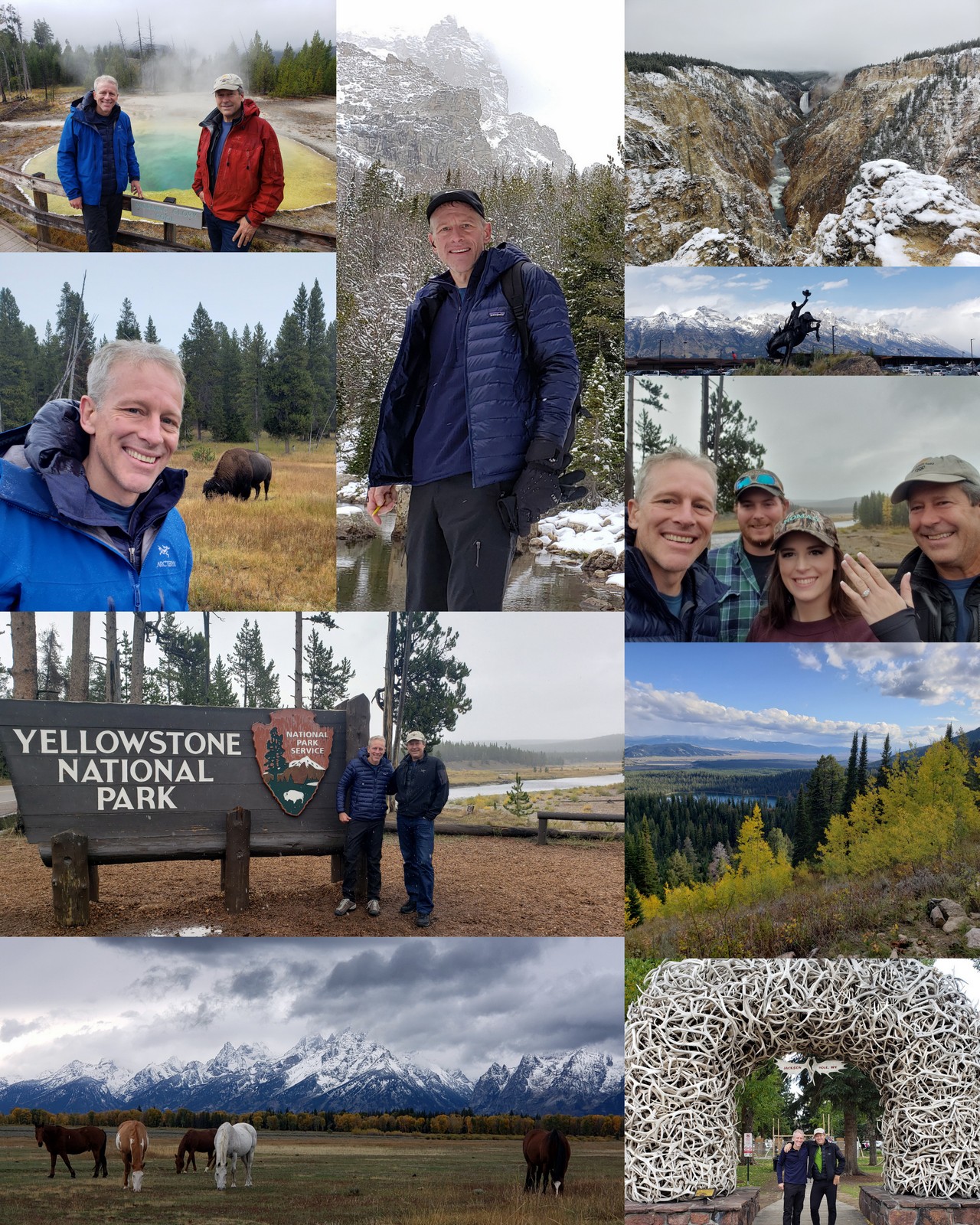 4) Here's my fifth strategy for winning the class participation game:
5. Prepare your comments in writing.
You study hard to make the best impression on exams, so why would you prepare any less for classroom participation? Use the first half of the class – remember, you won't be talking, anyway – to see where the discussion might be heading. Then write an outline for a killer comment to make when the discussion reaches just the right moment.
Best regards,
Whitney