1) Two follow-ups to Monday's e-mail...
First, in a case by a child sex trafficking victim against porn-site operator MindGeek, a judge ruled against Visa's (V) – and, implicitly, Mastercard's (MA) – request to be removed from the case:
Visa is being kept in this case because it is alleged to have continued to recognize as a merchant an immense, well-known, and highly visible business that it knew used its websites to host and monetize child porn.

Moreover, Visa allegedly had considerable sway over that business's decision-making, a conclusion amply supported by [the] allegation that MindGeek removed 80% of its content when Visa suspended its business with MindGeek.
As a result of the terrible publicity and huge potential liabilities (see: The Legal Onslaught Facing Credit Card Companies), yesterday Visa and Mastercard finally did what they should have done long ago – as PayPal (PYPL), for example, did: Visa and Mastercard suspend ad payments on Pornhub after lawsuit, pressure from Bill Ackman. Excerpt:
Visa and Mastercard on Thursday temporarily halted card payments for ads across Pornhub and parent company MindGeek after a lawsuit raised questions around the role of payment processors in facilitating the distribution of child pornography...

"The legal decision, with which we disagree, has created new uncertainty about the role of TrafficJunky, MindGeek's advertising arm," Visa CEO Al Kelly said in a statement Thursday.

"Accordingly, we will suspend TrafficJunky's Visa acceptance privileges based on the court's decision until further notice," he said. "During this suspension, Visa cards will not be able to be used to purchase advertising on any sites including Pornhub or other MindGeek affiliated sites."

Mastercard followed suit in suspending the use of its cards at TrafficJunky shortly after Visa's decision.
Kudos to Bill Ackman:
"I have no economic stake but believe that this is one of the most egregious corporate governance failures I have witnessed, resulting in enormous harm to so many," Ackman tweeted Monday. "Seeing that this is rectified and the victims recompensed for the harm they have endured has inspired my involvement."
2) Also following up on Elon Musk's 164-page countersuit against Twitter (TWTR), it was kept confidential at Twitter's request as it sought to redact confidential information in the filing, but it became public yesterday when the Washington Post got a copy: Twitter rebuts Musk's countersuit as legal battles continue. Excerpt:
Elon Musk's countersuit to Twitter contains aggressive new claims about the social media site's methods for tallying bot and spam accounts – as well as which accounts generate ad revenue – cementing the strategy the billionaire is using to attempt to back out of the deal.

In his countersuit against the social media site, obtained by the Washington Post, Musk accuses Twitter of misleading his team, and by extension Wall Street, about its true advertising base, constituting a reason for him to back out of his agreement to purchase the site for $44 billion. Musk, who is the CEO of electric car company Tesla (TSLA), argues that as he learned more about the process Twitter employed to determine the authenticity of accounts, he grew increasingly concerned to the point that he could no longer execute the deal.
I haven't been able to find a link to Musk's suit, but you can read Twitter's 127-page response here. A friend of mine analyzed it and gave me permission to share his thoughts:
Note that this was filed before Musk's counterclaim filing from last Friday had been made public. While it includes a gazillion quotes from Musk's filing, it's chopped up into bits and pieces. The fact that Twitter didn't wait for Musk's filing to become public means only one thing: Total merciless war.

It is 127 pages long and is divided into three parts:

A six-page introduction/summary. This is really all you need to read.
Pages 7 to 123. These are point-by-point rebuttals. Very boring and repetitive, with the few exceptions I noted below.
Pages 123 to 125: Twitter's 14 defenses against Musk's counterclaims. An easy read and seemingly powerful in their simplicity.

Page 15: Confirming the unreliability of Musk's conclusion, he relies on an Internet application called the "Botometer" – which applies different standards than Twitter does and which earlier this year designated Musk himself as highly likely to be a bot.

Page 64: Twitter admits that it offered to meet with Musk on multiple occasions and admits that Musk declined to meet, demonstrating no actual interest in learning about Twitter's estimation of false or spam account prevalence within mDAU.

Page 73: Insofar as Defendants rely on the Botometer for their analysis of spam, Twitter avers that the Botometer's own FAQ website cautions that "Bot detection is a hard task" and that if it "were easy to do with software, there wouldn't be any bots – Twitter would have already caught and banned them!" Twitter further avers that in May 2022, protocol.com reported that the Botometer indicated that Elon Musk's own Twitter account was likely a bot, scoring it 4/5.

Page 102: MUSK CLAIM: Revealing to the market that Twitter's main performance metric does not drive the performance of the business and that Twitter has been focused on growing this number instead of focusing on how to generate more revenue from existing users could result in a dramatic decrease in Twitter's valuation sufficient to constitute an MAE [material adverse effect].

RESPONSE: Denied, except to admit that if Musk once again publicizes false and misleading statements concerning Twitter, that actionable misconduct could mislead the market and impact Twitter's share price.

Page 115: Twitter denies that Antonio Gracias – or anyone else – ever replaced Mr. Swan. Twitter avers that Defendants fired Mr. Swan abruptly and without explanation after weeks of work, and that Mr. Gracias never contacted Twitter or its advisors during the nine days between his nominal appointment and Defendants' purported termination of the Merger Agreement.

Pages 123 to 125: Simply read the 14 points. Pretty powerful.
3) My friend also shared these notes he took of Musk's comments at Tesla's annual meeting, which took place yesterday (you can watch the entire two hours and 13 minutes here):
We should do close to 1.5 million cars for the year. Exit rate of 2 million. We just made our 3 millionth car.
We have a great team in China.
We have open sourced all of our patents, so everyone can use all of our patents for free.
We might be able to announce another factory location later this year.
Ultimately, we'll end up building 10 to 12 gigafactories. Each will build 1.5 to 2 million per factory.
Shanghai is hard to beat, that team is just awesome.
Earth is not doomed. It will be saved.
September 30 will be AI [artificial intelligence] day.
Optimus will be more valuable than the car. 
With Optimus, the concept of GDP per capita will disappear.
We will have made at least 100 million cars over the next decade. 
Plus a whole bunch of secret products.
Share buybacks may be on the table if the world is stable.
Roughly a dozen models in the portfolio someday.
A lot of Cybertruck details have changed since 2019. The price and specs will be different than what I said then.
In production around the middle of 2023. Installing tooling the next couple of months.
What could possibly go wrong in answering a question about U.S.-Chinese geopolitical conflict?
"I hope for peace and respect."
4680 production: Perhaps end of this year. It's an S curve.
We have a fair bit of insight into prices of stuff because we make cars.
Prices six months out are down on a majority of the stuff we buy.
We are past peak inflation.
We will have a recession, but a relatively mild one for about 18 months or something like that.
We were building too many houses before 2008, and we had too much debt back then.
If the stock has gone down, it is a buying opportunity.
I support the U.S. Space Marines.
[In response to: When will you launch Robotaxi?] It will be much more widespread than one city. There will be regulatory hurdles. We need to get approved first.
I find it very interesting that at the end, Musk spoke as if he's expecting to own Twitter. Gary Black, a Tesla bull and managing partner at the Future Fund, asked about "key man risk. What happens if the judge orders you to buy Twitter?" Musk replied:
I will stay with Tesla as long as I can be useful. I am best at design and factory optimization.
Tesla will do well even if I am kidnapped by aliens.
I am working as hard as I can. The company would have a bright future even without me.
I shoot myself in the foot a lot on Twitter. I dig my grave there.
I have ideas of how to make Twitter better, a grander vision. Builds on X.com.
What I will do with Twitter will be very useful to the world.
My friend added:
[Musk] said he had to be careful about what he said about Twitter ("lawsuits and stuff") but then went on to talk about having a vision for what to do with Twitter and how it related to something he thought about decades ago at X.com. It was very fuzzy other than saying that what he has in mind is very cool somehow.

He didn't say anything like "This means I will close the transaction" or anything like that. I thought that he was unwise to say anything on that subject, as what he said could so easily be interpreted in a variety of directions by different people. He didn't complain about bots or anything else.

He did make it sound like he was very excited about owning Twitter and reshaping it in his long-standing vision from back in the X.com days. God help us.
4) For years I've been leading a charmed life when it comes to my athletic adventures (descriptions of 20 of them posted here). I haven't suffered any injuries, cramping, or even blisters despite not training fully for epic climbs, weekend-long beatdowns by Navy SEALs, 24-hour races, etc.
I was feeling so invincible that whenever anyone warned me about overdoing it, I replied (tongue only somewhat in cheek), "That's good advice... for mere mortals!"
Well, I got my comeuppance yesterday...
A few weeks ago, I had scheduled tennis for this morning at 10 a.m. with my buddy Griffin. We're very even, so I'm always gassed after a hard-fought two to three sets over a few hours.
Then, a couple of days ago, I had scheduled doubles in Central Park with three friends from 1 p.m. to 3 p.m.
I normally don't schedule back-to-back matches totaling four to five hours, but that's what worked for everyone else's schedule.
By the time my wife warned me on Tuesday that the temperature was going to be above 90 degrees yesterday (in fact, the New York City Department of Health issued this alert in the morning: 2022 Health Alert #17: Extreme Heat Event August 4 and 5, 2022: Help Prevent Heat-Related Deaths), it was too late to reschedule.
And hey, the rules for mere mortals don't apply to me, right?
As Griffin and I battled it out, playing two long sets (7-6, 6-4) from 10 a.m. to 12:30 p.m., I guzzled water and ate a Snickers bar and applesauce packet. But it was a big mistake not bringing Gatorade, as I had no electrolytes...
By the end, I was feeling completely gassed. If I squatted down to stretch my legs, my head would spin when I stood back up (so I stopped doing that).
As I biked the 20 minutes from the courts in Harlem where Griffin and I were playing to the Central Park courts for doubles, I barely made it up the hill in the northern part of Central Park.
But three of my buddies were waiting for me, so I couldn't bail at that point. I bought and devoured a Chipwich and two Gatorades, which made me feel a bit better...
I made it through the first hour, playing terribly, and then my right leg spasmed in two places. I fell to the court, desperately straightening and massaging it.
Fortunately, my muscles eased up, but I was done for the day and headed home. But after I'd only biked 100 feet, I thought I was going to pass out and/or throw up, so I pulled over under a tree and laid in the grass.
After about five minutes, I tried to stand up, but then my other leg spasmed and I fell down, screaming. The poor kid on the nearby tennis court looked over and I could tell he was wondering who this guy was, writhing on the ground in pain...
After another five minutes, I was able to get up and ride the short distance back to my apartment, standing up on the pedals most of the way to keep my legs straight.
Thank goodness Susan was home because things quickly went from bad to worse. As I lay in bed, trying to relax, it seemed like every muscle in my body was taking turns torturing me, spasming into a rock-hard knot. I was begging my muscles to "please stop!" but they wouldn't listen...
I have never felt pain like this – and I've had four kidney stones!
This went on for over an hour – and it wasn't just my legs: muscles in my abdominals, forearms, feet, wrists, and thumbs were going crazy. At one point, it took me three tries to pick up the sandwich to take a bite!
Susan and I Googled "heat stroke muscle cramps" and tried everything: I continued to guzzle Gatorade and ate a banana and a sandwich. Then I remembered that years ago I'd bought something called HotShots in case I got cramps doing Tough Mudder races but had never needed to use them. Susan found them in our basement storage bin, I quickly chugged two, and that seemed to calm my muscles.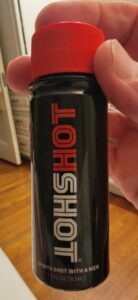 Susan also read that a hot bath might help, so I tried that, which also seemed to help. Later I also sucked a couple of mustard packets, took a 500mg tablet of magnesium, and rubbed magnesium oil on my legs (thank you to my friend Daniel for the special rush delivery of the latter!).
I'm not sure what combination of all of this made a difference, but it seems to have worked.
I was shuffling, not walking, around the apartment in pain the rest of the day, but I didn't have any further spasms and I made it through the night okay. As of this morning, I feel normal, though my legs are still plenty sore...
So what are the lessons?
Don't tempt fate. Karma can be very nasty!
I'm not quite ready to concede that I'm a mere mortal, but as my 56th birthday approaches in three months, I need to recognize that my body has more limits than it once did, even just a few years ago.
Don't mess around with extreme heat.
If I'm going to be sweating a lot for an extended period, water isn't enough – I need something to replace electrolytes.
Best regards,
Whitney
P.S. I welcome your feedback at [email protected].