1) In just a few days – on Tuesday, March 28 at 1 p.m. Eastern time – I'll introduce you to a man I've never spoken about before...
He's bringing an exciting (and potentially very profitable) financial secret to the table – it's something you won't want to miss. Just go to EmpireBackdoor.com for more details... And keep an eye on your inbox as I get ready to introduce my guest to you.
2) Pershing Square's Bill Ackman has been one of my closest friends since we met after my freshman year and his sophomore year at Harvard.
Here's a picture of us from back then (don't ask me to explain those shorts – my only defense is that it was 1986 and I was still a teenager...):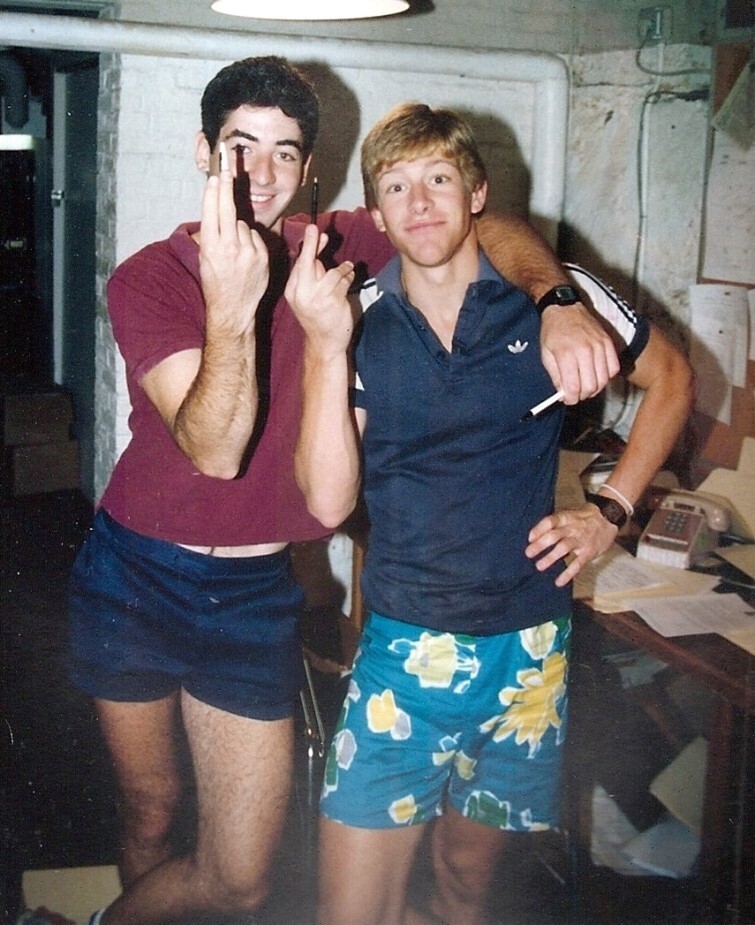 I think Bill is a brilliant investor and I've learned a lot from him over the years, starting with the initial advice he gave me in 1996 when I'd finally paid off my college and business school debts, saved $10,000, and wanted to invest it. I still remember his exact words: "Read everything Warren Buffett's ever written. And you can stop there. That's all you need to know."
That's some darn good advice... You won't be surprised to hear that from someone who's been to the past 25 Berkshire Hathaway (BRK-B) annual meetings!
You also won't be surprised to hear that I usually agree with Bill – the most recent example being yesterday's e-mail, when I shared his tweet calling on the Fed, in light of the recent turmoil in the banking sector, to take a "temporary pause" and not raise interest rates today.        
That said, I don't hesitate to disagree with him – usually privately, but sometimes publicly, here in my investing dailies, as longtime readers know.
One example, cited in yesterday's Institutional Investor article about Bill's tweeting, What Is Bill Ackman Up To?, is that I think he was giving FTX founder Sam Bankman-Fried ("SBF") far too much benefit of the doubt:
Ackman's most contentious take occurred last December when he tweeted in support of Bankman-Fried after the FTX founder was interviewed by Andrew Ross Sorkin at the New York Times Dealbook Summit, a few weeks after his crypto exchange went bankrupt. "Call me crazy, but I think @sbf is telling the truth," Ackman tweeted – to a storm of blowback. Even Ackman's longtime friend Whitney Tilson disagreed with Ackman. "I told him SBF in my view is Elizabeth Holmes times two," Tilson said, referencing the convicted biotech fraudster. "Bill will listen, he will not hold a grudge against you, and sometimes, God bless him, he will change his mind."

After Bankman-Fried was indicted for fraud, Ackman walked back his previous position – tweeting that the alleged conman should simply be presumed innocent until proven guilty.
---
Recommended Link:
| Elon Musk is creating Tesla Automotive's biggest competition. He's just launched Tesla Energy Ventures that will deal in "PVAB" energy. As Musk recently said: "I expect [PVAB] to be roughly the same size as Tesla's automotive business." According to global energy research agency Wood Mackenzie, Tesla's energy business is already growing faster than its car business. Unfortunately, Tesla Energy Ventures is not yet publicly traded. But there is still a way to get in to the PVAB energy space right away. Click here for more details. | |
| --- | --- |
---
3) Bill's ability to listen respectfully to those who disagree with him and sometimes change his mind might not sound like a big deal – isn't that what any intelligent person does? – but I think it's actually quite rare among billionaires, based on the two dozen or so I know personally and the many more I've observed closely.
You see, two things happen when you become a billionaire...
First, you're generally riding a long hot streak – usually at least a decade – in which everything you've touched has turned to gold: Your business has gone public and its stock has soared and/or your investments have paid off spectacularly.
Naturally such a hot streak tends to make a guy (they're almost all men) think he's infallible, so anyone who disagrees with him must be an idiot who should be dismissed. And heaven forbid he should admit a mistake and change his mind!
The second thing that happens when you become a billionaire is that you become surrounded by sycophants and "yes men." When you have so much money, just about everyone is either on your payroll or wants something from you, so these folks aren't going to disagree with you no matter how idiotic your behavior. Rather, they will pour gasoline on the already raging fire of your ego.
The results can be calamitous...
It would be hard to find a better example than Tesla (TSLA) CEO Elon Musk. This is what I wrote in my January 26 e-mail:
I have always had mixed feelings about Elon Musk, which I think is very rational, given how complex he is. He is, I have written, one of the greatest entrepreneurs and engineers in history to build Tesla and SpaceX (among other companies), to whom humanity owes a debt of gratitude. But I also wrote last October, in response to an article by Adam Lashinsky entitled Elon Musk is no Steve Jobs:

I come out in the middle – Lashinsky misses many striking similarities: Both were/are clearly on the autism spectrum, resulting in not being able to read people and often treating them very badly (e.g., Jobs refused to acknowledge paternity of a daughter); they were/are incredible visionaries, but also often thin-skinned, petty, and vengeful; they both had/have the ability to identify and hire type-A superstars and drive them to incredible achievements, but also burn them out; and they've both achieved extraordinary success in multiple, unrelated businesses, in part by living in a reality-distortion world, believing in impossible things, which is both a blessing (leading to unthinkable achievements), but also a curse.

In summary, I used to think he was 80% genius and 20% lunatic.

But in the past year, I think those percentages have reversed.
I think becoming the richest man in the world is a major reason for this. I'm not aware of anyone around Musk who tells him the truth – for example, that buying Twitter was a horrific idea.
Bill, to his credit, has lots of people around him – I am only one of many – who tell him immediately and clearly if they think he's writing or doing something dumb. And sometimes he even listens to us!
4) I have Bill to thank for the best decision of my life: marrying Susan, my wife for more than 29 years. Here's the story...
Bill's college roommate was starting Harvard Law School in early September 1990 and invited Bill, who was starting Harvard Business School, to be his wingman at the law school's first-year-student booze cruise of Boston Harbor. I was working downtown at the Boston Consulting Group, a few blocks away from where the boat departed, so Bill called and invited me to join them. My evening was free, so I said, "Sure!"
Before the boat even left the pier, a cute young woman came up to Bill and asked, "Are you from Chappaqua?"
"Yes."
"Are you Billy Ackman?"
"Yes, I'm Bill."
It turns out that Susan and Bill grew up in adjacent towns (Armonk and Chappaqua) and they had gone to Hebrew school together years earlier!
So they started talking, I joined the conversation and, long story short, she hasn't been able to keep her hands off me ever since (that's my story anyway, and I'm sticking with it!). To this day, I kid with her that she married the wrong hedgie!
Here's the first picture of Susan and me – on the banks of the Charles River a few weeks later: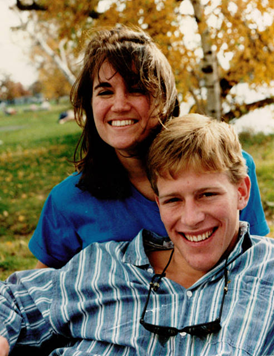 And here's a picture of us yesterday in Punta Cana, Dominican Republic (I know, we haven't aged a day!):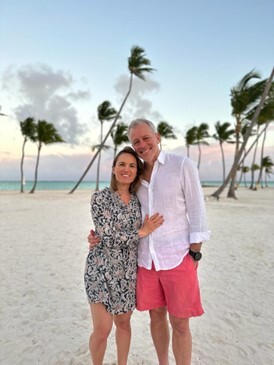 (Yes, it was weird going from listening to the boom of artillery six miles from the front line in eastern Ukraine to a family beach vacation here in the span of six days...)
Best regards,
Whitney
P.S. I welcome your feedback at [email protected].