1) I'm mostly a bottoms-up stock picker, but I still follow numerous economic and market indicators, so I at least have a sense of what kind of environment we're in.
Since I along with my colleagues Enrique Abeyta and Berna Barshay called the market bottom almost to the day in late March 2020, we've remained bullish for reasons I outlined in yesterday's e-mail. However, as I concluded:
The degree of investor enthusiasm – and the resulting foolish risk-taking – is building as the market marches steadily higher... so we are carefully monitoring dozens of indicators – and, more important, applying our team's collective 100-plus years of experience – to gauge when to get more defensive.
Another warning flag arose this morning, as the U.S. Labor Department reported that payrolls only grew by 235,000 jobs in August, well below estimates and down from gains of 1.1 million in July and 962,000 in June, as you can see in this chart from the New York Times: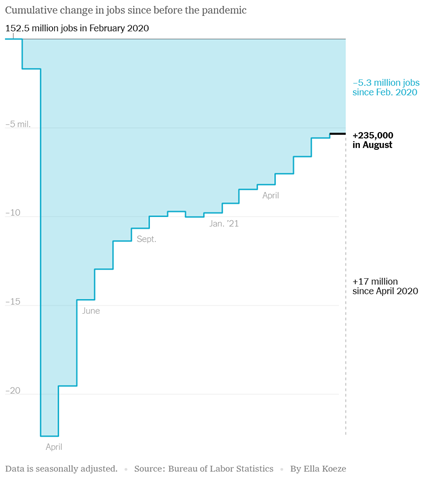 Here are excerpts from a Wall Street Journal article that published this morning, U.S. Payroll Growth Slowed in August:
The rising number of COVID-19 cases tied to the Delta variant resulted in slower job growth for two reasons, economists say. Businesses, particularly in services sectors requiring in-person contact, held off on hiring amid heightened pandemic uncertainty. Jobless individuals who are fearful of COVID-19 health also were slower to return to the labor market.

The Delta variant also appears to be denting consumer spending growth and confidence. The number of diners seated at restaurants was down 9% in the week ended Sept. 2 compared with the same week in 2019, before the pandemic...

In another sign of weakening, the number of employees logging hours fell 4% in August from July, according to Homebase, a scheduling-software company with mainly smaller-business clients. The steady decline in employment throughout the month was driven by industries that had seen the sharpest job growth in recent months amid state reopenings. The number of hospitality employees working dropped 35% from mid-July, while those employed in entertainment fell 20%, according to Homebase.

Still, jobless claims, a proxy for layoffs, reached a new pandemic low of 340,000 last week. Many employers also report difficulty filling job openings, which touched record highs this summer. Online job postings in the U.S. increased 13% in August from July, according to job site ZipRecruiter.

"Despite the Delta variant, there is still an opening up of the service sector of the U.S. economy. While that started some months ago, it's not nearly complete," said David Berson, chief economist at Nationwide Mutual Insurance Co.
My take on the latest news: it doesn't change my overall constructive outlook on the economy and stock market.
As I wrote in my coronavirus e-mail a week ago, "I think the nasty (and completely needless) fourth wave we're experiencing may soon peak," so I expect what I've been calling "the mother of all economic booms" that's been underway for the past 17 months to resume in short order.
2) I view articles like this one on the front page of today's Wall Street Journal, SPAC Rout Erases $75 Billion in Startup Value, as good contraindicators. As legendary investor Bill Miller once said, "If it's in the headlines, it's in the stock prices." Excerpt:
The blank-check boom has turned into a rout.

More than six months after the SPAC craze crested, a broad selloff has wiped about $75 billion off the value of companies that came public through special-purpose acquisition companies, according to a Dow Jones Market Data analysis of figures from SPAC Research.

A group of 137 SPACs that closed mergers by mid-February have lost 25% of their combined value. At one point last month, the pullback topped $100 billion. The analysis doesn't include companies that hadn't closed mergers as of mid-February or those that are no longer trading.

Over the same span, an exchange-traded fund that tracks companies that recently went public through initial public offerings slid 12%. The Dow Jones Industrial Average gained 13%.

SPAC declines are concentrated in companies tied to green energy and sustainability, though the damage is widespread. About 75% of the SPACs that have announced deals but haven't completed them are trading below their listing price. Earlier this year, when the sector was perhaps the hottest area of finance, SPACs nearly always rose after announcing deals. Now, it is common for SPACs – such as the one that said in June it is taking electric flying-taxi firm Vertical Aerospace Group public – to unveil mergers and see their shares fall.
I shared my thoughts in my August 23 e-mail, concluding:
When any bubble bursts, there are always plenty of opportunities amidst the carnage, as babies get thrown out with the bathwater.

While my colleague Enrique Abeyta's recommendations in his Empire SPAC Investor newsletter have gotten hit along with the rest of the sector, which has been painful for us and our subscribers, the last thing we're considering is throwing in the towel. Rather, we're starting to get that feeling that I call "trembling with greed." This sector isn't going away, and right now the stocks of some of the best SPACs are trading below cash...
3) I don't care what your politics are – it is great news for just about every American when the IRS collects billions from a handful of the uber-rich who concocted an obvious fraudulent scheme to cheat on their taxes: James Simons, Robert Mercer, Others at Renaissance to Pay Up to $7 Billion to Settle Tax Probe. Excerpt:
Current and former executives of hedge fund Renaissance Technologies will personally pay as much as $7 billion in back taxes, interest and penalties to settle a long-running dispute with the Internal Revenue Service, the firm said, a tax settlement that may be the largest in history.

James Simons – the quantitative-investing pioneer who started Renaissance before retiring as the firm's chairman on Jan. 1 – will make an additional "settlement payment" of $670 million, according to the firm. Mr. Simons will also pay back taxes related to his gains.

The dispute relates to moves the firm's key Medallion fund took between 2005 and 2015 to convert short-term trading gains into long-term profits. It has been closely followed in the worlds of finance and politics because of the enormous amounts involved and because Renaissance's leaders are among the largest political donors in the U.S.
This may well be the highest return on investment I've ever seen: the IRS spent a few million dollars on this case – for a return (to all of us) of $7 billion! Other than those cheating on their taxes, I struggle to understand who is opposed to properly funding the IRS so it can pursue a lot more cases like this...
4) I've never been an elite tennis player – I played two years of varsity in high school, but wasn't good enough to play in college. And when I moved from Boston to New York City after business school in 1994, I largely gave up the sport for more than two decades.
But one day roughly eight years ago I saw a Groupon (GRPN) promotion offering heavily discounted court time at an indoor tennis center in Manhattan called Sutton East. I bought two hours, called three of my friends, and we had an absolute blast playing doubles, which rekindled my love for the sport.
I started playing once or twice a month... then found a few more guys to play with and it became once a week... then found a pro who ran a clinic on Tuesday evenings, so that made it twice a week... and, finally, the pandemic hit – which shut down one of my other favorite sports, pickup basketball – so I've been playing roughly three times a week (when I'm not traveling) since then.
Earlier this year, I joined a USTA (U.S. Tennis Association) 4.0 team, which has been a lot of fun, and I'm looking forward to competing in singles and doubles at the National Senior Games next year, when I'll be in the next age cohort (55 to 59... I turn 55 in November). My cousin Steve and I won silver medals in doubles two years ago: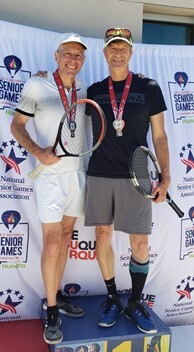 I love to not only play tennis, but watch it as well, so I always attend numerous sessions at the U.S. Open Tennis Championships, which started on Monday. It's the largest attended annual sporting event in the world, and an incredible bargain... for the first four days of first- and second-round matches, day passes from resellers only cost around $50. Matches start at 11 a.m. and often run until after midnight, and you can easily get front-row seats on the outer courts to watch many of the top players up close. I've already been twice this week – here are pictures: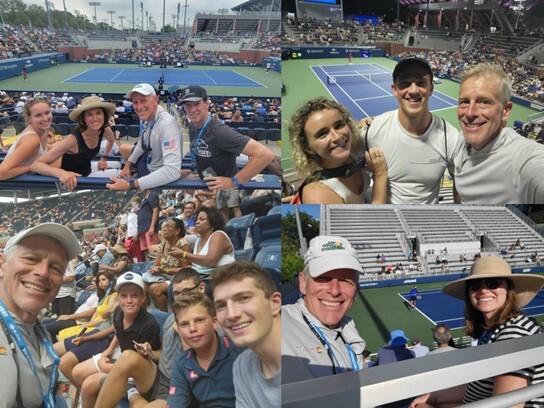 In what has become an annual Labor Day tradition, I'm going again today and this weekend with my cousin, who flew in last night from San Francisco, and my parents, who are driving down this afternoon from New Hampshire.
Best regards,
Whitney
P.S. I welcome your feedback at [email protected].
Additionally, Empire Financial Research and the market are closed on Monday for Labor Day. Look for my next daily e-mail on Tuesday, after the Weekly Recap. Enjoy the holiday!