1) If you were to tell me that the stock market will crash by 25% or more over the next year and asked me to identify the possible reasons for it, here are my top three:
a) Rising inflation and/or debt levels across the world will roil debt markets and spook equity investors,
b) A new COVID-19 variant will emerge that is resistant to the current vaccines, leading to a surge in deaths and a return to lockdowns, or
c) We will get into a shooting war with China – likely over Taiwan.
(Other possibilities not in my top three include an economic crash in China, a collapse of the cryptocurrency sector (whose market cap now exceeds $2.3 trillion), and a terrorist using a nuclear or biological weapon in a major city.)
To be clear, I don't think a market crash due to these – or any other – scenarios is likely.
In fact, I'd estimate that there's only a 10% chance that the market declines more than 25% from today's level at any point over the next 12 months, and there's a less than 3% chance of a 50% decline.
But the odds aren't zero either...
2) The reason I've been thinking about these doomsday scenarios is this in-depth New York Times article published over the weekend about the rising tensions with China about Taiwan: 'Starting a Fire': U.S. and China Enter Dangerous Territory Over Taiwan. Excerpt:
As such confrontations intensify, the balance of power around Taiwan is fundamentally shifting, pushing a decades-long impasse over its future into a dangerous new phase.

After holding out against unification demands from China's communist rulers for more than 70 years, Taiwan is now at the heart of the deepening discord between China and the United States. The island's fate has the potential to reshape the regional order and even to ignite a military conflagration – intentional or not.

"There's very little insulation left on the wiring in the relationship," Danny Russel, a former assistant secretary of state, said, "and it's not hard to imagine getting some crossed wires and that starting a fire."

China's military might has, for the first time, made a conquest of Taiwan conceivable, perhaps even tempting. The United States wants to thwart any invasion but has watched its military dominance in Asia steadily erode. Taiwan's own military preparedness has withered, even as its people become increasingly resistant to unification.

All three have sought to show resolve in hopes of averting war, only to provoke countermoves that compound distrust and increase the risk of miscalculation...

China's ambitious leader, Xi Jinping, now presides over what is arguably the country's most potent military in history. Some argue that Mr. Xi, who has set the stage to rule for a third term starting in 2022, could feel compelled to conquer Taiwan to crown his era in power.

Mr. Xi said Saturday in Beijing that Taiwan independence "was a grave lurking threat to national rejuvenation." China wanted peaceful unification, he said, but added: "Nobody should underestimate the staunch determination, firm will, and powerful ability of the Chinese people to defend national sovereignty and territorial integrity."

Few believe a war is imminent or foreordained, in part because the economic and diplomatic aftershocks would be staggering for China. Yet even if the recent flights into Taiwan's self-declared air identification zone are intended merely as political pressure, not a prelude to war, China's financial, political, and military ascendancy has made preserving the island's security a gravely complex endeavor.
3) What a total disgrace! Moderna, Racing for Profits, Keeps COVID Vaccine Out of Reach of Poor. Excerpt:
Moderna (MRNA), whose coronavirus vaccine appears to be the world's best defense against COVID-19, has been supplying its shots almost exclusively to wealthy nations, keeping poorer countries waiting and earning billions in profit.

After developing a breakthrough vaccine with the financial and scientific support of the U.S. government, Moderna has shipped a greater share of its doses to wealthy countries than any other vaccine manufacturer, according to Airfinity, a data firm that tracks vaccine shipments.

About one million doses of Moderna's vaccine have gone to countries that the World Bank classifies as low income. By contrast, 8.4 million Pfizer (PFE) doses and about 25 million single-shot Johnson & Johnson (JNJ) doses have gone to those countries.

Of the handful of middle-income countries that have reached deals to buy Moderna's shots, most have not yet received any doses, and at least three have had to pay more than the United States or European Union did, according to government officials in those countries.
I'm all in favor of Moderna making a ton of money for rapidly developing its amazing vaccine (which most of my family and I received). But this needs to be balanced with the fact that: a) Moderna developed its "breakthrough vaccine with the financial and scientific support of the U.S. government"... and b) we're experiencing a global pandemic that has led to nearly 5 million deaths – and is still growing by more than 5,000 deaths per day (these are just the reported numbers – the actual numbers are far higher).
Pfizer, for example, didn't take any government money to develop its vaccine, yet has done far more to make it available in low-income countries.
4) As you read this, Susan and I are halfway across the Atlantic Ocean and will land at JFK this afternoon.
We wrapped up our six-day Backroads hiking trip in the Pyrenees yesterday (I posted pictures from the last two days on Facebook here). A van took us back to Barcelona, where we spent the afternoon at the Picasso Museum and celebrated our 28th anniversary last night. Here are a few of the pictures I posted on Facebook yesterday (you can see all of them here):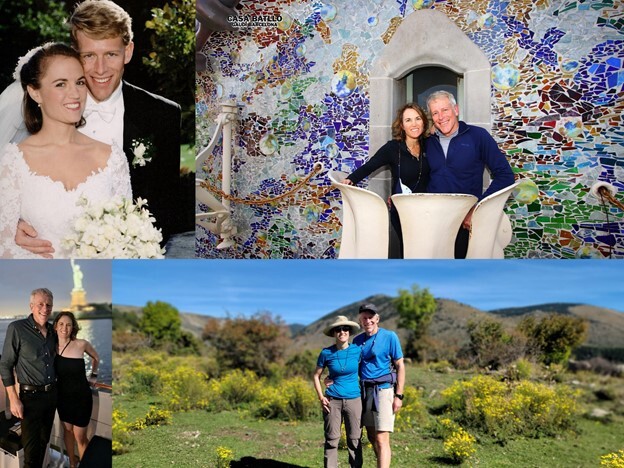 5) Having just returned from five days in Greece and a week in Spain, I can say with assurance that it's a great time to visit most of Europe.
Nearly all of the hotels, restaurants, and tourist attractions are open (you just have to wear masks indoors), but the crowds are sparse due to COVID-19 and it being the off-season (though the weather is still temperate and beautiful).
Low demand is leading to reasonable airfares. For example, a nonstop roundtrip flight from New York City to Paris this Friday, returning Monday, is only $494... Barcelona two weeks from now is $543... Rome on Friday is $550... and London departing in two days is $588 (one-stop flights are much cheaper).
Speaking of Paris, my colleague Herb Greenberg and his wife just got back from a trip there followed by a boat cruise and he told me it was "beyond fantastic. The lack of crowds was the best part plus we felt very safe. My wife summed up our time in the City of Light in this post on her travel blog."
Another colleague, Berna Barshay, also just returned from Europe (she attended a conference in Cyprus), and commented:
I agree 100% that it's a great time to visit Europe. Although I did have to test despite being vaccinated to get into Cyprus, Germany, and back home into the U.S, it wasn't a big deal – a small inconvenience. Honestly, it felt way safer in Europe than it does in many parts of the U.S. Low crowds plus strict (but not invasive) COVID-19 protocols are very reassuring.
And another friend just e-mailed me:
I'm in Brazil for the month and it's just as you described Europe: masks, low crowds and everything is open.

PS – My wife is meeting me in Bogota, Colombia next month and she found a nonstop roundtrip flight out of JFK for $250. Gotta love travel during COVID!
For vaccinated Americans, you can mostly ignore the horror stories in this article: As International Travel Returns, Confusion Over Vaccines Reigns. Just bring a hard copy of your vaccination card. The New York Times maintains an up-to-date list of travel restrictions for nearly every country in the world here: I'm a U.S. Citizen. Where in the World Can I Go?
Best regards,
Whitney
P.S. I welcome your feedback at [email protected].