1) Following up on Wednesday's e-mail, in which I commended The Wall Street Journal for a great piece of investigative journalism, Facebook Knows Instagram Is Toxic for Teen Girls, the WSJ has subsequently published three additional horrifying stories about the social media giant.
Facebook (FB) is one of the greatest, most dominant businesses of all time, which is why we continue to recommend the stock. But with great power comes great responsibility – and here, Facebook is failing badly, which is why tough scrutiny like this is so important...
a) Facebook Says Its Rules Apply to All. Company Documents Reveal a Secret Elite That's Exempt. Excerpt:
Mark Zuckerberg has publicly said Facebook allows its more than three billion users to speak on equal footing with the elites of politics, culture and journalism, and that its standards of behavior apply to everyone, no matter their status or fame.

In private, the company has built a system that has exempted high-profile users from some or all of its rules, according to company documents reviewed by The Wall Street Journal.

The program, known as "cross check" or "XCheck," was initially intended as a quality-control measure for actions taken against high-profile accounts, including celebrities, politicians and journalists. Today, it shields millions of VIP users from the company's normal enforcement process, the documents show. Some users are "whitelisted" – rendered immune from enforcement actions – while others are allowed to post rule-violating material pending Facebook employee reviews that often never come.

At times, the documents show, XCheck has protected public figures whose posts contain harassment or incitement to violence, violations that would typically lead to sanctions for regular users. In 2019, it allowed international soccer star Neymar to show nude photos of a woman, who had accused him of rape, to tens of millions of his fans before the content was removed by Facebook. Whitelisted accounts shared inflammatory claims that Facebook's fact-checkers deemed false, including that vaccines are deadly, that Hillary Clinton had covered up "pedophile rings," and that then-President Donald Trump had called all refugees seeking asylum "animals," according to the documents.

A 2019 internal review of Facebook's whitelisting practices, marked attorney-client privileged, found favoritism to those users to be both widespread and "not publicly defensible."

"We are not actually doing what we say we do publicly," said the confidential review. It called the company's actions "a breach of trust" and added: "Unlike the rest of our community, these people can violate our standards without any consequences." ...

Despite attempts to rein it in, XCheck grew to include at least 5.8 million users in 2020, documents show. In its struggle to accurately moderate a torrent of content and avoid negative attention, Facebook created invisible elite tiers within the social network.

In describing the system, Facebook has misled the public and its own Oversight Board, a body that Facebook created to ensure the accountability of the company's enforcement systems.
b) Facebook Tried to Make Its Platform a Healthier Place. It Got Angrier Instead. Excerpt:
Facebook's chief executive, Mark Zuckerberg, said the aim of the algorithm change was to strengthen bonds between users and to improve their well-being. Facebook would encourage people to interact more with friends and family and spend less time passively consuming professionally produced content, which research suggested was harmful to their mental health.

Within the company, though, staffers warned the change was having the opposite effect, the documents show. It was making Facebook's platform an angrier place.

Company researchers discovered that publishers and political parties were reorienting their posts toward outrage and sensationalism. That tactic produced high levels of comments and reactions that translated into success on Facebook.

"Our approach has had unhealthy side effects on important slices of public content, such as politics and news," wrote a team of data scientists, flagging Mr. Peretti's complaints, in a memo reviewed by the Journal. "This is an increasing liability," one of them wrote in a later memo.

They concluded that the new algorithm's heavy weighting of reshared material in its News Feed made the angry voices louder. "Misinformation, toxicity, and violent content are inordinately prevalent among reshares," researchers noted in internal memos.
c) Facebook Employees Flag Drug Cartels and Human Traffickers. The Company's Response Is Weak, Documents Show. Excerpt:
A Mexican drug cartel was using Facebook to recruit, train and pay hitmen.

The behavior was shocking and in clear violation of Facebook's rules. But the company didn't stop the cartel from posting on Facebook or Instagram, the company's photo-sharing site.

Scores of internal Facebook documents reviewed by The Wall Street Journal show employees raising alarms about how its platforms are used in some developing countries, where its user base is already huge and expanding. They also show the company's response, which in many instances is inadequate or nothing at all.

Employees flagged that human traffickers in the Middle East used the site to lure women into abusive employment situations in which they were treated like slaves or forced to perform sex work. They warned that armed groups in Ethiopia used the site to incite violence against ethnic minorities. They sent alerts to their bosses on organ selling, pornography and government action against political dissent, according to the documents.

Facebook removes some pages, though many more operate openly, according to the documents.

In some countries where Facebook operates, it has few or no people who speak the dialects needed to identify dangerous or criminal uses of the platform, the documents show.

When problems have surfaced publicly, Facebook has said it addressed them by taking down offending posts. But it hasn't fixed the systems that allowed offenders to repeat the bad behavior. Instead, priority is given to retaining users, helping business partners and at times placating authoritarian governments, whose support Facebook sometimes needs to operate within their borders, the documents show.

Facebook treats harm in developing countries as "simply the cost of doing business" in those places, said Brian Boland, a former Facebook vice president who oversaw partnerships with internet providers in Africa and Asia before resigning at the end of last year. Facebook has focused its safety efforts on wealthier markets with powerful governments and media institutions, he said, even as it has turned to poorer countries for user growth.
2) New York Times tech columnist Kara Swisher has two insightful comments in her recent column, Don't Get Bezosed. First, she encourages all iPhone users to install the emergency security patch that Apple (AAPL) released because of a newly discovered security flaw. Excerpt:
The spyware, called Pegasus, used a novel method to invisibly infect Apple devices without victims' knowledge. Known as a "zero click remote exploit," it is considered the Holy Grail of surveillance because it allows governments, mercenaries and criminals to secretly break into someone's device without tipping the victim off.
Second, she echoes my view (which I shared in my August 31 e-mail) of Elizabeth Holmes, the disgraced founder of notorious fraud Theranos. Excerpt:
Holmes is finally on trial now in California; she has been charged with 12 crimes, including wire fraud and defrauding patients and investors, and faces up to 20 years in prison. She is apparently offering the novel defense that... she is the victim.

This strategy means she will probably testify, a high-risk move that can result in high reward or, in her case, more likely, in very high loss, according to the many lawyers I've spoken with. Holmes is claiming, among other things, that she was under the sway of her ex-boyfriend and a Theranos executive, Ramesh "Sunny" Balwani. His trial starts early next year; he denies her allegations.

I typically believe the woman, but in this case, having seen Holmes in action when she was soaring, I have to believe him (I know, ugh), since she appears to be spinning the same kind of stories as before, this time to save her own skin.
For more on this, I highly recommend the new podcast, Bad Blood: The Final Chapter, by John Carreyrou, the Pulitzer Prize-winning investigative journalist who broke the Theranos story in 2015 and subsequently wrote a best-selling book about it, Bad Blood: Secrets and Lies in a Silicon Valley Startup.
He makes an airtight case that Holmes' "Svengali Defense" is total nonsense. Countless text messages make it clear that, if anything, it was she, not her boyfriend Sunny Balwani, who masterminded the fraud.
Lastly, Ellen Pao, one of the few senior women in Silicon Valley, makes some fair points in this New York Times op-ed, The Elizabeth Holmes Trial Is a Wake-Up Call for Sexism in Tech. Excerpt:
Time and again, we see that the boys' club that is the tech industry supports and protects its own – even when the costs are huge. And when the door cracks open ever so slightly to let a woman in, the same rules don't apply. Indeed, as Ms. Holmes's trial for fraud continues in San Jose, it's clear that two things can be true. She should be held accountable for her actions as chief executive of Theranos. And it can be sexist to hold her accountable for alleged serious wrongdoing and not hold an array of men accountable for reports of wrongdoing or bad judgment.

Questionable, unethical, even dangerous behavior has run rampant in the male-dominated world of tech start-ups...
3) We rented a car yesterday to drive through the scenic Going-to-the-Sun Road in Glacier National Park. (RVs aren't permitted because it's so twisty and narrow). It took laborers 20 years to complete this 50-mile road, which opened in 1932. The scenery was spectacular – both driving and on the couple of hikes we did – as you can see in these pictures: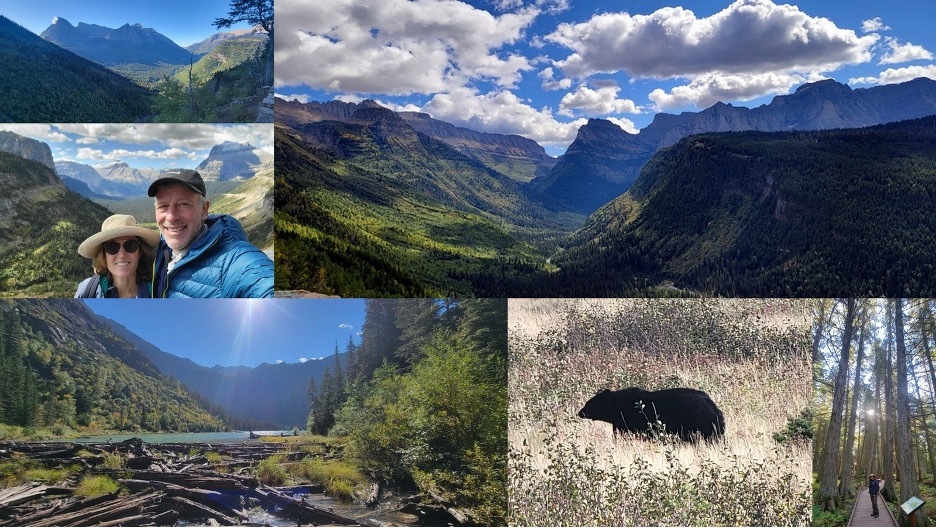 I posted additional pictures and descriptions from yesterday on Facebook here.
On Tuesday, we stopped in Great Falls, Montana, to see the Lewis and Clark Interpretive Center, a well-done museum about the famous three-year (1804-1806), 33-man expedition. See my post about it here.
And here are pictures from our first day in Glacier National Park on Wednesday.
Best regards,
Whitney