1) The media just dropped three more bombs on electric-vehicle maker Nikola (NKLA), which I believe is little more than a stock market promotion…
Last night, CNBC published this story: Two women file sexual abuse complaints against Nikola founder Trevor Milton. Excerpt:
Milton's cousin Aubrey Ferrin Smith filed a formal complaint Saturday with the local police in Holladay, Utah, saying he groped her bare breasts when she was 15 in 1999.

A second woman has come forward accusing Milton of sexual abuse when she was 15 and working as an assistant in a security company he was running in 2004, according to her attorney.
Even worse for Nikola, the article quotes a General Motors (GM) spokesperson hinting that GM might be having second thoughts about its deal with Nikola (gee, you think?):
"Our transaction with Nikola has not closed," a GM spokesperson said Monday in an email. "We are continuing our discussions with Nikola and will provide further updates when appropriate or required."

The deal is expected to close by Wednesday.
I highly doubt the deal will close tomorrow – the only question is whether GM extends the deadline or walks away entirely.
2) Another article, originally in the Financial Times, raises doubts about who designed Nikola's hydrogen-electric semitruck: Nikola founder Trevor Milton bought semitruck designs instead of making them 'in his basement,' report says. Excerpt:
The story with the Nikola One, zero-emissions brand Nikola's hydrogen-electric semitruck, was that embattled company founder Trevor Milton designed it in his basement. But a new report from the Financial Times suggests otherwise.

Two sources with knowledge on the matter, who were not named by the Financial Times, said Milton bought the original design for the Nikola One from a designer who works at Croatian EV brand Rimac Automobili.
3) Lastly, this article from the Wall Street Journal raises questions about the pie-in-the-sky assumptions underlying Nikola's business model: Nikola's Business Model Relies on Big Leaps in Technology, Large Declines in Costs. Excerpt:
A crucial element of Nikola's pitch is its plan to slash the cost of producing so-called green hydrogen, which relies on renewable energy to create the hydrogen fuel.

Nikola said in an investor presentation this year that it could produce green hydrogen for $2.47 per kilogram – a price analysts say is likely unattainable in the near term. Analysts at JPMorgan said in June that the cost of producing, storing and distributing green hydrogen is currently prohibitive, adding that electricity accounts for 80% of hydrogen production costs.

The Nikola presentation assumed that the company could purchase renewable power for 3.5 cents per kilowatt-hour. Industrial customers pay, on average, nearly 7 cents for grid power, and commercial customers pay nearly 11 cents, according to the Energy Information Administration.

The business model is based on "unproven concepts around renewable energy," said Gordon Johnson, energy analyst at GLJ Research. Nikola said earlier this month it believes its business plan will be profitable over the long term.

In securities filings, Nikola acknowledged that its ability to produce hydrogen economically depended on its ability to purchase power at prices below retail rates. It said it planned to build its first stations in California, where retail electricity rates are among the highest in the country.
4) Here's Vanity Fair with an incredible story: How Carlos Ghosn Escaped Japan, According to the Ex-Green Beret Who Snuck Him Out. Excerpt:
In many ways, [Michael] Taylor was uniquely suited for the Ghosn mission. His tenure in the Special Forces, one of the most elite and unconventional branches of the U.S. military, familiarized him with Lebanon, and he had strong ties to the country and its people. He had cultivated an extensive network of former operatives who specialized in everything from munitions to transportation. Getting Ghosn out of Japan seemed a far-fetched task, but Taylor felt he had a "100%" chance of pulling it off, he told me. "I wouldn't have agreed to it if I didn't think it was 100%"…

Taylor didn't agree to the Ghosn job because he missed the thrill, he claims – he'd had enough thrills to last him a thousand lifetimes. It was a sense of public service, of being guided by a mission…

Throughout that fall, Taylor assembled a team of operatives with varying talents: maritime operations, airport security, IT, police, countersurveillance. It was like casting a heist movie, each man indispensable for his skill set. Most were ex-Special Forces, guys Taylor had known for 40 years or more. They had spent their lives operating in a world where people were contacts, groups of people were cells, and information was intelligence.

Those who hadn't met in the military had crossed paths in their civilian lives – skydiving at the local airstrip or moonlighting as coaches on the high school football field. The men had been trained to be fighters, and now that the War on Terror was ostensibly over, there was nothing left to fight for. Taylor's cobbled-together ranks embodied a central Marxist concept – the reserve army of labor – and Taylor was in a position to put them to work.

The first call Taylor made was to a military officer in the Middle East who had retired into the business of gem appraisal. He would be Taylor's deputy. Taylor also called a man he had been in combat with in Iraq who now provided private security. That man, well connected in Asia, assembled dossiers on everyone involved in the operation: Ghosn, his colleagues, his wife, the managers of every airport terminal that might provide an avenue of escape.

And then: the jet. Taylor needed to find a charter company that wouldn't ask too many questions. His men began calling outfits all over the world, feeling them out. Could they handle a passenger who required a high level of discretion? Could the transaction remain off the books? Every place they called failed the test. Then they heard about a Turkish company rumored to have flown gold out of Venezuela in violation of U.S. sanctions.

Look, Taylor's men explained, we gotta pull out a VIP who does not want to be noticed. They don't want to be on the manifest.

We are used to doing this, came the reply. What do you need?
5) Susan, Alison, Rosie (the Wonder Dog), and I are spending a week at my extended family's place on Lake Sunapee, New Hampshire, before my parents return home to Kenya on Thursday. Here's a picture of us: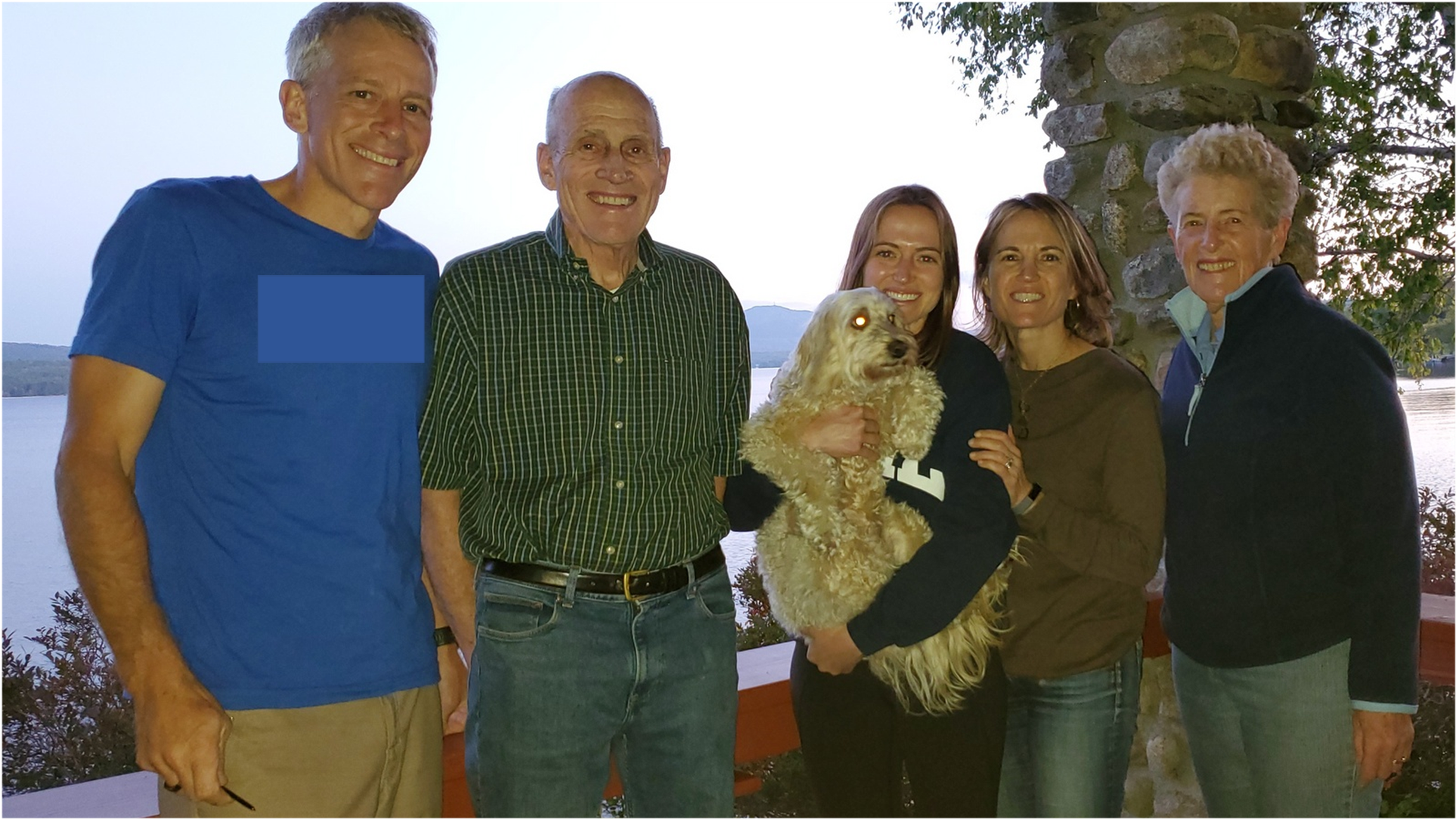 I played two sets of tennis yesterday against a young man named Matt, who's on the team at nearby Colby-Sawyer College. He's a senior and is majoring in business. Next semester, he's taking his first class on investing… so he asked me for some advice. Here's what I sent him:
a) Read my slide presentations on The Basics of Economics, Understanding Financial Statements, How to Achieve Superior Performance and The Best of Value and Growth: Make Money Investing.

b) Watch some of my videos (I suggest at 2x speed):

c) Sign up for the free investing e-mails that my colleague Berna Barshay and I send out every weekday to more than 80,000 people – just enter your e-mail here and here.

d) Read the books on my recommended reading list here.
Best regards,
Whitney