► COVID-19 wreaked havoc on the results of the two big public toy companies…
Shuttered retailers and disrupted supply chains led to big earnings declines at the two largest American toy makers: Mattel (MAT) and Hasbro (HAS).
Yesterday, Nerf and G.I. Joe-maker Hasbro reported a big miss versus Wall Street expectations. Revenues were only $860 million – 13% lower than analyst expectations of just less than $1 billion – and were down 29% year over year. The toy maker reported earnings per share of $0.02 versus expectations of $0.20, a big decline from $0.78 in the prior year.
The bright spot of the report was the 11% increase in sales at Hasbro's games division, with the quarantine driving demand for family fare like Monopoly and Twister. HAS shares have traded down 6% since reporting the disappointing results.
Last Thursday, rival Mattel had reported results that also showed big declines versus the prior year… But unlike Hasbro, the company beat Wall Street's expectations. Mattel reported $732 million in sales for the second quarter – 8% better than Wall Street was looking for, but a year-over-year drop of 15%. The better top line performance translated into a beat on the bottom line as well, with Mattel surprising analysts by reporting earnings of -$0.26 per share versus the consensus of -$0.31.
Barbie proved to be the shining star of the Mattel product portfolio, with sales up 10% in constant currency, whereas other top franchises Hot Wheels and Fisher-Price/Thomas & Friends saw declines of 19%.
Mattel shares dipped in the wake of the earnings release but have since recovered and are now a touch above where they traded before the release.

The steep sales declines at both companies seem counterintuitive…
With school and activity closures, families sheltering in place were quick to load up on toys, games, and activity sets to keep kids occupied and off of screens. In fact, industry data show that overall U.S. toy sales – which generally only grow in the low single digits – surged beginning in March. Since then, the category's above-trend growth has continued…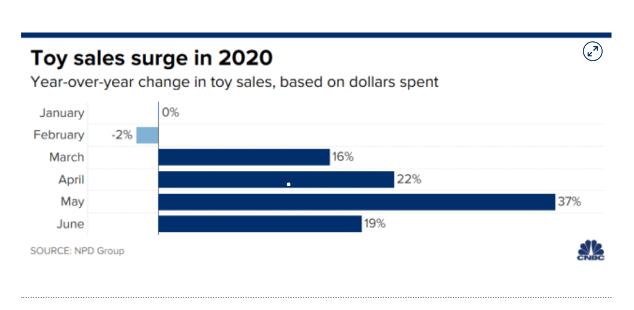 Source: CNBC
Both toy makers in fact called out the fact that their reported sales greatly trailed the point-of-sale ("POS") data they collect from their retail partners. Despite reporting sales down almost 30% in the second quarter, Hasbro reported retailer POS data growth in the high single digits… with double-digit growth in the strongest regions, including the U.S., the U.K., France, Italy, and Australia. The developed e-commerce infrastructure in these countries supported strong sales growth to consumers in these regions, even if these gains didn't translate over to the Hasbro revenue line.
The reason that retailer sales to consumers didn't bolster sales at Hasbro was because manufacturing closures due to COVID-19 left the company light on inventory. While Chinese plants – where Hasbro makes 55% of its products – were open in the quarter, closures in the U.S., Ireland, and India left Hasbro short on product to fulfill replenishment orders from retailers. As a result, retailers sold down product on hand, and ended the quarter with very light inventory levels.
In the U.S., Hasbro estimates that retailer inventory is down 15% year over year. Since sales to consumers are up in the double digits, retailers will need to restock as soon as product is available, which bodes well for sales in the coming quarters. Fortunately, manufacturing is up and running again.
The situation was similar at Mattel: Consumer sales at retail were way ahead of the company's shipments. Like Hasbro, POS data indicate Mattel product sales to consumers were up high single digits in the second quarter, with the U.S. growing in the double digits.

Simply put, both companies were caught short on inventory…
And it wasn't really their fault. Toy sales are usually lighter in the first half of the year and build in the second half, as consumers shop for holiday gifts. It's normal that inventories would be low in the spring. As Auburn University business professor Rafay Ishfaq explained to local Alabama news site Al.com back in April…
This is about the time of the year that there is plenty of stock left over from the holiday season and (toy retailers) are getting ready for the next round of the peak that will come around in the summer months when families are coming together and (outdoor) toys and games have another boom… This is certainly an unprecedented March and April peak in demand that most retailers were not planning for.
Both companies should see shipments (and therefore reported revenue) catch up with consumer demand as the year goes on and the supply chain gets repaired.
Licensed toy sales were another growth headwind that should dissipate with time. Both companies offer a stable of evergreen products, emerging growth brands, and seasonal licensed product, which gets released in conjunction with major entertainment properties – usually films. The movies that came out this year – all on home release, such as Trolls: World Tour – were smaller properties for driving toy sales than last year's blockbusters: Avengers: Endgame for Hasbro and Toy Story 4 for Mattel.
The delay of major family film releases will continue to be a drag as long as the pandemic prevents the widespread opening of movie theaters. But is a temporary, not permanent issue.

The pandemic-driven boom in the demand for toys and games is a welcome relief to an industry that has faced many secular headwinds…
Growth has been harder to come by in recent years for toy companies, as children do seem to grow up quicker these days. The lure of screen-based entertainment – traditional video games, phone games, and streaming video – hits at ever younger ages.
I've witnessed this age compression in my own home as my daughter, then 6, added makeup to her holiday wish list last year, and is currently obsessed with the online game Roblox. Whereas kids used to be good customers for toys into their middle school aged years, now the window to really market traditional toys to them ends for many before elementary school does.
The trade war with China has also been a recent headache for all toy makers, which have seen new tariffs imposed on many products. This has prompted a diversification of production away from China, where manufacturers have leaned most heavily for decades.

Perhaps the biggest headache of all was the bankruptcy and subsequent liquidation of top retail customer, Toys 'R' Us…
The disappearance of Toys "R" Us increased the reliance of all industry players on Walmart (WMT), Target (TGT), and Amazon (AMZN). With so many toy products selling through the Internet operations of these three retailers, price transparency has never been higher for the business – leading to more discounting and competitive pricing.
In their physical operations, Walmart and Target tend to flex up the space devoted to toys in the fourth quarter, rapidly removing it when the holidays are over. When the toy department at these big-box stores shrinks back to just a couple of aisles in January, the retailers are quick to slash prices to dump leftover inventory and clear up space. They then turn to the toy companies for rebates and future discounts to support the overall realized margin of their toy department in the wake of aggressive discounts.
Of course, Toys "R" Us was fully committed to the toy business 365 days per year, so if it bought too much of something around the holidays, it could take its time to sell down inventory – avoiding the need for elevated vendor support from Mattel and Hasbro. Of course, there always was and always will be product misfires, which will require big price cuts and vendor support to clean up – that happened at Toys "R" Us as well as the big boxes. But space allocation swings at big-box retailers have heightened post-holiday clearance activity and industry volatility overall.
Digital sales – whether on Amazon, Walmart.com, or Target.com – offer their own challenges. The long aisles at Toys "R" Us and the cluttered stacks at mom-and-pop toy stores, many of which have long closed their doors because they couldn't compete with the big guys, offered parents and kids the opportunity to discover the "long tail" of items that companies like Mattel and Hasbro make.
While the toy makers do their most volume in the hits sitting at the top 20% of their portfolio – they still traditionally did good business in smaller products that turned over slower at retailers. In an online environment where search algorithms tend to do well offering up the most popular items on page one results, it's harder for these smaller products to get discovered and bought.

Both companies have their eyes set on Hollywood…
In addition to its licensing deals to make products based on studio movies and TV shows, Hasbro pioneered a strategy of turning its toy properties into entertainment properties. It may be hard to remember, but Transformers was actually a toy before it was a movie franchise.
Using Transformers as a blueprint, Hasbro has invested in turning its toy properties into entertainment properties on both the big and small screens, bringing in filmed content revenue and reinforcing demand for the legacy brands. An example of this strategy is the My Little Pony franchise, which has spawned both feature films and a Netflix (NFLX) series. Films inspired by G.I. Joe figurines and the game Battleship have grossed more than $300 million. Look for movies based on Monopoly and Clue to hit theaters in the coming years.
Hasbro also profited from the cinema through its master licenses for Disney's (DIS) Marvel, Star Wars, and Princesses franchises.
Mattel has sought to emulate Hasbro's success in entertainment by hiring a CEO with a media background. One of his first moves was to develop a big budget live-action Barbie movie coming soon, starring Academy Award-nominee Margot Robbie in the title role.

In a Mattel-Hasbro death match, the winner is clear…
While Mattel's second-quarter results look more impressive because they beat expectations and sales were down only 15% versus 29% at Hasbro, much of this is related to greater – and temporary – supply chain disruptions at Hasbro.
Also, Hasbro had a much tougher comparison looking back at the second quarter of 2019, when toys based on the last Avengers movie helped propel sales up 9%. Normalizing the effect of last year's movie releases by comparing with 2018 instead of 2019, Hasbro sales were down 5% over two years, versus Mattel down 13%.
In fact, over the past five years, Hasbro has outgrown Mattel by almost 8 points. From 2014 to 2019, Hasbro sales grew 10%, or 2% per year. Over the same period, sales at Mattel are down 25%, or almost 6% per year.
Strong consumer end demand for toys and games should continue as long as the coronavirus is shuttering children's group activities. And with strong management and core properties, Hasbro should benefit as shipments finally catch up to retailer sales.
Game sales at retail were up over 50% globally in the second quarter, despite Hasbro reporting sales growth of just 11% in the category. As the company rebuilds its inventory in games like Jenga and Connect 4, it will profit from pent-up demand from retailers to replenish their own depleted stocks.
While movie theater closures will delay new releases and provide a headwind to Hasbro for the remainder of 2020, lost revenues in the near-term merely create a backlog of future sales when theaters ultimately reopen.
The Hasbro entertainment strategy has been historically well-executed, providing many synergy benefits to revenues. Management recently reinforced their entertainment presence through the acquisition of the U.K.'s Entertainment One, the owner of the Peppa Pig franchise – which is wildly popular not only in the U.K. and U.S., but in China as well.
While the holidays could look very different this year, Hasbro looks like a good bet for long-term investors.

On the other hand…    
Mattel's unproven management team has a heavy task ahead in turning around the company. While these folks have done a good job cutting costs and expanding gross margins through manufacturing rationalization, the company will need to get revenue growth restarted to improve earnings from here.
CEO Ynon Kreiz, who joined in 2018, led Mattel to improved sales results in his first full year. But 2019 sales were nevertheless still flat. This was the first year sales at Mattel hadn't declined since 2013, which points to the major challenges ahead resuscitating ailing businesses such as Fisher-Price and American Girl, which Mattel has been unable to turn around for years.
Turnarounds are tough, and they're always complicated by the presence of a lot of debt. With $3 billion in net debt and just $500 million in expected 2020 earnings before interest, taxes, depreciation, and amortization ("EBITDA"), Mattel is about 6 times leveraged – which leaves it with little wiggle room should something else go wrong.
While Hasbro has found a powerful weapon to combat the headwind of age compression in its entertainment strategy, execution on the entertainment front remains a risk at Mattel. With high leverage and an unclear strategy going forward, I would pass on MAT shares here.

In the mailbag, readers weigh in on working from home, and one offers additional book recommendations…
Have you bought more toys and games for your kids and grandkids during the pandemic? What have your younger family members been asking for? Send an e-mail to [email protected].

"I actually accomplish more working from home with online teaching, and using Google meets takes the sanitary, impersonal persona out of the class setting. I do miss my morning walks down the halls with my cup of coffee in my hands. I chat with students and other faculty on my routine walks. I now realize the important social/practical function of routines." – Nicholas C.

"My office has been using the hybrid model by alternating days since this began. I love it!" – Nelson K.

"As a self-employed lobbyist, I have been working from home for the last six years. I find it less distracting than working in an office with constant interruptions. Unless I have to cover a meeting or have face-to-face interactions with a legislator, which isn't happening now, I can work from anywhere." – Jim B.

"These are oldies but goodies that I would add to the list you recommended.
"One Up on Wall Street by Peter Lynch, John Neff on Investing by John Neff, Margin of Safety by Seth Klarman. Also, read the Letters to the Annual Reports of Berkshire Hathaway by Warren Buffett" – William M.
Berna comment: Thanks, William! These are great picks.
Regards,
Berna Barshay
July 28, 2020