► Venture capital firm Andreessen Horowitz is out with its second annual Marketplace 100 ranking…
The highly influential venture firm, which is also known as a16z, is known for its early investments in companies ranging from social media giants Facebook (FB) and Twitter (TWTR) to soon-to-be-public cryptocurrency exchange Coinbase. More recently, it led the last private round for the now-public gaming company Roblox (RBLX) and funded breakout audio-chat app Clubhouse.
The ranking was determined using data analytics from Bloomberg Second Measure, which tracks real-time sales and consumer behavior across 5,200 online merchants. Using these data, gross merchandise value ("GMV") for each marketplace was estimated, and companies were ranked along this metric.
GMV is the total sales that flow through a marketplace across all transactions that it enables.
This metric is different than company revenue, because marketplaces unite third-party sellers with buyers – they don't directly sell products or services. The marketplace makes its revenue by charging fees – listing fees, transaction fees, product promotion fees, etc. – to sellers (and sometimes to buyers as well). The average fee is called the "take rate," which approximately equals marketplace revenue divided by the GMV, or total dollar value of products sold.
eBay (EBAY) really is the original marketplace… If the company didn't invent the model, it was the first to bring it to major scale online. Other well-known marketplaces include handmade goods site Etsy (ETSY), home rental site Airbnb (ABNB), and food-delivery app DoorDash (DASH).
The biggest marketplace of them all is also the biggest e-commerce player, Amazon (AMZN). In its 3P – or third-party consumer business – it allows sellers who own and often ship their own inventory to sell on its site, alongside the products Amazon stocks itself.

I have always loved the marketplace business…
Being a retailer without having to hold inventory is an extremely profitable business model at scale. While marketplaces only capture a fraction of a transaction's value – take rates typically range between 10% and 30% of a transaction – they do so with much higher margins and lower risk than companies that hold their own inventory.
Holding inventory is expensive and ties up capital. It subjects retailers to the risk that they buy too much of something consumers end up not wanting, leading them to sell goods at a reduced profit – or even a loss – later.
Marketplaces eliminate that inventory risk, which makes them a superior business in terms of returns on capital versus almost any traditional retailer… but pulling off a successful marketplace isn't easy.
Marketplaces thrive on scale… Their value increases exponentially when there are more buyers and sellers trafficking the site. Attracting consumers usually means big marketing expenditures up front… and ultimately, for most categories of product, only two or three marketplaces truly scale and take the majority of category GMV.
When too many marketplaces are duking it out to get traction, profits usually suffer because promotions to consumers get too aggressive, or they start cutting take rates to attract exclusive sellers. We see this today with the food-delivery space, which is growing like a weed but not very profitable.
Usually when there are too many marketplace players, they eventually consolidate through mergers and acquisitions ("M&A").
Getting to scale is the name of the game in the marketplace business… You gotta get the GMV. And it's not easy. As a16z explains in its summary of the rankings…
It's a battle to break out. Beyond the top three marketplaces in the Marketplace 100, the competition is tight: the difference in GMV among adjacent companies No. 4 to No. 100 is less than a half a percentage point.
Of course for companies that do break out, it's usually a very lucrative path forward.
Before we dive into the rankings, it's important to note that a16z considers marketplaces that go public or get bought out by other marketplaces as "graduates." This list is for startups and other private companies only.

The stamp of the COVID-19 crisis is all over this ranking list…
Sitting at the top of the list with the highest GMV by a mile is grocery-delivery app Instacart, which represents a whopping 70% of the whole list's total GMV. Some huge companies graduated off the list last year, thanks to the hot initial public offering ("IPO") market.
Companies with big GMV that were on the 2020 list but have since graduated via IPO include Airbnb, DoorDash, and clothing resale site Poshmark (POSH). You can see the graduates made up for the majority of GMV on the 2020 list…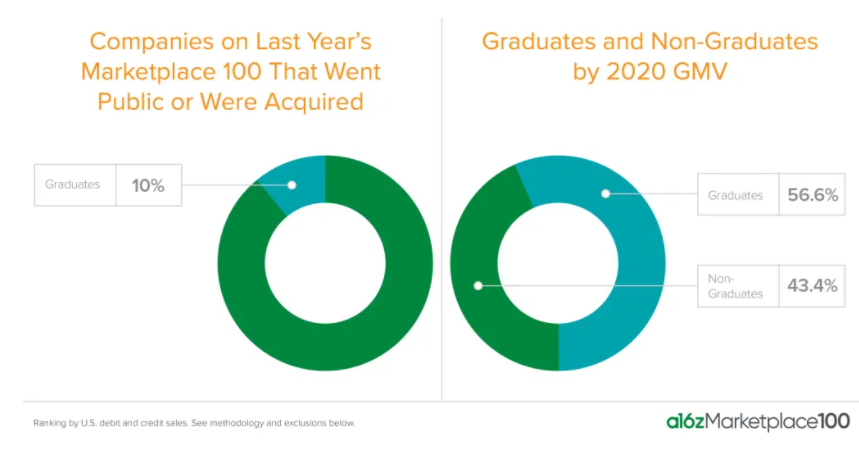 Source: Andreessen Horowitz
Graduate Airbnb had been No. 1 on the list last year and represented over 30% of total list GMV.
The list also lost several members to strategic consolidation, as ride-hailing app Uber (UBER) gobbled up alcohol-delivery startup Drizly and food-delivery app Postmates, presumably to help it build scale and get closer to profits at its Uber Eats division.
With the departure of so many dominant marketplaces from the list, GMV on the list is incredibly fragmented after the top two…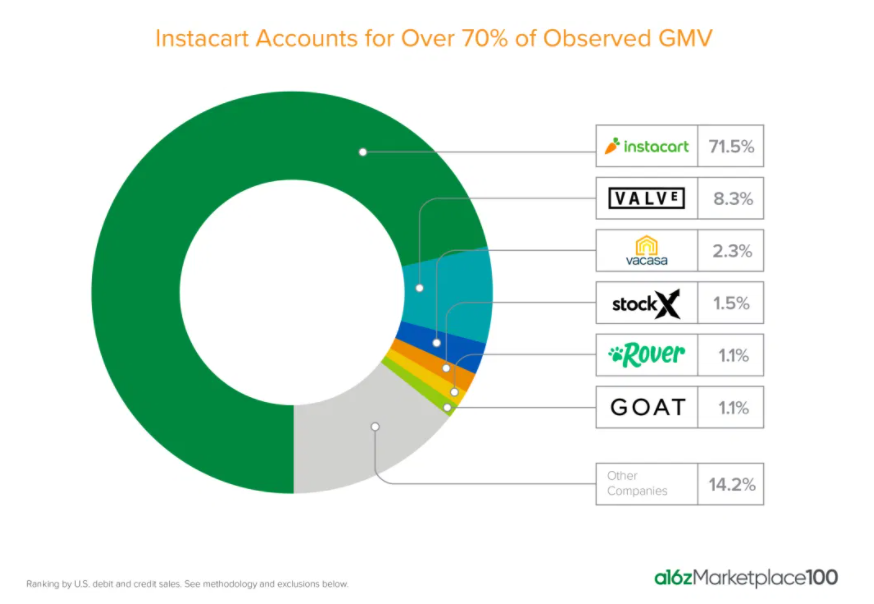 Source: Andreessen Horowitz
Don't expect a flood of 2021 marketplace IPOs… Almost every marketplace with scale has gone public or been bought up already. However, you might see some of the names on the Marketplace 100 merge into a special purpose acquisition company ("SPAC").
It's not surprising that a grocery-delivery company dominated list GMV during a pandemic, and you can see other companies that got a clear COVID-19 lift moving up the ranks…
The biggest jump in the rankings came from EdTech company Outschool, which jumped 59 places to land at No. 10 on the list. Outschool enables teachers to sell online classes and private lessons to parents of school-aged children. The offerings range from academic subjects like reading and math to more traditional extracurriculars like visual and performing arts and foreign language tutorials to more contemporary fare like online escape rooms and videogame lessons. With so many kids learning remotely – and traditional sports and other activities canceled for much of the year – the surge at Outschool isn't too surprising.
Kids weren't the only consumers looking to offset stay-at-home boredom with learning… adult education marketplace MasterClass jumped 28 spots to land at No. 15 in the rankings. Education site Coursera also made a move up from No. 38 to No. 23.
The second biggest mover on the list is a name that will be familiar to regular readers of Empire Financial Daily: celebrity video site Cameo, which moved up 36 slots to land at No. 31.
Other pandemic winners include outdoor-oriented marketplaces. RV rental sites Outdoorsy and RVshare moved up 17 and 21 spots, respectively, to rank at No. 11 and No. 14 on the list. Also making a big move – up 33 spots to No. 40 – was Hipcamp, which allows customers to book tents, RV parking, cabins, and treehouses. Two other outdoor travel sites made their debut on the list: Glamping Hub (No. 67) and Tentrr (No. 89).
Other marketplaces new to the top 100 also hit on 2020 trends: Good Dog which hooks up aspiring pet parents with breeders and shelters debuted at No. 80. Those looking to spruce up their home helped furniture resale site AptDeco enter the list at No. 78. The home nesting trend also benefited online interior design site Modsy, which jumped 13 places to No. 28.
COVID-19 restrictions took a big bite out of marketplaces that cater to mobility, travel, and group events. The biggest drop on the list was Headout, a marketplace that sells tickets to city-based experiences… It dropped 45 spots to No. 93. Most other ticket sites also took a big hit, including movie ticket site Atom, which dropped 45 spots to No. 70, and sporting-event ticket marketplace Gametime, which fell 22 spots to No. 44.
As hot as online classes were, in-person classes were cold. KidPass, a marketplace for children's classes, dropped 27 spots to No. 95. Boutique fitness class marketplace ClassPass dropped 11 places to No. 22… I was surprised it still ranked that high, but I presume as a one-time unicorn, the company probably landed that high on the list merely from its first quarter 2020 receipts.
Travel and mobility companies also saw big drops, with vacation tour marketplace TourRadar dropping 35 places to No. 77 and ride-sharing app Via dropping 40 spots to No. 58.
Sitting at the bottom of the list at No. 100, down 25 places, is Breather – a company that allows users to book office spaces for group meetings.

One trend that I've previously highlighted made a strong appearance on the list…
Resale fashion is as hot as ever, even in a year in which the occasions for dressing up were few and far between. Three entrants from the circular fashion economy made the top 10 versus just one last year. No. 4 on the list was sneaker resale site StockX, which moved up from the No. 10 spot last year. Joining StockX in the top 10 was its close competitor GOAT, which placed at No. 6… That's up 10 notches from last year. Closet clean-out site thredUP was also up 10 spots to rank behind GOAT at No. 7.
In addition to the aforementioned debut by used home décor site AptDeco, three other marketplaces for used fashion joined the list this year: Paris-based luxury retail site Vestiaire Collective (No. 54), London-based Gen Z-leaning fashion resale site Depop (No. 46), and Poshmark competitor Curtsy (No. 63), which also has its sights set on Gen Z.
Whether resale's strength was driven by the extra time at home to devote to closet cleaning, a renewed sense of thrift in the wake of an economic crisis, or increasing environmental awareness, this segment's momentum was clearly reinforced by the events of the last year.
Many of these resale sites incorporate big social elements to their shopping functionality. Buyers can follow the activity of sellers or other buyers whose style they want to emulate. In this way, the rise of resale not only points to heightened interest in used goods, but also interest in new, more personal ways to shop.

So, what are some of the big takeaways here?
It's trite, but timing is everything.
It's good to be delivering things during a pandemic. It's bad to be selling concert tickets or group tours.
It's good to be selling online courses, but bad to be selling spaces or vehicles in which you can squish in with other people.
It's also important to acknowledge what was strong as we exited the year versus what had peaked earlier in the year. As much as the lockdowns boosted Cameo and flower delivery marketplaces – both grew over 200% from the first quarter to the second, they also had peaked by the summer.
Other categories, like collectibles and cannabis, strengthened in the second quarter and held that relative strength through year-end. Some hard-hit categories such as beauty services flipped from negative to positive in the fourth quarter… or just got quite a bit "less bad," such as ticketing marketplaces.
Finally, in a business where scale and market share are everything, the pandemic provided a major boost forward for five companies that were already dominant in their niche but saw growth rates accelerate: Instacart, wholesale marketplace Faire, ticket platform Viagogo, Outschool, and MasterClass.
As with everything, we'll likely see some trend reversal as the pandemic wraps up. But there are clear trends here – like resale, pets, and collectibles – that should persist even as the pandemic ends.

In the mailbag, readers weigh in on China trade relations – I'm sharing thoughts from both sides of the aisle here…
Do you have any favorites on this marketplace list? You can see all 100 companies listed here.
Which of these marketplaces discussed did you use in 2020 or plan to use in 2021? For me, it was Outschool and Modsy. I also was a lighter user of Cameo and the resale apps. The one marketplace I heavily used in 2019 then not at all in 2020 was ClassPass. And after looking at all these outdoor travel sites, I have a sudden urge to book a weekend in a treehouse. Share your thoughts in an e-mail to [email protected].

"China is going to eat the Biden Administration's lunch. The meeting in Alaska with China and Antony Blinken's team was a small preview of things to come.
"Biden talks tough only to appear as if he is not beholden to China but it's a façade. They already have enough dirt on him and his family to control him like a puppet. On top of it all, most big business linked with the Washington establishment has already given away our industry to China and made the United States extremely vulnerable to China's future demands. We need to look no further than the fact that we 'off-shored' nearly all of our antibiotic production facilities to China as if there is nothing to worry about there.
"The effect of the limited microchip supply on the auto industry is another glaring example of China's leverage. There are a thousand other critical industries that we have lost or are currently losing, and the Biden administration couldn't care less. As long as the key players are making money, they have no real concerns about America's future. The fact that our President thinks there is a 'China North Sea' should tell you everything you need to know about his focus." – Blake R.

"Why does this issue have to be made so complex? Trump has three motivations, only three, that control his life. Greed, narcissism, and vengeance. TikTok was perceived to have spoiled attendance at Trump's big post-lockdown rally, thereby badly embarrassing him, and therefore TikTok must be destroyed. Trump cared nothing for larger issues, caring only that vengeance was carried out. Security concerns, etc. were just the justifications the minions used to try to carry out Trump's wish." – Anthony L.

"Allow totally free trade with all countries. Drop all tariffs to zero. Let people choose what products they want to buy.
"Simple." – Martin P.
Regards,
Berna Barshay
April 7, 2021