► A head-scratching deal prompts a speculative frenzy…
Last Tuesday, imaging company Eastman Kodak (KODK) announced a $765 million loan from the Federal government intended to fund the ramp up of its pharmaceutical ingredient manufacturing capacity.
The news sent the company's shares soaring. KODK shares spiked 200% from Monday's close of $2.62 to close nearly $8 on the day of the announcement. The surge continued Wednesday with the shares up more than 300% to close at $33.20, after touching $60 intraday (a 650% gain at their peak).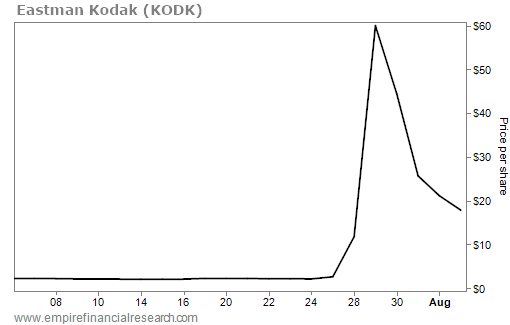 The loan seemed strange… It was the first of its kind utilizing the powers of the Defense Production Act ("DPA"), which authorizes the federal government to compel private industry to support wartime efforts.
The DPA was invoked earlier this year to respond to the COVID-19 crisis, when the Trump administration used it to force automaker General Motors (GM) to make ventilators and companies such as 3M (MMM) and General Electric (GE) to produce N-95 respirator masks.
In this case, the Trump administration is pursuing the valid and necessary goal of bringing more of the pharmaceutical manufacturing supply chain back into the U.S. The pandemic has highlighted the risks of being overly reliant on international manufacturing for mission-critical goods. Shortages of masks, ventilators, drugs, and even household cleaning liquids were a huge wakeup call that the combination of lean inventory levels and global supply chains introduces massive risk to both governments and corporations.
► While no one is questioning the end goal, the selection of Kodak as a key player in the onshoring initiative was a shocker…
Prior to the announcement, the company had a tiny market cap of roughly $100 million and had no prior business in the pharmaceutical arena. A quick search of Kodak's last earnings call reveals that the words "pharmaceutical," "medical," and "drug" don't appear.
According its own business description, Kodak's expertise in chemicals was solely non-drug related. From that transcript…
We also took great measures on focusing the business in three primary areas: print, advanced materials, and chemistry and chemicals…

We're focused on… going back to our DNA, which is print, chemistry, chemicals, and advanced materials.

We remain committed to these industries throughout this crisis. And we're going to continue to double down the digital even more so coming in the near future.
The call took place on May 12, so the newfound focus on pharmaceutical chemicals by July was a quick pivot… even for a relatively small company, with $1 billion in revenues and an operating loss last year.
► This wasn't the first pivot from the 'new Kodak'…
The Kodak that many of us grew up with – the company that made camera film back in the analog days – went bankrupt back in 2012. The rise of digital photography and camera phones killed the company, and the industrial shift from film to digital imaging put the final stake in its heart.
In addition to its consumer business, "old Kodak" was a huge player in medical imaging (like X-ray film) and movie prints – two highly profitable businesses that effectively saw sales go to zero in the new millennium.
The "new Kodak" saw sales cut in half from more than $2 billion when it emerged from bankruptcy in 2013 to last year.
In an effort to stop the bleeding, Kodak previously announced a major corporate pivot around 2018 into the "sexy" emerging technology area of blockchain, at the peak of its notoriety. In January of 2018, Kodak announced "the launch of the KODAKOne image rights management platform and KODAKCoin, a photo-centric cryptocurrency to empower photographers and agencies to take greater control in image rights management."
KODK shares soared… which is a reason why investors with longer memories got a serious case of déjà vu last week. Just look at that spike from $3 to $11 in two days…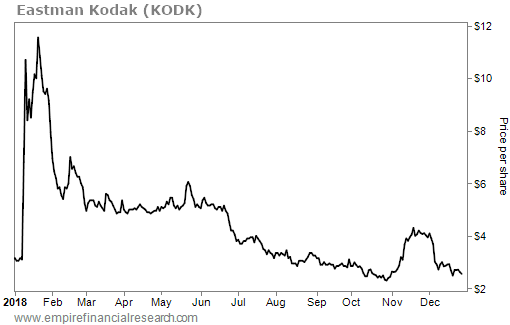 Suffice to say, the word "blockchain" also doesn't appear in the most recent Kodak conference call transcript, either…
► Kodak's management team was different during the pre-bankruptcy years, but it pulled from the same investor relations toolbox…
The old Kodak played a giant role in my education as an investor. In my first equity investing job at Sanford Bernstein in the late 1990s, one of my first assignments was a deep dive into Kodak, which at the time had around $14 billion in revenues and was screening as one of the cheapest stocks in the U.S. market.
I read reams of reports and flew to Rochester, New York for private meetings with the CEO, CFO, and divisional heads. I built an Excel model with almost 1,000 lines… I modeled future demand to incredible specificity – forecasting not just the number of rolls of film the company would sell in the U.S., but things like Asian demand for X-ray film and how many copies of blockbuster film reels would need to be printed for Europe five years out.
When it was finally time to review my work, I vividly recall it was the most tense research review I had in that job. Our cash flow models were screaming at us to buy Kodak's stock, but after weeks of research, I had identified it as the very definition of a value trap. This wasn't the answer the CEO of Bernstein wanted to hear… But cellphone photography had already taken off like a rocket in Japan, and I knew it was only a matter of time before the U.S. and Europe caught up.
► Kodak taught me what a value trap is…
When I left Bernstein and went to hedge funds where I could short stocks, I shorted Kodak for much of the next decade. Every couple of years I would lose money in it, because management would invent wild fantasies about amazing new growth industries it would pivot into, despite a lack of experience and ample competition.
It took 14 years from my trip to Rochester for the company to file for bankruptcy and eventually go to zero, but the stock was down 10 of those 14 years.
Those four years it was up were kind of painful though for the shorts like me… We would ultimately be proven right, but had to suffer increases as high as 26% to 27% in the up years.
Of course, losing just 27% on a Kodak short seems like child's play now, with the shares up 1,200% in just two days last week… when 561 million Kodak shares traded hands – a number more than 20 times its free floating shares and almost 2,500 times its average volume the prior weeks.
► This kind of rise in both price and trading volume reeks of speculation…
While a $765 million cash infusion is transformative to a company Kodak's size, this cash comes in the form of debt. So, the $550 million of market cap it has tacked on – even at today's price of $15 per share – implies some heroic assumptions of what Kodak does with the money.
Commodity chemical manufacturers – which tend to be highly cyclical – have peak margins around 12% at best. In bad times, they barely make money. I have no idea how long it will take for Kodak to convert its Rochester and St. Paul, Minnesota factories from imaging to pharmaceutical chemicals, and what prices and margins they will sell them at once the transition is done.
It's hard for me (or anyone) to do math here. But no one buying KODK shares last week was doing any math, just like they weren't during its blockchain bubble… nor during those years Kodak promised it would become the leader in digital copy machines and printers, and whatever other new business ventures it touted pre-bankruptcy.
► So who traded those more than 500 million shares?
The same folks that sent the shares of bankrupt rental-car company Hertz (HTZ) up almost 600% in early June: the Robinhood day traders. I previously wrote about how the day trading-driven price action these days reminds me of 1999, and this Kodak moment only reinforces that. As Bloomberg's Matt Levine observed last week…
The stock market is a video game that people play on their phones, and Kodak has racked up a high score. Really "microcap formerly bankrupt company with an iconic American name pivots to supplying hydroxychloroquine to Donald Trump in exchange for bushels of government money" is just the purest possible drug to feed to Robinhood.
We can see from app watcher Robintrack.net that the Kodak story was indeed catnip for the Robinhood crowd, as the number of accounts holding KODK shares jumped from roughly 9,000 to around 120,000 early last week…

Source: Robintrack
This kind of trading isn't investing… it's gambling.
Efficient-market theory would say that this kind of rampant speculation would be met with a counter bet from cooler-headed, more analytically driven investors… but any pro would tell you that shorting microcap companies with a small amount of free-floating shares outstanding is a loser's bet, no matter how "theoretically right" you are in your analysis.
► This speculation is all fun and games, until someone breaks the law…
Though the news of the loan dropped on Tuesday morning before the market open, KODK shares had risen 25% on Monday, on almost 7 times normal volume.
As we used to say at one of the funds I worked at, clearly somebody had Tuesday's newspaper on Monday.
Except this time, someone really did.
The Wall Street Journal reported that Kodak management inadvertently tipped off several reporters to the deal on Monday, prior to its broad announcement on Tuesday. When the company realized its error, it asked ABC and CBS affiliates in Rochester to pull the stories from their websites.
Talking to the press before putting out a release is a big securities regulation violation. And if a company does do that accidentally, the proper course of action is to issue a press release with the market-moving news immediately, not try to "un-tell" reporters and have previously published stories retracted.
The U.S. Securities and Exchange Commission ("SEC") announced last night that it is opening an investigation into Kodak's disclosures and Monday's trading. Massachusetts Senator Elizabeth Warren has asked the SEC to also investigate the grant of 1.75 million options last Monday, the day before the deal announcement, to Kodak Executive Chairman Jim Continenza.
Continenza's options have appreciated by more than $20 million in the eight days since the announcement (and were briefly worth multiples of that before the shares traded down). Both Continenza and Philippe Katz, a Kodak board member, purchased KODK shares during the last two months, while the company was negotiating with the government. Usually an insider share trading blackout occurs when a company is actively evaluating a cash raise, merger, acquisition, or other significant corporate event.
► The drama at Kodak the last few days is worthy of a soap opera…
Long before any pharma chemicals are ever made, we already have some clear winners and losers. Management is counting paper gains, speculators that were nimble and early are counting their real money profits, and speculators who bought at the top are staring at losses of 75% or more in a few days.
While I would never endorse this kind of speculation, it's important to know that it's happening… so you don't end up on the wrong side of it. And clearly it is working out for some people, as Bloomberg reports that the most popular holdings on Robinhood are up 1% on average year-to-date, versus a decline of 7% for the average S&P 500 Index constituent.
But buyer beware when trading speculatively in companies for which the price has no relation to future cash flows. This kind of trading – while potentially lucrative – is akin to a game of musical chairs, and you don't want to be the one caught standing and holding a bag of worthless stocks.
► Cryptocurrency enthusiasts filled today's mailbag…
Have you been day trading lately? Have you traded any of the Robinhood favorites? Share your triumphs and blowups either anonymously or with attribution with an email to [email protected].
► "I first learned about Bitcoin at a Thanksgiving dinner like many others when their interest and curiosity about this new investment opportunity. My son who had been given a few coins by someone he knew went back to NYC telling me to stay away. I remained curious and frustrated with him. Finally, I begged him to get me into Coinbase. I invested $3000 and here and there a bit, pun intended, more. This, I promised my son was a long-term investment.
"I missed the $20K rise and saw ups and downs. In all I invested about $12K and moved from bitcoin into Ethereum. Slowly but surely, I pulled it all out as one crisis or another told me to check my Bitcoin value. In 3 years of sitting on $3000, there was little change. Now I know enough about different companies and financials that are involved to start investing in earnest, just as in metals and equities. We made enough on a house sale to make it necessary to diversify into different forms of investment. I added $12K back into Bitcoin the other day, and really wish I had the nerve to add more. I just might.
"Printing of more and more money and a possible socialist president has me more than concerned. No one can take my Bitcoin away from me as once happened with gold, even here in our USA. Of course, it was exchanged for a loss of value. So here I am, starting to learn again now that my husband and I are both retired. Thanks for your story" – Gail F.
► "I bought shares of MGTI just so I have some exposure to Crypto. My hope is to get in on the ground floor and ride the wave as the currency and the company go up in value." – Chris F.
► "Yes, I have been trading crypto since 2015 or so. My son was interested and got me in interested. We are kicking ourselves for not holding our original positions when it traded for less than $1000 per bitcoin. We have created a nice portfolio of BTC, ETH, and about a dozen other tokens. I love your newsletter and have been a Stansberry subscriber for several years. I love your enthusiasm for this new technology. It's contagious!!" – Raphael T.
► "Yeah I do [trade crypto], Berna… there's been fun and sad… my biggest gain this far is for crypto – a 10x bagger… but I lost many in crypto because of hacks too…" – Fredrik H.
► "I live in Edmonton, Canada and would like to buy Bitcoin. How can this be achieved? Any assistance would be very much appreciated." – R.B.
Berna comment: There are a bunch of online exchanges where you can trade cryptocurrencies. Coinbase is one of the biggest ones. There's a Canadian one called Bitbuy. I don't trade crypto, so I can't endorse one over the other. But I know Crypto Capital editor Eric Wade has put together several special reports to show his readers how to buy. If you're interested in learning more about his excellent product, you can click here.
Regards,
Berna Barshay
August 5, 2020