Editor's note: Today in Empire Financial Daily, we're turning things over to our colleague Greg Diamond from our corporate affiliate Stansberry Research...
With 16 years of trading and portfolio management experience, Greg has traded for a $3 billion hedge fund and a $35 billion pension fund. He managed multimillion-dollar portfolios across various asset classes, and he holds the Chartered Market Technician ("CMT") designation.
Greg is an expert in "technical analysis" – using charts and trends to analyze stock and broad market movements. And as he explains in today's essay, the movement of two key stocks could spell trouble for the bull market...
---

A few months ago, I attended the annual Stansberry Research Conference in Las Vegas...
It was nice to interact with other humans for the first time in a while.
During the conference, one subscriber in particular stood out to me...
He thanked me for a book I recommended a long time ago – Intermarket Analysis: Profiting From Global Market Relationships by John Murphy. He said it really changed the way he looked at markets and how they interact with one another.
Intermarket Analysis is a great read that dives into how markets behave. And most importantly, it explores the warnings that pop up at the end of big moves. You see, based on history, I'm noticing the same price action that usually marks the end of a bull market...

So today, I want to cover what you should keep in mind as we witness stocks rocket to new highs...
In my Ten Stock Trader service, I identify strong short-term trading opportunities for my subscribers through "technical analysis" – a strategy that relies on studying past market and human behavior to predict what's next.
Today, I'm going to show you how to use technical analysis to analyze two big stocks – construction giant Caterpillar (CAT) and tech leader Microsoft (MSFT).
These stocks represent different sectors of the economy, and when they're rallying together, it's a sign of strength. When they're not, it's usually a warning.
Right now, we're seeing a very wide divergence...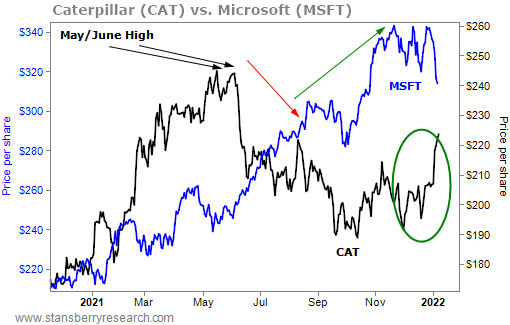 It's a simple analysis here...
Caterpillar has failed to achieve new highs after topping out in May and June 2021, while Microsoft has skyrocketed to new highs lately. Notice the green circle on Caterpillar as it attempts to make a rally recently.
Now, look at this chart of the price action from 1999 to 2000...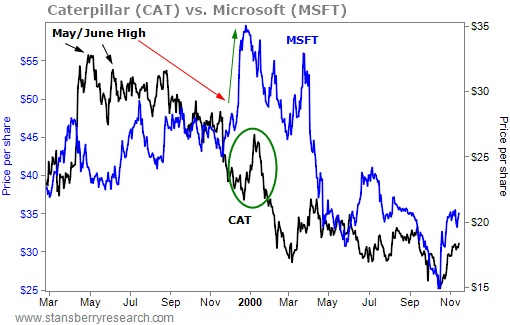 The price action in the first half of the chart is almost identical... Caterpillar topped out in May and June 1999 and traded down, while Microsoft skyrocketed to new highs (just like it's doing right now). Note the green circle on Caterpillar back then, too. It's the exact same price action as now – an attempt to rally that failed.
Ultimately, as you can see above, this wide divergence between Caterpillar and Microsoft led to a massive crash and big bear market. In short, the price action in the Nasdaq 100 from 1998 to 2000 is still very much in sync with the price action from 2020 to the end of 2021.

When I compare what happened between Caterpillar and Microsoft back then and now, it gives me more evidence that history is indeed repeating...
All is not well under the hood of the stock market.
If this analog continues, I'm expecting this bull market to end by February or March 2022.
Yup – that's a bold prediction, I know. But let me explain further...
This analog has been on point for more than a year now, so there's no reason for me to doubt it. I say it often to my Ten Stock Trader subscribers – be unbiased and let the price action guide you.
Right now, that price action is repeating in an unbelievable fashion. Again, look at the two charts above side by side... and really ask yourself if you can ignore it. I can't.
It's incredibly important to recognize that stocks like Caterpillar and Microsoft are acting in the exact same way now as they did back then. Again – it's more evidence that history is repeating.

So prove me wrong, Mr. Market... But for now, I'll respect your history.
The patterns forming in the market right now indicate that we could be on the brink of a huge crash.
This Thursday, January 13, at 8 p.m. Eastern time, I'm sharing a critical message to investors about this big event. I'll explain the details of my technical analysis strategy... and reveal the exact day that stocks could see their biggest move in 2022. Learn more right here.
Regards,
Greg Diamond
January 10, 2022