Editor's note: In today's Weekend Edition of Empire Financial Daily, we're sharing more insights from our friends at our sister company Altimetry...
As regular Empire Financial Daily readers know, Altimetry founder Joel Litman is a forensic accountant and CPA who specializes in "Uniform Accounting" – a methodology that he and his team use to determine a company's real financial health and earnings. After making dozens of adjustments to the as-reported financial statements, Joel and his team can look past the accounting "noise" to gain a clearer picture of how a company is actually performing.
Today, his colleague Rob Spivey explains how Uniform Accounting shows that one country's stocks have seen big outperformance compared with their global peers...

It has been a tough year for the global markets...
After two shockingly strong years following the onset of the pandemic, things are starting to reverse course. And the landing hasn't exactly been a smooth one.
The S&P 500 Index is down 15% this year. A large portion of this decline can be attributed to rising inflation and interest rates.
These struggles aren't limited to the U.S., either...
Most of the global markets have fallen in 2022. Many countries have seen even worse declines than the U.S. due to the recent strength of the dollar.
Weakening currencies, higher interest rates, and concerns about slowing economic growth have led to significant market dips worldwide. In Germany, the DAX Index is down nearly 10%. Hong Kong's Hang Seng Index has fallen about 20%. And of course, Russia's MOEX Index is down more than 40% amid the war with Ukraine.
But not every economy is feeling the pressure. While some of the largest countries in the world have struggled, one in particular is thriving...
Brazil is one of the world's largest commodity exporters. Its top exports include soybeans, iron, petroleum, and sugar. Robust demand for these commodities has helped the country withstand global downturns this year.
The iShares MSCI Brazil Fund (EWZ) – an exchange-traded fund that tracks Brazilian stocks – has outperformed its peers in 2022 by a wide margin. In fact, while the global markets are down 16% on average, Brazilian stocks have risen an impressive 14%.
Said another way, Brazilian stocks have outperformed the global market by 30 percentage points. That's impressive considering today's economic uncertainty.

Possibly even more impressive, Brazil's economy has thrived in the midst of political uncertainty...
The country held a presidential election in October. People weren't sure if polarizing far-right incumbent Jair Bolsonaro would stay in power... or whether left-leaning former President Lula da Silva would return to office.
Leading up to the election, neither candidate appeared to have a clear advantage. People also didn't know if Bolsonaro would peacefully step aside if he lost. Back in August, he claimed that he would either win the election, be arrested, or be killed.
Neither candidate won a majority of the votes, leading to a runoff. In the end, da Silva won by the smallest margin in recorded Brazilian presidential election history. Bolsonaro stepped down without resistance.
Here's why this is important... It's difficult for a country's economy to thrive in the face of political turmoil.
Brazil was able to navigate this potential pitfall without much difficulty. From Bolsonaro's comments in August through the runoff election at the end of October, EWZ was largely flat.

We're not surprised to see Brazil emerge as a winner in 2022...
That's because Uniform Accounting shows that its economy has been trending upward for years.
Brazil's aggregate return on assets ("ROA") hovered around 2% between 2012 and 2018. In 2019, it jumped to 5%.
Then, in 2021, ROA doubled to 10%. And that number sits at 12% so far in 2022...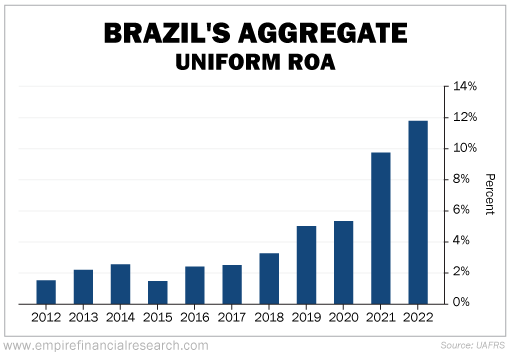 Remember, ROA tracks profitability and efficiency. Looking at this chart, it's clear that Brazil's economy has been improving. Its companies are more efficient and have started turning regular profits.
When ROA takes off, it's usually only a matter of time before the market notices. Stock prices usually follow.
Stocks in the U.S. and Europe are struggling... and will likely trade sideways for some time. If you're looking for a new place to put money to work in this turbulent environment, Brazil might just be a promising market today.
Regards,
Rob Spivey
December 3, 2022
Editor's note: Altimetry founder Joel Litman is now sharing a powerful secret – something that, if implemented, could have a dramatic effect on your wealth starting immediately. It's something forensic accountants at the FBI and high-ranking officials at the Pentagon ask for regular briefings on... And some wealthy investors have paid as much as $100,000 per month to access it. But you can get all the details – free, for the first time ever – right here.