Editor's note: Today's essay comes from our colleague Steve Sjuggerud over at Stansberry Research, from his free DailyWealth e-letter. He's one of the most widely followed financial analysts in the world, with more than 500,000 people relying on his research. And right now, Steve is seeing a big trend taking place in the markets…
---
"You know, the stock market is controlled by only four people," a guy said to me as I waited for my next flight.
I was headed to a conference in Las Vegas. I'd sat down next to this new "friend" during my layover. We had started chatting and quickly found we were both interested in finance.
Now, if you travel much, you know how layovers go. They can be brutally long… or so short you have to race to make your connecting flight… or just downright weird.
This part of the conversation was about the point when I realized mine was moving into the "weird" category.
I didn't know how to respond to the guy. So I just smiled and nodded. But in my head, I was thinking, "You've got to be kidding me."
I had an hour until my next flight, so I decided to humor him. Maybe his yarn-spinning would reveal some deep truth…
What I learned is that this poor guy had been fooled in a big way. It doesn't have to happen to you though, as I'll explain today…
"These guys are the only ones with enough power to make the markets move," he told me. "And they have the money to back it up."
OK… I guessed he was thinking of the Jeff Bezoses of the world? I still wasn't sure…
"Their power and money gets them information that others can't access. And they make money hand over fist while others lose a bunch of money."
I started to see where he was going. He continued before I could get a word in…
"Individual investors stand no chance with these guys making all the moves. They're the only ones who will ever make money."
That's when it all made sense. The poor guy had likely had a bad experience where he lost a lot of money in the market. And as a result, he was convinced the little guy didn't stand a chance.
That idea wasn't nearly as crazy as his opening sentence. I could understand how he got there. This guy felt like he'd been robbed by the market in some way. So he pinned it on four insiders with enough power and money to dictate market moves.
He had lost all hope as an individual investor. But if you're reading this today, I have an important message for you…
He's wrong. And you don't have to fall into this trap.
Now, I know there are investors out there who are smarter than me, or better-connected than me. But I don't need to be the smartest guy in the room to make money in the markets.
You can make money as the "little guy" on Wall Street.
You just have to know one thing – something that gets at the heart of what drives the markets every day.
I think of it as the "DNA test." It's what makes the market work like it does. And once you understand it, you can exploit it to your benefit.
It's simple. Anyone who is willing to put in a little effort can take advantage of it. You just have to think about what drives the stock market… at the most basic level.
At a glance, the market is hugely complicated. It's a fortress of moving parts. And it takes in hundreds, even thousands, of data points each day to determine prices.
That's all true. And I realize it's a bit daunting. But there's a deeper truth to the market that has a massive effect on what it does.
Remember, the buying and selling activities of real humans are at the core of market action. These folks try to weigh the evidence themselves. And they make bets based on what they expect to happen next.
When it comes down to it, folks make trades for two main reasons: greed, or fear. They either buy because they expect prices to move higher… or they sell because they expect prices to fall further.
This happens every day. And it's where the DNA test comes in. We want to see whether the market is running on greed or fear… Or, in other words, we want to see what the market is made of.
If folks are all buying in unison, the market is showing extreme greed. This tells us most investors are already in on the trade.
Hugely positive sentiment like this is a troubling sign for the market. Think of it this way… If investors are all betting stocks will go up from here, there's no one left to buy more. There's no one left to push prices higher.
When investors are "all in," that's when a rally is likely running out of steam.
Conversely, if investors are all jumping into their bunkers, that fear is a sign of the exact opposite. It shows that investors are expecting more losses… And it means there's no one else to sell and push prices lower.
On an individual level, this information doesn't tell us much. But when a mass group of investors bet in the same direction, it's a sign that the market is about to take a turn.
Gauging this overall sentiment is how we test the DNA of the market. By understanding what the masses are doing, we can get a grasp of what's likely to come next. It tells us if stocks are healthy… or if a crash is imminent.
Consider what happened back in March. We saw the scale tilt into "extreme fear" mode based on the CBOE Volatility Index ("VIX").
The VIX is the market's "fear gauge." It measures the implied volatility of the options market. But more simply, it tells us if folks are scared or not.
When stock prices swing wildly, the VIX rises. And that usually means fear is increasing.
When the VIX peaked on March 16, it was a sign of maximum fear. Just a week later, the S&P 500's month-long fall came to a halt. It stopped falling and started soaring.
The S&P 500 hasn't looked back since. Take a look at the chart below…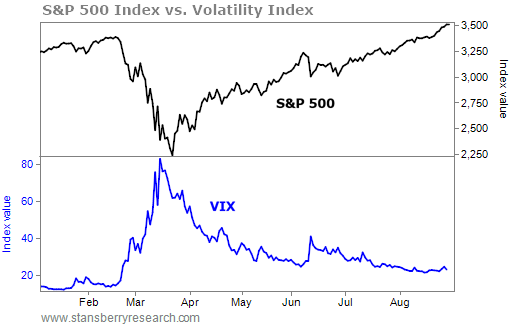 This is the market's DNA test in action…
By examining what investors do at extreme moments, we're able to peek at the DNA that's driving prices.
Even more, these moments of extreme fear are indicators that a buying opportunity has arrived. And you don't have to peg the exact peak in fear to make money, either.
In fact, even as fear subsides, you can still make big money in the following months…
Since 1990, you could have outperformed the market significantly by buying after the VIX spiked above and fell back below 35.
Similar cases have led to nearly 12% returns a year later. Meanwhile, the S&P 500's typical one-year return over that same time frame was 7%.
Now, the VIX isn't the only way to test the DNA of the market. Anything that measures broad market sentiment can be useful. This is just one simple way to do it. And obviously, following the VIX is darn useful.
Again, the VIX peaked in March. And stocks started to rally shortly after.
That's why I've told my readers to get back into U.S. stocks since the beginning of May. And today, with a strong trend in place, it's still the right move.
But the bigger point today is, understanding the DNA test for the market is what will give you a leg up on the investing competition. It's how the "little guy" can enjoy fantastic returns. And I urge you to put it to work in your own investing starting now.
Good investing,
Steve Sjuggerud
---
Editor's note: On Wednesday, Steve went on camera to update folks on his massive "Melt Up" thesis with a critical new prediction… and explain what investors should do with their money right now. If you missed the event, you're in luck… For a limited time, you can still get all the details right here.