► A celebrity connection marketplace offers anyone with a credit card the opportunity to interact with the A-list…
Cameo lets you buy personalized video messages from actors, athletes, social media influencers, reality TV stars, comedians, Broadway veterans, models, and pop stars. It has a section featuring popular animals from Instagram and elsewhere. And I even found a former head of state on there (Vicente Fox of Mexico), as well as a bunch of people impersonating other ones.
The website and its app are sorted into sections where users can search according to personal interest, with categories on the home page ranging from the general (such as "Actors") to the extremely specific (such as "Real Housewives" and "Political commentators").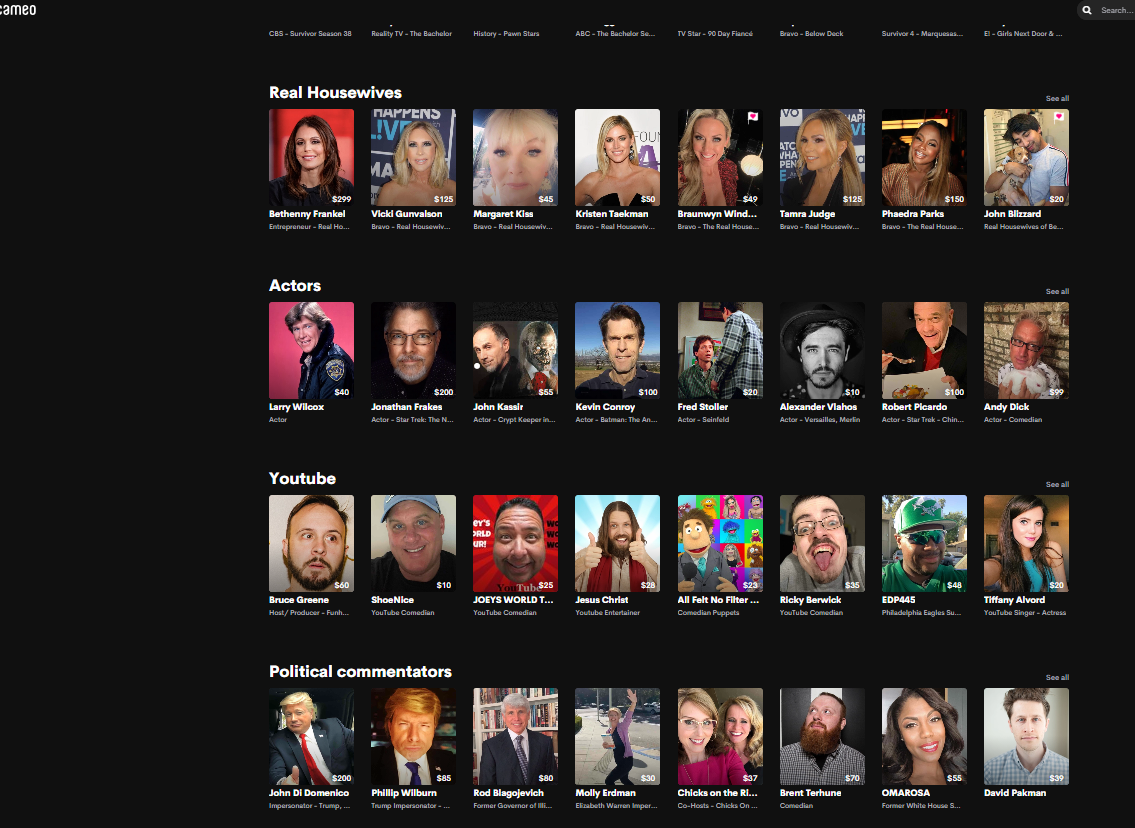 Source: Cameo
A dive into the full menu of categories reveals literally hundreds of stars you can connect with in broadly popular categories such as "Comic-Con," "Disney," "Baseball," "Rappers," "Country Music," and "Influencers." But searching in even more niche interests like "Surfers," "Magicians," and "Survivor" will yield dozens of options.
Some "celebs" will make you a video for as little as $20 (sometimes less), while the most expensive videos cost many multiples more: rapper Snoop Dogg will record a message for $750, and former athlete and reality star Caitlyn Jenner charges a whopping $2,500 per video.
No matter what they charge, once they have their Cameo account set up, celebs only need to invest a few minutes recording a video to get paid their fee.
According to mobile research site Broadbandchoices, the top 10 earners on Cameo – pulling in more than $100,000 each – include comedian Gilbert Gottfried and actor Sean Astin. The top earner – boasting more than $220,000 – is Cop Land actor and recurring Friends guest star Michael Rapaport.
OK, maybe Cameo is more like your ticket to the C-list, or the B-list from 1995…

Cameo's founders came up with the idea because the 'selfie is the new autograph'…
Cameo co-founder Steven Galanis recently explained the inspiration for the three-and-a-half-year-old business to tech site Wired…
When you see somebody famous in real life, no longer are you picking up the Sharpie and getting them to sign something. Now you need to take a selfie with them and put it on Instagram or it didn't happen. That said, very few people are ever going to meet their idols in real life.
When users want a video for themselves, or commonly, for a gift, they just need to type in guidance for what they want the celebrity to say, add payment information, and then they're done. Within seven days, the video will be completed and available for viewing. Users can choose whether to keep their video private or public.
Cameo keeps 25% of the revenue and offers some advice to its more than 30,000 celebrities about what to charge. According to Abbie Sheppard, head of Cameo's U.K. and European office, "It's about how much your fans can afford, not how much you're worth."
Like all good marketplaces, Cameo lets users leave reviews. Well-reviewed celebrities who respond quickly, are extremely enthusiastic in their presentation, and who seem to go the extra mile in either customization or length of video may see their demand soar and outpace their fame.
Cameo is private, but I imagine that this is a profitable business model. Most marketplace businesses are high-margin once they hit scale. Once they find momentum with buyers and sellers, marketplace costs are mostly fixed – this is something I discussed last week in the context of Australian custom-products marketplace Redbubble (RBL.AX).

And Cameo isn't the only game in town…
CelebVM.com launched in 2013 and got a four-year head start on Cameo. Based in the U.K., CelebVM.com has fewer celebrities listed and skews decidedly British in its selection, although there are some celebs listed on both sites.
Other competitors include Greetzly, which dominates in Germany, France, and Italy… and TheWysh.com, which focuses on Bollywood stars.
Broadway Plus, which before the COVID-19 pandemic secured Broadway stars for concerts and personal appearances, added virtual experiences to its offerings this spring, and allows users to search by popular shows such as Hamilton, The Lion King, and Wicked. In addition to video shout-outs, users can purchase acting or dance lessons, vocal coaching, or a virtual concert.
The proliferation of these sites has been a major lifeline to live theater performers, as well as other artists who make their living performing live in front of large groups (which are currently prohibited from gathering), such as stand-up comedians and dancers.
While actors, television personalities, and athletes may enjoy some continued income from a combination of residuals, endorsements, or fixed contracts, most live performers don't have many options to earn money right now… so the opportunity to make $50 or $100 from a few minutes work is a lifeline.

This appears to be yet another business that saw a boost from the pandemic…
On the supplier side of the equation, celebrities are free to hop on and off the site according to how busy they are. With film and television production shut down, concert tours postponed, and sports matches canceled last spring, a bunch of potential video creators suddenly had a lot more time on their hands… and many also had a greater need for income.
In June 2019, Variety reported that Cameo had worked with 15,000 video creators. A little over a year later, press reports mention 30,000 creators – implying that sellers on the site have doubled in just over a year. U.K. and Europe Cameo boss Sheppard told Wired that during just February and March of this year, the site saw a 77% increase in talent signing up. Co-founder Galanis told fashion and entertainment blog Refinery29 that videos created on Cameo grew 30% just in March of this year.
Some celebrity holdouts that were uncomfortable charging fans have come on with a commitment to donate all proceeds to charity, or more recently, specific political campaigns.
On the buyer side, reduced travel, dining out, dressing up, and entertainment expenditures leave consumers who have enjoyed stable income throughout the pandemic with extra money in their pocket… and more time on their hands.
For many years, consumers had been allocating more and more of their available cash to experiences over things.
Travel, concerts, theater, dining out, getaways, big parties celebrating life events, and other experiential expenditures had been gaining wallet share from buying objects like cars, jewelry, and fancy clothes. The pandemic brought this megatrend to a screeching and abrupt halt, as so many experiences were taken off the menu entirely for some time and remain offered in a scaled down way right now.
Cameo and similar sites offer one way to spend on experiences and create memories within the constraints of the pandemic.

Small videos are big business…
Last June, Cameo closed a Series B venture capital round, raising $50 million and establishing a $300 million valuation. And that was before the pandemic kicked business into overdrive and a Cameo video became the perfect present for your mom who you couldn't take to a restaurant, or your best friend across the country who you couldn't go visit.
And there was nothing B-list about the firms that lined up to give Cameo cash for its expansion…
The round was led by the legendary Silicon Valley venture capital firm Kleiner Perkins, an early backer of now tremendous companies like Genentech, Intuit (INTU), Square (SQ), Uber (UBER), Slack (WORK), Twitter (TWTR), and most famously, Amazon (AMZN).
The savvy investors who participated in Cameo's Series B round know that once marketplace businesses catch fire, there's usually only a small number of firms that dominate the market. And at Cameo, the company is creating a product that didn't exist before in any kind of efficient and easily accessible way.

The total addressable market ('TAM') here is only limited by people's interests and imagination…
With everything from NBA stars to Tony winners from Broadway to TikTok breakouts and a litany of Real Housewives, there really is something for everyone on Cameo… with not only every interest represented, but also every age level and geographic location.
The potential customer base is anyone who is or ever was a fan of at least one team, sport, band, show, movie, book, or social media star.
According to Wired…
The company's philosophy, Sheppard explains, is that whether you're nine or 90 years old "there should be someone on Cameo for everyone."
To stay relevant and give fans what they want, the Cameo team actively monitors what's going viral as well as what people are searching for on the site. If lots of people suddenly start searching for a particular person who isn't a Cameo creator, the talent team goes out and recruits the person to join the site.
As Wired recounts…
Within two weeks of Netflix releasing big cat true crime documentary Tiger King, for example, the majority of the cast was on Cameo, some earning tens of thousands of dollars. Since Wide Neck [a rapper who did Cameos while incarcerated] has proved even jail is no barrier to entry, Galanis is hopeful that Joe Exotic, currently languishing in a Texan federal prison, might yet make an appearance on the site.

"We haven't got to [him] yet," says Galanis. Exotic's arch-nemesis Carole Baskin joined as Wired went to press: she costs £140.27, has a 5-star rating, and introduces herself as "Joe Exotic's intended murder victim."
The results from this recruitment effort are indeed hilarious… newsletter The Hustle solicited readers to send their best cameos, and this one from Baskin was one of the winners, for reasons that will be apparent to anyone even vaguely familiar with the show.

Cameo's goal is to eventually get every celebrity on the planet on the site…
In the meantime, the company has expanded on ways to monetize the ones it has. Cameo has entered the meet-and-greet business by introducing Zoom calls for two-way interaction. It's also offering a paid direct messaging feature and pursing the business-to-business market, facilitating company shout-outs and informal endorsements.
With so much of the world obsessed with fame and the famous – and with social media facilitating so many people achieving niche notoriety – Cameo's business model doesn't seem like a flash in the pandemic pan.
While many creators won't need the money once live performances resume and filmed production fully ramps up, plenty will stay on to reinforce their personal connection with fans… which only increases the staying power of their celebrity.
Already, many celebrities on Cameo don't need the money… for example, Snoop Dogg is worth more than $100 million. Also on the site are actor and comedian Chris Tucker, who has earned $20 million or more for each of the Rush Hour sequels… British actor Tom Felton, who earned in the tens of millions for his portrayal of Draco Malfoy in the Harry Potter film series… and Shark Tank's Kevin O'Leary, who's worth $400 million.
Cameo offers something theoretically priceless to both buyers and sellers – connection – but finds the market price for it and takes its 25% for making the match. It's a great business model, and I would expect that given its trajectory, we could see it go public at some point… if one of the tech giants doesn't gobble it up first.

On another note, join me this Wednesday at 8 p.m. Eastern time for a special online event…
Are you worried how the November election could affect your portfolio? I'll be joining my colleagues Whitney Tilson and Enrique Abeyta to give you tangible recommendations on how to profit from the upcoming election.
During the event, we'll explain how we think the election will turn out… and based on that, we'll share which sectors we think will do best and worst in that scenario.
This event is free to attend, but you need to sign up in advance to secure your place. Click here to reserve your spot.

In today's mailbag, comments reflecting how the pandemic has changed eating habits, and one reader wants a video game recommendation (I'm deferring to my colleague Alex Griese for an answer on that one)…
Have you tried Cameo? If so, how was the experience? If not, does this sound like something you'd be interested in trying? What piques your interest – TV or film stars, sports stars, pop stars, or stars for kids? Do you only want current ones, or do nostalgic favorites from past decades work for you? Share your thoughts – and your past Cameo video purchase, if you have one – in an e-mail to [email protected].

"Berna- Our main meal change is that we are eating more lunches at home. We used to eat lunch – our largest meal of the day – in restaurants 5-6 days per week. It went to zero when restaurants were closed, then to once per week when they opened to 25% occupancy, now with 50% occupancy, about 2-3 times per week.
"However, our grocery shopping has changed little, except buying for more home-cooked lunches. We only used home delivery twice, and my wife, who has far fewer risk factors for COVID-19 than do I, has changed little in her shopping frequency, but strictly follows mask use, hand washing, hand sanitizer, etc., to reduce her risk of contracting COVID-19 and bringing it home to me." – Otto K.

"Thank you for your interesting information. We are over 72-years old and a simple pleasure we had was going to our local supermarket. After the pandemic struck, we ceased going into any market or store at all. We only use Instacart and are very satisfied.
"When the pandemic is over, we intend to continue using this service. The added expense is more than offset by time and fuel savings. We hope that the gig workers in our state will continue to be treated as independent contractors for [their sake] and all of us that depend upon them. Many thanks" – Dave A.

"Berna – I'm definitely eating more healthfully this year, though Covid-19 is only a minor influence. We've shifted entirely to online grocery ordering, with pickup outside our local supermarket (Raley's). Some purchases formerly from our supermarket are going to Amazon (AMZN), Walmart (WMT), and Costco (COST) online. We haven't shopped inside a physical store for five months.
"P.S.: And I'm glad Microsoft is NOT buying TikTok!" – Daniel F.

"I have not eaten in a restaurant since late February. While I do utilize take-out once and a while, we cook all our meals at home. While we have always been healthy eaters, we have not been missing eating out now that we are in the habit of cooking." – Chris M.

"Do you have a recommendation for a video game for a 69-year-old wanting to get into the act? I've always wanted to play, but didn't know where to start!!" – Maggie K.
Alex Griese comment: Maggie, if you can play with other people, I'd highly recommend playing Overcooked 2. It's a fun and easy game where you and your team have to assemble orders for a restaurant. There are only a few buttons, so the skill threshold is low… but the game is all about teamwork and communication!
But if you're going to play a video game alone, I'd highly recommend Animal Crossing: New Horizons for the Nintendo Switch. It is an open-world game, meaning there's no story to complete, where you live on a deserted island with animals. You build and design homes, tend to your garden, and even throw parties.
Overall, I'd highly recommend sticking to Nintendo games since they're easy to learn how to play and are some of the best games I've played. I hope this helps!
Regards,
Berna Barshay
September 21, 2020