► On Wednesday, LVMH (LVMUY) called off its merger with Tiffany (TIF)…
In June, I wrote about the first cracks to appear in the Paris-based luxury giant's $16 billion deal for the U.S. jeweler. The long-speculated tie-up was first announced in November 2019, but the world has clearly changed since then. Boston Consulting Group predicts that global luxury goods sales will fall between 25% and 45% this year, and that the recovery in the sector could take years.
In a press release, LVMH said the deal was off, but gave an unexpected reason. While the effect of the pandemic on the retail and luxury goods sectors clearly led to buyer's remorse over the deal's price, if not the deal itself, changes to the consumer outlook wasn't the rationale for walking away. Instead, in a highly unusual move, LVMH assigned blame to actions by the French government. According to the company…
The Board learned of a letter from the French European and Foreign Affairs Minister which, in reaction to the threat of taxes on French products by the U.S., directed the Group to defer the acquisition of Tiffany until after January 6th, 2021.
LVMH has clearly been looking for a way to at least force Tiffany into a lower price, and possibly for a legally valid excuse to walk away altogether. The government basically threw the company a huge bone with this letter. The letter from the European and Foreign Affairs Minister – the French equivalent of the U.S. Secretary of State – was a huge gift to LVMH, offering it the possibility of a true out on the deal.
Since the terms of the original merger agreement require that the deal close by November 24 this year, LVMH can now argue it must walk away, since the government has precluded it from closing before January 6, 2021.
Tiffany responded with a lawsuit asserting that LVMH had breached the terms of the merger agreement by leaving it in the dark about its discussions with the French government. LVMH filed a countersuit, accusing Tiffany of "dishonesty" and mismanaging the COVID-19 crisis.
► Is this mess the sign of a new trade war brewing… or instead the cozy relationship between the French government and its wealthiest and most influential citizen?
The U.S. has been threatening to enact tariffs on French luxury goods in retaliation for France's new digital tax that hits U.S. giants like Amazon (AMZN) and Alphabet's (GOOGL) Google.
But it's unclear how significantly the American tariffs, if implemented, would change the economics of the LVMH-TIF tie up. Such tariffs would certainly affect LVMH, but no more so as an owner of Tiffany than in its current state. The new tariffs also remain unfinalized and far from a done deal.
The surprise of the letter has some observers wondering if LVMH engineered this assist. LVMH Chairman Bernard Arnault is the third-richest person in the world and the wealthiest man in Europe, with a net worth of nearly $120 billion. As a longtime backer of French President Emmanuel Macron and the leading funder of the high-profile effort to restore Paris' Notre Dame cathedral after its devastating fire last year, Arnault clearly has a line into the French government at the highest levels. LVMH also has the largest market cap in the French market.
One reporter addressed the elephant in the room when he asked if LVMH had sought the French government's help in getting out of the deal. LVMH CFO Jean Jacques Guiony balked at the suggestion with his response…
Are you seriously suggesting that we procured the letter? I don't even want to answer that question… It was fully unsolicited. It doesn't mean that we didn't do anything after we received the letter.
► Given these events, TIF shares have been remarkably resilient…
I find it astounding that Tiffany's stock is currently trading around $114 per share. While this is down $8 from the recent quote of $122 – and represents a steep 16% discount to the $135 deal price – TIF shares are actually right around where they were when I wrote about the deal in June… and the probability of the deal closing is definitely lower now than it was then. I still believe what I wrote back then…
Tiffany needs LVMH more than LVMH needs Tiffany. If LVMH walked away, Tiffany shares could tumble as low as $75. The stock bottomed around $80 last summer, when the world (and particularly the Americas, where Tiffany sources 43% of revenues) was in better shape.

My downside target may prove conservative. This morning, the analyst covering Tiffany at Credit Suisse predicted the stock could trade as low as $60 if the deal fell through.
I imagine that investors are betting on the deal getting done, but at a lower price. Tiffany's legal case is perceived as strong by some observers.
But there's only $21, or 18%, to be made if the deal were to close at the original price. TIF shares were trading around $90 before the deal was announced, and that was before the pandemic… which caused the company's first-half sales to drop more than 35%.
I find it hard to believe that TIF shares without a deal are worth more now than they were last November, given the reduction in short- to intermediate-term prospects as well as the fact that if LVMH walks away, Tiffany will be worth less as a result of that very action. As I wrote in June…
The prospect of LVMH bidding for Tiffany always put an implicit floor under its stock. A few others could conceivably consider stepping in to buy it, including Richemont or Kering (PPRUY), another French luxury conglomerate and parent of Italian fashion house Gucci. But these deals make less strategic sense than LVMH/Tiffany, and given Arnault's unparalleled record in deal-making, even the most confident competitor would take pause in stepping into a deal he walks away from.
► Even if this is all positioning for a price reduction, a bet on TIF has bad odds…
If the deal closes or is renegotiated lower, the upside will be $21 or less. If LVMH successfully walks away, TIF shares could easily trade in the $70s, where they were not that long ago. That would mean $34 to $44 of downside.
Even in the bullish scenario where shares can hold their pre-deal price of around $90, that's $24 of downside versus something with maximum $21 of upside.
I don't like this lopsided bet.
I'm not a lawyer and can't handicap the outcome of these lawsuits, but if LVMH really wants to walk away, it might be able to… especially if the French government has its back. And if this is a ploy to get a lower price, the potential return on TIF shares will likely be somewhere around 10% give or take a bit. That's not enough upside to compensate for this drama.
Tiffany doesn't have a Plan B if its legal efforts fail. The company is highly reliant on tourism into the U.S. – and traffic to its 5th Avenue flagship store in New York City in particular. I see no "V shaped" recovery for Tiffany, especially without LVMH to help the company expand its reach in Europe and accelerate its growth in China.
Investors betting on a windfall from the deal closing can find better places to put their money than TIF shares.
► Tenet finally opened in the U.S. last week, but the release leaves Hollywood with more questions than answers…
The thriller from The Dark Knight director Christopher Nolan was the highly anticipated test case for the movie business to get back to normal. As Variety summed it up, "For much of the pandemic, Hollywood's collective attention has hinged on one movie: Tenet."
The film grossed $20 million last weekend, the biggest opening by far since the pandemic began, but this would be a giant disappointment in normal times. Without any tangible benchmark given the current environment, it's hard to judge the film's performance.
Working against Tenet – theaters were closed in New York City and Los Angeles, the country's two biggest cinema markets. These two cities are not only the largest in the U.S., but also have theaters that charge two to three times the price of the average ticket in the rest of the country.
Elsewhere in the U.S., many movie theaters that were open were required to limit capacity.
Without much competition on the horizon, Tenet is expected to hold well over the coming weeks, and slowly build box office revenues over September. The film has been a hit in international markets, exceeding expectations and opening with $53 million its first weekend overseas, and grossing over $130 million to date.
But even with an unusually high revenue share from the domestic theaters – rumored to be close to 65% (versus a normal 50%) – AT&T's (T) Warner Brothers, the studio behind Tenet, collected just $13 million in the U.S. from the opening… and is likely to still be in the red on just its domestic marketing spend promoting the movie.
With a production budget of $200 million and a marketing budget that's at least $50 million (possibly approaching $100 million) Tenet probably needs to do at least $600 million globally to make a profit… and it doesn't seem on track for that. Overseas movie chains pay a lower split to studios, so a higher proportion of sales internationally only raises the breakeven bar on box office.
To me, the celebration of a "successful" opening weekend feels like a bit of spin, or at least an indulgence in the power of positive thinking.
► The inconclusive results leave studios in a pickle as they try to decide their future plans…
As Variety observed…
Now, the film business remains divided over the question of whether or not Tenet's ticket sales justify releasing more big-budgeted films before coronavirus abates or a vaccine becomes widely accessible.

And with a hazy picture of a film's commercial prospects, Warner Bros., the studio behind Tenet, and its rivals are faced with what could be a multi-million dollar decision: Stick with release dates for upcoming blockbusters scheduled for 2020, or continue delaying buzzy titles until major cities can reopen theaters.
Studios have several highly anticipated, would-be blockbusters on the calendar over the closing months of 2020. Among them, a new James Bond flick and several big releases from Disney (DIS): Marvel's Black Widow, Soul from Pixar, and a remake of the 1980s' Dune.
But next up on the calendar is Wonder Woman 1984, an installment in an important franchise for Warner. The film was scheduled for October 2… but earlier this afternoon, Warner Brothers postponed Wonder Woman 1984 to a Christmas Day release.
With the move to December, Warner no longer has to worry about whether New York and LA will be open in time, or if Wonder Woman 1984 could cannibalize Tenet, with the studio hoping an extended run will make up for a weak open.
The move will likely set off another round of scheduling Jenga… It seems likely that Warner might move Dune off its December 18 release date so as to not be competing with itself.
The delay is yet another blow to the beleaguered movie theater business, which aside from some minor releases, will have to subsist primarily off Tenet for a full two months. Black Widow is the next major release now and debuts on November 6 (hopefully).
Stay tuned…
► And finally, since I wrote about alcohol this week…
Here's a quick, humorous revisit to the topic of White Claw hard seltzer…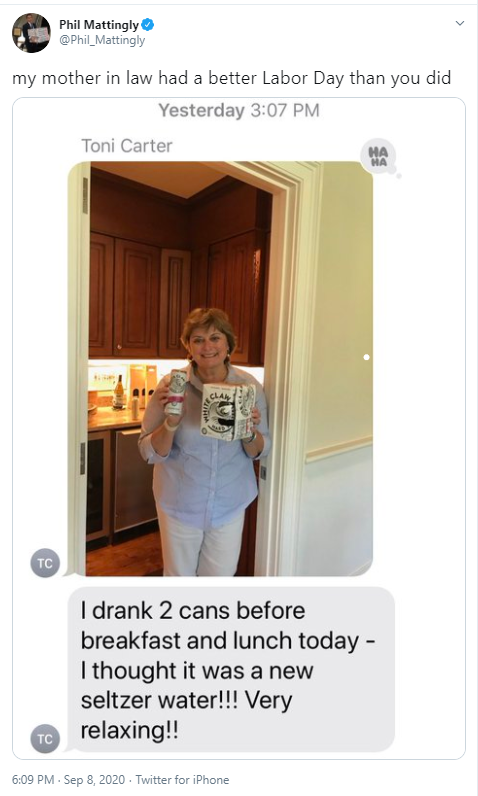 Source: twitter.com/Phil_Mattingly
► In the mailbag, opinions on celebrity and super-premium liquor brands, and one dissenter on Diageo (DEO)…
Which of the upcoming fall and holiday releases are you most eagerly anticipating? If any of them moved to a streaming service debut for a premium add-on price – like Disney did with Mulan – would you consider picking up a new streaming service so you could see the movie? Send an e-mail with your thoughts to [email protected].
► "Hi Berna, In my day we called people who sought out 'brands' above all else as 'posers'… and we are in the age of high end posers.
"Unless you are drinking these expensive drinks neat then you are wasting your money in my humble opinion, and in many cases wasting your money even if you are. If you are mixing them with diet sodas, then you are negating any of that high priced subtlety with aspartame or whatever!!
"Give me a humble Beefeater or Gordon's over Aviation any day…" – S.C.
Berna comment: I agree on your comment about the mixers, S.C., and appreciate the throwback use of "posers" as well!
► "I guess I'm old, but I drink Ketel One, wear Brooks Brothers and Lacoste, and have for years. I tried Tito's vodka once and that was enough. I don't care how big or small the company is, but I do appreciate quality and consistency and that is what gets my loyalty." – Kenny G.
Berna comment: The fact that Kenny is sticking with Ketel One and S.C. above still loyally drinks Gordon's are reasons why I'm bullish on Diageo. The growth of these legacy brands may slow – and is why Diageo is wisely supplementing them with the Aviations and Casamigos of the world. But these giant liquor brands like Ketel One aren't going away… They still have a loyal fan base.
► "Hell no, these higher priced brands are of no interest to me, a healthy 75-year old. It's not just price. I see no reason to buy brands of most products if they are not super great and most are not." – Roger S.
► "Berna, I'm liking your dailies. I rarely drink gin, an occasional martini, but I like Beefeater or Bombay Sapphire. As for tequila, an occasional margarita is fine for me with Jose Cuervo. I can't do the tequila salt lemon thing.
"As for Diageo, my position is down just a tad from January 2019, dividends have probably made up for that. But in this market, flat is not good enough. Louis Navellier gives it an F rating in his portfolio and dividend grader. One more day of gain like today, I'm out." – Tim L.
Berna comment: That's fair, Tim. There's no way any mature, mega-cap consumer packaged goods ("CPG") stock is going to keep up with the high-flyers of the market, which tend to come from the worlds of technology, health care, or sometimes consumer cyclicals… with the exception of course of pandemic darling Clorox (CLX), which is an entirely different animal than a typical CPG stock right now.
When I select stocks for my own portfolio, I like to include some more "steady eddy," dividend-paying, relatively stable stocks to counterbalance the volatility that I get from my aggressive growth and smaller-cap names.
A position in DEO shares usually checks that box, although they clearly have had higher volatility than I would have normally expected from a CPG company because of this unprecedented crisis closing restaurants and bars. But once we're past this – DEO shares likely will go back to being steady compounders with a nice dividend. But a stock like this one will never shoot the lights out like a smaller-cap company that could double earnings fast – such as a small tech firm reaching scale or a biotech that gets a new product approval.
Regards,
Berna Barshay
September 11, 2020