► A couple of quick tidbits from last week's ICR Conference confirm my suspicion that the suburban migration is real and persistent…
Back in June, I discussed how the pandemic seemed to have ignited a big migration to the suburbs from center cities. Since then, a lot of ink has been spilled about big city residents migrating to smaller cities and even more rural areas. 
I remain skeptical of the latter thesis, but I think the suburban migration remains strong. And a couple of things at the ICR conference reinforced this view… 
Last Tuesday, ahead of its conference appearance, New York City-based burger chain Shake Shack (SHAK) provided a business update… and the disparity between their units in suburbs versus those in cities was pretty jaw-dropping.
In the fourth quarter, Shake Shack's same-store sales at units that had been open more than a year were down 17.4%, a touch better than the 19.5% decline analysts were looking for. Locations in suburbs were flat in the quarter versus the prior year, while city locations were down 31% versus the prior year. 
Work from home is clearly hurting Shake Shack's central business district locations, as is a lack of tourism… and population flows probably aren't helping in residential areas of cities either. However, the company did show a substantial improvement in urban areas from the third quarter, when those locations were down 43%.
The chain's Manhattan locations continue to struggle, with same-store sales down 49%. That's an improvement from down 60% in the third quarter, but still a disastrous result.
I also met with auto retailer Penske Automotive Group (PAG), which owns a minority stake in sister company Penske Truck – which rents those yellow trucks people use for moves. That business has to contend with the logistical issues of so many one-way rentals… out of cities like New York, Seattle, Chicago, San Francisco, Los Angeles, and Portland. Notably, the rentals are being taken only 15 to 40 miles out of the city, not hundreds.
► Falling retail rents are another indicator of the challenges facing big cities…
This week, Bloomberg published data from brokerage firm Cushman & Wakefield that underscores how tough it is for retailers and restaurants these days. Commercial rents for retailers have plummeted in New York, reflecting the jump in empty space as small businesses permanently shutter, and some larger companies choose to reduce their footprint.
The drop in rent was most severe in tourist-heavy areas, including Soho – where rents were down 22% – followed by Lower Fifth Avenue and Herald Square, home of the flagship Macy's (M) store. Somehow Times Square did much better than other tourist areas, but that may be because such a high percentage of square feet there are taken up by big, global retailers…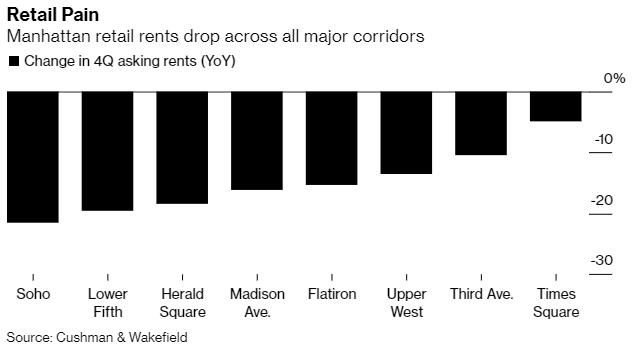 Source: Bloomberg, Cushman & Wakefield
It's important to note that retail rents in Manhattan had already been on the decline for three years prior to the onset of the COVID-19 pandemic, and retail vacancy had been on the rise as well. Part of this was specific to New York, and emblematic of some other urban markets, where retail rents had spiraled out of control to the point that they made productive and well-trafficked retail establishments uneconomic.
But the pre-pandemic falling rents were also a sign of the overall shift from in-person shopping to e-commerce – a trend that has only been further cemented by the pandemic. 
I'm hopeful that this difficult period proves a moment of creative destruction, with a rent reset that enables and encourages entrepreneurs to begin again with new retail and restaurant concepts, as the rent levels from five years ago made starting a new retail business close to a suicide mission in New York City. 
► The high vacancy rates and falling rents in New York City are a good reminder of the ongoing challenges facing legacy brick-and-mortar retailers…
The surge in the stock prices of many national retailers could easily make you think that the "retail apocalypse" is over. But it isn't… The wave of store closures and bankruptcies that emanated from the shift to e-commerce pre-dated the pandemic, which should only serve to strengthen this trend over the coming years.
Last year was a record year for retail bankruptcies…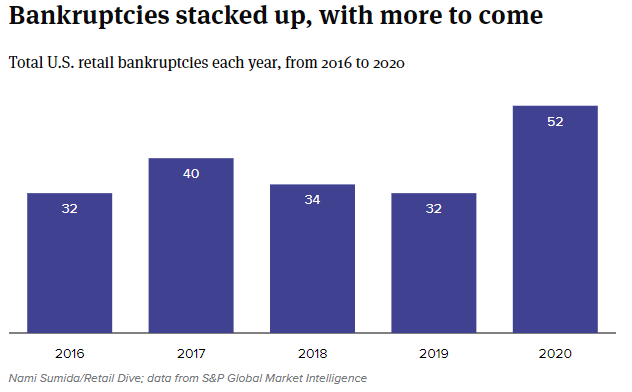 Source: Retail Dive 
There were companies that filed for a bankruptcy reorganization and are using the bankruptcy process to exit leases and emerge as smaller chains – such as Neiman Marcus, J.C. Penney, Stage Stores, J. Crew, John Varvatos, Tuesday Morning, GNC, Lucky Brand Dungarees, New York & Co., Brooks Brothers, Muji USA, Ascena Retail (parent of Ann Taylor, Justice, and Lane Bryant), Tailored Brands (parent of Men's Wearhouse and Jos. A Bank), and Guitar Center.
Others went into liquidation, closing all their stores. Among them were national chains like Lord & Taylor and Pier 1… as well as cherished, private regional operations like Art Van Furniture in Michigan and Century 21 in New York. 
This list is long, but by no means comprehensive. 
These companies were all weakly positioned going into the crisis – either from a balance sheet perspective or an operational one, often both. In terms of balance sheet, some held too much formal debt… while others were just saddled with too many long-term lease commitments for a world in which sales were moving online. From an operational standpoint, many were suffering from falling traffic, transactions, and sales causing the business to deleverage. 
► You would never know the retail industry was still in trouble if you looked at the stock charts of many companies in the industry…
There's no doubt that the pandemic actually improved prospects at many big-box chains, including discount retailers Target (TGT) and Walmart (WMT), home improvement chains Home Depot (HD) and Lowe's (LOW), and warehouse club Costco Wholesale (COST).
But it hasn't exactly helped the average mall store, as enclosed malls haven't seen traffic snap back. The pandemic has certainly given companies a lot of cover for cutting costs and reducing staff, which may prove a long-term benefit. But in every other way, it has made the outlook for the retail apocalypse worse. With months at home getting people even more accustomed to buying online, I suspect long-term traffic trends will only be worse after the pandemic, not better. 
This leaves me scratching my head at the large number of retail stocks trading materially higher than they did last January. This is particularly true for the mall-based retailers, as malls had been suffering the worst traffic declines for years going into the pandemic. 
Take a look at shares of Gap (GPS), which are actually trading 25% higher than they were this time last year…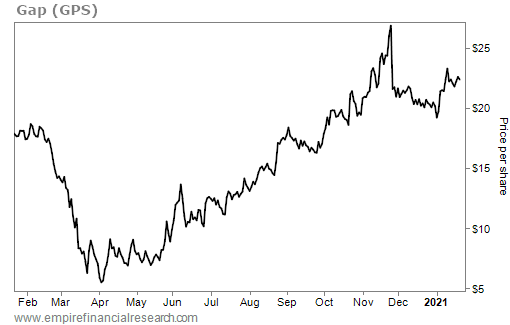 Sales at Gap – parent of Old Navy, Banana Republic, and Athleta, in addition to its namesake chain – were likely down around 14% last year. The company went from making about $2 per share in 2019 to losing more than $2 per share in 2020. 
Admittedly the losses were concentrated in the first half of the year, and the company did an admirable job in clawing back to flattish sales in the second half of the year as well as reclaiming profitability. 
But earnings at Gap aren't expected to recover to 2019 levels until 2023. Let's not forget that this is a company that saw its revenues decline in three of the five years preceding 2020… And it still has a lot of stores in suffering malls with years left on the leases. 
Since earnings are down and the price is up, the multiple that Gap trades at – its valuation – is up. Sure, the company has strong e-commerce capabilities, which it has honed during the pandemic. Many of its customers have followed the chain online… but Gap still needs to pay rent on its stores, at least until the leases expire. How is this company worth more after the pandemic than before it? 
I'm left scratching my head over the performance of GPS shares, as well as those of several other mall-based retailers. In many ways, it makes less sense to me than the sky-high valuations of tech companies and some of the recent high-flying initial public offerings. They may be stupid expensive, but at least they're great businesses.
I would rather buy something reasonably valued or cheap… But if I can't find that, I at least want the business I pay up for to be a great business.
I'm still cautious on Gap, which I have been dead wrong about since I last wrote about it in June. But I think its shares, as well as the shares of many other mall-based retailers, have been lifted to unsustainable heights by the exuberant market. I would avoid them. 
► Peloton (PTON) got itself some brilliant free publicity…
Earlier this week, news broke that President Joe Biden likes to start every morning with a workout on his Peloton bike, as does First Lady Jill Biden. 
But an article in Popular Mechanics prompted a ton of discussion – and free publicity – about whether the fitness equipment could pose a security risk because of its built-in camera and microphone. Like any connected device – such as a phone or computer – the bike's tablet also lives on a Wi-Fi network, and some questioned if that could open an insecure port that would enable foreign hackers to spy in. 
Supposedly workarounds are in process so the Bidens can stay fit… But the storm of free publicity – and basically, advertising – makes me wonder if the company itself didn't plant the story in the first place. 
PTON shares, which I recommended last June back at $48, put in another all-time high last week of $167… and the company continues to struggle to fulfill orders, with delivery times stretching into the months.
I'm a big believer in Peloton over the long term. For some sizable portion of the population, working out at home will likely be permanently preferable for their lifestyle, even when there are zero remaining questions about gym safety.
However, PTON shares probably fully reflect the company's bright future at this point and could see a pull back later in the year, as Peloton catches up to its backlog of orders and investors look to post-COVID recovery plays and sell some of the big winners of the pandemic… which the stock clearly was.
► Lots of colorful reactions to yesterday's piece on 'FinTok' in today's mailbag… 
For those of you who live in large cities, do you see continued evidence of urban flight, or have things calmed down? How about retail vacancies… have things stabilized, or is the number of empty storefronts still growing? Any contrarians want to make a case for the mall and mall stores ripping back post-COVID? Send your thoughts in an e-mail to [email protected].
► "Hi Berna, It's interesting to see that people would actually share their view of stocks on TikTok. I was once a TikTok user. From my understanding of this platform, the majority of its content is for entertainment. Though people would include messages of all kinds, the surfacing of 'FinTok' reminds me of many other seemingly plausible but essentially naive methods or tricks of how people should invest their money, which doesn't work, at least not in the long-term. 
"The incident of Mr. Kearns, the teenage Robinhood user's tragedy has sent us a message that people can never be too careful when investing their money. [Editor's note: Alexander Kearns was a 20-year-old student who died by suicide after thinking he had racked up a $700,000 loss on the trading platform, due to a reporting error.]
"However, regulators could certainly play a role in preventing unnecessary losses of similar kinds due to the investor's lack of understanding of the stock market. I would think one way to work this out is like how social media deals with misinformation." – Ruizi L.
Berna comment: Ruizi, I agree the regulators need to step in and enforce the same rules against reckless stock promotion on social media that exist and are enforced for traditional print communications. 
► "Berna, I thank 'FinTok' in advance for giving me and other shorts their money.
"It's a tough way to get back the money that the government illegally stole and immorally gave away, but it'll give margin clerks plenty to do as they've sat idle for nearly a year now. A shame for tattoo parlors, perhaps, but the boom is over and now comes the bust. 
"Will we see yet another spike to new all-time highs within weeks or months after the plunge, as happened every time since… before most on 'FinTok' were born? Don't count on it, kids." – Bruno F. 
► "If the Robert Ross on FinTok is the same one at Mauldin Economics, he writes 'The Weekly Profit' newsletter. John Mauldin is an absolutely fantastic economics researcher, writer, and prognosticator. If you are unfamiliar with him, you should check him out. I have been reading his stuff for years. Whitney Tilson reminds me of him." – Todd C.
Berna comment: Good catch, Todd. Based on the pictures, it looks like the same Robert Ross. I see he has some YouTube videos up on the Mauldin site… He talks a lot faster in the TikTok ones though with only 60 seconds to make his case.
It's interesting his firm lets him to do the stuff on TikTok. Most places I have worked wouldn't be cool with that, even without using the employer's name. It's a new world!
► "I think you properly described what the 'fin-' folk are doing. They are playing a video game with real money and real stocks, but no one has lost a game and had to deal with the consequences – yet!" – Bob S. 
Berna comment: You nailed it, Bob. 
Regards,
Berna Barshay
January 22, 202