► In the three months since I first wrote about social media startup Clubhouse, the audio chat category has gone from emerging and fringe to competitive frenzy…
As celebrities, CEOs, pro athletes, and politicians have embraced Clubhouse – offering their followers and fans an exceptionally up close and candid window into their thoughts – users have flocked to the platform.
Also contributing to Clubhouse's heat is the elite participation it has attracted from the world of cryptocurrencies and non-fungible tokens ("NFTs"), two emerging tech areas which are themselves blowing up into the mainstream consciousness right now.
And it's not just a surge in users that Clubhouse is witnessing… it's also getting a corresponding surge in valuation.
On Monday, Bloomberg reported that Clubhouse is in discussions to raise another round of funding at a rumored $4 billion valuation. The company just raised $100 million in January at a $1 billion valuation from venture capital ("VC") firm Andreessen Horowitz (the same firm that published the Marketplace 100 ranking, which I wrote about on Wednesday).
It's been a hot market for tech startups, but Clubhouse quadrupling in value in just three months is still a jaw-dropping rise – reflecting overall Silicon Valley bullishness about the prospects for audio chat generally. As Bloomberg explains, Clubhouse "lets users pop in and out of ephemeral chat rooms and participate in on-demand social conversations of various sizes, with numerous formats and subjects."
Big, established players in the world of social media and entertainment are taking notice of Clubhouse's ascent. Despite launching a competitive service, dubbed "Spaces," Bloomberg also reported this week that Twitter (TWTR) recently held acquisition conversations with Clubhouse, with the rumored price tag also around $4 billion.
With an area as hot as audio chat, the big incumbents won't sit back and let a small, year-old startup dominate. As Bloomberg explained…
Competitors see the opportunity in the space and are eager to stake their claim on what could be the next big social-media smash. Already, Facebook (FB), Microsoft's (MSFT) LinkedIn, Twitter, and Slack Technologies (WORK) have revealed they will offer similar functionality inside their apps, while Spotify Technology (SPOT) entered the arena through the acquisition of competing startup Locker Room. And last week, Discord launched a copycat feature called "Stage Channels."
The move by Spotify piqued my interest as I identified the streaming music service – which is investing big into podcasts – as a potential loser in the rise of audio chat…
In my 15 hours as a user, Clubhouse seems like a substitute for podcasts more than anything else. In a virtual room, you can get all the insider knowledge you would from a podcast… but it's better, because you can ask questions.
Even the newest of podcasts will have trouble competing in freshness and relevancy with competition that's presented live with two-way communication potential.

Clubhouse's flirtation with a $4 billion valuation comes while it's still pre-revenue…
Clubhouse has made a land grab and is succeeding on that front. But it has yet to prove that it can monetize its sizable audience.
If anything, this week the company made a big move that indicates it's willing to kick the can on any effort to generate revenue – and ultimately profits – in order to maintain its leadership in audio chat. Clubhouse announced a new feature called "Clubhouse Payments," which allows users to tip content creators. But there's no money in it for Clubhouse, just creators – at least for now, which Bloomberg explains…
In a surprising move, Clubhouse said it would take no commissions, making the monetization feature more lucrative for room hosts. Such an aggressive strategy at this early stage makes sense. It will help attract the most influential speakers, boosting the chances that Clubhouse can build the best and largest community centered on live audio.
Not only does it make sense for Clubhouse to forego commissions on payments for the time being, but it also makes sense for them to defer monetization efforts in general. As we saw with the first wave of social media, there will be many entrants but few winners.
And first movers with the highest share of early adopters are far from guaranteed to hold their market positions as services go mainstream. When's the last time you checked your Myspace account?
With monetization off the table in service of market share, it's no surprise that Clubhouse is raising money again so soon. To defend its turf, it will need to quickly roll out functionality.
Clubhouse says an Android version of the app is on the way, perhaps as early as May. This is important, as three-quarters of global smartphone users are on the Android platform.
Hopefully Clubhouse will also invest some of that fresh VC money in developing better search functionality.
While I've been in some stellar rooms in which I learned tons – standouts include the NFT one I wrote about last month and a discussion with the founder of HU chocolate about what it was like being acquired and integrated into Mondelez (MDLZ) – there are a lot of crappy rooms on Clubhouse… And with more people on the platform now, it's increasingly hard to find the good rooms.
With time being one of my scarcest assets, the proliferation of mediocre content on the app has led me to decrease my time spent on it. Apparently, I may not be the only user for whom engagement is down. As my friend and Bloomberg columnist Tae Kim notes…
Anecdotally, I've seen a drop-off in activity, with many complaints centered on the app's inability to surface relevant rooms of interest. During recent town hall events, co-founder Paul Davison has acknowledged the issues. "I think we've grown too fast," he said, saying it has led to a poor user experience and glitches including red "error" messages from overwhelmed servers. Davison vowed that in coming weeks Clubhouse will focus on improving the app's personalization features so it can make better suggestions about the rooms, clubs and personalities its users might like.

I hope Davison can deliver on this promise of better curation, because audio chat is a powerful medium but only if you can find the right rooms to join…
I haven't tried all the alternatives yet, just Twitter's Spaces. I've been in exactly two Spaces rooms, and I have also been in exactly two Spaces rooms that had a series of technical glitches and ultimately crashed… once just as the conversation was getting really good, which is super frustrating.
Kim at Bloomberg has tried more of the others and reports back than none can currently compete with Clubhouse…
Over the past week, I experimented with Spotify's Locker Room and found it had less than 10 active rooms each time I opened the app. While Discord received fanfare for releasing its Clubhouse clone so quickly, I noticed it was primarily a layout change for its voice-channels feature that is siloed inside the app's disparate micro-communities – nothing like the centralized community at Clubhouse.
Like all social media, the network makes the service valuable for audio chat. No amount of bells and whistles features can make up for a weak network of users. Clubhouse has a good head start on this front… so despite its competitors with greater resources, audio chat remains its race to lose.

Elsewhere in startup land, personalized celebrity video service Cameo recently raised $100 million at a $1 billion valuation…
The venture round was led by VC firm e.ventures, and also included participation from SoftBank (9984.T), Alphabet's (GOOGL) venture arm GV, celebrity rep firm United Talent Agency, and skateboarder Tony Hawk. It represented a more than tripling of valuation from its prior round completed in 2019, when it raised $50 million at a $300 million valuation.
Explaining the app's appeal, CEO and co-founder Steven Galanis explained to the Wall Street Journal…
My D-list celebrity might be your favorite person in the world. We're tapping into this. The definition of fame has totally changed.
The Journal reports that Cameo generated $100 million in sales in 2020, "a more than fourfold increase from 2019."
This is a gross merchandise value ("GMV") number, however… not revenue to the company. The $100 million represents gross sales before a 75% cut to creators, implying Cameo revenue was just $25 million last year… and that the company – which has yet to turn a profit – was just valued at a cool 40 times revenue.
Like Clubhouse, early success is attracting competition – including Patreon and OnlyFans, which is best known for adult content but apparently features non-pornography content as well. Patreon also just completed a funding round, raising $90 million at a $1.2 billion valuation.
As with audio chat, larger companies are circling the celebrity video space, with Facebook testing a rival service called "Super."
With its recent cash haul, Cameo plans to invest in new services – including "Cameo Calls," which would enable virtual fan meet-and-greets with celebrities. It also plans to enter new geographies, including Asia and South America, and plans to continue to invest in its sales to small and medium-sized businesses.

I asked, you answered… Here are some pictures of my motley crew…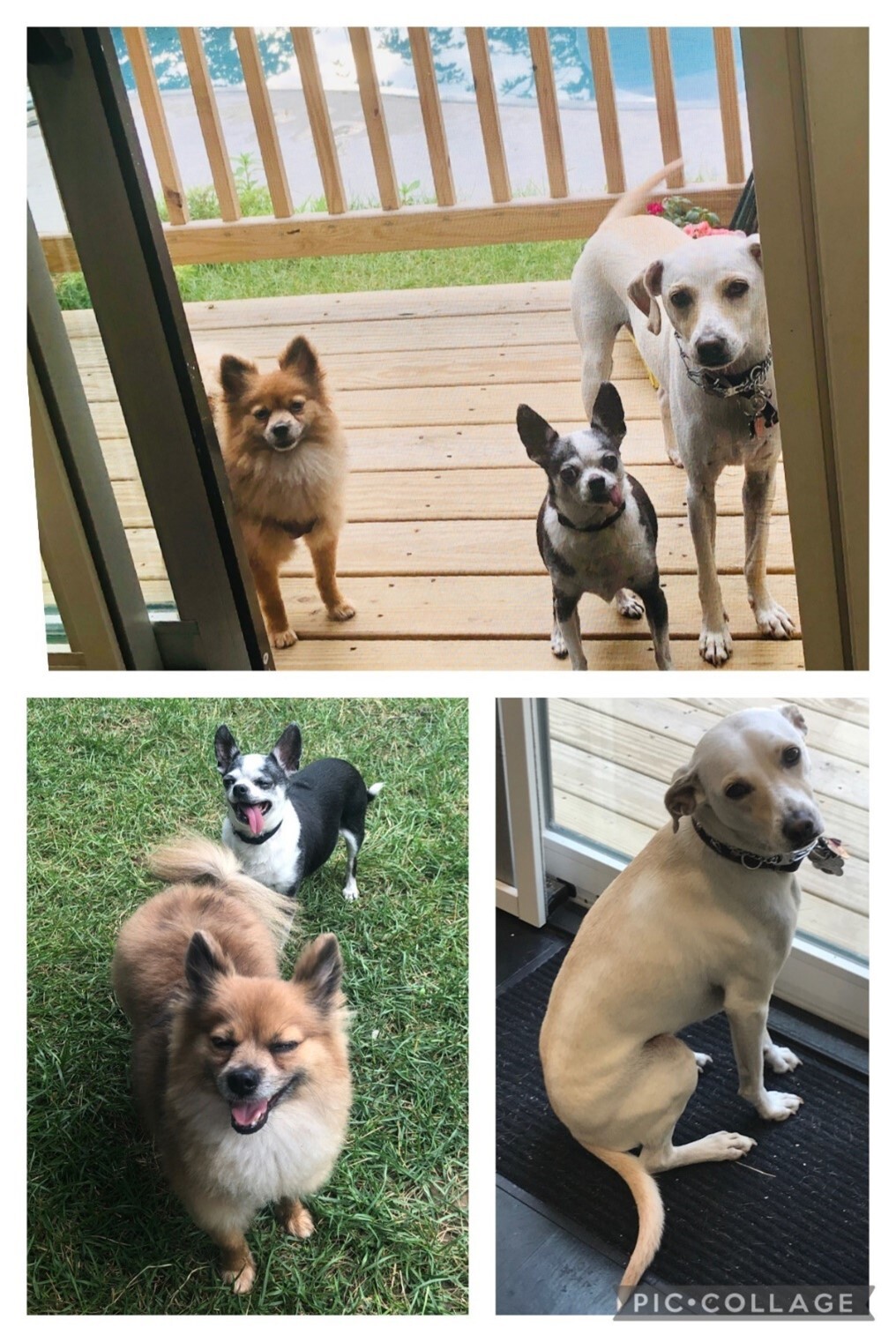 Pictured, left to right, at top:
Simba, a four-year-old Pomeranian, who came to me in February 2020 from the Oklahoma-based Friends with Four Paws rescue group. He was a breeder turn-in and is very neurotic but super fluffy and nice to pet.
Prince, a Chihuahua, who turns 16 in June. He used to belong to my stepdaughter, but I inherited him when she left for college in 2012. He originally came from a shop in Boca Raton, Florida… the only one purchased. His tongue is almost as long as his tail.
Bowie is a two-year-old mixed breed… and a girl. She was a stray rescued off a beach in Puerto Rico in 2019 by rescue group The Sato Project and came to me via my favorite New York City rescue shelter, Animal Haven. According to genetic testing company Wisdom Panel, she is 50% Chihuahua, 25% Golden Retriever, and 25% kitchen sink of breeds. I would say she is made of 100% love because all she wants to do is kiss everyone all the time.
These rescue groups all do amazing work, and I encourage you to check them out if you are in the market for a new pup… or find a shelter near you at petfinder, which I call the best "dating service" on the Internet.

In the mailbag, readers react to last week's Update Issue on SPACs, cord cutting, and pups…
Can anyone offer an opinion on the Clubhouse rivals from Twitter, Spotify, or Discord? Does anyone with an iPhone need a Clubhouse invite? I have a few I can share. Also, if you've bought a great Cameo or have a good animal rescue story that you want to share with readers… send it in to [email protected]!

"Good morning, As I read through this Daily, I was struck by how it compared to a recent Gallup poll.
"4 Things Gen Z and Millennials Expect From Their Workplace highlighted the lack of financial focus of both generation Z and Millennials.
"Based on comments made in this Article, I would estimate the trend for companies ('unicorns') to stay in the red before being profitable is going to last a long time." – Paul G.
Berna comment: Interesting survey… Thanks for sending it in, Paul. What's notable here is that all four cohorts – Young Millennials and Gen Z (1989 to 2001), Older Millennials (1980 to 1988), Gen X (1965 to 1979), and Baby Boomers (1946 to 1964) all prioritize the same employer traits at No. 1 or No. 2. Those are "The organization cares about employees' wellbeing" and "The organization's leadership is ethical."
The big difference is in the No. 3 priority. For both Gen X and Baby Boomers, they chose "The organization's financial stability."
Not surprising for Boomers, who may have missed the Great Depression but heard about it extensively from their parents, who very much lived it. As a member of Gen X, I can attest that we've been through three big economic dislocations in just over 20 years – the tech wreck in 2000, early in our careers… then the housing meltdown in 2008 and the COVID-19 crisis now.
Financial stability of the employer didn't make the cut for the younger cohorts, as you point out.
The poll was taken in 2018, however… I wonder if the answers would change for the younger cohorts now after having lived through the financial ups and downs of the past year.

"I'm looking forward to the movie theatre re-opening. It's a much better world to have that option, even though (even pre-pandemic) I filtered my theatre movies to the more indie films that aren't as likely to make it to Netflix (NFLX), or the types where the sound/visuals in the theatre experience make a real difference (as opposed to say, a documentary about Warren Buffett). It's always better to get out of the house and watch with more than one other person, but sometimes the timing is not good and it's more expensive.
"We like on demand, and curate our evenings based on Netflix or network offerings, but we don't binge watch. It's a lot more fun to have different shows for different nights of the week and get some variety because we only have time for 2 shows a night. We design our 'seasons' this way, by assigning a particular show to a night, then coming up with a new slate of shows once we finish, every 10 weeks or so. Unfortunately, I have noticed that the powers that be seem to prefer viewers binge watch because the newer Netflix shows do not do a good job of 'recaps.' They assume everyone is watching it all at once so why bother? But we're sticking with a 'main event' show for each weeknight, for now." – Bill P.

"1. Yes to seeing Berna's dogs. (My family just got our first and she is amazingly cute).
"2. Humble request: As you already know, we Canadians are stuck here with strict travel rules and high infection rates. I know you're not trying to rub it in or make us jealous but every day I'm seeing Whitney traveling all over the place skiing and climbing. So, please, either find a way to take me with you or wait until everyone can do it! :)" – Steve S.
Berna comment: Steve, I can help on the dog pics. But unfortunately, there's nothing I can do about the Canadian lockdown… or Whitney's travel posts! I'm not locked down, but I unfortunately don't have the free time to indulge in the continuous travels… so I feel your FOMO!
Regards,
Berna Barshay
April 9, 2021