► A couple of media stories I wrote about in late September came to an unusually quick resolution last week...
In the September 28 Empire Financial Daily, I wrote about the jaw-dropping antics that took place at media company Ozy when it attempted to raise money from investment bank Goldman Sachs (GS). The company's co-founder and COO posed as an executive at YouTube on a due diligence phone call – an act of brazen fraud.
The incredible part of the story was that while Goldman passed on the investment after discovering the misdeed, Ozy still managed to raise money in a venture round.
If that isn't proof of a bubble brewing in venture capital land, I don't know what is.
Investors talk... And while it took months for the story to make it to the press, it's highly unlikely that Goldman's due diligence discovery didn't make the rounds among private equity and venture capital types.
And there were other red flags... Nieman Lab, a Harvard-affiliated online site that covers the journalism industry, did an extensive breakdown disputing Ozy's claims that it had broken stories about Daily Show host Trevor Noah, Congressional Representative Alexandria Ocasio-Cortez, National Youth Poet Laureate Amanda Gorman, and Supreme Court Justice Brett Kavanaugh.
While the Nieman Lab takedown was published recently, the level of investigation that it revealed to disprove Ozy's false claims of "breaking stories" required all the sleuthing skills of Google search.
The point is – whoever gave this company money a few months ago didn't do proper due diligence. As I wrote in the original essay: "Shoddy diligence and ignoring red flags when plopping down millions into an illiquid investment are two hallmarks of bubble behavior."
Well, this time the venture capitalists ("VCs") will pay for taking short cuts and succumbing to bubble greed. On October 1, with advertisers and investors heading for the hills, the Ozy board announced that the company would shut down... meaning that whoever invested in that last round will likely lose a good chunk, if not all, of their investment with record speed.
CEO and co-founder Carlos Watson has vowed that Ozy will continue to publish... But except for one daily newsletter, it doesn't look like any new content has gone up since the shutdown announcement.
Maybe the debacle at Ozy will spur better due diligence and less bubble-like behavior from VCs... but I won't hold my breath. As long as barely profitable, not ready for primetime companies are making it to initial public offering ("IPO") or acquisition by a special purpose acquisition company ("SPAC"), the VC bubble will likely have legs.

Resolution of the lawsuit between Black Widow star Scarlett Johansson and media giant Disney (DIS) came just a day after I wrote about the case...
Johansson was suing Disney over the simultaneous release of the Marvel picture to premium video on demand ("PVOD") via the company's Disney+ streaming service on the same day it hit theaters. The suit claimed the move cost her $50 million and was a breach of contract.
Disney had initially come out swinging at Johansson, disclosing that she had already been paid $20 million in salary for Black Widow, and adding that her suit showed "callous disregard for the horrific and prolonged global effects of the COVID-19 pandemic."
But when it announced a settlement on September 30, Disney had a much softer touch. Alan Bergman, chairman of Disney Studios Content, issued a statement...
I'm very pleased that we have been able to come to a mutual agreement with Scarlett Johansson regarding Black Widow. We appreciate her contributions to the Marvel Cinematic Universe and look forward to working together on a number of upcoming projects, including Disney's Tower of Terror.
It was quite the shift from fighting words to "make nice." Recently launched news site Puck had a great account of what happened behind the scenes. It looks like there were three big factors pushing Disney to retreat.
First, Disney was at risk of looking like a bad guy... which is in conflict with its chosen corporate image. As Puck explains...
Disney leadership was clearly rattled by the personal allegations in the lawsuit, specifically the claim that Bob Chapek and Bob Iger were stiffing Disney stars to pad their own stock-incentive-laden salaries. That led to a rare communications misstep – Disney's unusually mean-spirited statement suggesting that Johansson was greedy and insensitive to COVID. CAA's Bryan Lourd smartly jumped on this error, putting out his own statement decrying the "salary shaming" of his very famous female client. All of a sudden, Disney was the villain – and majorly incentivized to make this go away. Point, Johansson.
Second, Johansson's case got stronger when Disney's lower-profile Marvel release Shang-Chi and the Legend of the Ten Rings crushed it at the box office on the normally sleepy Labor Day weekend, outperforming Black Widow. Shang-Chi wasn't released on PVOD on Disney+... a good argument for PVOD having cannibalized Black Widow at theaters.
Finally, and possibly most interesting when thinking about the streaming wars... Johansson's lawyer had made extensive discovery requests in connection with the lawsuit, asking for all sorts of data from Disney+ and information about the financials of the Avengers movies. This stuff is like a state secret, especially as the legacy media companies and tech upstarts duke it out to be among the services that emerge victorious in the high-growth but equally high-competition streaming video space.
So what was expected to be a long, drawn-out lawsuit redefining talent relations and compensation in Hollywood instead went away much quicker than expected. Johansson took home an undisclosed amount – probably not $50 million but likely in the tens of millions – and Disney got her to commit to another movie (Tower of Terror).
I guess all's fair in love, war, and Hollywood.

In another sign that consumers are demanding more sustainability from corporations, handbag maker Coach isn't having a lot of fun on TikTok right now...
Coach's parent company Tapestry (TPR) announced this week that it will no longer destroy merchandise returned to stores that it deems unsalable. The company came under fire after anti-waste blogger Anna Sacks posted a TikTok video under her @thetrashwalker account, showing boxloads of high-end leather bags that company employees had slashed with knives before tossing them into the dumpster.
The video was shocking... It chronicled the destruction of perfectly functional and attractive merchandise, which was being sent to a landfill when it was perfectly usable. The video, which you can watch here, has almost 600,000 "likes" and surely reached an even greater number of views.
This isn't the first time that a handbag company has been caught destroying perfectly good merchandise and sending it to the dump, presumably in the interest of maintaining scarcity. In 2018, British fashion house Burberry (BRBY.L) got caught destroying roughly $40 million of product, and prior to France banning the burning or dumping of unsold items, rumors flew around about Chanel and Hermès (RMS.PA) often setting fire to their unsold bags, which cost thousands of dollars each.
This kind of wastefulness used to fly under the radar before, but no more – there are too many people watching, too many mobile phones with cameras, and too many social media sites...
There will always be goods that don't sell... An entire branch of retail grew up to take advantage of this: off-price retail, with businesses like TJX Companies' (TJX) TJ Maxx and Ross Stores (ROST) making lemonade out of other company's lemon inventory.
High-end brands like Coach and Burberry have tried to avoid the off-price channel to protect their brands, instead turning to their own network of outlet stores... and apparently setting some inventory on fire.
In a world in which wearing second hand no longer holds any stigma, destroying perfectly fine goods to create a false sense of scarcity just won't fly.

Speaking of the breakout star of the pandemic...
Short-form, user-generated video app TikTok announced on September 27 that it has passed 1 billion users. Despite all governmental and parental attempts to rein in the Chinese-owned service, the app's prominence continues to soar.

Yesterday, Star Trek's William Shatner became the oldest person to travel to space...
He broke the record set back in July by Wally Funk, whose astronaut dreams had been delayed several decades by her gender. Unsurprisingly, the voyage inspired a raft of memes...
Source: Digitalmomblog.com/William-shatner-memes
Private space exploration funded by billionaires continues to be a divisive subject, with one side of the debate dominated by awe, and the other by the sentiment expressed below...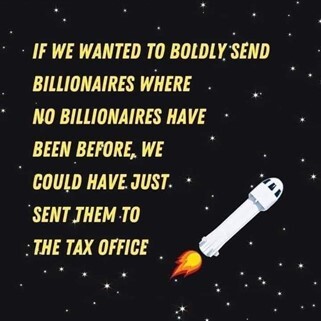 Source: Twitter/@nigelbrook
Amazon (AMZN) founder Jeff Bezos has done a great job managing the news cycle around this by sending likable characters like Shatner and Wally Funk up on these Blue Origin launches.

Finally, goodbye to a visionary CEO...
It has been more than a year since I wrote favorably about toymaker Hasbro (HAS) in Empire Financial Daily. HAS shares are up 27% since I called Hasbro "a good bet for long-term investors."
But I'm not here for a victory lap... Instead, I wanted to pay tribute to longtime CEO Brian Goldner, who passed away on Tuesday, at only 58.
I'm often asked about who the great CEOs are, and like most, my mind quickly jumps to tech innovators like Bezos or the late Steve Jobs from Apple (AAPL), or to executives of giant companies who have led with a steady hand through rocky waters, like Jamie Dimon of banking giant JPMorgan Chase (JPM).
But down in the trenches of small- and mid-cap companies, there are many great leaders as well... and Goldner was one of them.
The toy business is a tough one. Most of it is compressed into a very short period of the year around holidays. Compounding matters, it's hit-driven – requiring companies to make big bets long before that short holiday selling season.
In recent years, new challenges have emerged. Kids grow up faster these days and move on to video games and cosmetics and fashion quickly. Toys "R" Us went bankrupt. The business has consolidated around Amazon, Walmart (WMT), and Target (TGT) – all known for squeezing suppliers.
Against a tough backdrop, Goldner led Hasbro with bold strategic movies, including its emphasis on becoming an entertainment company. It turned toy intellectual property ("IP") into entertainment IP with franchises like Transformers and My Little Pony. In 2019, Hasbro went deeper into entertainment by buying the U.K.'s Entertainment One, the company behind popular preschool brands like Peppa Pig and PJ Masks.
Hasbro went from being a toy company to a "toy and entertainment" company under Goldner's leadership, a shift that greatly contributed to big outperformance versus its closest rival Mattel (MAT), during Goldner's tenure...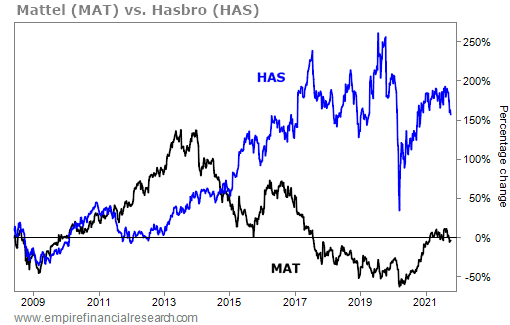 Goldner's untimely passing is a big hit for Hasbro. But I expect that he built quite a bench underneath him, positioning the company well for continued success.

In the mailbag, thoughts on Ozy, and pop music's interpolation trend...
Do you think we're in a VC bubble? Should Coach be embarrassed about destroying all those perfectly fine handbags? Who do you think are some of the best under-the-radar CEOs? Share your thoughts in an e-mail to [email protected].

"The psychological assessment of Rao was interesting, but unexploited.
"Rao is a sociopath, as is Elizabeth Holmes.
"The 'fake it till you make it' mentality requires a leadership that lies effortlessly at every turn and that simply does not feel bad about doing so. The only people capable of doing that on a consistent basis are sociopaths and psychopaths.
"The thing is, sociopaths leave enormous damage in their wake. They have a string of angry people that need an outlet for their rage. They can't get it through the mainstream press, so they go to the alternative press.
"If you read alternative media, then you will discover these types are all over Silicon Valley venture capital. I knew Elizabeth Holmes was a fraud back in 2015 when someone mentioned that Holmes never published a paper on how her technology works." – O.P.

"Berna: As an odd man out for my generation, I'm not too fond of Olivia Rodrigo or the majority of our generational music. Expeditiously over time, it becomes overplayed and eventually abusive to my psyche.
"That is not to say I don't like music, quite the opposite. I'm a massive fan of classical, alternative pop, and (some) pop music (namely looking at you, Ariana Grande, and Taylor Swift). Of course, through the marvelous subscription model that has overtaken the world, my catalog has only grown for 4.99/year on Spotify (SPOT) (I wish my student discounts would never end!)
"Surprisingly, my father is a fan of some of these hits, and your article shows why: the use of interpolation. They tug at the nostalgia in his brain and remind him of the hits he listened to in the 70s, 80s, and 90s. I find it unoriginal and lazy as a consumer, but it keeps the numbers growing from a business perspective, which I appreciate more.
"And on that subject of business, never in my life have I owned a Chinese stock. Even before I started to expand my financial education, I stayed away from China. I wouldn't even dare 'bottom-fishing' or trying to find value in Chinese securities because the government poses a massive threat to any risk model that I can't accurately assess, so why should I bother? Stay away; I can find alpha elsewhere.
"All the best, Seth
"P.S.: At the risk of poking a sleeping bear, sorry to hear about Prince. He seemed delightful.
"P.P.S.: You oft write about the jobs market, and although an internship is not a job, I seemingly cannot, in terms of these rejection emails, 'match my skills to an open position in our organization.' I have been rejected by every firm I have applied to so far: Jane Street, Bridgewater, and D.E. Shaw group, and I'm waiting to hear back from the rest of the firms (assuming I even get a response). I know hedge funds/trading/finance is an intimate industry and highly referral-based, but no one will even speak with me. Are my expectations too high for the firms I'm gunning for? Disclosure: I don't go to a target school (rather a flagship state research university: Stony Brook) where they recruit but believe my resume is more specialized on experience than the other applicants. Do you have any tips?" – Seth R.
Berna comment: Seth, thank you for your kind words about Prince. He was indeed delightful, and I miss him.
I'm sorry to hear about your job search. It's unfortunate that the industry doesn't cast a wider net when it comes to schools that they recruit from – it is short-sighted. Complicating matters, it's mostly bots reading job applications these days... making it harder to break through. I wish I had a magic answer... keep networking. Your most likely path will be through an introduction.
I will keep my ears open... and if you (or any other readers) are interested, my colleague Enrique Abeyta is looking to hire a junior analyst to help him launch his upcoming newsletter, Empire Elite Crypto, later this fall. If you geek out on cryptos and enjoy writing, we'd like to hear from you – send us your résumé and a one-page write-up of your favorite crypto investment idea right here.
Regards,
Berna Barshay
October 14, 2021