► Earlier this month, Apple (AAPL) introduced the AirPods Max noise-canceling headphones at a whopping $549 per pair…
So, what's max about them other than the price? Apple's entry into the luxury headphone space is priced a healthy 38% and 57% higher than its two primary competitors, the Bose Noise Canceling Headphones 700 at $399.95 and the Sony (SNE) WH-1000XM4s at $349.99.
A recent review by PC Magazine compared and rated the three products on a number of metrics like low-frequency noise cancelation (think airplane nose), mid-range and high-frequency noise cancelation (think your kids screaming in the next room, noise from putting away dishes, etc.), adaptive noise cancelation (ability to handle changing noise levels), audio performance for music play, and control options.
Apple was the winner in only one category: low-frequency noise cancelation. But if you're like me, the noises you're more likely to want to cancel these days are the ones coming from your family members or roommates… as opposed to the ones you experience on a flight. The Bose and Sony entries tied in the category of midrange and high-frequency noise cancelation… And for listening to music, Sony came out on top – a surprise since Apple led with its audio quality when introducing the AirPods Max. The reviewer concluded that while the Apple AirPods Max are excellent, they are "just too expensive."
So could Apple have a dud on its hands? Probably not. Apple stands alone among consumer electronics companies as being a branded, luxury good. Its products are typically more expensive – just look at Apple TV priced at $150 versus an Amazon (AMZN) Fire Stick with most of the same key functionality priced as low as $30. But Apple products are sleek, and for some consumers, an aspirational status symbol akin to a Gucci bag…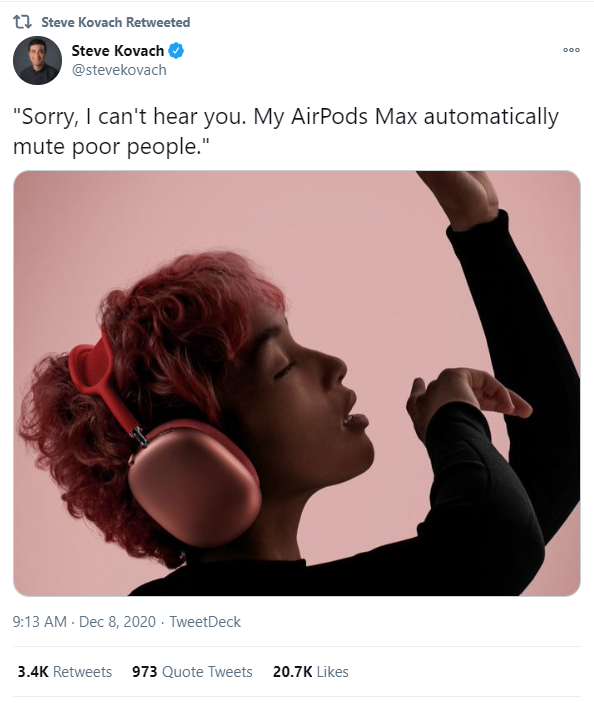 Source: Twitter.com/stevekovach
All mocking – and reviews – aside… there appears to be no shortage of people willing to pay more for a pair of headphones than what it costs to buy a 65-inch TV, an iPhone SE, or a Sony PlayStation 5 game console (if you can find one!). The Apple Store is showing delivery dates for the AirPods Max at 12 to 14 weeks out.
Perhaps it shouldn't be that much of a surprise, given the massive success the original wireless AirPods have enjoyed since being introduced four years ago. And lest we forget, the original AirPods were themselves mocked mercilessly when they came out…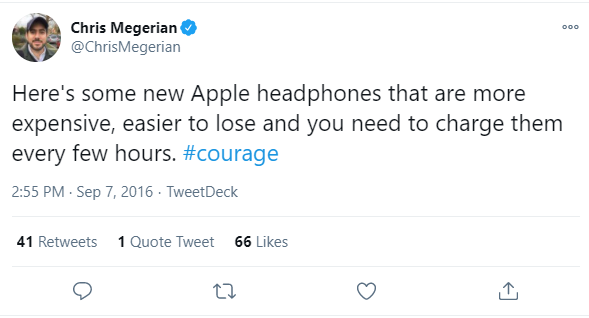 Source: Twitter.com/ChrisMegerian
While the Internet mocks, Apple laughs all the way to the bank… According to estimates published in Wired, AirPods generated $7.3 billion in revenue in 2019, which website Chartr points out is just a touch under what the entire streaming music company Spotify (SPOT) generated the same year ($7.6 billion).
With orders made today looking at fulfillment in mid to late March, the AirPods Max are definitely no joking matter.
AAPL shares are trading around $127, up 2% from the first time I said they were due for a rest in October when they were $124. The S&P 500 Index is up around 8% in the same time period. But AAPL shares have done better since late November when I reiterated my call at $116 in the November 25 Empire Financial Daily… probably because the AirPods Max are sold out.

Can you smell what The Rock is brewing?
Joining the ranks of actors George Clooney and Ryan Reynolds, pop star Bruno Mars, and, as we learned last week, music legend Bob Dylan in the business – and potential payday – of premium sprits is actor and former wrestler Dwayne Johnson, aka The Rock. Forbes reported last week that Johnson's tequila brand, Teremana, which was launched in the fourth quarter of 2019, is on pace to sell 300,000 9-liter cases in its first full year. This would be a record for the spirits industry. Johnson's broad appeal – his films have grossed more than $10 billion at the box office – and his 206 million followers on Instagram were surely key to this brand being so strong out of the gate.
Like Clooney with Casamigos, Johnson's involvement with the tequila company was born out of passion for tequila, his favorite spirit. As co-founder Ken Austin explained to Forbes…
If you've watched Dwayne – we call him DJ – over the years, you know that tequila is his favorite spirit. Turns out, he had been thinking about doing a tequila for almost ten years, but it was always about timing. And it's real. It's authentic. Yesterday, DJ texted me to ask some very detailed questions—and he's on a set filming a movie. Yet it's on his mind. Because he's always engaged.
Having seen the recent windfalls for Clooney and Reynolds when they sold their spirits brands to Diageo (DEO) is likely to help keep Johnson engaged. Like other celebrity-backed spirits, Teremana is playing in the premium space. It's priced around $30 per bottle, squarely in premium territory, but south of the super-premium brands like Casamigos or Don Julio.
Launching a premium spirit with such success is a particularly impressive feat this year, given that bars around the world have been shut down for months or operating at greatly reduced capacity. Premium and super-premium spirits launches often find their mojo by securing placement at the hottest bars and clubs, and eventually translate that success in the on-premises channel into sales at retail stores later down the line. But Teremana has found its footing without that strong tailwind from the bar and club channel open to it, which makes this a story about not only the marketing power of celebrity, but also the marketing power of Facebook's (FB) Instagram, where Johnson has been relentlessly promoting the brand in posts such as this one he made last week.

Last night, person-to-person resale site Poshmark (POSH) filed its initial public offering ('IPO') documents…
As I discussed in the October 21 Empire Financial Daily, the resale market for branded clothing, shoes, and accessories has been growing like wildfire – driven by thrift and eco-consciousness on the buyer side and the hunt for side hustles on the seller side. At the same time, the Internet has enabled marketplaces that consolidate fragmented and geographically dispersed buyers and sellers. As the traditional consignment and thrift industries went digital, companies have cropped up to not only aggregate supply and demand, but provide ancillary services like shipping, payments, pricing tools, and authentication.
Founded in 2011, Poshmark will come to market after having raised $160 million from venture capital firms and having posted its first quarterly profit in the second quarter of 2020.
The company reported $193 million in revenues during the first nine months of this year, up 28%… That's impressive performance in a year when apparel sales are forecasted to be down over 20%. Poshmark's gross merchandise volume – which measures the total dollar value of items sold – was down 9% in the first quarter (the beginning of the pandemic), but bounced back to up 42% by the second quarter. The company also noted in its filing that active buyers had doubled in the second quarter versus the prior year, and currently stand at more than 6 million.
Unlike its already public competitor, The RealReal (REAL), Poshmark doesn't hold any inventory, and instead serves as a marketplace where buyers and sellers can connect, like eBay (EBAY) or Etsy (ETSY). This is an important point, as the cost of merchandise handling, photography, and authentication has been a big drag to profitability at The RealReal. Because each item on the site is unique, every single item that comes in must be individually inspected, photographed, and described, and ultimately shipped. At Poshmark, that work is pushed back to sellers – reducing costs. And at a commission of 20% for goods over $15, Poshmark should be able to stay profitable as long as resale remains popular and it maintains its market share.
I'm intrigued by Poshmark and eagerly await forthcoming details about the pricing and timing of its IPO. The company posted $21 million in pretax income during the first nine months of 2020, implying an extremely healthy 11% pretax margin at the newly profitable company.
The pandemic has given a big boost to e-commerce overall. And for Poshmark, it might have pushed the company to the tipping point at which it has the scale to be a sustainably profitable business.
Also in the IPO pipeline for 2021 is resale competitor ThredUp. This resale e-commerce space will be one to watch in 2021.

Speaking of IPOs…
NPR reports that in mid-November, home-rental site Airbnb (ABNB) sent e-mails to thousands of hosts offering them the opportunity to buy up to 200 shares at the December IPO price. Many hosts had suffered losses earlier in the year when the company unilaterally decided to refund guests who had booked pre-pandemic, overriding the cancelation policies previously put in place by hosts. The offer to buy pre-IPO shares was seen as "an olive branch to some hosts," according to NPR.
Apparently, many hosts ignored that e-mail… either because they were busy and planned to circle back later, or because they failed to recognize the value of what they were being offered. With ABNB shares now trading hands around $155, up roughly 130% from their IPO price of $68, ignoring that e-mail proved a very costly mistake… The one-week profit on 200 shares stands at around $17,000. A cautious anecdote for those of us buried in unread e-mail!

In today's mailbag, reader thoughts about the Stitch Fix service and stock…
Would you spend $549 on AirPods Max headphones? Any opinions on Teremana and how it compares to other tequilas? Has anyone bought or sold anything on Poshmark and want to share how their experience was? And I really hope none of you are an Airbnb host who missed that offer! Send me your thoughts in an e-mail to [email protected].

"My wife does Stitch Fix and loves it. She just tried the shop by an item, and loves that too. Shop by an item allows her to purchase gifts for others." – Chris C.

"Berna, A couple of years ago SFIX was touted by another financial newsletter. I was somewhat skeptical of the concept, but as a test I convinced my wife to give it a try. She gave them her info and her $20 and was sent a package of five outfits if I recall. None of them were close to her style and all were returned. I did not buy the stock." – Chris T.

"I'm always amazed when a company can basically double its share price and drastically improve sales numbers, yet get a skeptical rating such as the one you gave Stitch Fix.
"For a quick comparison, let's take financial newsletters, another online retail product. There are many of them out there, lots of advice available based on experience and good calls, and while some newsletters may cost more than others, some are actually free. So there is no shortage of competition, and other people adopting the idea that made you unique, as happened to Stitch Fix. It's a compliment as well as a complication that compels more innovation. There have been some bumps in the road, but strong commitment of management to keep a company competitive requires new moves. I recently saw an ad for a Whitney Tilson product on television! Now that's branching out, spending more money to widen the net, and probably a more expensive way to gain clientele than simply using database & demographic online mailings. For you, as well as for Stitch Fix, I'd say, 'keep an eye on that company, they're working it!' rather than 'they are trying too hard and spending too much, this can't work.'
"I should mention that I know someone who works at Stitch Fix and have known about the company for a few years now. Yet now is the time I am choosing to try them for the first time, and I actually will be getting my first Stitch Fix shipment next week. Why now? Truthfully, although I enjoy shopping and have spent many long hours poring through catalogs and online offerings during the pandemic, I am optimistically looking forward to some fresh styling ideas other than my own! It will be a welcome change." – Amy D.
Berna comment: Amy, I welcome people sharing opposing opinions on stocks. I do want to point out however that Stitch Fix has not dramatically improved sales results… In fact, these have slowed down considerably versus longer-term trends. Yes, Stitch Fix saw better 10% growth in its fiscal first quarter ending October, after a pandemic-driven sales hit which drove revenues down 9% in the April quarter. It had only an anemic rebound of 3% growth in the July quarter.
Growth of 10% isn't that healthy in the context of the company's longer-term history. In its 2019 fiscal year, sales grew 29%. In the first half of its fiscal 2020 year (running from August 2019 through January 2020, pre-pandemic), revenues grew 22%… slower than the year prior. So while 10% is better than 3%, it's not better than 22% or 29%.
The pandemic and the shift to e-commerce has given a huge boost to nearly everyone with online operations, even in the troubled apparel category. Just look at Poshmark (which I wrote about today) – like Stitch Fix, the company saw demand decline 9% early in the year… but Poshmark came ripping back with 42% growth.
Stitch Fix guided to negative earnings before interest, taxes, depreciation, and amortization ("EBITDA") in the current year ending July 2021. Looking out to its fiscal 2022 when it should be back to positive EBITDA, it's trading at an enterprise value to EBITDA of 70 times… That's too rich for my blood given the decelerating revenue growth and the fact its much-touted business rebound is weak compared to other e-commerce operators.
I do agree with you that spending on marketing can be a good decision… when the returns on that spending come through. I'm curious how your first Fix goes… I tried it and kept one of five items in my first box, and zero of five in the second. I know other people have had better luck, though… otherwise Stich Fix wouldn't have $1.7 billion in sales.

"Regarding Stitch Fix, I used it several times and got some great items that I would not have seen at a mall. They sent me a necklace that people comment on every time I wear it. I don't enjoy mall shopping, so this shopping service works for me. I don't spend a lot of money on clothing for myself so I haven't ordered in a while, but I would absolutely use Stitch Fix again." – Susan K.
Berna comment: Susan, if you don't enjoy shopping… then you are for sure in the target market for the service.

"Hi Berna, I enjoyed your piece on Stitch Fix and I have done well on some long calls on the stock. As for using their services, I'm in my early 60s and prefer what is now termed as athleisure. When I was a subscriber, they just couldn't get the style right for me, even after reviewing my likes and preferences on the site. I will not resubscribe." – Janet N.
Regards,
Berna Barshay
December 18, 2020