► Who thinks it would have been nice to have retired at 38?
I'm being a little facetious here – it would be a lot of years to keep your brain occupied if you retired before 40.
But I'm asking that question because of a big surprise announcement this week at online clothing retailer and personal styling service Stitch Fix (SFIX). Founder and CEO Katrina Lake announced yesterday that she was stepping down and becoming the company's executive chairperson as of August 1. 
President Elizabeth Spaulding will take over the CEO role. She joined the company last January after more than 21 years at global consultancy Bain & Company, where she was a partner and founded and led the firm's Digital practice. 
Lake will remain a Stitch Fix employee and shift her focus to social impact programs, sustainability efforts, partnerships, and talent management. In her communication to employees, she spun the change as part of the natural progression for a company founder, with departures common as the company grows…
Apparel retail is undergoing a reinvention, and Stitch Fix is exceedingly well-positioned to lead through it. This moment of transformation in our business and our industry makes it the right time to think about the next generation of leadership at our company. We need leaders who inspire us to see and create the greatest possibility and impact we can have on the world, taking us from the 4 million clients we serve today, to the many millions more I know we can delight.
While it's natural to see founders step down and hand over the reins to a "professional manager" or the "next generation," the timing here is odd…
Often when a startup needs to upgrade its leader – what many pro investors call "bringing in a grownup" – it does so before the initial public offering ("IPO"). Venture capital firms ("VCs") routinely remove founders at startups before companies go public. 
But Stitch Fix's VC backers deemed Lake prepared to lead the company she founded through its evolution from private to public. She was just 34 when Stitch Fix went public and was the youngest female founder ever at the time to lead a company through IPO. She only gave up that crown in February, when dating app Bumble (BMBL) went public, with 31-year-old founder Whitney Wolfe Herd at the helm.
"Take public" founders of course eventually step down – such is the cycle of life… but if they're competent enough to see a company through IPO, in the absence of a performance problem or scandal, founders in the C-suite generally stay a while.
I couldn't find hard data on this, but when you think about the founders of Amazon (AMZN), Netflix (NFLX), Facebook (FB), Twitter (TWTR), Alphabet's (GOOGL) Google, and other leaders of the first tech wave who made it to the C-suite of their companies, most are either still there or recently departed from their active leadership roles. The same could be said of a lot of high-profile CEO-founders that take their companies public in the consumer/retail space – think companies like Nike (NKE), Under Armour (UA), and Starbucks (SBUX). 
Given that Lake is just 38 now and the company's IPO was only four years ago, the timing of the management shift struck me as a bit unusual. 
► I'm filing Lake's voluntary demotion as just one more reason to be skeptical of a company that I already had a divergent viewpoint on…
When I first shared my skepticism over Stich Fix, it was back in December – in the wake of strong first-quarter results that sent SFIX shares popping an incredible 40% in one day. The shares had moved 85% post-earnings to over $66 when I wrote the essay. 
Bulls were fired up about Stitch Fix testing the ability to shop by individual item as opposed to just by "Fixes." "Fixes" – the company's signature products – rely on stylists who plow through suggestions made by proprietary algorithms to create five-item personalized boxes of clothing and accessories. The algorithms consider consumer-stated preferences, purchase history, and other data to come up with possible items, which get a layer of human judgment on top.
But I thought the business model shift implied the company was running out of steam with its original business model and remained more circumspect, suggesting that shopping by item…
… only propels the company into competition with businesses like Amazon, which have even better data capabilities, and traditional retailers like Target (TGT), which have better scale and sourcing advantages. 

The Stitch Fix model was showing signs of petering out of growth pre-pandemic, as the company was spending more to grow less. As impressive as it was to see Stitch Fix add almost 250,000 customers in the most recent quarter, it's possible the company experienced a catch-up quarter after three consecutive quarters of weak customer additions.

Even with all the additions in this quarter, trailing 12-month active customer additions haven't been this low since the beginning of 2016. That really doesn't justify a nearly 90% move in my mind. 
► SFIX shares were down 5% yesterday on Lake's announcement and are falling again today… 
But their prospects had already dimmed before the surprise step down. 
SFIX shares continued their massive rise in the wake of my essay – peaking above $100 in January – but even before the Lake announcement, they were down 53% from their high and 26% since my essay…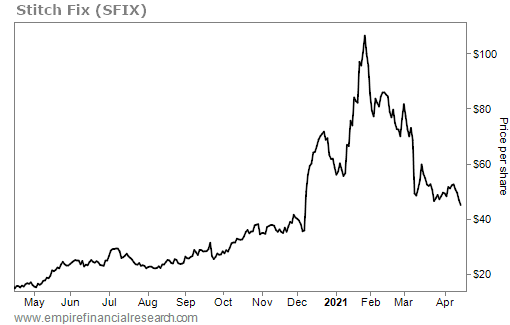 After the first-quarter blow-out, revenues in Stitch Fix's second quarter – which ended January 30 and were announced in March – missed consensus… taking momentum out of the stock. Full-year revenue guidance was also lowered a touch. SFIX shares fell 28% the day after the second-quarter results. The company blamed disappointing growth on the post office, citing shipping delays for its woes.
Shopping-by-item results also missed internal targets. For that, Stich Fix blamed "seasonality" – people shop more for others than themselves over the holidays. But I remain a skeptic on this shop-by-item initiative and see the shifting business model as a red flag that the company is running out of runway in its primary "Fix" business.
Lake's voluntary demotion is a second red flag for me. Adding to that, Stitch Fix's longtime Chief Data Scientist left in February last year… and data science is supposed to be the juice behind this company.
I don't know much about Spaulding, who's taking over. Some people have good things to say about her. But career consultants are generally high-risk choices for C-suite transitions. Giving professional counsel and advice is very different from actually operating a company… So, while some consultants do a great job in the C-suite, others have been flops.
Stitch Fix will likely be able to put up much better revenue growth numbers for the next two quarters as it laps the peak of the COVID-19 quarantines, a period when few people were buying new clothes. But the company – which was the rare Internet "unicorn" to go public as a profitable entity – is losing money now as it invests in new, unproven business models and geographies (e.g., the U.K.). It isn't predicted to get back into the black before 2023. 
I think Stitch Fix can grow… or it can be profitable. I'm not convinced it can do both at the same time, so I continue to recommend avoiding SFIX shares.
Short interest is less than half of what it was last year before it started its epic climb… so if the company manages to print a good quarter, I don't think the upward momentum will be as violent as it was in the second half of 2020.
► Thanks to everyone who filled out my survey about your perceptions of tech billionaires…
It was interesting that for three out of the four founder-billionaires that the Vox/Data for Progress survey asked about, the percentage of Empire Financial Daily readers who granted them a "favorable" rating matched the original survey's results. "Favorable" perception ratings were precisely the same in that survey and mine: 55% for software giant Microsoft's (MSFT) Bill Gates, 50% for electric-car maker Tesla's (TSLA) Elon Musk, and 36% for Internet behemoth Amazon's Jeff Bezos.
But Empire Financial Daily readers were far more likely to assign a neutral versus a negative rating to this trio… The relative lack of "unfavorable" votes was particularly material for Gates.
If you look at the ratings like a Net Promotor Score ("NPS"), the reduction in "unfavorable" votes was enough to push Gates into a tie with Musk for most favorably perceived… Musk led on this metric in the Vox/Data for Progress survey. Also, Bezos' lower negative ratings in my survey flipped him to a slightly positive NPS versus slightly negative in the original survey.
Based on perceptions about these three men, Empire Financial Daily readers are decidedly more inclined to feel neutral versus negative towards billionaire tech founders. 
But this trend breaks down with social media behemoth Facebook's Mark Zuckerberg. The people polled by Vox/Data for Progress didn't like him… but my readers – you really don't like him.
In the Vox/Data for Progress survey, respondents rated Zuck at 31% "favorable" and 54% "unfavorable"… for an NPS of -24. Only 11% of you rated him favorably, though… and a whopping 73% of you gave him "unfavorable" marks – yielding the exceedingly strong statement of an NPS of -63. 
I added Twitter (TWTR) and Square (SQ) founder Jack Dorsey to the mix, and his "unfavorable" votes look similar to Bezos' at 34%… but he has fewer fans and more neutrals than Bezos. 
Putting it all together, my popularity contest has Gates and Musk tied for first, Bezos in third place, Dorsey in fourth, and Zuckerberg coming in last by an extremely large margin. Full results below…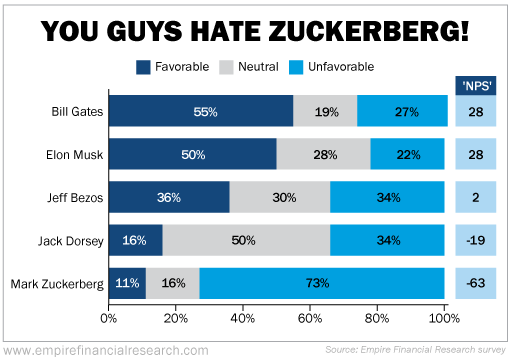 Note that there will be a guest essay running tomorrow – which is why I moved the update issue to Thursday this week. I'll be back writing on Monday… I hope all readers have a great weekend! 
► In the mailbag, another piece of feedback on the billionaires, more on the magazine curse, and Bezos comes up again in the context of Amazon's union battles…
Has anyone out there tried Stitch Fix for individual items or Fixes and not shared their experience before? I would love to hear about it! Do founder transitions make you nervous when they are unexpected like this? Share your thoughts in an e-mail to [email protected].
► "Hi Berna, All American taxpayers need to be paying their fair share of taxes. Billionaires whose wealth increased by $1 billion in a year need to pay at least 50% of that to the government to help fund the programs that enabled all their wealth creation to take place.
"All corporations that are profitable and earn at least $100 million should be paying 50% of their standard federal taxes in cash, regardless of all the tax shelters they have found. Any unused can just give them deferred shelters, but there must always be a cash payment of 50% of the standard taxes for the reported profit.
"Eventually the shelters won't be so important. Getting the infrastructure built and everyone working will be more important.
"The IRS needs to be built up to collect based on the current code. 
"Thanks for your request for comments." – Nigel M. 
Berna comment: Thanks for writing in, Nigel. For context, the U.S. corporate tax rate is currently 21%, having been reduced from 35% in 2017 by the Tax Cuts and Jobs Act. It has been as high as 53% (in 1968) and as low as 1% (1910) and has averaged about 32% in the period from 1909 to 2021. 
President Joe Biden is proposing that it increase back to 28% to help reduce deficits and fund infrastructure spending, among other things. This would be halfway between where it is now and where it was before the 2017 cut, but still below the long-term averages.
Your proposal for 50% goes a lot farther and I suspect won't find too many fans among Empire Financial Daily readers! 
► "I believe in the most powerful curse of all: the 'reverse curse of the sports announcer.'
"'Rich Gannon hasn't thrown an interception in 218 passes. Gannon back to pass. Over the middle. INTERCEPTED!' Any sport. All the time. Check it out for yourself. It happens far too often to be a coincidence." – M.S.
Berna comment: Good point, M.S. In my research for Wednesday's Empire Financial Daily, I actually learned that there's a well-documented Sports Illustrated cover curse as well!
► "Jeff Bezos [breathes] a sigh of relief that his Alabama workers will not be protected from abusive company policies by a Union.
"We used to call places of employment like Amazon 'Sweat Shops'. While $15 an hour beats the federal minimum wage, Amazon uses grueling 'rabbit shifts' to maximize output at the expense of their worker's well-being." – Thomas S. 
Regards, 
Berna Barshay
April 15, 2021