► Things look quiet at Manhattan's Hudson Yards…
Back in June, I wrote about the financial challenges facing two high-profile real estate developments, the American Dream Mall in New Jersey and Manhattan's Hudson Yards, built by the Related Companies. As I said, Hudson Yards is colossal…
The massive complex on Manhattan's far West Side makes the American Dream look like a starter house. With a budget of $25 billion (including $6 billion in tax breaks and incentives), it's the most expensive real estate development in U.S. history.

The 28-acre project includes office towers, high-rise luxury condos, an upscale mall, the first Equinox-branded hotel, a movie theater, the highest observation deck in the Western Hemisphere, a climbable multistory outdoor sculpture, and plenty of public space.
It's now been more than three months since I wrote that piece, and Hudson Yards remains a ghost town.
I've been down there a few times, and the performance space of course remains shuttered. Since I hadn't seen anyone go in or out, I thought the Equinox-branded luxury hotel remained closed as well, but its website tells me that it's open… and rooms are available starting at about $600 per night. But with other luxury hotels offering rooms at $150 per night or less, it's not shocking that the hotel isn't getting many takers at these rates – they're pricey by even pre-pandemic standards.
Things aren't any better over at the complex's glitzy shopping mall. In July, as part of its bankruptcy restructuring process, Neiman Marcus shut down its store there, which took up three of the mall's seven floors and served as its anchor tenant. The Little Spain basement food market – one of the mall's most popular features – remains closed. While most stores have re-opened, there are few customers… and I wonder how many tenants there are actually paying rent. Here's what the mall looked like at lunchtime this past Tuesday…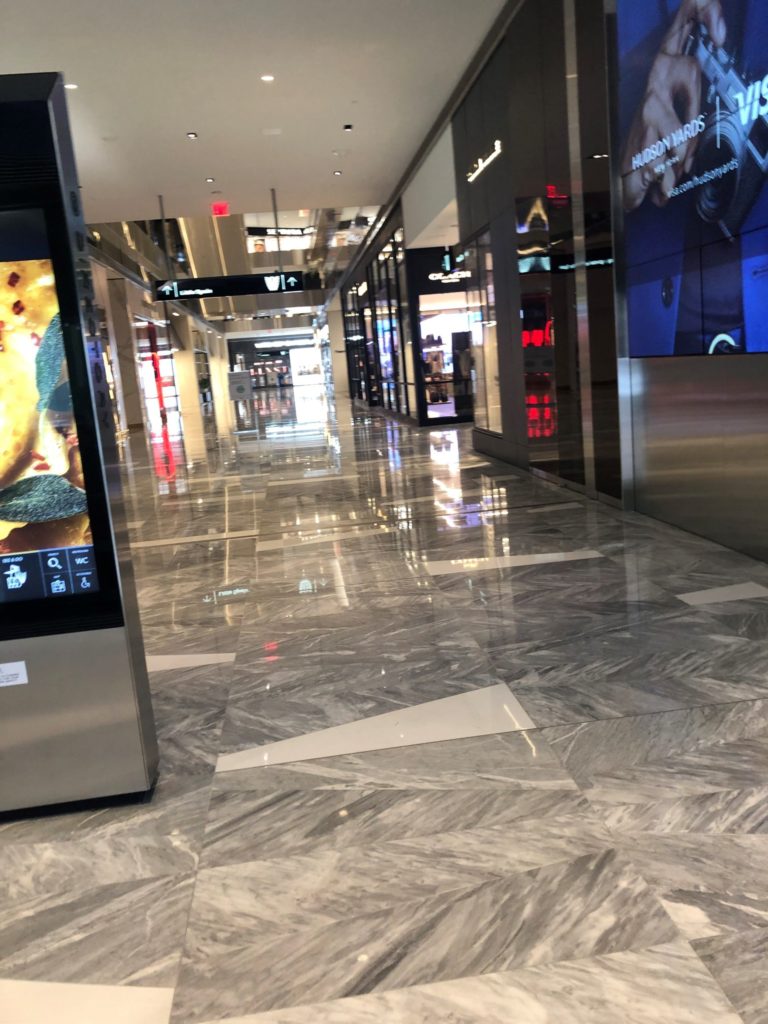 While much noise has been made about a return to the office, I was standing outside the 55 Hudson Yards office tower for about 10 minutes the other day while waiting for an Uber, and didn't see anyone go in or out during that period. Big tenants at the location include Facebook (FB), whose employees have been told they can work from home until July 2021, hedge funds Point72 and Third Point, and a variety of other financial and law firms.
► Things are also quiet west of 11th Avenue, where Phase 2 of the project is planned…
The so-called "Western Yards" is slated to have eight skyscrapers – adding 4 million more square feet of residential space, 2 million square feet of office space, as well as some more retail and a school.
Construction may not be stopped, but it certainly seems to have slowed. Even before the COVID-19 crisis, but after Phase 1 had opened, Related already walked back its timeline for completing Phase 2, which was originally supposed to be done in 2024. Related hasn't offered a new completion date for Phase 2.
Back in February 2019, New York Magazine's Intelligencer blog called Hudson Yards "a billionaire's fantasy city"… which is exactly the problem. Most of New York's billionaires have decamped to their estates in the Hamptons, Florida, or other locations that aren't Manhattan.
That same article explained how the Hudson Yards developers seemed to have thought of everything…
Even if the whole East Coast goes dark… the site's co-generation plant will kick in within milliseconds, so that multimillion-dollar electronic transactions can continue whizzing around the globe without a hiccup. When the rains come and the waters rise, submarine doors will close around elevator machinery and fuel tanks. This shining city on a deck is built to withstand a wide range of plagues.
Maybe there was one plague they forgot…
► The troubles at Hudson Yards may not only be a problem for Related…
It turns out that New York City, already reeling from the loss of international and domestic tourism and the toll of work from home (or second home), may end up footing a multibillion-dollar bill for the failure of Hudson Yards to live up to the hopes and dreams of its developers.
Back when the plans included a new stadium for the NFL's New York Jets to play in, the Hudson Yards Infrastructure Corporation ("HYIC") sold $3 billion in bonds to fund a mile-and-a-half extension of the 7 subway line from Times Square to the heart of Hudson Yards. The bonds were backed by air rights fees, fees for zoning exceptions, and property taxes… These would normally have been collected by the city, and redirecting them to the funding of the subway extension was a big part of the city's subsidy of this private sector project.
But the fees for air rights and zoning have largely been collected already, so now the city may be on the hook for the bonds' interest payments if Hudson Yards fails to generate enough profits to service the bonds.
Just like a parent who co-signs their college graduate's first lease as guarantor, New York City agreed to be the backstop for interest payments on the subway bonds, something it already had to do once before. According to news site Gothamist…
It's up to the city to step in to fill the gap. That's what happened after the 2008 economic crash caused delays in Hudson Yards' initial construction schedule: New York City provided $359 million in "interest support payments" through 2015 to shore up HYIC's finances. And though those payments were reduced or eliminated in recent years thanks to better-than-expected Hudson Yards revenues, the city remains on the hook if things take a turn for the worse…

"The city's investment in Hudson Yards has always been designed so that the debt for the train was most reliant on the commercial tax payments," says [New School researcher Bridget] Fisher. So if mall receipts tank and offices remain vacant, that's bad news not just for the project's private developer, The Related Companies, but also for the city's finances.
► Related projects a rosier vision for Hudson Yards…
As a spokesman for Related told Gothamist…
Fortunately for Hudson Yards, our office buildings are fully leased… and many of those companies are now bringing back their workers which helps lift the entire neighborhood. Hudson Yards has inherent advantages because it was created as a live-work-play neighborhood where people benefit from unified health protocols, state-of-the-art cleaning and air filtration and safety measures.
Technically the office space is 93% leased, but that's probably splitting hairs.
The office space so far seems solid… although if work from home remains persistent, renewals could be a problem when leases come up in presumably five to 10 years.
Meanwhile, Related is doing what it can to build foot traffic to the area – scheduling outdoor movies, courting food trucks, building an outdoor Equinox gym, and setting up an outdoor SoulCycle studio in the shadow of the complex's famous Vessel structure.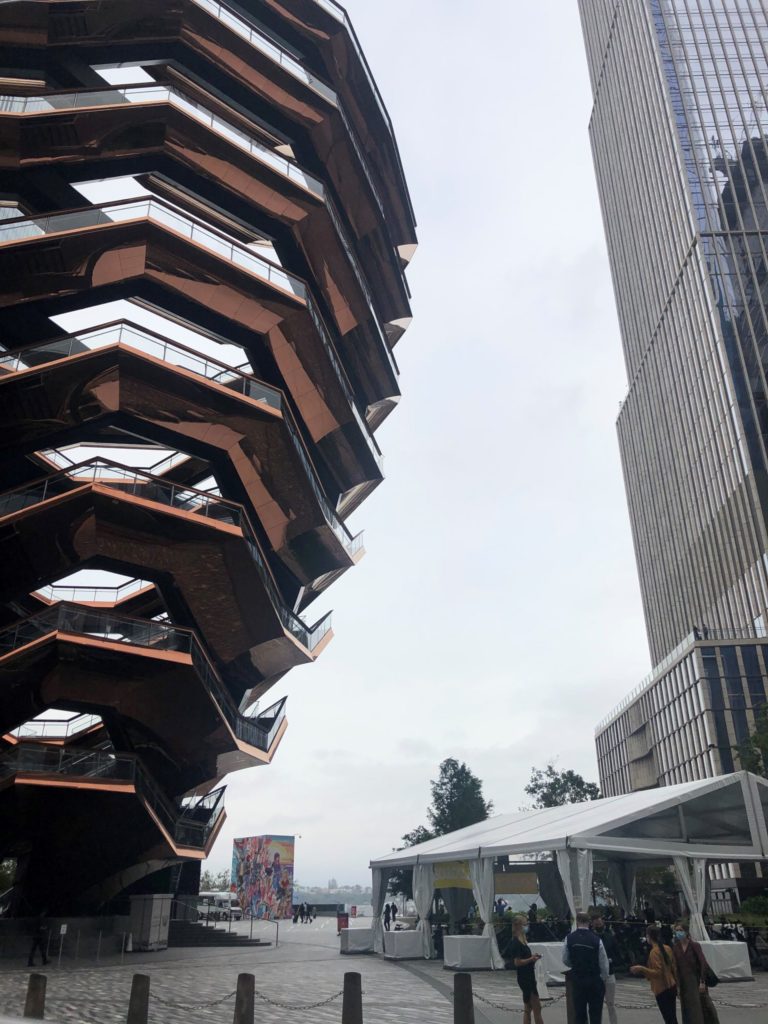 But the project's profitability depends on continued residential unit sales. This may be tough, as luxury condo sales at Hudson Yards were disappointing – even last year, when the New York City economy was booming and there were no barriers to foreigners traveling freely to their second residences in the Manhattan skyline. According to real estate news site The Real Deal (and this was written pre-pandemic)…
Design approvals aside, there is another reason not to rush luxury apartments onto the market: A plethora of units remain unsold at the first phase of Hudson Yards and other West Side buildings…

Luxury condo sales at 15 Hudson Yards have been sluggish, according to data from StreetEasy. Barely half of the 285 apartments, priced from $3.4 million for a one-bedroom to $32 million for a four-bedroom penthouse, have sold since the sales kicked off in 2016.
Given the weak demand even before the pandemic and the current uncertainty over future demand for midtown office space, it seems conceivable that Phase 2 of Hudson Yards won't be finished for a long time. In an August interview with the New York Times, Stephen Ross, the billionaire founder and chairman of Related, remarked that "in the city, we overbuilt like crazy."
Failure to complete Phase 2 of Hudson Yards would clearly lead to a revenue shortfall in servicing, and ultimately paying off, the $3 billion in bonds that HYIC sold.
Yesterday, credit-ratings firm Moody's (MCO) downgraded the debt of HYIC one notch, in conjunction with a broader downgrade of all New York City-issued debt.
► Hudson Yards offers a perfect example of the privatization of profits alongside the socialization of risk…
In some alternative global storyline, Hudson Yards may have been a smashing success. Had the COVID-19 crisis never happened and the New York City economy stayed booming a few more years, the condos might have sold, and the mall could be buzzing.
I'm not sure that was a likely scenario – I suspect the appetite for $3 million one-bedroom apartments may have been more finite than Related had counted on. But who knows… perhaps some kind of civil unrest or natural disaster in Saudi Arabia, Russia, China, or some other nation with a bunch of rich people capable of fleeing would have made those apartments sell like hot cakes.
In that alternate universe, Related would be making a lot of money on Hudson Yards.
Instead, with the pandemic materially increasing the possibility that this venture will be unprofitable, the city is left to ultimately foot a big part of the bill.
If the project makes money, Related wins. But if the project loses money or doesn't make enough to cover its debt payments, the City stops Related out on some of its losses. As the New School's Fisher explained to Gothamist…
The main point here is that the city took on enormous risks in how they decided to structure their Hudson Yards investment, with taxpayers ultimately footing the bill if and when anything goes wrong, When the economy was booming, the city came in and paid an additional $2.2 billion to open the project. Now when the economy is in crisis, it's likely we're going to have to do so again.
For Hudson Yards to prove the naysayers wrong – and for New York City to be financially off the hook – condos will need to move. And for that to happen, the towers need to fill up with workers recalled to the office. In this way, the fate of Hudson Yards is intrinsically intertwined with the fate of New York City… and many other large urban centers.
► In the July 28 Empire Financial Daily, I wrote about my preference for toy maker Hasbro (HAS) over rival Mattel (MAT)…
Since then, HAS shares are up 15% and MAT shares are up just 5%. But one area where Mattel excels is with this cheeky play on our current work from home world: The company's Fisher-Price division offers a toddler playset, complete with Zoom-friendly headphones and a "to go" coffee cup…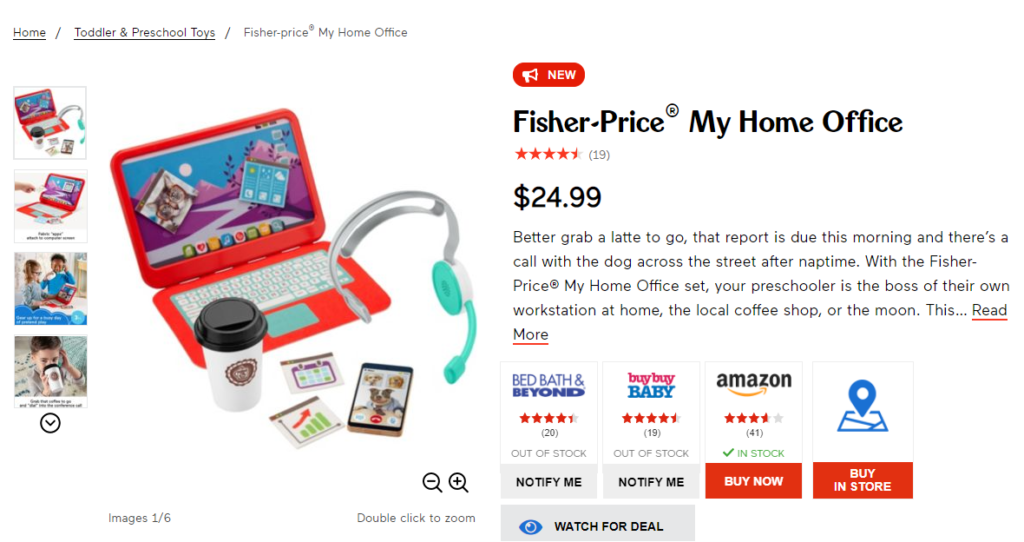 Source: Fisher-Price
► In today's mailbag, one long e-mail hitting on multiple topics and one very short e-mail touching on Halloween candy…
I'm curious what any readers who have visited it think about Hudson Yards and its prospects for being a lively and appealing "city within a city." Are there any half-built or recently completed real estate complexes where you live? Are there other potential real estate white elephants out there? Send an e-mail to [email protected].
► "Hello Berna and team, Your latest email was terrific. I found it most informative. I feel like I am auditing an entry level finance course. It is wonderfully written.
"I have a couple of random thoughts:
"1. If you haven't already, you might view The Social Dilemma on Netflix. Excellent documentary interviewing the nerds who created much of Facebook, Google, etc. It is very provocative, and I am seriously thinking of deleting my social media accounts as a result. It spells out the implications of social media on impact politics, investments, social structure, etc. It will likely fuel additional regulation and antitrust action. Check it out.
"2. I am in Northern California, and friends have had their homes burned to the ground in Napa County. The air has been hot, toxic for weeks. More than 80,000 folks are in mandatory evacuation. So, I am investing in the electric car segment per your reports. We need radical changes immediately to prevent further warming of the oceans. I loved your 'reverse vending machine for recycling' recommendation. As a retired guy, I will be putting energy into lobbying the California government to accelerate green mandates, and getting plastic out of our landfills and water seems very urgent.
"3. We have been self-isolating since March to reduce our potential exposure to COVID-19. Friends returned sick from Italy in February and exposed all sorts of people on the flights home. They are now long haulers, in studies at the University of California – San Francisco. Since this situation is being compounded by toxic air for weeks, I signed up for a Peloton machine, and dropped my high-end gym membership. Peloton is a disruptive company, like Uber and Lyft.
"Many friends, all retired, are on Peloton, and are addicted, and won't be going back to the gym. I was skeptical, but I am now an ardent fan. Wish I'd invested at the front-end!
"4. Re: Whitney's Marathon: he should see the documentary Icarus on Netflix. About sports doping, Lance Armstrong, Russian doping at the Olympics, Putin, and more. It's really fantastic.
"That's all for now… I appreciated your answer to my question in the last email. I have found that Ameritrade has an excellent dashboard for investors with all sorts of bells and whistles in an attractive interface.
"Stay masked, isolated and well!" – David B.
Berna comment: Thank you for your kind words, David. On the subject of The Social Dilemma documentary, this is actually something I was planning to write about in the coming weeks. You're not alone in thinking about deleting your social media accounts after watching this film. I was on a Zoom meeting this week with Tristan Harris, the former design ethicist at Google and co-founder of the Center for Humane Technology, who is featured prominently in the movie. He said that about 10% of people who watch The Social Dilemma have deleted their social media accounts in response.
I will make sure to pass on your recommendation of Icarus to Whitney. I know he loves a good documentary, especially if it's related to athletic achievement. He was the first person to tell me about the climbing documentary Free Solo, which had me on the edge of my seat, and ended up winning the Best Documentary Feature Oscar last year. I highly recommend it. It's streaming on Disney+ and Hulu, and available for rent at Amazon and Apple.
► "Giving junk food to kids is child abuse." – Jim
Regards,
Berna Barshay
October 2, 2020