► Discount retailer Dollar General (DG) offers evidence that what goes up, in fact must go down (at least in retail, usually)…
I've spent a lot of time here in Empire Financial Daily trying to parse through which habits and behaviors we picked up during the pandemic will prove persistent, and which trends will reverse as things get back to normal. One of the big question marks has been what happens to essential goods retailers that saw sales surge early in the pandemic and remain consistently above prior growth trends for the rest of 2020.
Well, we just got one of our first data points on this yesterday when Dollar General reported its fourth-quarter earnings… and disclosed that comparable-store sales for the period running from February 27 through March 16 were down 16%. This is a big slowdown from the prior period (January 20 through February 26) when comps were up 5.7%. Comp sales for the full fourth quarter were up even more: 12.7%.
Analysts were expecting same-store sales to be down 8% at Dollar General in the first quarter, as the company would be going up against the extremely tough comparison of a 21.7% surge in same-store sales in last year's first quarter.
Of course, the first quarter last year coincided with the early part of the COVID-19 pandemic, when consumers were bracing for the unknown – including product shortages. Dollar stores were determined to be essential retailers as they sell food, over-the-counter medicines, and other necessary items. Dollar General likely saw a lift in essentials, as well as in other areas – such as toys, home décor, and cosmetics – for which category-dedicated competitors were shuttered.
While a sales slowdown was expected, this was an abrupt drop off. It's a little surprising the slowdown was so severe at Dollar General, as dollar stores generally cater to lower-income, paycheck-to-paycheck customers – folks who would have had less cash and credit available for hoarding in the early days of the pandemic.
These customers would have bumped up spending when they got their stimulus checks – and should do so again shortly – but they don't generally have the extra cash to majorly adjust consumption patterns… which made this worse-than-expected slowdown especially notable.

Dollar General's shocking slowdown raises questions about what will happen to comps at retail pandemic beneficiaries more broadly…
Retailers ranging from grocery stores to Target (TGT) and Walmart (WMT) are going to need to anniversary the initial panic buying and hoarding, as well as the more persistent lift they got from more meals and time at home. The tough comps will hit grocers and these big-box chains first… and as we move through the year, comparisons ratchet up for retailers of home goods, sporting goods, and other categories.
We're likely to see lots of negative comps from companies that got a pandemic bump. Investors shouldn't be put off by them… they are just a normalization of a spike in activity that nearly everyone knows wasn't sustainable.
But some companies will come out of the pandemic clearly in better shape because they recruited new customers or grabbed wallet share with existing ones… as an example, I've said many times that I put Target in that camp.
Other companies benefited from surging interest in their categories because of the pandemic – home improvement, home furnishings, sporting goods and toys, home exercise equipment, and grocers, to name just a few. For the stores selling items related to new habits, whether or not these habits will stick in a return to normal is the key question. This is where it gets tough…
People's heightened interest in their homes may be here to stay… but the pace of spending on them can't hold up. How each individual home nesting stock will react to slowing – or really, normalizing – sales growth will depend a lot on what they deliver versus Wall Street expectations… because everyone sees this slowdown coming.
As for Dollar General… the stock was down 5% yesterday because of the negative surprise factor. But the stock has made up all of yesterday's losses and then some today because this is a well-run, reasonably valued company that had good prospects before the pandemic and will have good prospects after the crisis is over.
So it's easy to write off a 16% sales drop as a historical blip. After all, this is a company that has gone up every year since its 2009 initial public offering ("IPO")…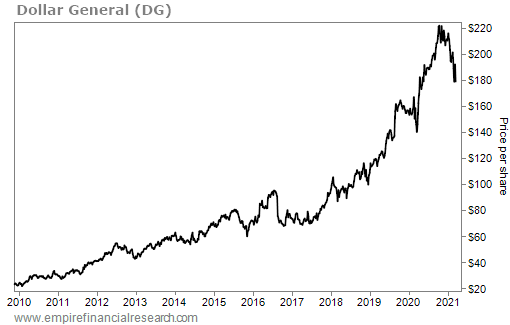 Not every retailer has been a "Steady Eddie" like Dollar General, which has delivered exactly one negative quarter of same-store sales since its 2009 IPO… and that comp was only negative 0.1%!
Dollar General's comp streak is about to be broken in a big way as it anniversaries the big pandemic bump. But I think investors will look through this noise with well-positioned, high-quality companies like Dollar General.
Things may be tougher for more structurally challenged companies, like grocer Kroger (KR) – which got a similar COVID-19 bump, but was struggling with growth pre-pandemic. It had been a range-bound stock for several years going into the crisis…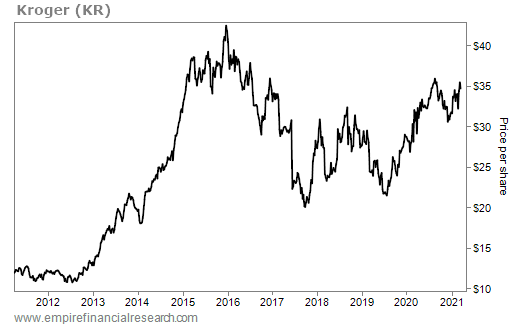 We're entering a period of trend reversal for sales and earnings momentum for many companies, which I believe will make stock-picking and differentiating within sectors more important than it has been for several quarters. This will be especially true within retail, given the sea of red comps we will need to work through.

With credit to the Wall Street Journal for this headline, 'the gig is up for Uber (UBER) in the U.K.'…
Last month, the U.K.'s Supreme Court ruled that a group of former drivers for the ride-hailing and food-delivery company was entitled to minimum wage and other benefits during the period they worked. While the decision regarding the 25-driver plaintiff group is immaterial, this set a meaningful precedent for how the company might operate in the U.K. in the future.
Uber noted at the time that the decision wouldn't automatically reclassify all drivers, nor did the decision have implications for its Uber Eats operations. After UBER shares traded off 5% in the wake of the decision, investors blew off the event… and the stock recovered to within a few percentage points of all-time highs.
On Wednesday, Uber announced that it would reclassify all 70,000 of its U.K.-based ride-hailing drivers as "workers." While a "worker" isn't quite the same thing as an employee, this status conveys benefits – ones that aren't afforded to gig workers, such as paid vacation time and pension contributions.
Uber said the incremental costs from the U.K. worker reclassification wouldn't affect its forecast of reaching a run rate of breakeven earnings before interest, taxes, depreciation, and amortization ("EBITDA") by the third quarter of this year. However, some Wall Street analysts are predicting the reclassification could bring $250 million or more in incremental annual compensation expense in the U.K. – a market which comprises about 6% of Uber's ride-hailing revenues.
One thing to note about the new arrangement in the U.K… drivers aren't paid a guaranteed minimum wage the whole time they are in the car, only from the time they accept a trip. This blunts the financial effect of the reclassification.

Uber had dodged a bullet last year when Proposition 22 passed in California, protecting its right to treat drivers as gig workers in the state…
But the success of the U.K. suit could embolden labor activists in other jurisdictions, particularly in Europe, to pursue legal action seeking the reclassification of gig workers to employees. Uber sources 45% of its revenue outside the U.S., with 19% specifically coming from the Europe, Middle East, and Africa ("EMEA") region.
Uber's ride-hailing division has been making greater strides toward profitability than Uber Eats has, so any expense pressure in this division could push out Uber's timeline to profitability. While the ride-hailing division should prove a reopening beneficiary – bookings were still running down 47% year over year as of January – a return to normal life will be a headwind to Uber Eats, where sales – but not profits – soared during the pandemic.
I have no doubt that the mobility business at Uber, aka ride hailing, will come ripping back as countries re-open. In its fourth-quarter earnings call, Uber noted that January bookings show a near complete comeback in generally re-opened countries. Brazil and New Zealand were at 89% of 2020 levels in January, with Hong Kong and Australia not far behind at 83% and 82%, respectively. Bookings in Taiwan were actually up at 116% of prior year levels. And this has largely occurred without the airport business coming back.
My concern for the Uber business model was never about revenue growth, though… It's about profitability. While the company is moving in the right direction, structural challenges to making money in ride hailing and food delivery are substantial. The difficulty of attaining profitability in these core businesses probably played a role in the overdiversification that Uber has since unwound.
It's worth noting that since its exit out of a number of money-losing nascent businesses, Uber did enter a new business line with its acquisition of alcohol marketplace and delivery service Drizzly. This business seems like a better fit than air taxis was and should offer synergies with its existing operations in rides and food delivery. Uber disclosed on its call that Drizzly is growing 300% and is already profitable on an EBITDA basis.
Having a business that doesn't lose money will be a new experience for this $105 billion company. I remain a skeptic on Uber and would avoid its shares… The U.K. reclassification only adds to my skepticism.

Consumer products giant Procter & Gamble (PG) is getting into the non-fungible token ('NFT') game…
What's better than an NFT? An NF-TP!
P&G's Charmin brand announced on Wednesday that it would sell six pieces of toilet paper-themed digital art with proceeds to benefit charity Direct Relief. Listed on marketplace Rarible, the highest bid currently stands at the ethereum-equivalent of around $2,200.
You may find this piece more of a bargain at around $710 (payable in ethereum, of course)…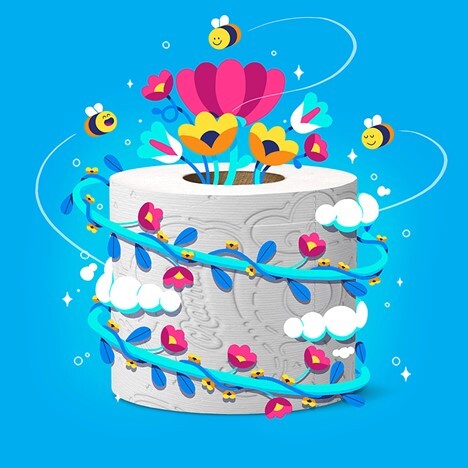 Source: Rarible
Sweetening the deal, Charmin notes that "Each roll comes with a physical display, so you can hang your NFTP in your bathroom alongside your IRL rolls."
What could be a better way to memorialize 2020 than a toilet paper NFT, as the once physically rare commodity transforms itself into a digitally rare one?

In the mailbag, a reader reacts to Monday's essay on ViacomCBS's (VIAC) Paramount+ and the rising competition in streaming…
Which brick-and-mortar or online retailers do you think were meaningfully and permanently lifted by the pandemic? Do you think you'll start buying fewer groceries again soon? Do you think Uber will ever make money? Share your thoughts in an e-mail to [email protected].

"Back in the 1990s, I worked for a cable network that was acquired by CBS. So a small world that I am now profiting on this unbelievable run in the stock. I tend to agree with you that the stock is overpriced but have been hesitant to sell as the WallStreetBets crowd appears to keep running it up. Markets are crazy right now. I also launched what is now a subscription service called MyOutdoorTV.com, which is currently owned by Outdoor Channel.
"So as far as subscription services, I don't believe anyone is late to the game. As an example, I enjoy BBC programming and now considering a subscription to Acorn TV. My guess is that subscribers will move around based on what they enjoy watching and the key for these streaming networks is to create new content to attract these viewers. A number of niche services can exist like MyOutdoorTV and AcornTV as long as they keep their monthly fees reasonable.
"For example:
"1. Had HBOMax (T) for one year through Comcast (CMCSA) for free. Just expired and don't plan to renew. There is some stuff to watch there, but they add content infrequently and not worth the $15 per month when I am already paying for it via cable at a second home.
"2. Got Disney+ (DIS) for one year for free under Verizon (VZ). My kids have grown up, so no interest in the kids programming. Outside of old Disney shows from the 1960s (walk down memory lane) and the Mandalorian, there is nothing to watch. So I let it expire. Every time I see their subscription numbers, I wonder how many of them are free subscriptions that will not renew.
"3. Apple TV+ (AAPL). Received one free year for buying an iPad. Not much there to watch and have now watched everything I want to see. So I will let it expire. Will I renew to watch Ted Lasso? Maybe for one month to binge watch.
"4. Netflix (NFLX). Probably will never cancel as they keep adding new content. This is the one service that makes up the core subscription for most people.
"5. Amazon Prime (AMZN). Get free shipping with this service. On a standalone basis, not sure it is worth it. Some good original programming, but Amazon is not very aggressive in adding new content and their user interface is beyond terrible. But having the Prime component, I will not cancel.
"6. Paramount Plus. I get this free as a subscriber to their sports websites. I actually watch this more than Disney+, Apple +, and HBOMax. As an older subscriber, I get to revisit all the episodes for Cheers, Taxi, Twilight Zone, and Hawaii 5-O. But unless you are a big fan of newer CBS shows like the Unicorn, they are not creating a lot of original content for their online network. So this will be their challenge, but certainly no different than for everyone outside of Netflix. They also have Pluto, which has a fair number of shows online and a good service for people using Roku (ROKU), etc.
"I have cut the cord in my primary home, using Roku now combined with YouTubeTV. I am willing to subscribe to three or four other services plus YouTubeTV as my bill is still lower than using Comcast. Services that are $5 to $7 per month are easy to pick up, like Acorn TV.
"But HBOMax really needs to step it up to get $15 per month. And when Mandalorian comes back on Disney, may subscribe for a month to binge watch, but will not be a long-term subscriber. For young families, it is probably a highly desirable service. That is why I believe these services will churn subscribers over time as their viewing habits evolve. Netflix and maybe Amazon Prime will be core sites and the others will be ancillary based on viewing needs at the time. I should also mention Hulu as a possible core site, though I have not felt the need to subscribe to that service." – Chris M.
Berna comment: Thanks for writing in, Chris… I love when industry experts share their feedback with me.
I agree with many of your thoughts, although I do believe that Disney+ is essential if you have children under 12 and will become increasingly compelling for teens and a significant segment of adults as the Star Wars and Marvel content ratchets up (which it will soon). If the platform can get six to eight must-see shows like The Mandalorian or WandaVision going, there will be no "off season" for superhero and Star Wars fans – of which there are many. Disney+ will likely move closer to the Netflix status of "core," but only if it executes well on the Star Wars and Marvel franchises in episodic form.
I also wonder how many subscribers Amazon Prime Video would have if it wasn't bundled with the shipping… because the shipping is a no-brainer for most. I think of the Video as a bonus perk, as opposed to an expenditure… and I bet many others do as well.
Regards,
Berna Barshay
March 19, 2021