► It's been a strong first-quarter earnings season for Big Tech…
And that includes my favorite of the bunch since last summer – Internet giant and Google parent Alphabet (GOOGL).
The company knocked it out of the park on Tuesday night when it reported earnings per share ("EPS") of $26.29, which bested consensus estimates of just $15.64. Even adjusting for a one-time gain, earnings were $20.78 – beating expectations by 33% – and grew 79% versus last year's somewhat COVID-depressed first quarter print of $11.63.
Just as impressive, Alphabet's revenues topped $55 billion, beating estimates by more than $3 billion. The top line grew 34% year over year… That's an astounding growth rate for a company its size – Alphabet generated more than $182 billion in revenues last year. While there was a bit of a tailwind from an easy comparison, as last March the COVID-19 lockdowns took hold and depressed advertising spend in the process, it's still a massive result.
When 34% revenue growth drives 79% EPS growth in the absence of big change to interest expenses or tax rates, you know a company is managing its expenses well. And Alphabet provided a textbook example of how to do expense management right this quarter…
Operating expenses barely budged despite soaring revenue: Sales and marketing expenses were flat and general and administrative expenses were down 4%. Research and development (R&D) spending jumped 10%, but that still meaningfully trailed revenue growth. And R&D is actually the one operating expense that investors like to see grow, especially at a tech company, which needs to keep investing for the future.
Advertising revenue grew 32% in the quarter, and this was the fastest growth in at least four years…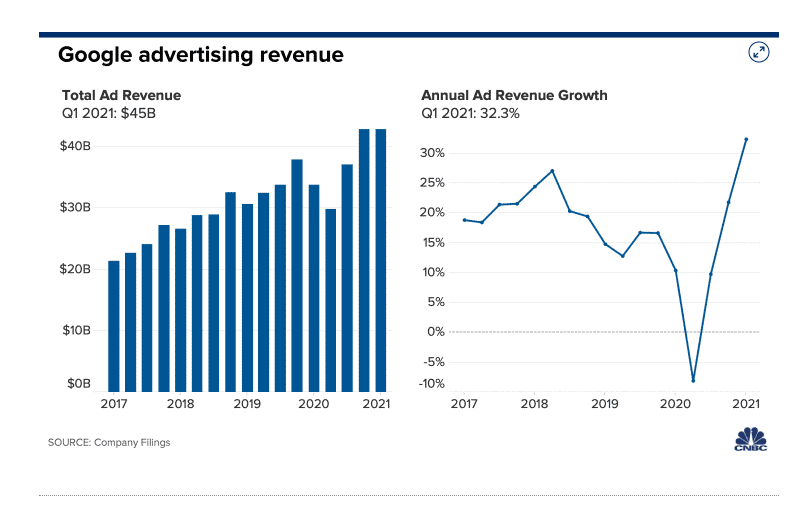 Source: CNBC
Of course, the easy comp helped here… and it will help again next quarter, before comps get tougher in the second half of the year.
Google's growing Cloud unit put up 46% growth to top $4 billion in sales. The Cloud is still losing money for Google, but losses are narrowing.
YouTube was a standout in the quarter, with revenue growth of 49% year over year. Advertisers continue to flock to YouTube to reach viewers in the coveted 18-to-49 age group, who now spend more time on YouTube than they do watching traditional TV.
Alphabet's confidence in the future led it to repurchase more than $11 billion in stock during the first quarter. The company also announced a new $50 billion repurchase authorization with earnings.
In reaction to the strong results, GOOGL shares rose 3% on Wednesday.
Growth will almost certainly slow down at Google later this year – this growth rate isn't sustainable when comps get harder – but this remains a very healthy business that's printing cash and has a huge moat. Alphabet is a suitable core holding for any long-term oriented portfolio.

As good as Alphabet's results were, the next day, social media juggernaut Facebook (FB) came out with a report that essentially said, 'Hey, hold my beer'…
Facebook provided an even bigger upside surprise. EPS of $3.30 beat expectations of $2.34 by 41% and represented 57% growth versus last year's first quarter result of $2.10, which was also somewhat depressed by advertisers pulling back at the beginning of the COVID-19 lockdowns.
Revenue crushed expectations by more than 10%, coming in at $26.2 billion. Revenue growth was a stunning 48% – a giant number for a company of this size and scale.
Pricing soared at Facebook… Revenue growth was buoyed by a sharp 30% increase in the price per ad. There was also a 12% increase in the number of ads shown.
FB shares were up more than 7% yesterday following the strong report.
Like Alphabet, Facebook showed exceptional cost discipline, which led to operating leverage. Also similar to Alphabet, Facebook will see a natural deceleration of growth when comps get harder in the second half of the year.
But this tech titan also remains extremely healthy, and FB shares are appropriate as a long-term holding in any portfolio as well.

Since I called Alphabet out as my favorite 'FAANG' stock last July, it has led the group…
On July 17, I advised caution on streamer Netflix (NFLX) and said investors should consider Alphabet instead. Here's what has happened since then…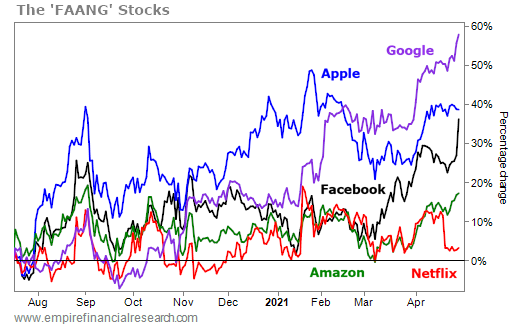 Alphabet has been the clear winner and Netflix the clear loser, with GOOGL shares up 55% and NFLX shares up just 4%.
Thanks to this outperformance by Alphabet, my favorite FAANG stock has shifted for now to Facebook.
The company is firing on all cylinders and offers good value relative to the rest of the FAANG group.
On an enterprise value to earnings before interest, taxes, depreciation, and amortization basis ("EV/EBITDA"), Facebook trades at just under 12 times 2022 estimates. Amazon (AMZN) and Apple (AAPL) trade around 19 times on this basis, and Alphabet is around 14 times. Netflix – which I said on Monday I would avoid – is rich at 28 times 2022 EBITDA estimates.
Facebook is currently climbing two walls of worry, not counting the collective distaste the public has expressed for its founder-CEO, Mark Zuckerberg.
Facebook's first problem is that it's perceived to have a declining and aging audience. But Facebook's daily average users ("DAU") grew 8% to 1.9 billion and monthly average users ("MAU") grew 10% to 2.9 billion in the first quarter. Simply put, rumors of the death of Facebook are greatly exaggerated.
Further proof of this is the strong growth in ad prices. If advertisers weren't getting a return on their spending, they wouldn't be paying up for Facebook ads. But they are… Revenue per North American user continues to soar at Facebook, which you can see in the graphic from chartr below…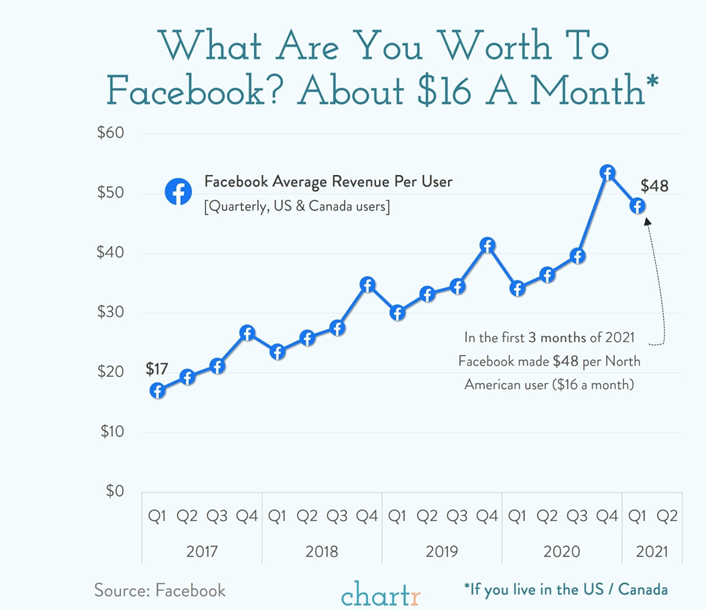 Source: chartr
The other big worry with Facebook is the new privacy feature launched at Apple. Apple's App Tracking Transparency feature allows users to opt out of apps tracking their digital surfing. Most people are expected to opt out, and investors worry this could lower the value of the ads Facebook sells.
And while Facebook is fighting Apple about this, it's important to note that the change affects less than 5% of Facebook's annual ad revenue, according to reporting from tech site The Information.
I think Facebook and Alphabet are both great long-term holdings for investors… but right now, Facebook is cheaper and fighting a couple of walls of worry that I think will eventually go away. So for now, Facebook displaces Alphabet as my favorite FAANG stock.

On Tuesday, I wrote about how many consumers are undergoing a wardrobe refresh as they return to normal life…
As it turns out, that's not all they are refreshing.
Apparently, there has been a surge in interest in spiffing up more than a wardrobe… Plastic surgeons are prepping for a post-pandemic boom.
According to a national survey conducted by the American Society of Plastic Surgeons, 10% of women said they are more interested in cosmetic surgery or non-surgical procedures now versus pre-pandemic. Additionally, almost one-quarter of those who had a procedure in the past want more work done now.
According to reporting from retail news site Business of Fashion…
Last year, plastic surgeons saw a rush in facial procedures as Zoom calls became more popular. Now consumers want to combat weight gained during the pandemic with tummy tucks and liposuction, the survey shows. Patients, who typically are women in the vast majority of the procedures, can also take advantage of discreet recovery at home amid social distancing brought about by the pandemic, surgeons said.
In a potentially related story, CNN reported this morning that condom sales are making a comeback. I had written about the category taking a pandemic-driven hit back in February, after I had attended a virtual consumer packaged goods ("CPG") conference.
CNN notes that condom sales grew 23.4% in the four weeks ending April 18, as increased vaccination rates spur a return to in-person dating.
Companies including Durex maker Reckitt Benckiser (RKT.L), Trojan parent Church & Dwight (CHD), and retailers Walgreens Boots Alliance (WBA) and CVS (CVS) have all called out the category as being strong in recent weeks.
Apparently, things are getting back to normal in the ways you can see… and the ways you can't.

One thing that continues to look like it will never be the same for many: office life…
Deutsche Bank (DB) just became the latest major employer to embrace a permanent "hybrid" work model, stating that it plans to allow work from home ("WFH") up to three days per week. While we've seen a lot of hybrid policies announced at big tech companies, such flexibility is more notable coming from a large international bank.
Other big banks seem to be open to experimenting as well, with HSBC (HSBC) announcing this week that it plans to cut its office space by 20% as it embraces hybrid working. UBS (UBS) also indicated that leased space is expected to decrease.
The American banks have so far been less forthright about hybrid plans, but JPMorgan Chase (JPM) CEO Jamie Dimon did recently acknowledge the bank will most likely have a smaller physical corporate footprint going forward.
On a related note… yesterday, Firstbase, a startup which enables remote work and was co-founded by Chris Herd, who I have quoted extensively regarding the WFH future, announced a $13 million Series A venture capital ("VC") investment led by leading VC firm Andreessen Horowitz. Investments by Andreessen Horowitz are closely watched, given the firm's track record of having made early investments in companies such as Facebook, Groupon (GRPN), Twitter (TWTR), Coinbase (COIN), Lyft (LYFT), and Roblox (RBLX).

Yesterday, a reader had a question for Seth – another reader who had sent in a letter earlier – which I published. Seth was kind enough to write in, so I'll hand over today's mailbag to him…
What's your favorite FAANG stock? Are you finding that you're using Facebook less than in the past? Do you plan to opt out of app tracking on your iPhone? Is anyone out there executing a return to dating… and is it awkward after a pandemic pause? Share your thoughts in an e-mail to [email protected].

"Dear Berna and 'O.P':
"Berna: Great article as always, and the markets have certainly priced in the recovery to the fast-casual food industry. For a recommendation at Starbucks (SBUX) – because what college kid isn't addicted to the overpriced – yet convenient and oh so delicious – beverages – I have to recommend a triple shot iced coffee with heavy cream (the cream prevents a hole in your stomach at that level of intensity and dilutes the acidity well).
"As for 'O.Ps' question, it's complex, and I will explain it. Before I do, my tentative degree is not in computer sciences or my minor (Economics all the way!), so I can't portray myself as an expert, just an informed investor in the currency.
"With that being said, I need to elucidate what a 'hash value' is because the nomenclature does it an injustice and the tech/cryptocurrency ecosystem makes things unnecessarily convoluted.
"A hash value in technical terms is a unique string of letters and numbers that verifies a transaction on the blockchain's ledger. It's immutable (unchangeable), and whichever node (a computer system that accomplished the mining) verifies this gets the fee that the sending party pays for the transaction. Here is a random hash I pulled from the ledger at the time of writing: (5b57ef1642d6b2ccbe05ea48b5c1a6b3bbadb85911b88e7b1f9a6dd0ae711a22)
"The hash is unique and – to the human eye – is unintelligible.
"To a computer, you're speaking our equivalent of English, and the result will lead you to this transaction:
https://www.blockchain.com/btc/tx/5b57ef1642d6b2ccbe05ea48b5c1a6b3bbadb85911b88e7b1f9a6dd0ae711a22.
"Of note, you'll see a split in the transaction for 50.44$ and $132,264.39. The miner's fee, in this case, was 50.44$, and the other party at the end of the trade received 132,264.39 in cryptocurrency. The hash/miner fee depends on the size of the transaction and if you're victorious in solving the mathematics behind the transaction, which is achieved by the raw processing power (GPU) behind your operation. The more GPU, the larger transactions you can process (and at a higher velocity and frequency), the more fees you can collect. Your profit is the total cost subtracted from total revenues, which over time compounds to a coin. You're validating trades for partial coins, which over time add up to a whole coin.
"Now, that will probably make no sense to most people (and I understand why you would feel that way, this is very new to a lot of people), so I'm going to give a metaphor that should make the topic more digestible.
"You're dancing at a nightclub, and you see that one person who doesn't have a dancing partner (let's just say, Jane Doe). Jane Doe is moving all around, trying to find someone to pair with and have a dance with. Jane dances with Thomas, and they don't match. Jane dances with Clark, and they're not a match either! However, the third time, Jane dances with John Doe. They hit it off, and because Jane isn't single for the night, she gives John Doe 1000$.
"In this case, John Doe is the miner and won the math challenge and was rewarded with a fee of 1000$.
"That is basically what cryptocurrency mining is. Simply put, a miner takes a fee for consummating the trade between two parties, just with computer code and math. Importantly, it's a business, so to profit on a coin, your business must be profitable. There are a few publicly traded miners with the following tickers, such as Marathon Digital Holdings (MARA) and Riot Blockchain (RIOT). That's not investment advice (and I actually recommend avoiding them because they are very popular with Wall street bets (WSB), and they're ridiculously volatile).
"Side note: I did own RIOT, and when I started reading Empire, I sold it on Berna's left-handed advice. I recall reading somewhere here, 'stocks should go up 100% in a few months, and you should sell'. It gained 288% in six weeks (from my cost basis) and, after feeling like a genius, sold near the top of 71$ (exited at 68$ and locked in very sizeable short-term capital gains). It closed today at 40.33$.
"Thank you, veteran hedge fund manager :).
"I hope this answers your question! All the best." – Seth R.
Berna comment: Seth, I'm really glad I could inadvertently help you maximize your gains on RIOT… which is quite amazing, since I only barely understand what that company does!
I'm going to try out your coffee order soon. It sounds good!
Regards,
Berna Barshay
April 30, 2021