Iconic cognac brand Hennessy is selling its first non-fungible tokens ('NFTs')...
The Hennessy tokens will give each buyer digital ownership of art celebrating the spirit on its 250-year anniversary. There are two tokens, and each comes with a physical bottle of cognac – either the first or last bottle in the 250-bottle limited-edition release of Hennessy 8, described in a press release as "crafted using one eau-de-vie from eight generations of Hennessy Master Blenders, Hennessy 8 embodies 250 years of excellence."
The NFTs will be tradeable separately from the bottles, which Hennessy-parent, French luxury goods giant LVMH (MC.PA) will send to the two buyers. The NFT owners will also be invited to visit the Hennessy estate in Cognac, France.
BlockBar, a spirits-oriented NFT platform, is hosting the sale. BlockBar also stores the physical bottles until the owners are ready to drink them.
The NFTs are priced at a mere 70.47 ethereum, equivalent to around $226,000 each, at the time of the pricing. (That's some top-shelf liquor!)
Sam Falic, co-founder and president of BlockBar, explained to Forbes the real-world value that digital NFTs can provide in fighting counterfeits and encouraging a liquid secondary market in ultra-rare spirits...
Asset-backed NFTs are both the most secure way to protect a liquor collection, and serve as a hedge against the market... At BlockBar we only partner directly with brand owners, such as Hennessy, and therefore the NFTs serve as a digital certificate of authenticity, eliminating any concern for counterfeits.
Platforms selling a combination of digital and physical goods like BlockBar also enable fractional ownership and investment. Falic explains...
The ability to fractionalize ownership with tokens is another reason why NFTs make so much sense for this industry. The other interesting part about casks is you can own a collection without having it physically and can sell that onwards with relative ease before bottling.
It's all very interesting... but if even a fraction of a $226,000 NFT sounds like a budget-breaker, look out for the next NFT auction from beer giant Anheuser-Busch InBev (BUD)... Budweiser's "Key to the Budverse" November NFT release was priced at a more digestible $999.
And if all this sounds like an invention catering to folks who have too much money to light on fire, I direct your attention – and that of Federal Reserve Bank Chairman Jerome Powell – to this tweet...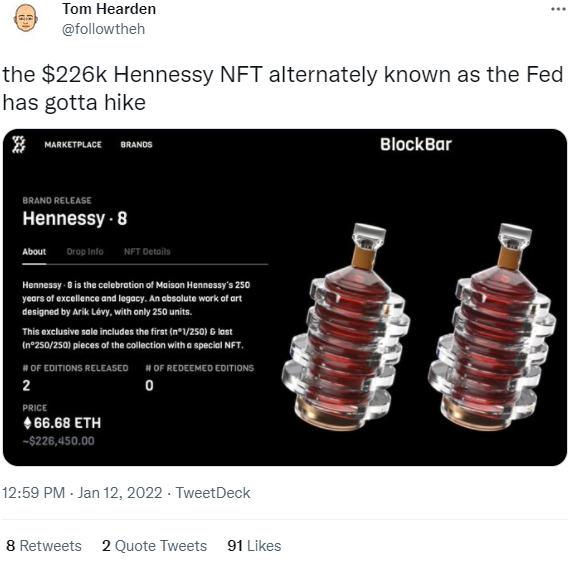 Source: Twitter/@followtheh
In all seriousness, I wrote in my year-end wrap up and 2022 outlook essay that I expected the metaverse "to create big money-making opportunities for the strongest consumer brands in apparel and footwear, luxury goods, and food and beverage – as well as music companies." It looks like it's already happening.

Elsewhere in people with money to burn, Adam Aron, CEO of movie theater chain AMC Entertainment (AMC), dumped another 312,500 shares on Tuesday...
His total proceeds since November from selling AMC shares now stand at $42 million. After this week's sale, regulatory filings show that Aron's AMC holdings are down to 205,086 shares. In a tweet, the executive and "Chief Ape" assured his many fans and followers that this was part of his estate planning...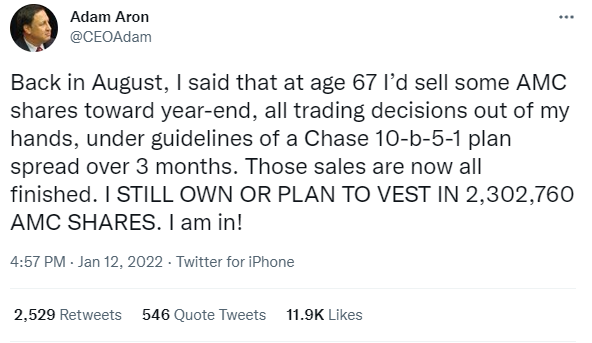 Source: Twitter/@CEOAdam
The 2.3 million shares he refers to must be mostly unvested ones. As part of his 2020 compensation package, Aron received $15 million in stock awards (up from $6.5 million in 2019). Aron also received a $5 million bonus last year, on top of his $1.1 million salary. The guy clearly didn't need to sell stock to pay bills.
I've outlined extensively why I think AMC's business is in trouble and why the current quote for AMC shares is ridiculous. I do applaud Aron on his trading skills though since the stock has been ticking down since September. Aron clearly nailed the trade...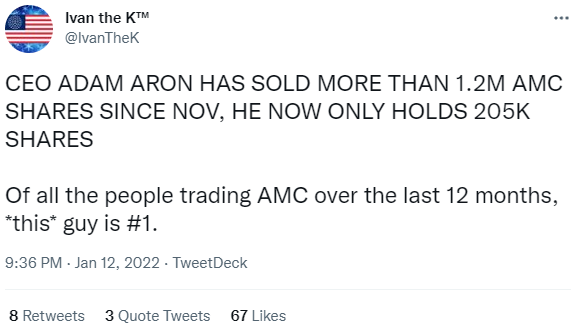 Source: Twitter/@IvanTheK

Turning to one of the most legendary traders of all time – Paul Tudor Jones is bulled up on environmental, social, and governance ('ESG') investing...
The legendary hedge fund manager and billionaire is also a longtime philanthropist. He co-founded the extremely successful Robin Hood Foundation, which applies investment principles to selecting programs that address poverty in New York City.
His latest venture is non-profit Just Capital, an ESG research firm, which uses data to rank companies based on adherence to the priorities most important to Americans, which it determines through extensive surveys.
On Tuesday, Jones was on CNBC asserting that performance on this "Just" index will be as important as profits in the coming years for stocks, as investors increasingly focus on these qualitative metrics.
Jones' thinking is in line with my idea of a consumer-driven ESG revolution that I've written about previously here at Empire Financial Daily.
As an example of why being "just" matters, Jones points to now-bankrupt Purdue Pharma, the company at the center of the U.S. opioid crisis. Purdue surely looked great by the numbers for years... but as Jones explained, "their only business purpose was to make a profit and then the consequence of that was an opioid crisis that killed 400,000 Americans."
Jones went on to assert that "you cannot distinguish between a business purpose without bringing in ethics and morality and the social consequences of your actions."
A big part of measuring "justness" for Americans, based on the polling, is how a company treats its workers. Paying a fair and living wage is big factor in the Just Capital rankings. As Jones asserts...
You can't have a value proposition for investors and shareholders in the long run unless you're taking care of and providing a value proposition for the other stakeholders, employees, customers, communities, the planet.
While he does reference the planet and therefore bring the environment into the conversation, the Just Capital ESG rankings lean heavily into the "S" in ESG, looking at not just wages, but also worker safety, health and other benefits, and other workforce investments.
Most of the ESG focus among investors has really centered on the environmental piece. But – like Jones – I continue to believe that the "S" will be a stealth factor in company performance over the coming decades, as millennials and Gen Z continue to vote with their wallets.

If like Paul Tudor Jones you're interested in how ESG will affect companies in the future, don't miss my brand-new presentation...
I'm excited about how ESG is going to transform the investing world over the coming years. ESG will also have a massive impact on corporate strategy and the relative competitiveness of companies across a wide swath of industries. In fact, I've even found three under-the-radar stocks primed to benefit from this global shift. You can watch my full presentation right here.

In the mailbag, readers react to recent essays on ESG and my call for year-end reflections...
Have you bought any NFTs? Do these physical-digital combo NFT packages hold more appeal for you than digital-only NFTs? Do you think insider selling by the C-suite is a good tell on a stock's future trajectory? Do you agree with me and Paul Tudor Jones that companies that treat their workers well will outperform in the long term? Share your thoughts in an e-mail by clicking here.

"Thank you, To argue that ESG investments will bring inevitable doom to the world requires one to assume that these 'traditional deep value investors' know all and know it forever.
"I would argue that these current investments in ESG are just the tip of the iceberg, and that it's unfortunate but true that we simply don't have the luxury of maintaining our existing 'tried and true' energy and industrial economies. My generation borrows this world from those who follow, Gen Z, and although 'global warming' can be politicized and debated, the rise in global greenhouse gasses is a scientific truth with as-yet unknown consequence, and so we must invest to minimize the risk of the worst-case scenario--even if that risk is minimal – if only because that worst-case is devastating and represents extinction of life.
"For that investment strategy, heavy industries like non-renewable energy plays what part in that exactly?
"As a specific example, energy sources like oil will actually probably have a long-term future in powering our world, but the days of entitled exclusivity definitely seem numbered, and this represents an opportunity for human innovation and the markets that reward that. Developments like the democratization of finance means that people no longer must remain 'impoverished of aspirations,' and with ESG investing, investors might just be choosing where the market must go to ensure a continuity of the growth that has occurred for many previous generations.
"We may remain afraid of the unknowns in the stock market, but what exactly do we fear about a world of investors who are no longer bystanders that have the outcomes of global markets forced upon them, but are instead active participants in their own continued future prosperity?" – Ricky M.
Berna comment: Ricky, wise thoughts all around. What you have outlined is a version of participatory capitalism that should produce sustainable and positive effects that can be enjoyed by all.

"I am most thankful for good health & someone special to share it with, my wife. I am retired & recovering from five medical procedures from June thru September 2021: including a heart angiogram, three separate stent procedures, & triple bypass open heart surgery. I am three months into recovery and doing well. Thank God!" – Ken B.
Berna comment: Ken, my wish for you in 2022 is a speedy recovery and continued good health. Thank goodness for modern medicine!
Regards,
Berna Barshay
January 13, 2022